We use affiliate links. If you buy something through the links on this page, we may earn a commission at no cost to you. Learn more.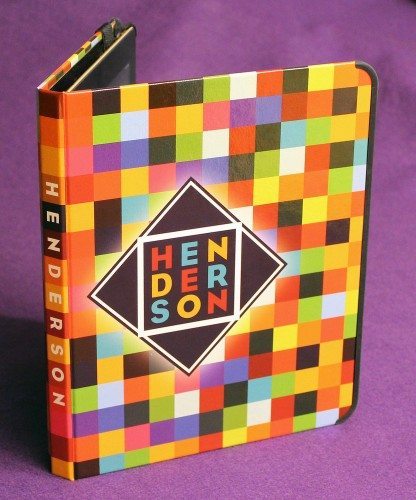 I'm always impressed with companies that are flexible in a changing environment. A company who can adapt to this evolving landscape is a healthier company. Powis makes bookbinding and collating equipment for the corporate market. As things have been moving into the digital realm, Powis has smartly taken some of that book binding knowledge and applied it to a different market by creating the iCase, a book-like iPad case.
When you think about it, it makes perfect sense. Powis knows how to make books. So why not make an iPad case that looks like a book? This is not an original idea. Other companies have done this with success. What sets Powis apart is customization. Now it is possible to design your own iPad case using either your art and/or photos. You can have an iPad case that no one else has. How cool is that?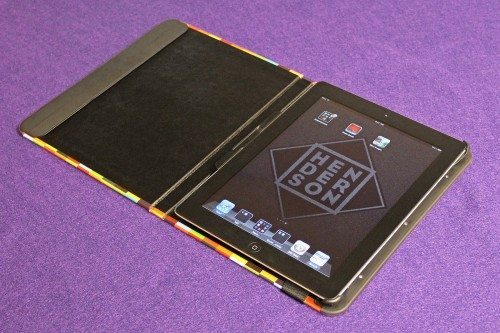 Powis offers three different versions of their iCases: leather, pre-designed patterns and now, design-your-own. I was given the opportunity to review the design-your-own option and jumped at it. With my experience in the design world, I understand the importance of branding, so I resisted using a photo of my wife-grandchild-dog-whatever and decided to use my logo name instead. I don't do cute.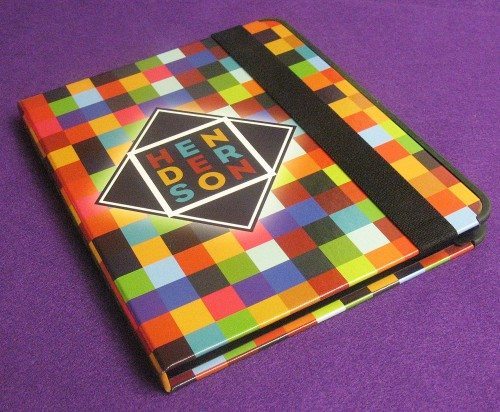 To test the process and quality of the printing, I decided to use as many colors as possible. My personal logo has always been in black and white, but designing a case for reviewing purposes in black and white would not be fair to Powis or the reader. So I piled the color on.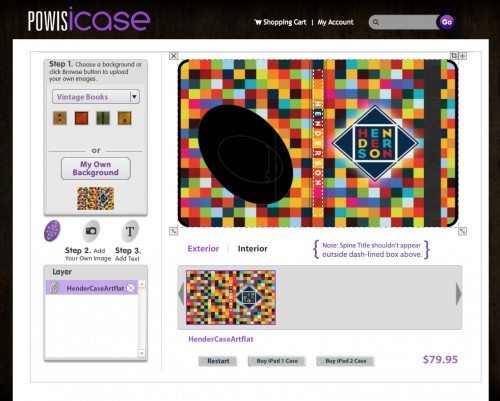 The Powis website makes it very easy to set up your design. Just follow their instructions on how to prepare your art or photo prior to uploading. Once the art is uploaded, Powis provides an online template for sizing and positioning. Ironically, this process is flash-based, so you cannot use you iPad to design your iPad iCase. You need a Mac or PC to do this. Powis needs to fix this.
Never miss one of our posts again. Sent MON, WED, and FRI with the latest gadget reviews and news!
I soon realized that (for me and my eyesight) the template was not as large onscreen as I would have preferred. My design needed to be spot on, and the online template was too small for the accuracy I wanted. I contacted Powis, explained my issues with their online template and asked if there was an alternative method for art preparation. Since I was actively reviewing their product, I didn't identify myself. Julie was the original contact person, so I was anonymous. I wanted to see how a normal customer would be treated.
I received an email from Powis' art director with detailed instructions and a life-sized template for the iCase attached to the email. He explained to me that when the design was finished and the order placed, let him know, and he would intercept the order and swap out my art which was sized to the larger, supplied template. After a few more emails getting the details worked out, the order was complete. The next day, I received an email with a mockup photo of my iCase for approval.
I understand that the majority of people will be able to use the web-based template with no problems. My design required some precise alignments and Powis was extremely accommodating. I also want to emphasize that the customer service at Powis could not have been more prompt and helpful from beginning to end. Kudos to Powis for that.
A few days later the iCase arrived. What I received was a well-made and attractive (to me) case. It's bright, colorful and printed exactly as I had hoped it would be.
The iCase is sturdy. It has a gloss coating over the printing that helps prevent scratching and fingerprints. It's rigid like a hardbound book cover and creased neatly at the spine allowing the cover to completely fold back and out of the way. This makes it perfect for using the iPad in your lap on the couch or in a chair. In fact, that's how I am writing this review.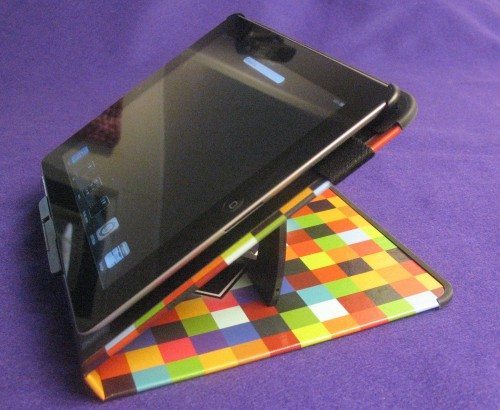 The thing that I appreciate most about the iCase is also one of the simplest. The cover utilizes Apple's magnetic sleep/awake feature. Open the case and the iPad wakes up. Close it and the iPad goes to sleep. I am still amazed by this simple gesture.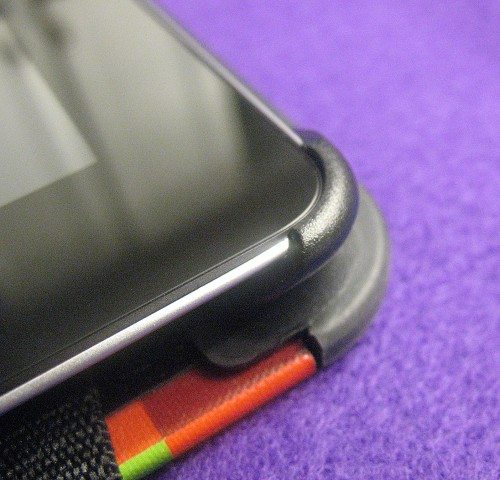 The edges of the iCase are rubberized which protects both the iPad and the case from life's bumps and minor drops. This edging also adds grip, which helps prevent those drops in the first place. The bumper is raised just enough so the case rests on it rather than the cover itself which can help reduce scratching. There is also a stretchy strap that can be pulled around the front of the iCase which helps keep the iCase tightly closed. This is handy and adds an extra level of drop protection.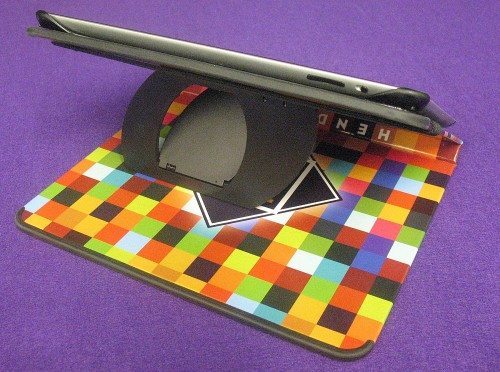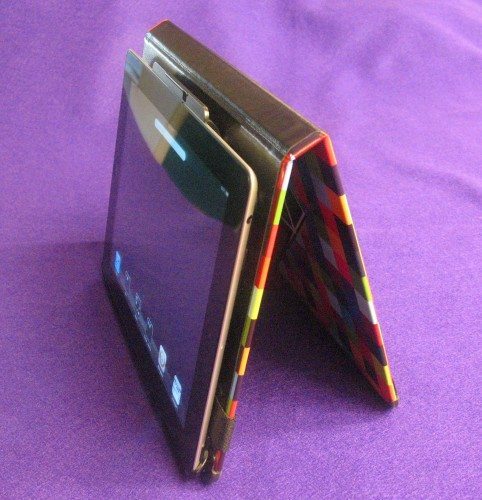 Built into the back of the iCase is a plastic stand which allows the iPad to be placed in two upright positions – low for typing or more upright for viewing. It has a tab and slot allowing for a precise fit but it can be easily bumped out-of-whack. When not in use, the stand snaps flush into the cover. For my purposes, the non-slip bumper edges make it very easy to prop up the iPad into an inverted "V" or tent  shape. This setup works so well that I seldom use the built-in stand.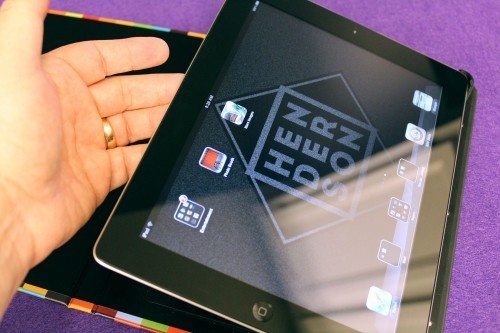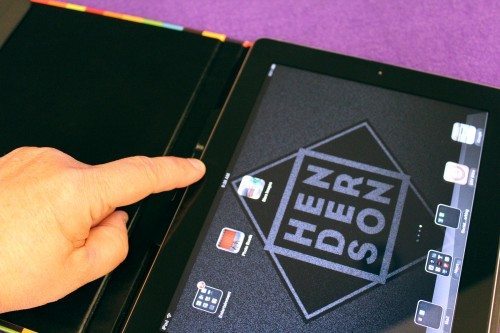 Inserting the iPad into the iCase couldn't be easier. Just tip the iPad into the corner slots and push down until it snaps into place. I have tried to shake the iPad loose, but can't. That's reassuring. There is a press-down release tab to remove the iPad when it's time for docking. I can't report how repeated use of the release tab may affect its durability over time. I don't use iPad docks and once my iPad is securely in a case, I leave it there.
After using the Powis iCase for about a month, I have come to depend on its protection and good looks. It attracts positive attention wherever I go. People are impressed with its solid construction and intrigued when I tell them that they can design their own. These attributes combined with Powis' excellent customer service have resulted in a nice product. In fact, the hardest part of owning the Powis iCase is waiting for your personal design to arrive.