We use affiliate links. If you buy something through the links on this page, we may earn a commission at no cost to you. Learn more.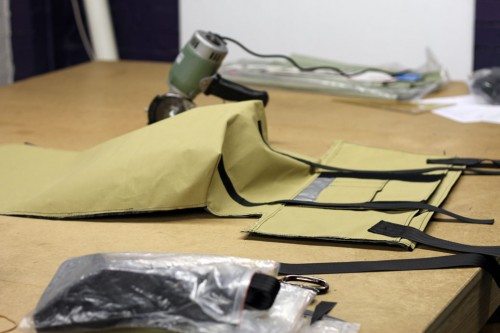 Made in Australia, Made in the USA, Made in the UK. It's getting harder and harder to find products with these labels on them these days with outsourcing offshore so prevalent due to cheaper labour costs in, particularly, South East Asian countries. It's always nice to find a product that's still made locally, employs local people, and where possible, uses local materials.  Now Australia's not known for it's messenger bag industry like say San Francisco is, and the only big Australian messenger bag company has moved most of its manufacturing into China. So I was both surprised  and delighted when I stumbled across an Australian company which still manufactures its bags locally. Brisbane Outdoor Gear (or BOGear) is a messenger bag company based in Brisbane, Queensland, Australia.  Read on…..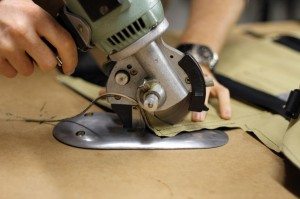 As mentioned in the opening paragraph, it's getting more and more difficult to find things not manufactured in South East Asia. Luckily there's still a number of bag makers around the world that still manufacture locally, including Timbuk2 (custom bags only), Rickshaw, and even BagJack out of Germany, just to name a few.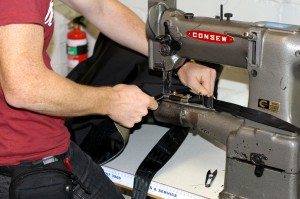 BOGear not only prides themselves in handmaking everything locally, but they also try to be as green as possible by using reused, reclaimed, sustainable and recyclable materials .  To assist the local community, they try to source from local businesses.  They manufacture bags that aren't meant to be just thrown away or kept pristine, and aren't going to compete with Gucci or LV, but are made to be "dirtified."
What the hell does dirtify mean?
Dirtify (v)…
Dirtify is the long process that occurs when you use a piece of gear regularly.  It results in gear that is so full of sweat, dirt, love and experiences that it stands up on its own; but maybe that's just because of the dirt.  It becomes so powerful that it is almost as if the piece of dirtified gear becomes you, and you become the gear.
Once a piece of gear becomes dirtified it protects you through a magic aura or maybe that's just the stench.  It is never possible to over dirtify a piece of gear.  Duct tape and random stitching made from dental floss only add to its dirtified nature.
Be warned though, a fully dirtified piece of gear should never be washed for fear of losing all the special qualities that make it so.
Needless to say, we encourage you to dirtify our gear.
I reckon quite a few of you bag-fanatic Gadgeteers out there can relate to this ethos.  I've got a Timbuk2 custom canvas bag that went around Vietnam with me, and even if I dared to touch the stains on it, I certainly wouldn't clean them off. 😛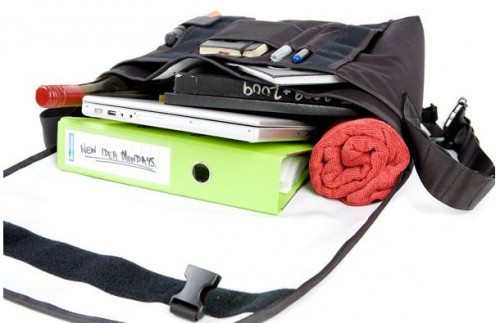 The initial plan was to review the DUB or Daily Usage Bag, a 22-litre messenger that's a standard bag that BOGear produces. The DUB is around the same size as the Timbuk2 Medium Classic Messenger which I have, but this article isn't going to be a direct comparison between the two. When BOGear offered us a review bag however,  Dave from BOGear mentioned that coming from a bike messenger background he felt that his bags were still a little bit more bike messenger orientated and that he was working on a more urban version of his bags.  From there Dave and I bounced a few ideas around and the customisation started. 🙂
The Bag
Normally, BOGear bags are made of 1000D high tenacity air-textured nylon; however, while I know that this will give a robust and long-lasting bag, these newer textiles don't do it for me.  Since BOGear uses recycled canvas for their prototyping I asked whether it was possible to get the bag made entirely from recycled canvas.  It just so happened that they had enough sandstone canvas to make me up a bag. The other thing I really like is that canvas is just that little bit old school and will age more gracefully and become much more dirtified. 🙂

There are two tags that beg you to dirtify your bag, one on the outside front top left, and one internal tag.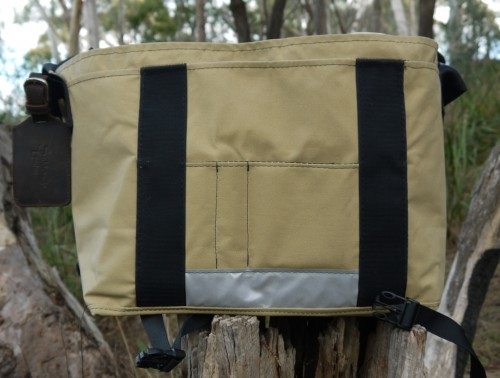 The front has two pen pockets and a small pocket that will easily fit a phone or notebook.  The inclusion of the reflective patch is a nice touch; however, the strip won't be seen unless you have the top flap only partially pulled down or your bag fully loaded.  There's a lot of Velcro, making the bag secure, but noisy.   I've taken to putting some other Velcro strips over the top of them to reduce the RIPPPPPPP noise the bag makes when you open it.

The two closure straps have little pieces of Velcro sewn onto the end of them, and I must admit I couldn't work out what they were for and had to ask Dave about it. Ever hated having your top flap cinched down and having long excess straps dangling down?  This extra Velcro allows the strap to be looped back up and attached to the closure Velcro to reduce the amount of dangling strap.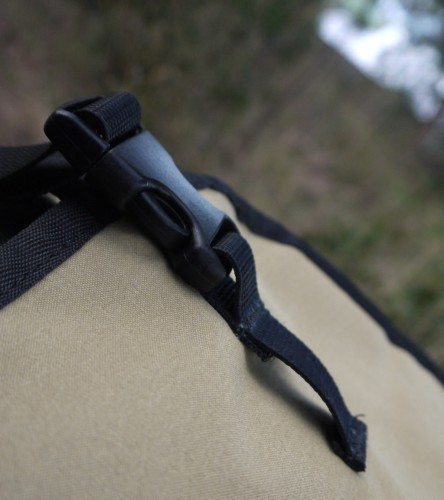 The front clips aren't sewn down hard, so they can be used to attach blinky lights or other things to.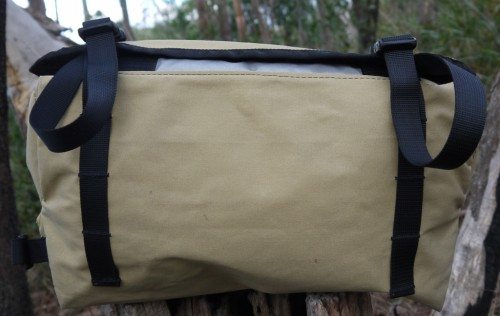 The closure straps continue all the way along the base and aren't  sewn down completely, and this gives you the option of being able to use extension straps to hang things off the bottom.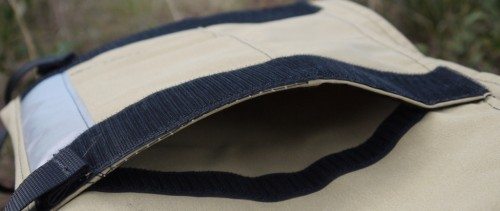 Coming from a bike messenger background, the DUB normally has a U-lock holder.  We made this into a Napoleon pocket.  This is really handy to put your wallet and phone in. If you need access, you can just swing your bag around to the front and get into the pocket without having to open the top flap of your bag.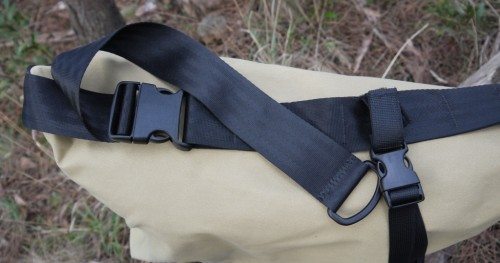 The shoulder strap is made of double-layer 2-inch seatbelt webbing, which is stitched together at regular intervals.  These "gaps" have a two-fold advantage: they can be used to attached additional pouches or carabiners to, and they also make sure that the stabiliser strap doesn't move around the shoulder strap when in use.  I'm actually going to play around with using them to attach my GoPro to so that I can use it to get some "discreet" chest-mounted POV video.  The downside might be that if you're wearing a singlet/tanktop, the stitching, which obviously goes through both layers of webbing, may rub against your skin. This isn't a concern for me because I'm not a singlet/tanktop kinda guy, and there is an optional shoulder strap pad available that would solve this potential issue.
The large clip allows you to easily put the bag on or take it off without having to pull it over your head. Just put your bag down and unclip it to remove it or unclip, swing it on, and do up to put it on.  The length-adjust strap is really easy to use, put the bag on, chuck your finger into the D-Ring and pull.  The only issue is that the excess strap does dangle down, and there's no neat way of keeping it out of the way. The advantage is you don't end up with a big loop of excess strap that can often get stuck or snagged on things like doorknobs like you do with some bags.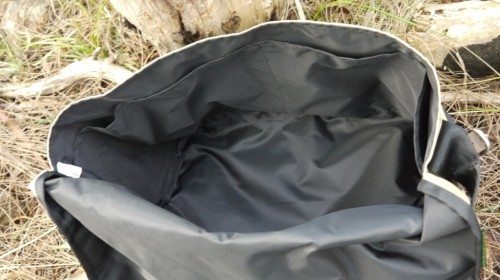 Inside the bag is one cavernous 22-litre compartment (by my custom design). Normally BOGear uses recycled PVC billboards to line their bags with, which makes it waterproof, but also adds some weight to the bag.  In trying to make a lighter bag for more urban requirements, my custom job is  lined with 420D nylon inside.  While this will reduce the waterproofness , the nylon and the canvas will still be pretty water resistant. BOGear's new range of urban bags will include a padded notebook pouch.  Because all my gadgets live in seperate cases anyway, I didn't go with this option.   I do prefer a lighter coloured internal liner for ease of finding things in my bag, but for aesthetic reasons, Dave and I decided to go with black.  So far I haven't had any issue finding stuff in there.
If you look at the top picture of the back of the bag, you can see the soft construction of the bag.  Because there's no stiffener or cushioning in the bag, then things tend to "poke out" a bit.  You do need to be a bit more careful when packing your soft-sided messenger so that sharp or pointy items don't poke you in the back. One advantage of the softer design, though, is that the bag tends to mould better to your back when worn.
When it comes to weight, this one comes in at 835g (1.84 pounds).  The standard DUB (with 1000D Nylon and billboard liner) is 1155 grams (2.55 pounds).  My custom Timbuk2 Medium Classic canvas Messenger (with TPU liner) weighs in at 1200g (2.65 pounds).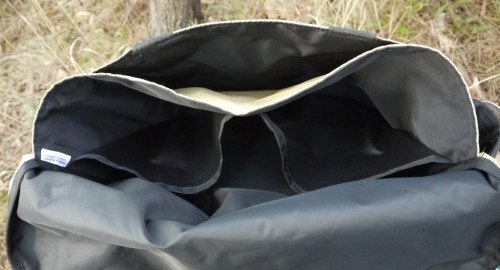 On the front of the bag is an A4 pocket that's great for a magazine or some brochures; inside the bag are two A5 size pockets.  There are no closures on any of the pockets, but I haven't had an issue with that at the moment.  I'm used to having many more smaller and sealable pockets, and I would probably design it next time with some smaller pockets, some of them sealable with Velcro.  Just makes organising those little things a bit easier, rather than having everything thrown in together.
Shoulder Strap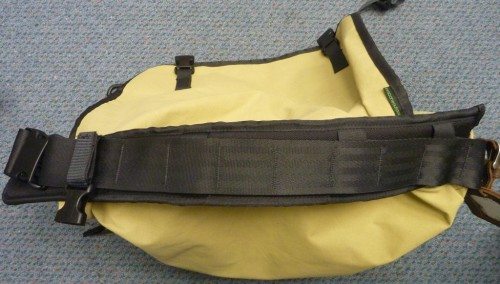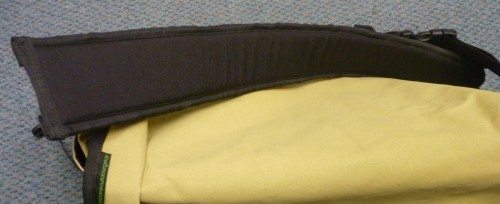 The trouble with owning a big messenger bag is that you tend to fill it up over time .  When I swapped all my gear from one messenger to the DUB, it was time for a clean out, and I've made myself a promise that I'll clean it out on a regular basis.  Luckily most of the stuff was small and light doohickers. Messenger bags are great but when you start to fill them too much with heavy things, they can start to get uncomfortable because the weight is all being borne on one shoulder, and if the bag's heavy enough, the strap starts to cut into your shoulder and body no matter how thick and wide it is. BOGear offers an optional shoulder strap for their Dub and Papermunkey models.
Made with a layer of 10mm EVA foam, the strap isn't too bulky but gives that extra bit of padding and width to distribute the load a bit better. Unlike many other shoulder pads it runs all the way down the strap and it connects to the bag via the pockets in the strap via four Velcro straps. The nice thing is that it doesn't impeded the function of the strap pockets, you can still access all of them to hang things from. With this style of shoulder strap you don't have to keep adjusting a smaller pad to keep it on your shoulder  though perhaps it does look a bit more "utilitarian" than "urban".
Wearing it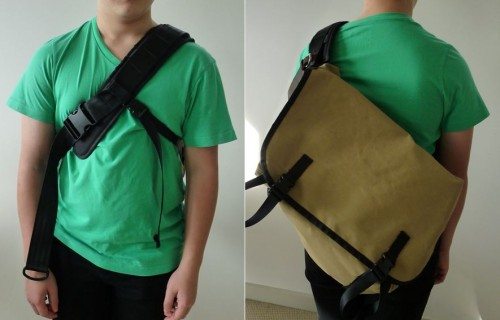 The only "volunteer" I had available for a photo-shoot at the time was my youngest (14 years old) son and I had to crop his face out so you wouldn't be overwhelmed by his enthusiasm in helping me.  🙂  He's about 5′ 5″, so it is quite a big bag for him (that being said I'm only about 2-3″ taller) and the bag isn't anywhere near fully loaded. You can see that the optional shoulder strap is wider and more load spreading than the standard strap by itself and this, with the padding, does make wearing the bag more comfortable.  The excess shoulder and stabiliser strap does hang down a bit when worn but at least the excess isn't loops that catch things as you walk past them.  He's also wearing it a bit lower than I normally tend to.
Usage
The first week I had this bag, it was used as a daily-carry to my boys' Dance Eisteddfod.  I had it loaded up with my camera gear, tablet, a drink bottle, Eisteddfod program, some snacks, a jumper, and assorted other bibs and bobs. It was thrown into the car and chucked under stadium seats for 10 days.  Being thrown under stadium seats, it very quickly started its dirtification process. 🙂
The last couple of weeks, it has been used as a work bag with a notebook, tablet, associated power supplies, brochures and camera.  And on weekends, it has been used as an EDC bag with multiple cameras, drinks, lunch, and all manner of things thrown into it. It's handled all three situations admirably.
Other business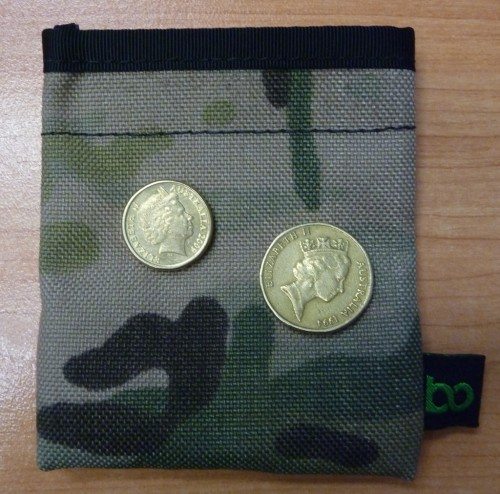 Included with my bag was a small coin purse made of offcuts. Nice to see that the leftovers from their bag construction aren't ending up as landfill. Just another example of BOGear's reuse/recycle philosophy.
Conclusion
All in all I really like this bag a lot, in fact so much that one of my Timbuk2s has been passed down to one of my sons. Using the "soft" construction makes this bags noticeably lighter than my other bags, and without a more rigid structure, the bag can easily be shoved in to a locker or thrown under a seat.
I'll be interested to see how well the bag handles the wet with the combination of canvas and 420D nylon.  My Timbuk2s have survived savage thunderstorms in San Francisco and torrential tropical downpours in Vietnam and Thailand, and the TPU liner kept everything inside dry. That being said, some of my previous bags haven't had any heavy waterproof liners and all you really have to do is utilise a few plastic bags. 🙂
The fact that I had a hand in designing this bag from the beginning is really nice, and BOGear's pride and workmanship on the bag certainly shows through. It's nice to know that the that bag hasn't been made in some South East Asian sweatshop, and that BOGear is concerned about being as green as possible.  The bag is estimated at being around 56% recycle/reused materials by weight.
As mentioned above, I'd probably do something to reorganise the internal pockets a bit more so all my little thingamabobs aren't all thrown together, and it would be nice if there was some way to keep the excess shoulder strap from hanging around. But the nice thing is, if I find ways to make it better, I can just bounce it off BOGear and get these custom features put into my next bag.
If you're sick of overseas mass-produced bags and want a fully handmade bag or a customised bag that you can truly call unique, then it might be worth shooting BOGear an email.
Updates 04/21/16
This bag has been all over the world with me. It's been shoved under plane seats, into lockers and bike baskets and placed onto floors into who knows what, even used as a pillow several times. It doesn't look as good as it did when I first got it but has been "dirtified" beautifully. If I had another one made (if this one ever wears out), I'd be adding some smaller pockets to the front with some form of closure but other than that I think this bag will see a lot more action and "dirtification" before then.
Source: The sample for this review was provided by Brisbane Outdoor Gear ( BOGear ). Please visit their site for more info.
Product Information
Price:
The standard DUB starts at $150AU
Manufacturer:
Brisbane Outdoor Gear ( BOGear )
Pros:

Handmade in Australia (not mass produced in SE Asia)
Fully Customisable
Excellent construction
Constructed of "green" materials

Cons:

Needs more smaller pockets ( personal preference )
Needs something to organise the excess shoulder strap