We use affiliate links. If you buy something through the links on this page, we may earn a commission at no cost to you. Learn more.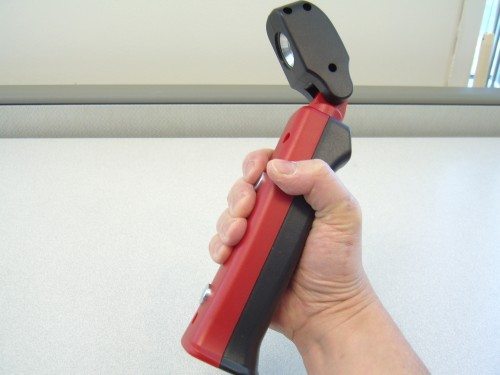 Make no mistake.  We're suckers for flashlights at The Gadgeteer!  I thought I'd seen it all, but this odd duck grabbed my attention.  The WorkStar 2000 Technician's Floodlight from Maxxeon has a swiveling head, magnets, a hook and a rechargeable battery?  Let's take a look!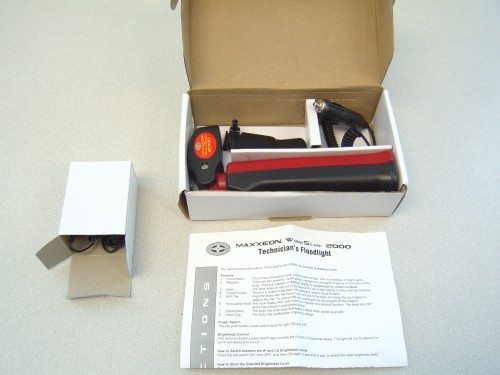 You get a wall charger, car charger, belt clip and instructions.
The Maxxeon WorkStar 2000 Technician's Floodlight's most notable feature is the rotating head, which rotates 360 degrees and tilts 180.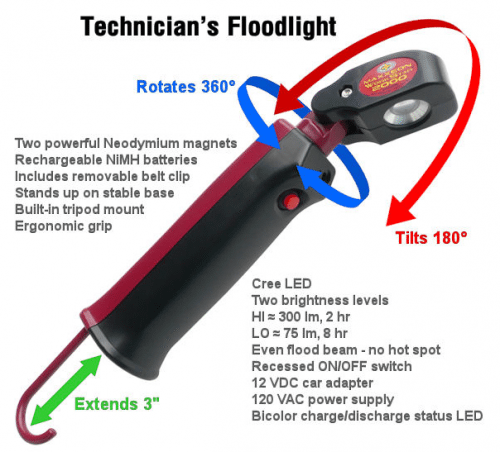 | | |
| --- | --- |
| LED Brightness (Luminous Flux) | High > 300 emitter lumens, Low > 75 emitter lumens |
| LED, Color, Power | Cree XP-G, Cool White, 5 W |
| Heat sink | LED and lens are mounted in a sealed aluminum heat sink assembly, which protects the LED from dirt and fluids |
| ON/OFF HI/LO Power/Brightness Switch | Recessed ON/OFF push button switch also controls 2 brightness levels |
| Favorite Brightness Level Memory | Turns ON and OFF to your favorite brightness level, yet easy to change to the other level |
| Batteries Included | 6 AA rechargeable NiMH battery pack. Pack is user replaceable. |
| Run time per charge | High > 2 hours, Low > 8 hours |
| Recharge Time | About 3 hours |
| Regulator Circuit | High efficiency constant current circuit to maximize brightness and runtime |
| Charge/discharge Indicator | A bicolor LED charge/discharge level indicator flashes green and red to help you estimate the remaining runtime and recharge time |
| Lens | Unique "fresnel-like" lens provides a smooth beam of light with no hot spots |
| Glass Lens | Tempered glass with a shock absorbing rubber gasket |
| Material | High impact PC, except neck and hook, which are glass reinforced ABS |
| Flared Base | Stable when standing upright thanks to the wide flared base |
| Hand Grip | Comfortable ergonomic hand grip |
| Head Rotation | Head rotates 360 degrees with smooth stop-notch action |
| Head Tilt | Tilts 180 degrees and has a tension adjustment screw that prevents head from flopping |
| Retractable Hook length | 3 inches (7.5 cm) when extended; retracts into body |
| Hook diameter | 1 inch (2.5 cm) |
| Magnets | 2 powerful, co-planar, nickel-plated, neodymium rare-earth magnets |
| Belt Clip | Better than holster, this belt clip lets you use the light while clipped to your belt. It quickly clips onto the light and slips off just as easily, but sticks securely while in use. |
| Tripod | Standard camera tripod socket in base |
| Overall length | 10 1/4 inches (26 cm) |
| Body Dimensions | 6 3/4 x 2 x 2 inches (17 x 5 x 5 cm), anti-roll surfaces |
| Head Dimensions | 3 x 1.5 x 1.5 inches (7.5 x 3.8 x 3.8 cm) |
| AC Power Supply | 100-220 VAC 50/60 Hz UL-Approved North American power supply with standard "Type A", two prong plug |
| Car Charger | 12 VDC car adapter |
| What's Included | WorkStar 2000 with rechargeable NiMH batteries, 100-220 VAC power supply, 12 VDC car adapter, belt clip |
| Weight | 1 lb (0.5 kg) |
| Warranty | 1 year |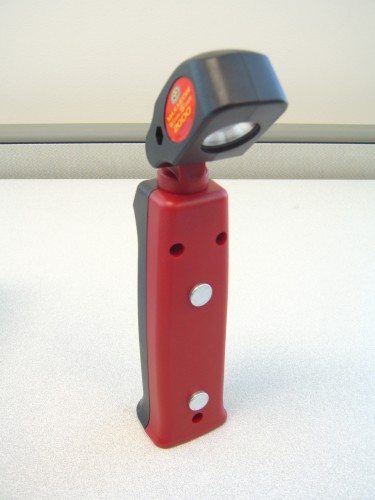 The two silver discs are a pair of very, very strong magnets.  This light measures just over 10 inches long.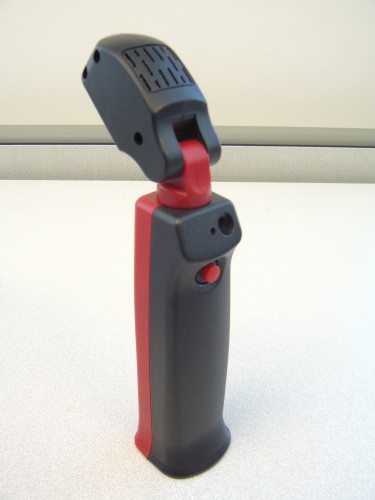 The red button is the on/off switch.  It also toggles the brightness level between hi (300 lumens) and low (75 lumens).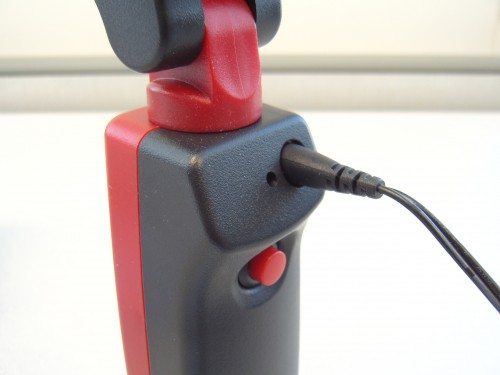 Feeding time!  The internal NiMH pack, which the manufacturer says is replaceable, charges in about three hours.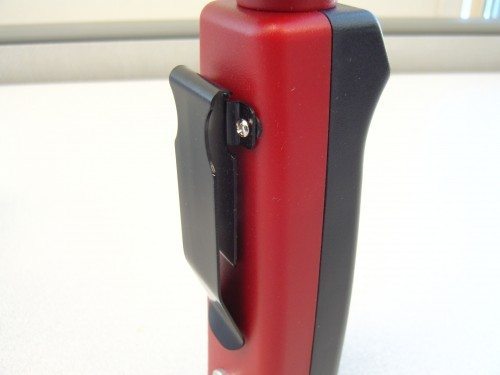 The belt clip stays put via the magnets.  I thought this would never hold, but there are two posts that slide into the body that keep it from just popping off.  I wouldn't go mountain climbing or engage in extreme sports with this on my belt, but it works!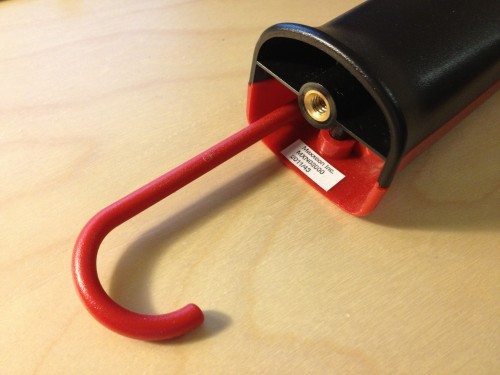 The bottom has a tripod screw and a pull-out hook that extends out 3 inches.  I nearly missed this feature, but the hook has proven very useful.
This is the business-end of the light.  A Cree XP-G, Cool White, 5 W LED really shines, literally.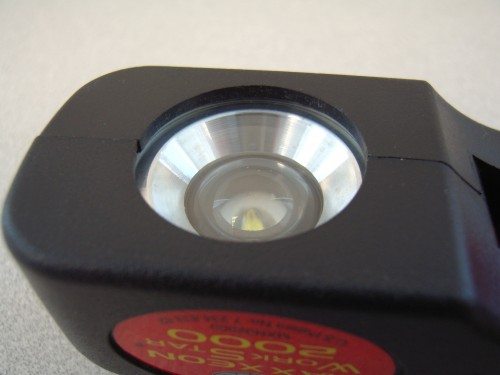 And how does it look?  Well, I was pleasantly surprised to see how "crisp" the edges of the light was.  No hotspots in the center.  Very uniform throughout. And boy is it bright!  I found that the "low" setting (75 lumens) was plenty bright for most close-up work.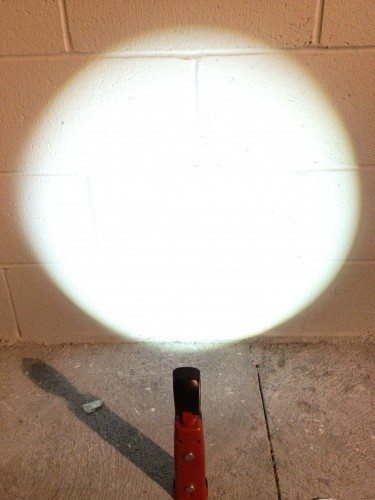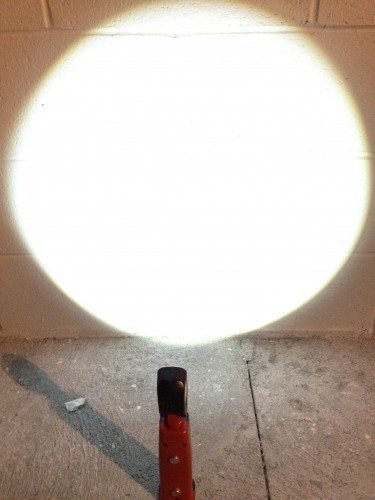 I attempted to take snapshots of the two brightness settings.  It's difficult to tell the difference in these photos, but "high" is definitely brighter, but it's a little hard to tell what mode you're in as you toggle between them.  Some kind of visual indicator like on the status LED (which only blinks once every few seconds when in use) would have been nice.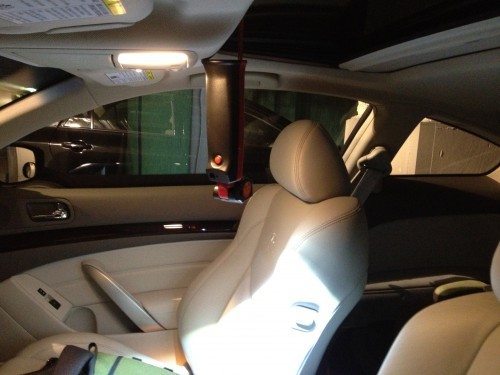 The hook, combined with the swivel head, is my favorite feature.  I like to have some extra light when I'm working on some project in the car.  Here, the hook is hanging off the sunroof opening.
I can't say enough good things about this light.  I've used it nearly every day for a few weeks now, and the battery shows no sign of letting up.  I suppose it helps I always use it on the "low" setting, which I find perfectly adequate for close-up work.
Update 01/22/15
After nearly 3 years, this light now lives under my desk. Why? Because I have storage bins and computer cables that seem hidden in the darkness, and that's where this rechargeable light comes in handy. The magnets hold strong to the frame like a champ.
Updates 03/15/16
This light has now outlasted my desk. I changed desks when I moved last year, and the powerful magnets hold this light on one of the metal legs for quick and easy access. I just hope I never lose the charger, or I'm toast.
Source: The sample for this review was provided by Maxxeon. Please visit their site for more info.

Product Information
Price:
$119.75
Manufacturer:
Maxxeon
Pros:

Swivels and tilts
Rechargable (home and car chargers included)
"Low" setting is plenty bright
Pull-out hook is a handy touch

Cons: