The Gadgeteer is supported by readers like you! If you buy something through links on our site, we may earn an affiliate commission. Thank you! Learn more.
While iPads and other tablet/ereaders are light, easy to carry, and hold a lot of books, there is one thing they share – after several hours of reading, your hand and arms become tired from holding them. It's even an issue with books and magazines. Reading stands and book holders have been around for years, but recently, due to the proliferation of single-slab devices coming out, they seem to have been making a resurgence. The Wedgestand is one of the new line of stands, designed for laps as much as for a table or desk.
The stand is, for all intents, a foam pillow that's sculpted or molded into an easel shape, and covered in a soft, velour-type fabric. There are a few faux-leathers available as well. It's available in quite a few colors, from bright, girlie colors to brown, black, and tan. I was sent one in brown fleece to test.
It arrived in a nice plastic bag, so there were no bits of packing to deal with. There's no assembly, no moving parts, and no instructions. It's pretty much a one-trick pony, in that it sits on the table, desk, or your lap and holds your reading matter quite nicely at a great angle.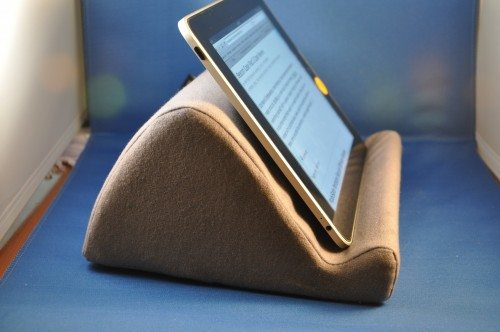 I left it out on the dining room table one night, knowing my wife would see it the next morning at breakfast, and she commented (without prompting!) at how well it held the book she was reading. Now, holding iPads, Kindles, or books doesn't sound like much, but in our information-loaded culture, this has become huge. People read something during every meal, break, and slow moment, whether it be a paperback, texts and tweets on a phone, a computer or an eReader screen. I work in a mall, and passing through the food court, I see loads of folks eating and reading, and most of them have some sort of improvised stand to hold their material at a good angle. While the Wedgestand is not really that great for portability, it's fantastic in a home, den, bedroom, or office setting. While I was testing it, I even took it to a small tech show I participated in at a retirement home. I had almost as many questions about "that stand" as I did about apps I was showing on the iPad!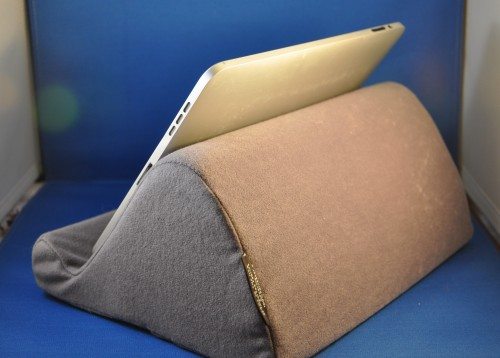 I was amused at first, but then I decided to test it. After a week of using it, I went back to the old stand I had been using when out in the dining room, just to see if I missed it. The angle is almost the same (it's a Griffin Loop), but the stability in the upright position on the Loop is not quite as good as the Wedgestand. And, almost by magic, when I came out the next morning, the Loop was back in the sideboard drawer, and the Wedgestand was out on the table. 'Nuff said.
Four stars out of five.
Update 12/24/14
This item, by far, has been used most actively. Sure, the Lovely Bride charges her phone every night, and I type a good bit using the keyboard, but for ease of use, the WedgeStand sitting on our sideboard or peninsula is almost a permanent fixture. I reviewed it with my original iPad, used it through to my third gen., my wife still uses it when she's reading her iPad mini during breakfast or when she's cooking, and I'm using it now with my iPad Air 2, since Newer Tech hasn't decided to make a GripStand for this model yet. It shows a little staining, but surprisingly little for the constant use its gotten. (Like last night, when I ripped open a pomegranate that exploded seeds and juice over everything. A quick wipe with a damp cloth, and the WedgeStand was good as new!
Source: The sample for this review was provided by Wedgestand. Please visit their site for more info.
Support The Gadgeteer
:
The Gadgeteer is supported by readers like you! If you buy something through the links on our site, we may earn a small affiliate commission. Thank you! Learn more.
Product Information
Price:
$35-$40 - depending on cover material.
Manufacturer:
Wedgestand
Requirements:

Reading Material - eReader, iPad, Tablet, Book, magazine, etc.
Relatively flat surface.

Pros:

Soft, nice material.
No moving parts.
Good size.

Cons:

Not collapsible, so won't fit into storage well.
No adjustment on angle.