We use affiliate links. If you buy something through the links on this page, we may earn a commission at no cost to you. Learn more.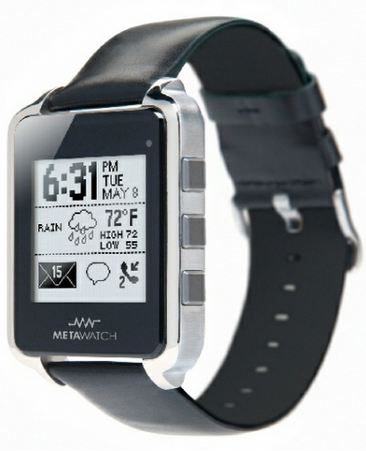 Formed by two ex leaders of Fossil's Watch Technology Division in 2002, Metawatch has developed a smartwatch in a same vein as the Pebble. The Metawatch is compatible with Android OS 2.3 and up and iPhone 4S (iOS 5+ ) and potentially any programmable device supporting Bluetooth 2.1 and up with Serial Port Profile (SPP) connectivity, or Bluetooth 4.0 with BLE GATT capability. It's made from stainless steel with a mineral hardened lens and black or white leather strap; it's water-resistant to 3ATM. From there, technology takes over with a mirror polymer network LCD (96 X 96 pixels) which is fully reflective for direct sunlight, 6 programmable buttons, 3-axis accelerometer, vibrating motor, ambient light sensor, and running an MSP430 microcontroller.
While available from Metawatch for $199, it appears that it's still not quite a commercial product yet and is more still a developers tool, with developer toolkits being available for both platforms.