We use affiliate links. If you buy something through the links on this page, we may earn a commission at no cost to you. Learn more.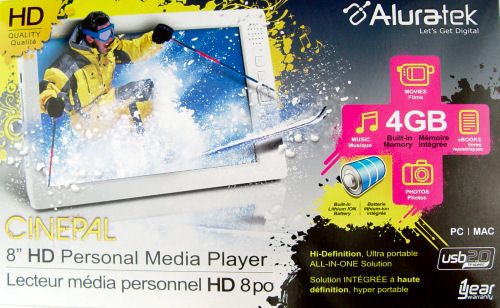 With all of our MP3 music, digital pictures, digital videos, not to mention e-books, wouldn't it be great to house all of them in one device? Oh wait, there is…
Introducing the 8″ inch Cinepal Personal Media player (APMP10F)  from Aluratek. This media player has the ability to play your music, show your photos, play your videos, and display your e-book titles. Although it can't browse the web or download media like an iPad or a Motorola Xoom, it still has its finer points.
The Cinepal has an excellent screen display and resolution. With its 8″ inch screen, watching movies was enjoyable, and with fast action scenes, it was just as impressive. All in all, watching movies on it was quite enjoyable. The size of the Cinepal is compact enough to carry in a backpack or even a purse but big enough for decent movie viewing. With its slim profile, it fits just about anywhere. I have even kept it in my car's glove box in case my kids wanted to watch a movie or video  during a long drive.  I would compare its size to a Nook or a Kindle.
With its compact size, it's a perfect for traveling whether by plane, train or car.  It's even better as an alternative to a DVD player since there are no moving parts. And since the Cinepal has an SDHC slot, which is expandable to  32GB, you can put a lot of content on it.  Bad news though, no SD card is included in the box. I would be happy if Aluratek even threw in a 512 MB SD card.  Some cell phones nowadays come with a 4GB or a 8GB card. The Cinepal does have 4GB's of internal memory, so you can still put on a few compressed videos on it even if you don't have an SD card yet. Beats carrying around a stack of DVD's.
Surprisingly, the Cinepal is capable of supporting numerous video formats. (See photo below)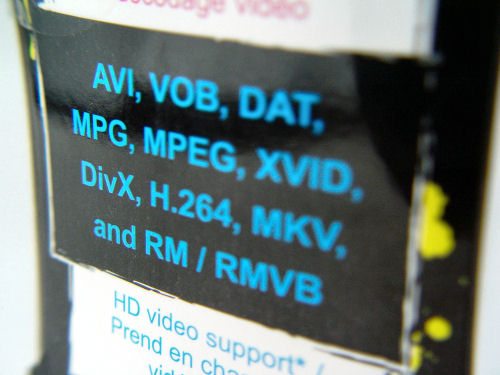 Now, videos are not the the only thing that the Cinepal can be used for. With its screen resolution of 1280×768 for videos, viewing photos look just as pleasing. Keep in mind that if your pictures, or movies for that matter, are of low resolution then what you see may not be very crisp.  Unfortunately, the Cinepal does not up convert videos. It does, however, have settings that allow you to change the video's aspect ratio.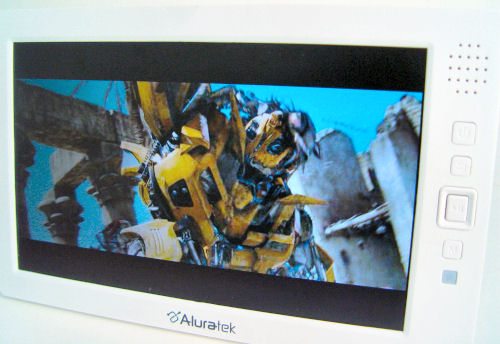 Aside from watching movies, the Cinepal has the capability to play MP3 files.  Surprisingly though, the Cinepal has only one speaker.You would think that this being a media player that it should have two speakers for stereo sound.  Although the volume can get loud, the sound depends on how the video or MP3 was recorded. A higher bit rate had  a better clearer sound and low bit rates had average sound. A mono speaker just doesn't give it that full audio experience. It does have a headphone plug so you'll be able to use your headphones or some added stereo speakers. On another note, at least the speaker is on the front facing you. I have seen some media players and DVD players that have their speakers in other places, like the back of the unit.
As much as I enjoyed using the Cinepal for the music, movie, and photo function, I don't see myself using it as an eBook reader since it only supports TXT files and not more popular eBook files such as PDF, DOC, EPUB, or PDB. I'll stick to my Nook if I want an eBook reader. I have even used my HTC EVO as an eBook using the right app that can read the popular files of course like Aldiko or Cool Reader.
The Cinepal is equipped with a Lithium Ion battery that has lasted between 4 and 6 hours depending if I'm watching movies back to back or just listening to music.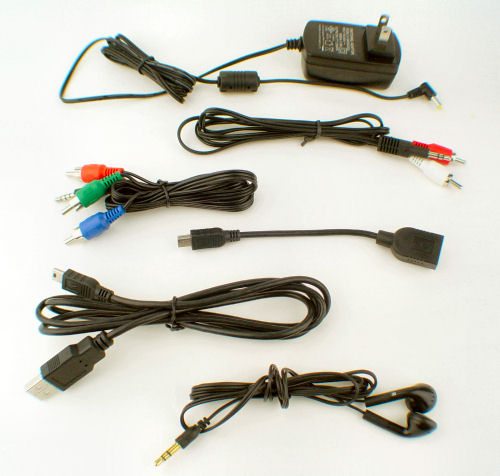 The physical dimensions of the Cinepal are 8.6 inches x 5.25 inches x .5 inches, and it weighs in at 2.35 lbs. It comes with an RCA audio cable, component cables, power adapter, USB cable, MiniUSB  to USB 2.0 cable, headphones and manual.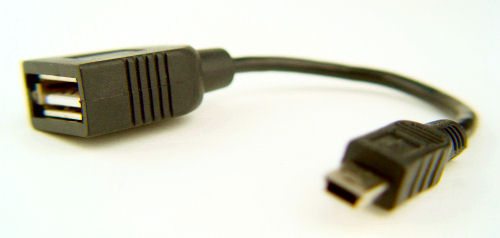 The MiniUSB to USB 2.0 cable is useful if you want to plug an external hard drive or flash drive to the Cinepal MicroUSB port.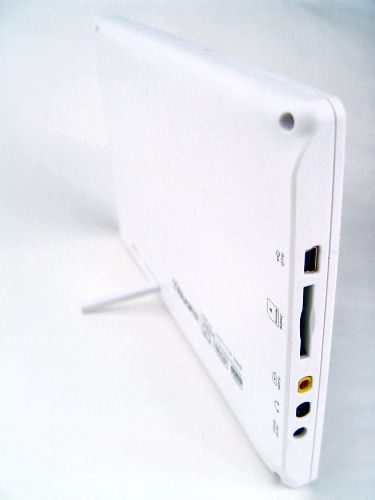 The Cinepal has slots and ports on the left side:  USB port, SDHC card slot, HDTV jack, headphone jack, and Power plug. The HDTV jack only supports 720p out to an HD TV.
On the front face of the Cinepal is the Power Button, Play/Pause Button, Menu Button, and Return Button There is also a main Power Button on the right side of the Cinepal.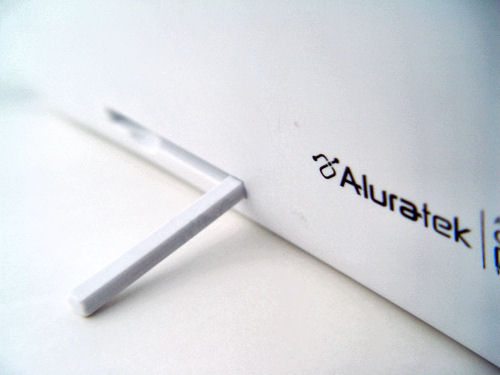 On the back is a small pull-out arm so you can have the Cinepal stand while you are watching it. It's good to use if you connect the Cinepal to your HD TV.  Too bad there is no remote control included. It just makes sense if you want to use this media player as a source player to have a remote control for it.
The Cinepal connects to an HD TV via the included  component cables. Although the component cables had a good picture quality I'm sure there are plenty of people who would much rather have an HDMI for the highest HD picture quality.
I did notice that there is a small square sensor-type button on the front of the Cinepal just under the Menu button. It looks like it could be the IR for a remote control. I checked the Aluratek website for any replacement remotes but couldn't find any. However, there is a newer version of he Cinepal that has a remote control. It has a screen size of 8.9″ inches and comes in a black color. Unfortunately, for being a newer and bigger model it only has a screen resolution of 1024×600.
With all that the Cinepal can do as a media player, its slim size and light weight it is a perfect companion for traveling or to just have when you want to get away and relax with a movie, a book, or just listen to some tunes and view some photos. Without any moving parts it is perfect for young and old alike and so easy to use.  This is definitely something I would have in my arsenal of gadgets and would recommend to anyone looking to buy a media.  They should at least try it and see what they think. I think chances are they will be very pleased with this media player.
Product Information
Price:
$149.99
Manufacturer:
Aluratek
Pros:

Thin profile.
No moving parts.
4 GB internal memory.
Great for traveling.
Clear, crisp screen resolution.
Good battery life.
Slim profile.

Cons:

No SD card included.
No remote included.
Single mono speaker.
No HDMI output.