We use affiliate links. If you buy something through the links on this page, we may earn a commission at no cost to you. Learn more.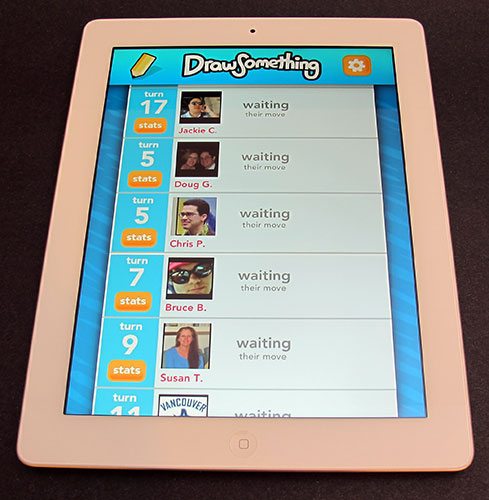 The anticipation for a new gadget can often be more exciting than getting the actual product in your hands. Apple's new iPad definitely offers some nice updates with the Retina display, 4G and improved camera, but is it a worthy upgrade for someone that already has an iPad 2? Janet, Dave and I are here to give you our take on Apple's latest tablet.
If you've been hanging around The Gadgeteer for awhile, you know that we post occasional dual author reviews that offer two sides/opinions to a product. This time we're adding one more voice for a trio review. Janet and I have experience with all 3 iPads, but Dave upgraded from the original iPad. He also lives in an area with 4G coverage, so he's able to tell us what it's like to use the new iPad 4G enabled on the road.
My comments will be in Black, Janet's will be in Blue italics and Dave's will be in Red bold.
Note: Click the images in this review to see a larger view.
Hardware Specs
Dual-core Apple A5X custom-designed, high-performance, low-power system-on-a-chip with quad-core graphics
9.7-inch (diagonal) LED-backlit glossy widescreen Multi-Touch Retina display with IPS technology, 2048-by-1536-pixel resolution at 264 pixels per inch (ppi)
Dual-core Apple A5X custom-designed, high-performance, low-power system-on-a-chip with quad-core graphics
Available as Wi-Fi a/b/g/n only, and Wi-Fi/4G for Verizon and AT&T
Dimensions: 9.5"h X 7.31"w X 0.37" deep; 1.44 pounds (wifi), 1.46 pounds (4G)
Storage: 16GB, 32GB, and 64GB
Bluetooth 4.0 technology
Back camera: 5MP, Video recording, HD (1080p) up to 30 frames per second with audio
Front camera: Video recording, VGA up to 30 frames per second with audio; VGA-quality still camera
Photo and video geotagging over Wi-Fi
Built-in 42.5-watt-hour rechargeable lithium-polymer battery with up to 10 hours of battery life for surfing the web on Wi-Fi, watching video, or listening to music
Sensors: 3-axis gyro, accelerometer, ambient light
Location: Wi-Fi and digital compass
Check the Apple iPad page for more information about the Wi-Fi only model and the Wi-Fi/4G models
Package Contents
iPad
Dock Connector to USB Cable
10W USB Power Adapter
Documentation
The Physical Differences
Julie: A quick look at the new iPad when compared to the iPad 2 will not reveal any major physical differences. It's only when you pick both devices up at the same time or do a close comparison that you'll notice that the new iPad is slightly heavier (~.11 lbs) and thicker. Both of these differences aren't real noticeable, at least to me. The tablet feels solid and comfortable to hold. That said, I don't use mine as a book reader where I hold it for hours on end like Janet. My usage tends to last less than an hour at a time, doing email triage, RSS feed reading, and some game playing.
Janet:  Hmm..  I weighed both the iPad 2 and the new iPad on my trusty digital kitchen scale, and I found the iPad 2 weighed 1 pound, 5.2 ounces.  The new iPad weighed 1 pound, 7.07 ounces. That's a difference of about 1.87 ounces on my kitchen scale, or about 0.117 pounds difference, which is very close to Apple's stated difference of 0.11 pounds.

Julie: The image above shows a stack up of the original iPad, iPad 2, and new iPad from bottom to top.
Janet:  Julie's right, there's not a lot of difference in appearance between the iPad 2 and new iPad.  The new iPad seems to be just a bit thicker and a little less sloped when viewed from the side, as you can see in the above picture.  If you haven't spent as much time with an iPad 2 as I have, you might not even notice that difference.  That said, the slightly different shape doesn't make it feel any different in my hand.  At first, I noticed the weight difference, but I've gotten used to it, especially after I cased it up.  I ordered the white, and I'll admit I was a little disappointed that people aren't going to see me with it and immediately know that I've gotten a new iPad.  😉
According to Apple specs, the new iPad is 0.6mm thicker than the iPad 2.  I don't have caliper hands, so I can't even feel that slight difference.  I was worried that the slightly different thickness and shape would mean the new iPad wouldn't fit in some iPad 2 cases, and that meant I'd have to wait for a new back cover to use on the new iPad.  That's not the case, if you'll pardon the expression.  I tried the HyperShield back cover  from my iPad 2 on the new iPad, and it fit perfectly.  Like all TPU cases I've used, the HyperShield had developed some discoloration, so I purchased a new iPad 2 back cover (not a HyperShield) to use on my new iPad.  When my new cover arrived from Amazon, I was upset to see it was a stiffer type that snaps on the corners instead of a softer type that folds up over the edge, like the HyperShield.  I was surprised to see that the new cover snapped on easily and fits like a dream. The new iPad also fit perfectly into the Sena Borsetta purse/case and the Kensington KeyLite keyboard folio I recently reviewed.  It actually fit a bit better in the Kensington case than the iPad 2 did.

I've read articles saying that Apple has done something with the sleep/wake magnets that cause some third-party covers not to work with the new iPad's automatic sleep/wake function.  Some reports even say that old Apple Smart Covers don't wake the new iPad properly.  I have a variety of Smart Covers in the house: one I bought at the iPad 2 launch, a leather one I received as a birthday present in December, 2011, and a leather one my husband bought for his new iPad.  All three of these Smart Covers fit on the new iPad, and all three sleep/wake the new iPad flawlessly.  The Sena Borsetta doesn't have the magnets.  The Kensington keyboard folio has them, but they didn't work well for the iPad 2 because of the way the cover fits over the iPad 2.  The Kensington performed the same way for the new iPad – the new iPad would sleep if I aligned the Kensington's front cover so it was straight with the back cover and pressed the two sides together to make the case close.
Julie: I purchased a new leather Smart Cover with my new iPad and also have an older non-leather one I use with my iPad 2. Like Janet, both work fine with the new iPad. The other cases I use are typically slip covers, which also work fine.
Dave: I am using my new iPad without a case or Smart Cover…totally embracing the feel and form of it (definitely better than the original iPad). Although, I am considering purchasing a leather Smart Cover for it and will be reviewing Zagg's invisibleSHIELD HD which will add protection against scratches while supposedly not impacting the great look of Retina display. But for now, I am using it naked, carrying it around in the Renaissance Art Messenger Bag (for the iPad) I reviewed a few years ago.

Janet: I still do use my iPad for hours a day.  I have to charge it every night, and sometimes I have to plug it up while I'm still using it at the end of the day.  Even starting from the first day of use, it didn't feel any different to use.
Julie: Except for that gorgeous display 🙂
Janet: Right! 🙂
Dave: For those of you who still own the original iPad (aka, who skipped the iPad 2), upgrading to the new iPad is sooo worth it. When the iPad 2 was released, I had not been using my iPad all that much, and from an operational standpoint, I did not see any compelling reason to upgrade. With the new iPad, I decided to try embracing the device and use-experience it once again and so far, I have zero regret taking the plunge. In addition to the new iPad's better look and feel (compared to the original iPad), the screen and 4G/LTE definitely make it a worthwhile upgrade.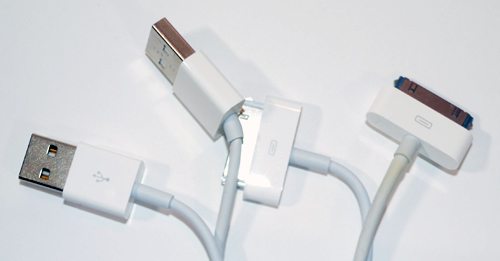 Janet: There is one physical difference that doesn't involve the iPad directly.  The charging cables that came with the new iPad have slightly longer reinforcement sleeves at the plugs.  My old cables are bent from long use, and I've been worried the connections inside were pulling loose.  Hopefully the new sleeve will protect the juncture better.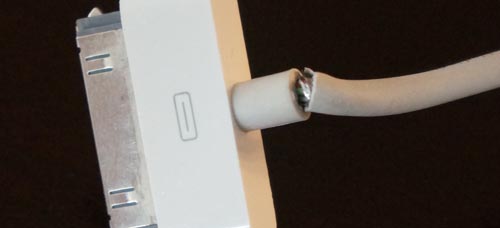 Dave: This is a close up of the cable that Apple included with my iPhone 4. As you can see, the point where the cable meets the plug is failing. I would say approximately half of my iCables are in this condition (and I do not abuse my tech-stuff at all). Apple appears to be addressing this design/engineering weakness….a minor but positive thing.
Julie: Janet, good eyes noticing that difference! But all the real hardware updates are under the hood, with the major ones being the Retina display, Camera, Graphics processor and 4G.
Retina Display
Julie: Doubling the screen resolution from 1024 x 768 to 2048 x 1536 pixels really improves the user experience of the iPad. Everything looks so much nicer. Text is crisper and images are more lifelike. Check out a comparison…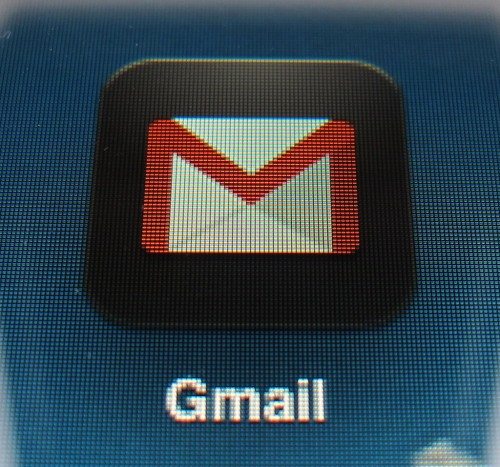 Above is an icon on the iPad 2.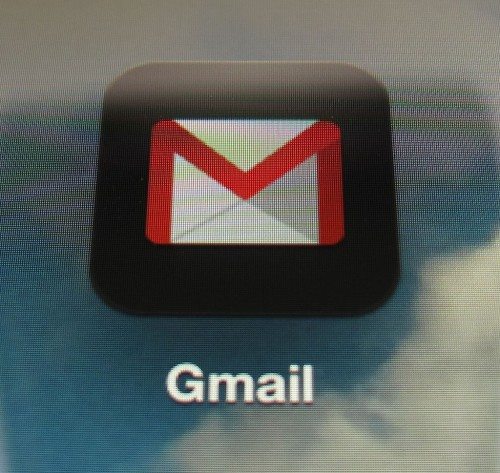 Julie: Here's the same icon on the new iPad. Notice how you can't easily see the individual pixels on this image the way you can on the first / iPad 2 image? The increased resolution makes eBook reading much more comfortable and makes game graphics really pop. After using the new iPad for just a brief period, I found that going back to the iPad 2 felt like the difference between HD and standard def TV channels. You know how it is when you turn to a channel that broadcasts shows in non HD and you're like YUCK, this is garbage. You'll feel the same way once you set your eyes on the new iPad.
One other thing that I noticed right away is that apps made for the iPhone look MUCH better when you put them in 2X (full screen) mode now. They almost look like a native iPad apps. I now run all the iPhone apps in full screen on the new iPad.
What do you guys think about the Retina display? Do you agree that it's a game changer?
Janet:  I always thought the screen used for both the original iPad and iPad 2 looked great, and I even said in my review of the iPad 2 that I didn't care it didn't have the Retina display.  I felt so foolish after I got an iPhone 4 and saw how beautiful the Retina display is and how easy it is on the eyes.  After I got used to a Retina display on the iPhone, looking at my iPad 2 felt like I was looking at it through one of those wire mesh window screens.
Dave: I love the screen. I find the Retina display the best feature of the new iPad. When my friends and associates ask if they should get an iPad 3 (vs sticking with or buying an iPad 2 for less money), after explaining the improvements I advise them to go to an Apple Store and look at the iPad 2 and new iPad side by side to see if the screen alone is worth the $100 more.

Julie: I didn't have a complaint with the first two iPads displays either. But once you go Retina, you'll never go back. Or something like that…
Janet: I agree with Julie that reading on the new iPad is much easier on my (aging) eyes.  Both the iBooks and the Kindle apps have been updated for the Retina display, and ebooks look beautiful on the new iPad.  Actually, text is nice and sharp in the Safari browser, too.  You can easily tell which apps have been optimized for the Retina display, because graphics can be a bit fuzzy in apps that haven't been upgraded.
Dave: Even with very good eyes, the improved viewing experience and clarity is awesome. It definitely makes reading books and magazines an even more enjoyable activity.

Janet: I also agree with Julie that iPhone apps look much better on the new iPad than on the older iPads.  Even when screen-doubled, they are much sharper and easier to read on the new iPad.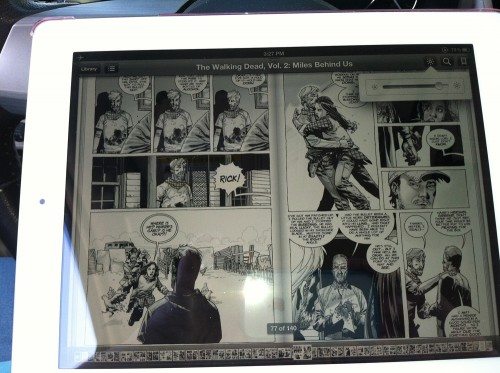 Janet: People always want to know how the screen looks in sunlight, so I took the new iPad when I went to pick my daughter up from school.  Sitting in the driver's seat was very bright, but I wasn't in direct sunlight.  I had to increase my screen brightness, but it was very easy to read my ebook copy of one of The Walking Dead graphic novels.  These pictures were taken with my iPhone 4, not my Nikon D5100, but I think they are clear enough to give you a good idea.  The pictures haven't been edited to improve the picture.  (I did crop the following picture so you couldn't see how desperately my floor mats need vacuuming. 😉 )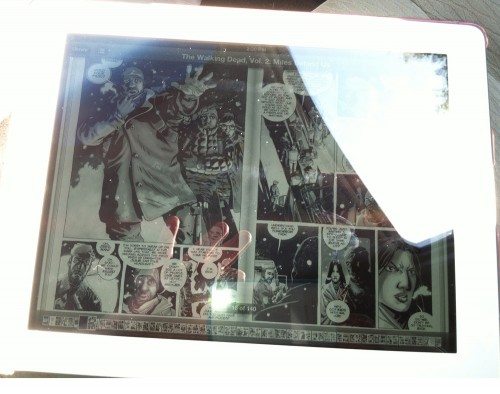 There was a patch of bright sunlight on the passenger seat, so I laid the new iPad there and took another picture.  I left the screen brightness at the same setting used for the previous picture.  Part of the screen is hard to see, but I think that's at least partially due to reflections.  You can tell the light was bright enough to wash out the edges of the white iPad.  You might not be able to sit uncovered with the sun shining over your shoulder onto the iPad screen, but I think you could read outdoors if you're sitting under an umbrella or in the shade.
Dave: I agree with Janet, that the iPad is totally usable device outdoors and with the fact you might have to angle it in such a way that reflections are minimized. I grant you, it is cloudy a majority of the year here in Seattle, but on those rare days the sun is out, the iPad screen is still more than readable.
Julie: I used mine in the car with full sun light streaming in and found the only issue to be heat. I could see the screen just fine, but it felt like the iPad started getting hotter than it should. I was also using 4G at the time… 

Upgraded Camera
Julie: Although some people might use the iPhone 4S as their primary camera, I am pretty sure that would never be true for the new iPad. I can't imagine using such a large device as a camera. That said, the new iPad's camera has been upgraded so that it's now on par with the iPhone 4's 5MP camera. So if you want to take pictures with it, those pics will turn out great.
Check out some sample images below.
Left to Right: iPad 2, iPhone 4S, new iPad
Left to Right: iPad 2, iPhone 4S, new iPad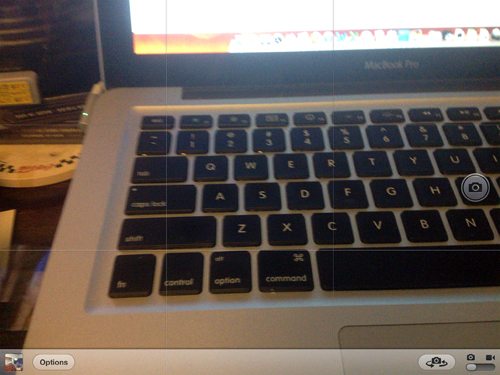 Janet:  The 5MP iSight camera is better, but the new iPad is still too cumbersome to easily use as a camera.  Apple did do one thing in iOS 5.1 to make it a bit easier to use; they moved the on-screen "shutter button" to make it easier to reach.  When I try to use the iPad as a camera, it's usually in the horizontal orientation with my hands in the middle of the two sides.  The shutter button used to be in the middle of whichever edge of the iPad was at the bottom as you held it, and my fingers couldn't stretch to press that button without jiggling the iPad.  Now the shutter button has been moved to the middle of the right edge, as you hold it, as seen in the above screen shot from my new iPad.   I can easily reach that button with my thumb now.
Julie: It's funny you should mention that update. When I was taking those sample images, it took me a few seconds to find the shutter button. I thought something was wrong with the camera app for a little while. The new location is MUCH more convenient…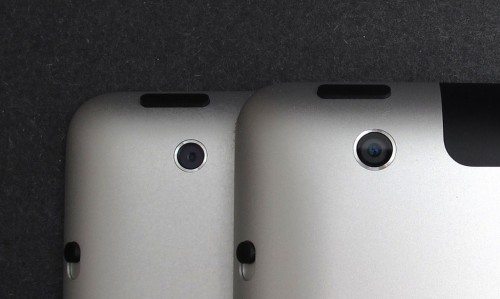 Janet: The iSight camera has an ƒ/2.4 aperture and a five-element lens, and there's a hybrid infrared filter to cut down glare for sharper, brighter pictures.  The camera lens is located at about the same place on the back of the iPad, but it's noticeably bigger than the iPad 2's camera (see image above with new iPad on the right).  The bigger camera lens fits inside the camera opening on all the iPad 2 cases I've tried with the new iPad; none of the old iPad 2 cases have interfered with taking pictures with the new iPad.
Julie: I read that the camera in the new iPad is the same one used in the iPhone 4. I wonder why they didn't just use the same camera as the 4S?
Janet: Probably because the iPhone 4's camera is cheaper than the one in the iPhone 4S, and using it was a necessary cost-cutting measure because they were giving us the Retina display and the 70% bigger battery needed to power it. 😉

Like before, you can tap on the part of the picture you want optimized for lighting and focus for still pictures.  Tech specifications for the iSight camera mentions face detection for still images; it can automatically detect and use up to 10 faces for automatic lighting balance and focus. 
Janet: The iSight camera can take 1080p HD video, and it has automatic video stabilization to minimize shakiness. 
The front camera seems to be the same as the one in the iPad 2 – VGA-quality photos and video up to 30 frames/sec.  It seems to be as starved for light as the front camera on the iPad 2.  You know, I think it would be better if they just got rid of the back camera and put the iSight camera on the front.  I think more people would be interested in having a good camera for Face Time chats with friends and family.
Dave: I agree, the forward facing camera does seem like a waste of effort. I do not believe that most folks will not be using their iPads to take pictures but would appreciate a better camera for Face Timing (something I hope to do more of with the Gadgeteer Kid while traveling for work).
Julie: Apple should just make both the front and back cameras the same…
Graphics Processor Upgrade

Janet:  Apple uses their new A5X chip in the new iPad, a "custom-designed, high-performance, low-power system-on-a-chip with quad-core graphics."  Tear-downs show that the new iPad has 1GB of memory, which is double that of the iPad 2.  Tests done by Insanely Great Mac show that the actual CPU seems to be the same as the one used in the iPad 2, and only the graphics processor is quad-core.  You can watch IGM's video detailing their testing and benchmarks for the original iPad, iPad 2, and new iPad for more details, but the bottom line is that the off-screen graphics performance is significantly better for the new iPad.  The actual graphics display performance is almost identical for iPad 2 and the new iPad, which suggests most of the extra performance from the quad-core processor is needed for the retina display.
4G LTE
Dave: Living in a 4G/LTE area, I get to speed-test the new Verizon 4G LTE iPad.
| | | |
| --- | --- | --- |
| | | |
| iPhone 4 / 3G | New iPad / WiFi | New iPad / 4G |
All of these speed tests were conducted in the same location (downtown Seattle) and time with strong signal strength (4-5 bars) across the board. The speed test on the left was taken on my iPhone 4 (3G), middle was taken on my new iPad (WiFi), and the test on the right was taken on the new iPad (Verizon 4G) LTE.
The WiFi and 4G speeds are on the same order of magnitude; both are two orders of magnitude faster than 3G. The numbers do not lie, the new iPad's LTE is very responsive and zippy. From an operational/use standpoint, there is little difference between WiFi and 4G. There was a tiny bit more of a lag, but overall dancing the Net from site to site felt just like WiFi. Even though it will eat up your monthly data allotment, watching video was seamless….I experienced zero bumps or hiccups.
Julie: I only have 3G coverage in my area. I went ahead and bought the 4G iPad just in case I might need / want that ability. Since it's going to be awhile till we have 4G here, I will probably only use the data feature when I travel. I do think the prices for the data plans are not really based in reality. For example, $30/mo for 2GB; do you realize that if you want to stream a movie, it will probably use the entire 2GB (and then some). Who in their right mind would pay $30 to watch a movie on their iPad?
Janet: I live in a Verizon 4G area, and there are several other areas nearby that have 4G coverage.  I opted not to buy the 4G model for a couple of reasons.  I don't want to pay for another data plan when we're already paying for 3 iPhone 4 data plans.  I can also stop at most any fast food place or coffee shop for a quick soda and some free WiFi if I need to get my iPad connected for some reason.
Julie: You can also turn the hotspot on in your iPhone and use that too. I've done that before and it works great. It's not 4G though…
Janet: Right, but turning on the hotspot costs $20.00, and a soda's only about $2.00.  😉
Dave: While I too, do not want another monthly fee and wish it was more like 4-5GB/$30, the convenience of always-on connectivity is (very) worth the cost for me. I travel a great deal for work, and when I am home my schedule is hectic to say the least. So, finding/stopping by a hotspot can mean the difference between being on time or late for whatever my next activity is. I look at the $30/month cost as a dollar per day….one third to one quarter the cost of a Starbucks latte. Literally pocket change. 😉
I only stream video while in WiFi areas, knowing if I did watch video on 4G I would chew through my data limit in little to no time, as Julie said. But that is just a reality of the current carrier/data limit dynamic. I find that I can regularly check emails, surf the Net, and play Words with Friends as much as I want and not go over my 2GB limit.
Julie: I didn't think I was going to get a chance to test the 4G feature in time for us to post this review, but by chance, I was in Indianapolis this weekend and took my iPad with me. I thought I had made a mistake by not turning the data feature on before leaving. At first I thought it required you to turn it on while you had WiFi coverage as it took me two tries to get it initialized while we were driving down the interstate. I had some weird connectivity issues while driving north on I65 from Columbus to Indianapolis. Even with full bars, it would sometimes say it couldn't connect to 3G. I finally gave up and didn't try again until later when we were at the Indianapolis State Fair Grounds. Then I used it in car while waiting for Jeanne to finish up at the Rock and Mineral show we attended there. Indy has 4G coverage and it felt very snappy… Just like I was at home on WiFi. It was also wonderful to use Google Maps with the new iPad as we were trying to navigate to a restaurant for lunch.
I do wish that you could turn off the data feature and only be charged for the time/data you use. I'm not sure if that's the case now, but you could (can?) do that with the hotspot feature…
Battery Life
Julie: So far battery life seems to be about the same as it was with my iPad 2. Have you guys noticed a big change between the original iPad or iPad 2?
Janet:  Every iPad I've owned has consistently given me at least 10 hours/day, and the new iPad is no exception.  I did make sure to run my battery completely down, until it turned itself off, the second day I used it.  (I've heard you should do this a couple of times to "condition" a new battery.  I don't know if that's true, but I do it anyway.)  I don't keep my screen very bright (at about 25-30% on the brightness slider) and I don't keep Bluetooth turned on, but I do leave WiFi on all the time.  I leave it in sleep mode instead of turning it completely off, but it really doesn't have a lot of standby time except when I'm asleep.  I don't watch movies or play music on my iPad, but I spend hours a day surfing, reading, and playing games (I'm addicted to Bejeweled Blitz).  A couple of days ago, I got about 12 hours on a charge.  I don't expect that every day, but I do expect I'll get a solid 10 hours of use between charges.
Dave: I leave my WiFi and LTE on all the time, plus have my brightness set at 75%. I have yet to drop below 50% battery power during a day's worth of use. I forgot how long the iPad lasts on a charge; easily able to handle 2 hours of airport waiting plus a coast to coast flight.

Julie: I've always been extremely happy with the battery life on my iPads. I love that I can ignore the iPad for even a week or two and when I come back to it, it still has a charge. Try that with your iPhone!
Janet: Just a note – The new iPad has Bluetooth 4.0, which should use less power than the Bluetooth radios used in previous models of the iPad.
This and That
Julie: There are reports that the new iPad runs too hot…
Janet:  I've read the reports about the new iPad being too hot to hold.  I haven't found this to be true, but I don't use my iPad under the extreme conditions they tested with.  I always hold my iPad in the horizontal position, with the home button on my right.  I've noticed the bottom edge, especially on my right, sometimes feels warm.  I've never thought it was hot, and I've certainly never been burned.  I always rest that edge on my chest, and trust me, I'd be complaining to everybody who'd listen if I got burned.  I have noticed that it gets warmer when I'm using it while it charges.

Julie: Mine did run noticeably hot that first day I was playing with it setting it up, which had me really worried when I started reading the articles complaining about the heat. But I've not had any issues with it since that first day. The back might feel slightly warmer than the iPad 2, but it's no where near what some people are complaining about. What about you Dave?
Dave: Whether I am watching a movie or using LTE, my iPad gets warm but definitely not hot. My iPhone 4 has been much warmer on occasion but even then I would not classify it as 'hot'. That said, I have read several of the quantitative thermal testing write ups, and while warmer than the iPad 2, it's not painfully so…. ;). Personally, I think it is all just media hype trying to get readers to read their commentary…trying to create another 'antenna-gate' out of nothing.
….and if nothing else, the new iPad makes a great hand warmer on a cold, stormy Northwest evening.
Janet: Dictation is another new feature for the new iPad.  You can only use dictation when you have an internet connection, because what you say is apparently sent to Apple for translation.  You won't even see the microphone button on the keyboard if you aren't connected.  You can speak in small chunks – about 40 seconds or so – before you have to wait for translation.  You also have to say what punctuation you want added.  I tried it, and it did do a good job of understanding what I say, even getting my daughter's first name right.  Still, I think this would be better for sending a quick email, rather than writing War and Peace. 
Conclusion
Julie: I opted for the 64GB 4G iPad and a Smart Cover. With tax, the total price was not far from $1000. Yes, I know that's a crazy amount of money to pay for a tablet… but I did it anyway. Am I having buyer's remorse? The first couple of days I had a little… Mainly because that's a lot to pay for a pretty display since I'll very rarely use the camera or 4G. I do really love that display though… and now I can't imagine not having a retina display.
That said, in my opinion, I would advise current iPad 2 owners who are thinking about upgrading, that they should probably save their money and wait for next year's iPad. Whatever you do, don't go play with a new iPad because once you see how nice that screen looks, all bets are probably off. What do you guys think?
Dave: Like Julie, I splurged and got the Cadillac 64GB 4G/LTE (black) iPad. But instead of a Smart Cover, I opted for the AppleCare+….eking me just over a cool grand. I have zero buyer's remorse and am having a great time using my new iPad, primarily due to the Retina display and the 4G always-on connection.
Janet: I got the 32GB WiFi iPad, and I'm using the red leather Smart Cover I already had.  My husband got the 32GB WiFi and a leather Smart Cover –  so about $1360 with tax for our purchase.  We have not the slightest hint of buyer's remorse.  I don't care about the camera or the 4G;  I think the Retina display alone was worth the money for an upgrade.  I use my iPad all day long, except when I'm writing for The Gadgeteer, and my aging eyes thank me for the sharp, clear display.  My husband, Butch uses his at work and at home.  He also says the Retina display is worth the update.

I think many people would agree with Julie, that there's just not enough "new" to warrant an upgrade from an iPad 2.  I think the Retina display alone is worth upgrading, but maybe that's just me.
Julie: Let's hear from you. Did you upgrade from the original iPad or iPad 2? Any buyer's remorse?
Update 03/19/17
I stopped paying for the 4G service and gave my iPad 3 to Jeanne who has been using it for the last couple of years as her primary eBook reading device that she uses with the Kindle app or the Google Books app. She also plays a few games, but she mostly uses it to read books.
When we travel she brings it with her to use as her "computer" to surf and catch up with Facebook and email. Although this tablet is several years old, she hasn't had any issues with it and hasn't felt the need to upgrade to a newer device.
Product Information
Price:
$499 - $699 (Wifi), $629 - $829 (4G + data rates)
Manufacturer:
Apple
Pros:

Gorgeous display
Improved camera
4G option
Fits in most iPad 2 cases you may already have
Bluetooth 4.0 will use less power and be a lighter drain on the battery

Cons:

Thicker and heavier
Runs a little warmer than the iPad 2