We use affiliate links. If you buy something through the links on this page, we may earn a commission at no cost to you. Learn more.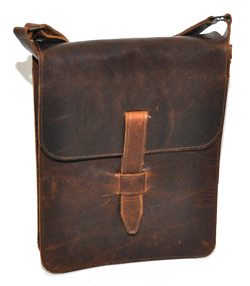 Seems like everyone these days is creating accessories for the iPad. From the usual cast of characters, like Vaja, Case-Mate, Zagg, Waterfield and countless others, to the those not typically thought of as tech-folks. This is especially true for leather manufactures; choosing to create a large spectrum of iPad cases, covers and bags varying in type, function, and style.
A prime example of this is Renaissance Art, a small company out of Santa Fe, New Mexico, that creates custom, hand-made leather products of classic design. They recently began producing several cases and bags specifically designed for the iPad with definite old-world flavor. The Renaissance Art bag I received/will be reviewing is the iPad messenger bag.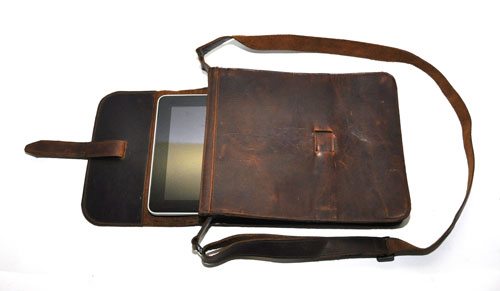 The iPad messenger bag by Renaissance Art is meant to not only carry your iPad (or iPad 2 for that matter)….

…..but your cellphone, several pens, a bit of paperwork, and has space for a few other small items as well (like charging bricks and cables). The leather is stiff but I am sure will soften up with use and age. The fit is a bit snug for both the iPad and iPhone but as the leather loosens up, it should become less of an issue. An iPad (or iPhone) with a bulky case would not fit inside their respective slots. My wife's Droid Incredible fits perfectly in the cellphone slot. I tried to fit one of the larger Android phones, Droid X, into the slot and found it too small.

The messenger bag definitely has a handmade, old-world look, quality and feel to it. At first glance, you could easily mistake it for an old-west mail satchel or school bag from a museum.

Other than the slots and pockets on the interior of this bag, it is simple in its design. The bag is well stitched and glued in all the right places.

The main flap is held in place by the leather closure strap that slides through the 'sophisticated' slip-tab engineered into the front of the messenger bag. This closure system looks and works well for this bag.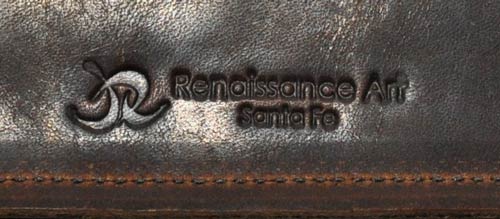 The leather, stitching, and build quality of this bag are very good. It is not as rugged as a Saddleback bag, but it is not nearly as heavy as one either. Do not get me wrong, this bag will far out last your current iPad (and while I can not guarantee it, probably your kids' kids' iPad42 as well). The Messenger Bag for the iPad weighs 1.25 lbs and is available in 8 colors: Flight Jacket, Cranberry Red, Rust Orange, Avocado Molasses, Brown, Ocean Blue, Black/Ebony, and Sunflower. You are also given the option to select a contrasting leather color (or colors if you choose) for the shoulder strap, inside pockets, and edging on top of front wall. The folks at Renaissance Art are very happy to work with you to create just what you want/envision.

The leather strap is attached to the messenger bag by metal rings and is adjustable in length. The shoulder strap is nice but 'seems to be' a little thin in my opinion. I asked Arthur (the President of Renaissance Art) about this, he informed me that the strap is cut from the same (medium thickness) leather as the bag itself. The metal connectors seem like they should be more robust to truly withstand the test of time and the hard road traveled….but I may be being somewhat over-critical.
If on the odd chance any part of this bag (or any other of their products) fails, Renaissance Art will fix it for you. Their warranty motto/guarantee is 'Fix it Forever for Free'…technically a longer warranty than even Saddleback (100 yrs).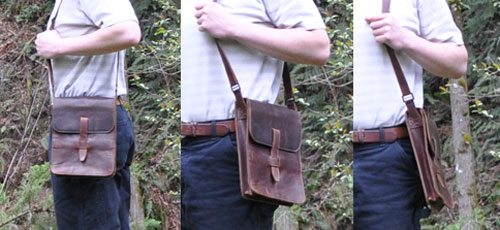 The Renaissance Art Messenger bag for iPad truly could be mistaken for a murse 😉 and to be honest, I do not really care. It is a handcrafted well made tech-bag with old-world style that without a doubt gets the job done. The folks at Renaissance Art are so dedicated to creating the perfect bag, they asked me to send them feedback to help improve this bag.   From this point forward they will be creating the iPad slot 10% larger to accommodate iPads with cases, tweaking the cellphone pocket to fit larger smartphones, and I am sure if you asked they would create you a bag with a non-adjustable, thicker shoulder strap that has no metal hardware if you desired. Bottom line, I really like this classic bag (and working with Renaissance Art) with its old world style and craftsmanship. Considering it is $165, I would tell anyone who asks that it is a great bang for the buck.
Product Information
Price:
$165
Manufacturer:
Renaissance Art
Pros:

- Excellent materials and workmanship
- Classic old world style
- Handmade
- Designed to last a lifetime
- Forever warranty
- Customizable
- Reasonably priced

Cons: