We use affiliate links. If you buy something through the links on this page, we may earn a commission at no cost to you. Learn more.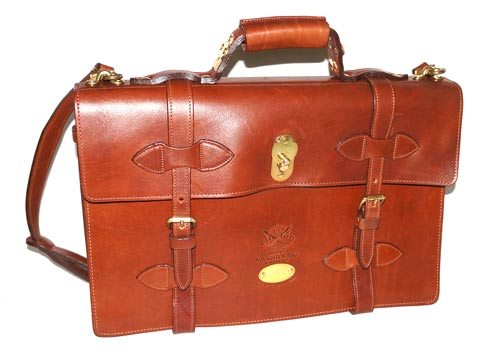 I am an old U.S. Air Force guy from back in the day…like my father, grand father and many uncles before me. I often think that I missed my time in history. I hate to say it, but I soooo would trade all of today's tech/gadgets to be a P-51 or B-17 pilot. I grant you, it's was a perilous, life in your hands occupation, but the adrenaline rush must have been like few in modern history. Well, when I first saw the No. 1943 Navigator Bag from Col. Littleton, it made me smile and think 'now that is cool'. The designers and artisans at Col. Littleton have not only captured the look and feel of an old World War II navigator bag but added a few modern day tweaks for your iPad and other tech as well. I'll be honest, I was jazzed to hear they were going to send me one to try/see in person.
True to form, the Col. Littleton Navigator Bag is exquisitely done: soft supple leather, solid brass hardware, Old World styling, fine stitching, and edge finishing. Like many of the other Col. Littleton bags I have reviewed, the craftsmanship and materials are truly second to none. However, I have to say, the Navigator bag takes it to the next level….this is what I call a 'legacy item'. It is an item passed down through the generations forever looking good and coveted by a majority who see it. I fully expect, when I am dead and gone, the Gadgeteer Kid will use this bag and perhaps even one of his kids after him.
Specifications:
Inside Dimensions: 10.5"H x 15.5"W x 4"D (expanded).
Empty Weight: 3lbs 13oz (w/o strap) / 4lbs 6oz (w/strap)
Weight w/my Gear: Just under 8 pounds with 11″ MBAir, iPad and a bunch of misc bits and pieces. With just my iPad and basic tech-gear, the bag ensemble weighs a little less than 6 pounds.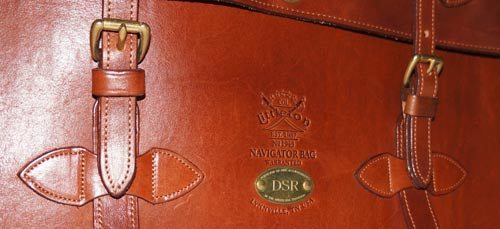 Without a doubt, the Col. Littleton Navigator Bag is the best bag I have ever used, extremely well built and incredibly finished. Silly as it sounds, I was literally giddy when it arrived on my doorstep….and in regards to tech-gear accessories, that does not happen often.
The materials, construction and design of this bag are 'perfect'. I could find no flaws and have no suggestion for quality or design improvements. The stitching is meticulously straight and even.  The hardware is all solid brass and the leather edges line up and are sealed/finished perfectly. Both the brass and leather are proudly stamped with the Col. Littleton logo throughout the bag, but not in a over-the-top/in-your-face manner.

Not only does the Navigator bag look good, but it is made to last a lifetime of use. As you can see, the Col. Littleton designers have added many brass rivets for greater strength throughout the bag….like the handle and brass shoulder strap points of attachment to name a few.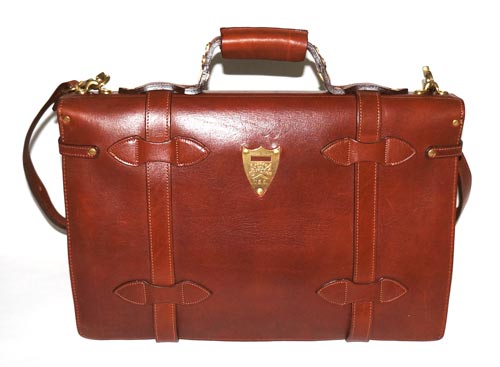 The back of the Navigator bag has leather reinforcements for the snap/closure straps. In addition to those, Col. Littleton rivets a small brass shield with their moniker and individual serial number on it (my bag is number 058).

The No. 1943 Navigator Bag can be compressed or expanded (up to 4 inches) with the buckled straps that go around the top/bottom and sides.

Over the entirety of the bag, the brass hardware is very well done. The words "heavy", "bold", and "strong" come to mind when I think of the best way to describe them.

The Navigator bag is held shut by two straps that snap closed on the front, allowing for easy access. Each strap wraps around the bag and has a workable buckle for a bit of expandability. In addition to the straps, there is a specially designed, solid brass lockable, keyhole-peg type of mechanism for better securing the Navigator bag closed.
In addition to the Col. Littleton logo, bag name, warranty stamped into the leather, you also have the option of a small brass plate with your initials to be added…..making this bag truly your own.

The inside dimensions of the Navigator bag is 10.5"H x 15.5"W x 4"D (expanded). There are two leather dividers that create three large pockets within the bag. The rear and middle pockets can hold a medium sized laptop (aka 15″ MacBook Pro) or a decent amount of paperwork. My 11″ MacBook Air easily slides into the center pocket of the bag. The front pocket not only has small pockets for business cards, pens, etc but a slot for your iPad as well. Unlike the Col. Littleton No. 42 Courier Bag I reviewed last year, all of the pockets are completely separated from each other so your tech-gear does not rub upon each other. The iPad is suspended within the bag, giving it greater protection from drops and bumps.

Even though it weighs nearly 8 pounds when I fill it full of my gear, I found the Navigator bag very comfortable to carry around. The handle is soft and nicely sized.

The shoulder strap is not only well made and good looking….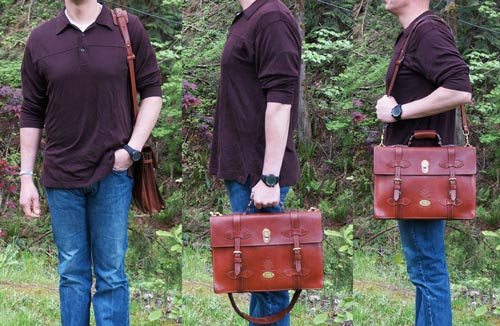 …..but feels great over your shoulder as well. It was not a burden at all.
I have to agree with Col. Littleton's commentary on this bag:
'My office is inundated with relics from the past, and I'm probably chief among them. Military artifacts especially seem to find a home with me. I've been looking at an old, official Army-issue World War II Navigator's Bag (circa 1943) in my office for years. The design seemed timeless; and with all the compartments inside, I thought it would be a perfect fit for today's busy executive.'
The Navigator bag's design is timeless…. iPad, laptop, chargers, pens, business cards, cords, etc are all well taken care of in this classic satchel. There is zero doubt in my mind, the old-timers I work with (among others) are jealous.
This level of quality and handmade craftsmanship does come at a cost. At nearly $900, this bag is not inexpensive. A majority of people would say that is down right expensive. I would argue, that while $875 is a great deal of money for most, you are definitely getting what you paid for in this case. Lets say you use/own this bag for 20 years….that is approx. $0.12 per day (3-4% the cost of a latte/day) to own such an excellent, handmade, piece of Americana. Plus that cost/time fraction of a dollar continues to diminish the more years & generations it is used.
Update 02/26/15
I use my Col. Littleton No. 1943 Navigator briefcase nearly everyday I am in the office or on travel. It has a few coffee stains on it and has traveled tens of thousands of miles but continues to be as gorgeous and functional as the day I received it.
Source: The sample for this review was provided by Col. Littleton. Visit their site for more info.

Product Information
Price:
$875.00
Manufacturer:
Col. Littleton
Pros:

- Incredible craftsmanship
- Top-notch materials
- Thick supple leather
- Solid brass hardware
- Built in iPad slot/pocket
- Straps allow for expandability
- Comfortable to wear or carry
- Great warranty

Cons: