We use affiliate links. If you buy something through the links on this page, we may earn a commission at no cost to you. Learn more.
Power, storage and access are the holy trinity of the geek. We cannot have too much access to the Internet, too much storage (digital or physical, for our gadgets) or too many different ways to get powered up. While USB seems to be well on its way to powering everything from GPS units to phones to wrist watches, it's still difficult to carry enough battery power around to recharge your gear if you've left the grid or your laptop behind. Choiix has a line of power devices that are designed to this exact market: small, light, nicely priced, and, most important, very powerful. As a test item, Coolermaster sent me the Choiix Power Fort 5600 in white, which is a rechargeable 5600 mAh brick a little smaller than a deck of cards or a pack of smokes, yet able to recharge your iPhone, iPod, Droid, GPS, flip phone, or just about anything else that you'd usually charge through your computer's USB port. It's even capable of charging the iPad, which takes 10 watts, rather than the usual 5 watts most standard USB ports deliver.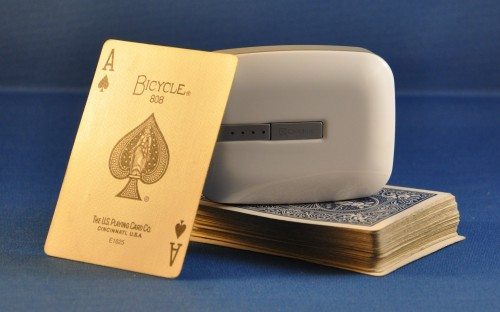 On one side edge of the device is a micro-USB port, and on the opposite edge, a full USB port. The top is a glossy plastic (white or black is available) with a brushed metallic button in the center. Off to one side from this button is a band in the same brushed finish with 4 blue LEDs. All sides except the glossy top are clad with a grippy material. This is helpful if you're fumbling around in your bag for it, because once you get into your mind where the top is, you'll know where the power port is, even in the dark.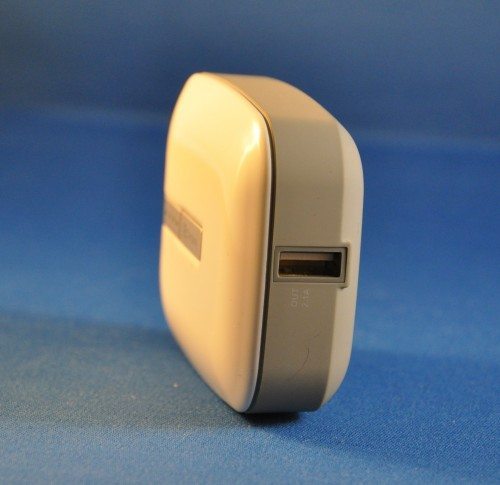 When you press the button for a few seconds, It will display your available power. When charging (through the micro-USB port) the buttons blink as the battery fills up, with the "full" amount staying lit and the next blinking. To go from one, single blinking LED to four solid ones takes about an hour using my iPad charger. I never noticed any loss of charge unless I actually used it to charge something. This is important in this type device, because the usual use case is filling it up, tossing it into your bag or pocket, and only pulling it out if you need to charge something. If you had to continually monitor it's power level, even if you never used it, that would seriously impact the convienence factor, or it being ready when you need it.
During testing, I invited many friends to "power up" while at lunch or out after work. I saw every phone go from being "in the red" to completely or nearly full in every case. Usual time for, say, an iPhone 4 at 20% was 40-50 minutes to get into the 80% range. That's a nice bump when you're facing the prospect of a long drive home and have forgotten to top-off during the day.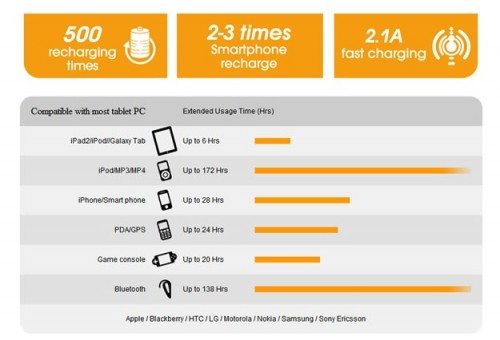 Take a look at the above chart I grabbed from the
Choiix web page
to get an idea of the extended use time this little box can deliver: 6 extra hours for a tablet, 28 more for your smartphone, and 172 more on your MP3 player. They may be a little on the high side (all those times are listed as "up to", remember), but they are not far from reality, at least from my experience thus far.
As I'm writing this (on my iPad in Evernote), I'm in a park on a biking weekend in Savannah, GA, with my iPhone charging in my saddlebag. The iPad power adapter, iPad, iPhone, and Power Fort are all I brought with me for the 2.5 days I'll be gone, and between wifi in the motel and cafes, and great 3G coverage on my phone, I've not felt cut off in the least. I've done other trips with similar equipment, and always felt a little fearful that I'll not be close to power and will thus run shy somewhere. With the Power Fort, I think that's behind me. I hope so, anyway.
So, are there any drawbacks? Maybe a few. The microUSB port that is used for charging is one of those that make it difficult to tell which way you plug it in. Over time, I'm wondering if it will become worn out from me trying to plug in, realizing that it's at the wrong orientation, and then putting it in correctly. Once you're in the right orientation, it fits fine, but those connectors are so easy to get wrong, I wish companies would stop supporting it. The miniUSB connector is more obviously trapezoidal, so less prone to this issue, but that's not the fault of Choiix, except in using what I feel is a poor standard. There are worse ones on the market. (Regular USB, I'm looking at you!)
Another drawback is the lack of a clear "charging" mode. When you plug something in the full-sized USB port, you then have to hold down the button on top, next to the level LEDs, and then it will start charging your device. And it will keep on feeding power at that rate, until you either unplug it or hit the button again. It would be nice if you could plug it in and it would auto-charge until the device was full, then stop charging. On more than one occasion during initial testing, I accidentally just left it plugged in, and ran the Power Fort down, while the device had been fully charged for hours. Once you learn that it's manual, you know to keep checking, but it's irritating. Maybe the lack of auto detect power metering is one of the things that keeps the price reasonable.
Something I'd like to see: a "play-through" feature, where you can power another device through the USB port while you're charging the Power Fort. It doesn't do it right now, but it would sure be nice to recharge both the Power Fort and your iPad or whatever at the same time. Otherwise, you have to have more than one adapter, and more than one available outlet.
All things considered, the Choiix Power Fort is much more asset than liability. At $40, it's half the price of many of the similar devices on the market. I've not tested any other USB chargers, but have loads of friends and customers who have, and I've not heard good things from many of them. Mophie's Juice Pack series gets good reviews for an integrated case/battery charger (I reviewed one for my iPhone 3G and loved it!), but their power units that would compare with the Power Fort are nowhere as cheap or powerful.
Included in the package is the Power Fort, a USB cable that will work for recharging, a miniUSB cable, and a velveteen drawstring bag that will hold all items. Also included is a whale of a lot of peace of mind for the roaming gadget user. Four and a half stars.
Product Information
Price:
$40
Manufacturer:
Choiix
Retailer:
Coolermaster
Requirements:

Device must be charged from a working USB port or charger. Also, the item you're wanting to charge must be USB-chargable.

Pros:

Small, cheap, powerful.
No fiddly on/off switches or buttons, just two ports and a single recessed button.
Can recharge many different devices multiple times.
Able to recharge iPad with ease - few competitors do that!

Cons:

Micro-USB cable for charging the device itself is easy to plug in upside-down.
No auto-start or auto-off.
No play-through charging.