We use affiliate links. If you buy something through the links on this page, we may earn a commission at no cost to you. Learn more.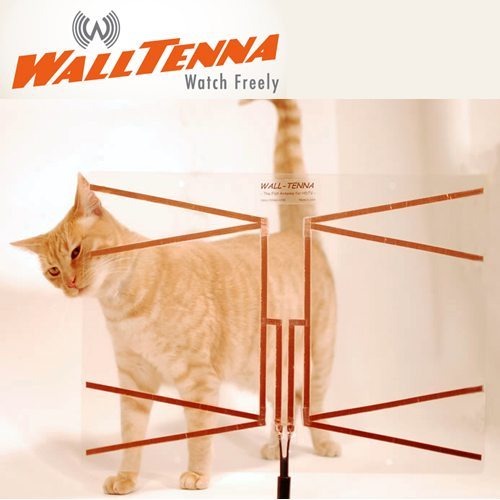 I've mentioned before that I have three TVs in my house but only two cable outlets.  I want to be able to watch TV in my bedroom, but I don't want to have to pay to have a third outlet installed in my house – and then pay a monthly service charge for the outlet, cable box, and remote.  That's not my main TV, so I don't have to be able to receive all 5,000 channels (approximately 😉 ) that I receive on my living room TV.  We don't have an outdoor antenna, and I don't want to have one installed.  I decided I'd try a cheaper alternative for my bedroom TV and bought one of those set-top rabbit ears antennas with the built-in amplifier.  I could get the local station with the rabbit ears, but not much else that wasn't pixellated and unwatchable.  When Urban Freedom offered The Gadgeteer one of their WallTenna indoor omni-directional antennas, I asked Julie if I could try it out.  
Most images can be clicked for a larger view.  The top picture is courtesy of the WallTenna website; all the rest are mine.
I was especially interested in WallTenna because they are based in Greensboro, NC, just like me!  Snowdon Parlette was inspired to design the antenna while living in New York City.  After he got a beautiful new HD flatscreen, he realized that his old rabbit ears just weren't up to the challenge of receiving digital signals.  With the old analog signals, indoor antennas could pull in distant signals that were fuzzy but were almost clear enough to watch.  Digital signals are an all-or-nothing proposition – antennas just don't pick up weak signals at all.  He exhausted all commercial digital antenna options without finding anything to suit his needs, so he set about designing the WallTenna.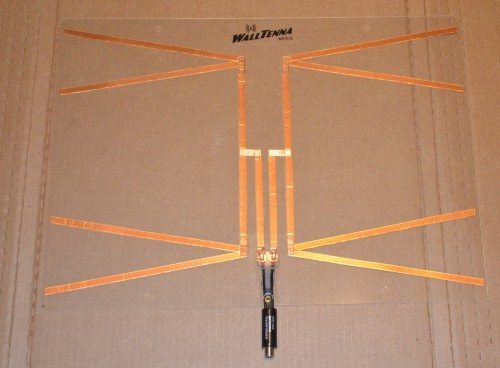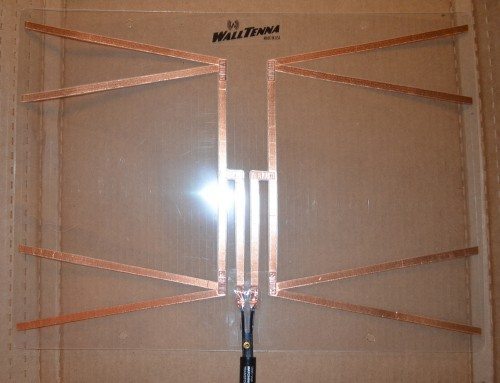 The WallTenna is a flat antenna that's for indoor or attic use only.  It's made of two clear plastic sheets that are laminated together.  Between the layers, strips of copper tape have been arranged in a double bowtie design like that used in some rooftop antennas.  The WallTenna measures 16.25″ wide X 14″ tall X 10mm thick.  The copper tape looks a lot like the copper tape I used to use when I made stained glass lamps many years ago.  The double bowtie design reminds me of Frank Lloyd Wright art glass designs, too.
The WallTenna is designed to be hung on a wall or inside a window.  There are two holes at the top and two at the bottom of the antenna that can be used with hooks or picture hangers to attach it to the wall.  You can also use tape to secure it to your wall or window.  If you remove the clear logo sticker at the top, the WallTenna almost looks like a piece of glass art.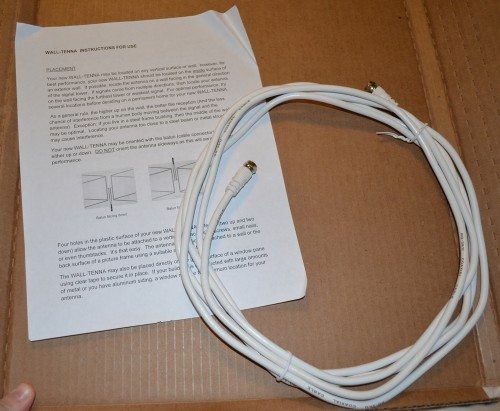 In addition to the WallTenna, you also get an instruction sheet and a 12-foot RG-59 cable to connect your TV to the WallTenna.  Information on the WallTenna site says you can also use RG-6 cables.  "RG-59 is smaller in diameter and especially well-suited for HDTV signal frequencies (37 MHz). For over-the-air (OTA) signal transmission RG-59 works slightly better over long runs. The RG-6 is designed for use with satellite and cable systems where high frequencies (above 50 MHz) are the norm. For connecting WallTenna, either cable will work. However, we prefer the RG-59 because it is smaller, more flexible and less obtrusive than the larger diameter RG-6."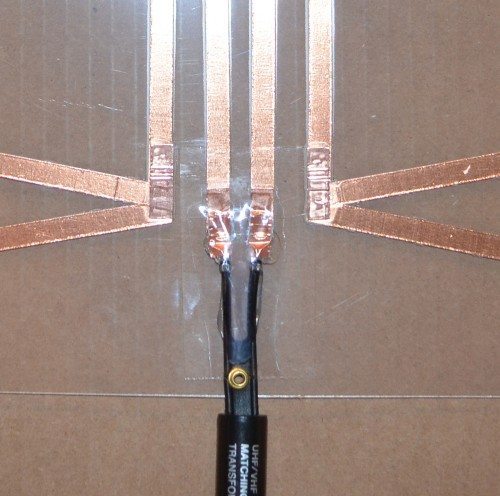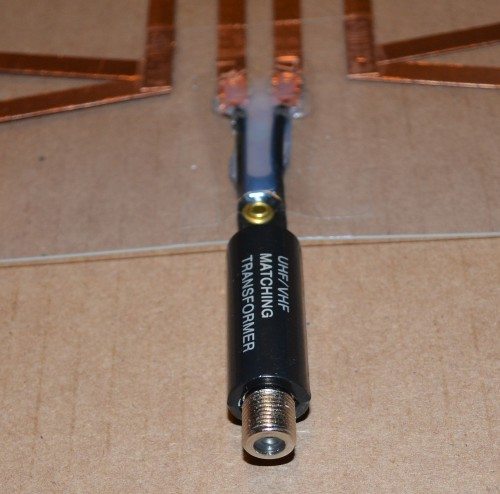 This is the balun, or the connection point for the coaxial cable.  The instruction sheet says you may install the antenna with the balun pointing down or up, but reception will be seriously degraded if you install the antenna sideways.   They also recommend that you secure the balun to the wall with tape once you've settled on your permanent installation location to prevent stressing the connection to the copper strips.
The WallTenna is designed to receive the free, over-the-air (OTA) digital TV signals that are available in the US.  If your TV was sold after May 25, 2007, it is has a built-in ATSC digital tuner, and you won't need anything other than the WallTenna and its cable to receive these OTA signals.  If your TV was sold before that date, you'll need a converter box.  My TV is only a year old, so I don't need a converter.
I also don't have a Tivo or a DVR for my bedroom HDTV, but the WallTenna is compatible with these devices.
These free OTA signals are digital, but not all are high-definition.  Digital signals, even the standard-def ones, are all much clearer than the old analog signals that used to be the standard for television transmission.  Most stations transmitted in the VHF (very-high frequency) range before the digital switchover, and a few channels used the UHF (ultra-high frequency) range.  Rabbit ears antennas were designed to pick up the VHF signals.  As analog stations began to use UHF frequencies, a loop was added to the base of the rabbit ears for better reception in this range.  With the digital switchover, about 75% of stations switched to UHF frequencies.  Although there's really not an "HDTV antenna," those optimized for UHF will work better for receiving digital transmissions.  The WallTenna, like most indoor antennas, can receive signals from transmitters up to 30 miles away.  Of course, hills or mountainous terrain can interfere with reception, as can trees, buildings, and other structures.  I live in the Piedmont region of NC, so there aren't mountains between me and the stations, but there are a lot of buildings and trees.
Digital OTA signals can transmit in full 1080 HD tv.  With a good antenna, you should be able to receive TV signals that rival or exceed the clarity of cable signals.  WallTenna tells us "at best, cable can only match the quality of the free broadcast signal. All cable companies compress their HD signals in order to fit in the hundred-odd junk channels include in their packages. The result is a degraded signal that is usually inferior to OTA broadcast."
I'd be happy to get ABC, CBS, NBC, and Fox on my bedroom TV.  When I had tried other indoor antennas, I had been able to get the local CBS station pretty well, but ABC and Fox had problems with pixellation or the picture freezing.  I couldn't get NBC at all; that station is in Winston-Salem, and the transmitter is about 36 miles away.
WallTenna directed me to the TV Fool website where I learned what OTA channels I should be able to receive for my address.  They go into far more detail than I can understand – or care to.  Suffice it to say, you enter your street address and TV Fool gives you a list of local broadcasters, their distance from you, the direction you should point your antenna to best receive their signals, and the strength of their signals at your location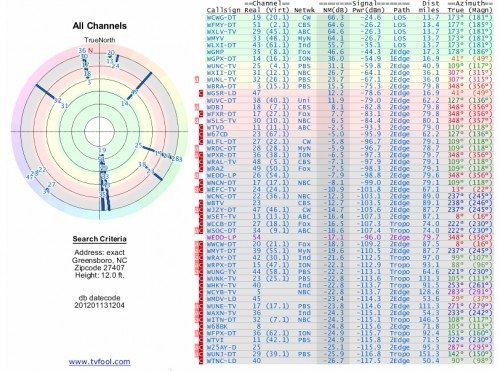 Above is the report I received for my street address.  The stations shown with a green background should be available with an indoor set-top antenna.  Yellow means an attic-mounted antenna would probably be required for reception, red means a roof-top antenna is probably required, and gray means the signals are so weak at my location that extreme measures are required for reception.  The bullseye diagram shows where the stations are in relation to my house so that I know which direction to point an antenna to receive the strongest signal.  The WallTenna is omni-directional, so I won't have to worry about reorienting the antenna each time I change the station.  According to the report, I should get ABC, CBS, CW, Fox, Ion and a couple of other stations, but NBC is probably out of range.
WallTenna can be stacked or arrayed to improve reception in your area, just as outdoor antennas can be.  Stacked means you place one WallTenna above the other and connect them to a signal joiner before connecting the TV.  Arrayed means they are placed side-by-side, but this makes them much more directional.  The company says a single WallTenna should provide an excellent signal in most cases.  I hope so, because I only received the one;  there's no stacking or arraying happening for this test.
Now I just had to find the proper location to install my WallTenna.  The installation instructions say you can attach the WallTenna to a wall, window, or any other vertical surface.  You can even attach it to the back of a picture on your wall, if you'd prefer to hide it.  They recommend that you position the WallTenna on the inside of one of your house's exterior walls.  You should place it on a wall facing the station with the weakest signal, if possible.  Windows are an ideal place to install the antenna, if one is close enough to the TV and you don't mind having the antenna in your window.  The clear design almost disappears in a window, and as I mentioned earlier, I think it looks a bit like art glass and wouldn't be unattractive in the window.
Higher on the wall is usually better for reception, unless you live in a steel-framed house.  With a signal splitter, you can also connect multiple TVs to the WallTenna.  Check the installation sheet and the WallTenna website for more information about finding the best location for your antenna and hooking up multiple TVs.
Luckily, my bedroom TV is very near a window that faces due east.  Unfortunately, the NBC station is west of here.  I've never been able to receive NBC on any TV I've had in my bedroom with any antenna I've tried.  Oh, well.  I just hope I can watch CBS (The Big Bang Theory), ABC (Castle), and Fox (Bones).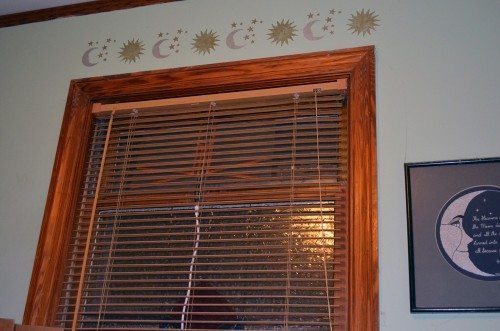 I put the WallTenna in the top of my east-facing window and taped the balun to the wood sash.  The antenna itself isn't obtrusive, but I need to find a way to direct the white coax cable so it doesn't hang down the middle of my window.
After I screwed the coax cable into the back of my TV, I had to go into its setup, select "antenna" as my source, and have the TV scan for available channels.  It found 27 channels – including NBC and the UNC public TV station that were listed in the yellow zone of my TV Fool report.  In addition to the standard broadcast networks, I also receive THIS, Ion and Ion Family, Qubo, a couple of Spanish-language channels, and some local independant stations – everything listed in the green section of the TV Fool report.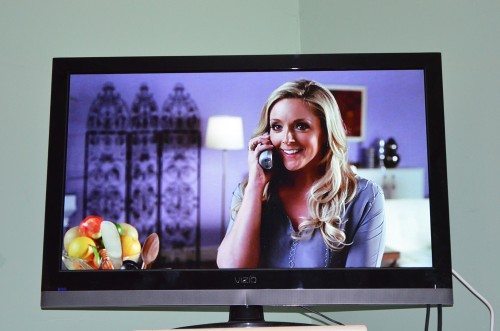 Every single station I receive using the WallTenna is clear and sharp.  I don't have to do any adjustments to the WallTenna when I change stations.  Everything stays sharp and clear during the day, night, and even during rain.  Funnily enough, I do get a little interference on the NBC station when my 6'2″ husband is walking around in the room, but it clears right up when he sits down.  At 4'11.75″, I don't seem to be tall enough to cause interference. 🙂
I love the WallTenna!  It's small and hangs in my window, so I don't have to try to find a tabletop to set it on.  It doesn't require constant adjustment for each station that I tune in, and it even gets a couple of distant stations I've never been able to receive with other indoor antennas.  Reception is sharp and clear for every channel.  I may not be able to watch cable shows like Ghost Hunters on my bedroom TV, but I can watch all of my can't-miss programs.  At only $39.95, you can't go wrong with the WallTenna.  That one-time charge is much cheaper than the $10 a month that adding a cable line, box, and remote would cost.
Product Information
Price:
$39.95
Manufacturer:
WallTenna
Pros:

Can hang it on a wall or window
Omni-directional, so it doesn't require adjustments for each station
Inexpensive
Clear, sharp signals without needing an amplifier

Cons: