We use affiliate links. If you buy something through the links on this page, we may earn a commission at no cost to you. Learn more.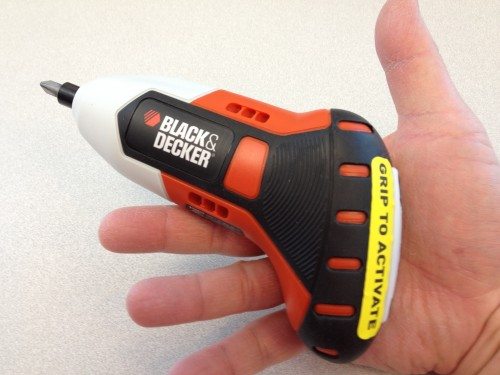 We all love power tools, but let's be realistic:  Unless your tools are part of your job or you're a serious handyperson, most power tools are overkill.  Yes, I've been guilty of using a $400 cordless uber-drill to tighten a cabinet hinge.  But what's this odd-ball, palm-sized thing?  A Gyro?  Isn't that meat eaten inside flat bread?  I had a chance to check out the new Black and Decker 4v MAX Gyro Screwdriver.
As a (mostly) hairy-chested, grunting macho-macho man, whenever I see a "power" tool packed in plastic like this, I turn up my manly nose and move on to the "big boy" tools.  Wait, it's motion activated?  And has a lithium-ion battery?  Well okay missy, let's see what you're all about.
The handle is cleverly exposed so you can get a feel for the grip.  This is important, because that's how you'll be controlling the tool.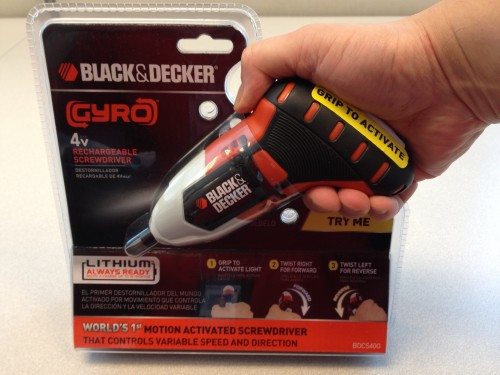 Key Features
Gyroscopic Technology
Compact
LED Light
Lithium Battery
Voltage:  4 v
180 rpm
Battery Type: Lithium
Benefits
Senses your motion for increased control with variable speed and forward/reverse
Illumnates project area
Holds a charge up to 18 months
For use in tight spaces
Time to dig in!  The package is that infamous hand-slashing plastic clamshell stuff.  This was the end result.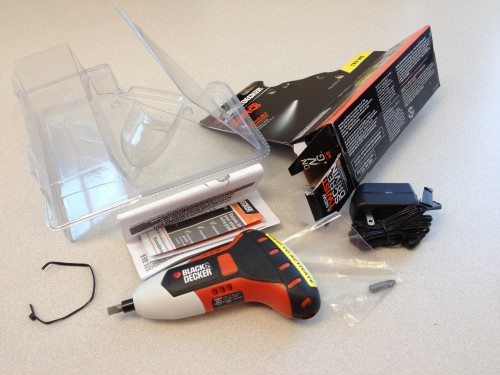 T
Below, you'll see the big "Gyro" button on the back of the handle and the Black and Decker 4v MAX Gyro Screwdriver in my hand.  Notice how the palm of the hand rests against the "Gyro" button.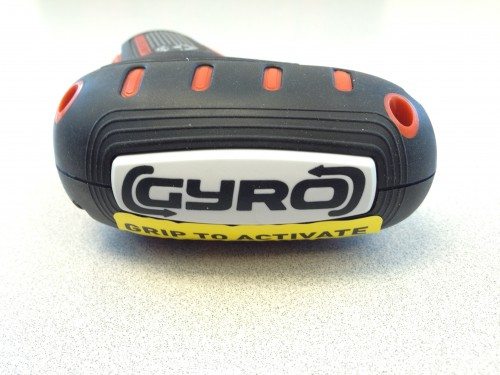 Aww, look.  It's so cute!
'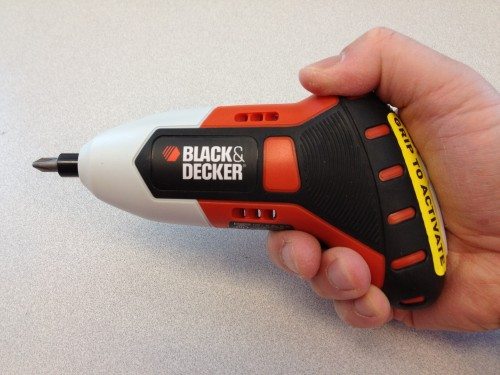 Comes with two bits.  There is no adjustable clutch or anything fancy.  I'm not kidding.  There aren't even any places to store extra bits.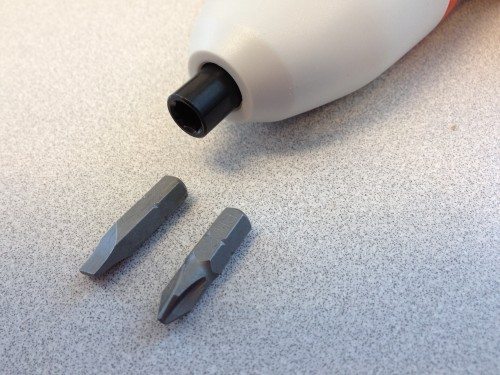 A little white LED lights up the area once you squeeze the Gyro button.  The white LED light also doubles as a low battery indicator, and will blink rapidly for 5 seconds when the battery is low.  The Gyro also has over-temperature protection.  When the unit approaches a temperature above the normal range, the Gyro will shut off and the LED blinks in a long/short pattern for 5 seconds.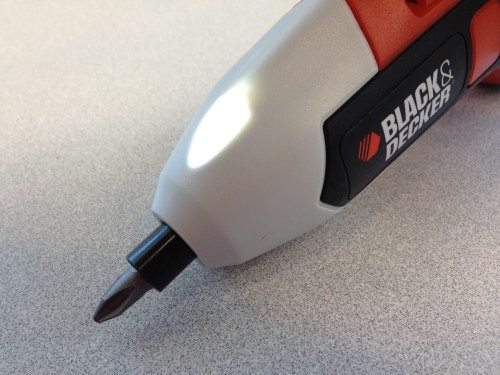 The included charger plugs in at the end of the tool.  It's a proprietary plug that fits in one way.  Black and Decker suggests an initial charge of 16 hours, or 12 hours from a fully discharged condition.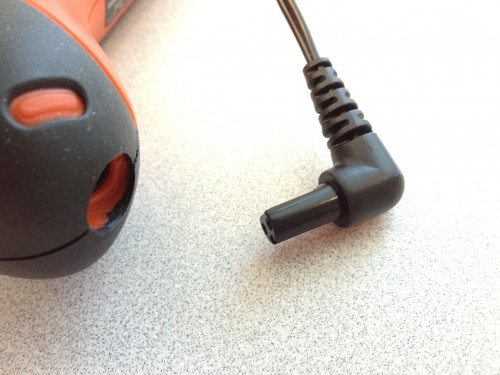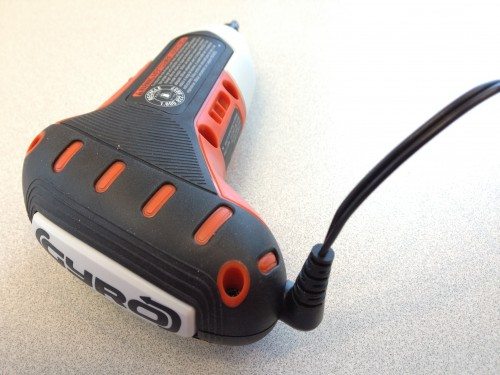 Underside of the Gyro.  Made in China.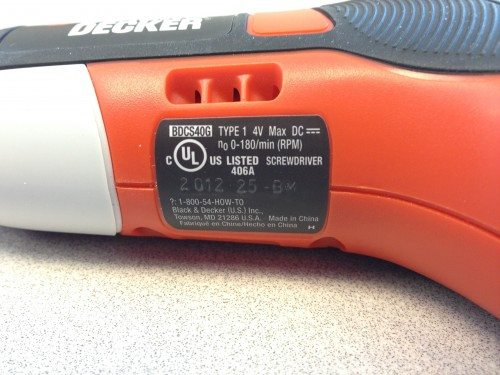 Using the Gyro is completely different than anything else I know of.  Instead of pulling a trigger, you grip the handle (squeezing the "Gyro" button) and gently "twist" the tool in the intended direction.  You guessed, it, righty-tighty, lefty-loosey.
When you squeeze the Gyro button, the tool takes note of its position.  Once you rotate it in either direction, it spins the bit accordingly.  That's right, want to go faster?  Rotate it just a bit more.
This twisty-gyro action took some getting used to.  I admit the novelty factor was very high.  No longer did I have to flip a switch to reverse direction.  I just rotated my wrist!
I set out to try out the Black and Decker 4v MAX Gyro Screwdriver on the nemesis of modern life:  Assembling an IKEA end table.
This beastie table was perfect little exercise, because as shown in the photo, there's a narrow area where a longer cordless screwdriver may not fit.  The Black and Decker 4v MAX Gyro Screwdriver BARELY fit.  The white LED lit up the work area just fine.
Then I found an issue I had not anticipated.  When I removed a screw to realign a part, the Gyro pushed the back of my hand against the opposite side of the work area.  The Gyro had plenty of power to squish my hand against the drawer guide.  OUCH!
Because I held the Gyro from the back, the rear of my hand would be the first to smash against something else.  Conventional cordless drills and drivers are pistol shaped or even "screwdriver" shaped.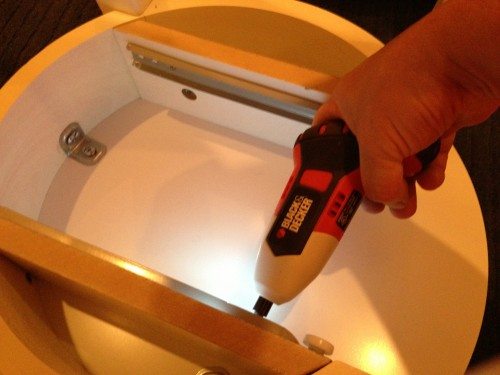 Clearly, a stubby, manual screwdriver would have been just fine for this tight spot, but I really wanted to put the Gyro through the test.  Besides, at the time, I couldn't find my stubby screwdriver.
Which leads me to an interesting point.  The Black and Decker 4v MAX Gyro Screwdriver is small enough that you could toss it in a kitchen drawer or car glovebox, and it's there when you need it.  Unlike my fancier Ni-MH or older Ni-CD powered cordless tools, the lithium batteries in the Gyro will hold a charge for up to 18 months.  That's a big deal to me, because as a non-professional, my tools are NEVER charged up.
Speaking of professionals, take note:  The tool shuts down automatically after 45 seconds as a safety measure in case of accidental activation in your toolbox, kitchen drawer, backpack, etc.  Yes, if the screw you're working on takes 46 seconds to finish, you're out of luck.  Then again if that's you, the Gyro probably isn't your first choice anyway.
It's probably not going to win over the heavy-duty tool types, but so what?  It's got enough power for most household tasks, compact enough for tight spaces, and it's likely to be charged up when you need it. I'll be keeping the Black and Decker 4v MAX Gyro Screwdriver lying around the house for sure alongside my "normal" hand tools.  I'll just try not to squish my hands next time.
Update 01/22/15
It's been over two years and the Gyro now lives in the trunk of my car. It STILL retains it's original charge, which is completely amazing to me. Totally unexpected. I hope I don't lose the charger!
Source: The sample for this review was provided by Black and Decker. Please visit their site for more info.
Product Information
Price:
$40 MSRP ($39.97 at Lowes, Walmart, Amazon)
Manufacturer:
Black and Decker
Pros:

Small, lithium batteries hold a charge for up to 18 mos.
Unique variable-speed gyroscopic control.
Fine for household DIY chores.

Cons:

Small learning curve for the gyro control vs. conventional trigger.
No bit storage.