We use affiliate links. If you buy something through the links on this page, we may earn a commission at no cost to you. Learn more.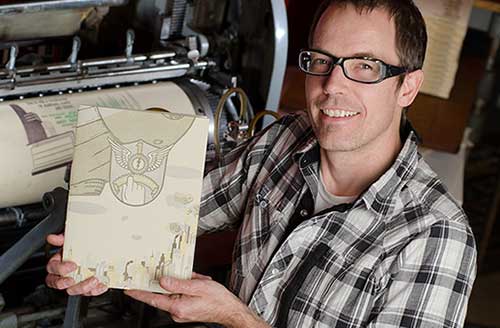 I think Todd Thyberg is cool. He's kind of like Ben Franklin (printer), Jules Verne (sci fi writer), Betsy Ross (seamstress) and a smartphone geek all wrapped up in one person. Todd has written The Airship, a 12 page, 3 color illustrated sci fi graphic novel that has been printed on a 90 year old Vandercook letterpress. Todd then hand cuts and binds the pages into a booklet.
The Airship is a science fiction story and first in a trilogy of planned letterpress graphic novels. In it, I seek to draw a literary analogy between the dichotomy of using modern day digital design tools to create works that are produced on vintage analog equipment. In this story, set in a fictional past, one of the characters is transported to another dimension in space and time. His attempts to communicate across this gulf are indecipherable to the reader without access to a smartphone. I hope to entice readers into seeing new possibilities for tying two disparate mediums together for a more interactive and unique experience. Readers must use their smartphone to scan QR codes so they can see video messages and explore The Airship.
The Airship is available now for pre-order. The hand stitched booklet version is priced at $150 and the hard bound version which includes extra images is priced at $350. Pricey for sure, but I can appreciate the work he put into it and would be interested in checking it out.