The Gadgeteer is supported by readers like you! If you buy something through links on our site, we may earn an affiliate commission. Thank you! Learn more.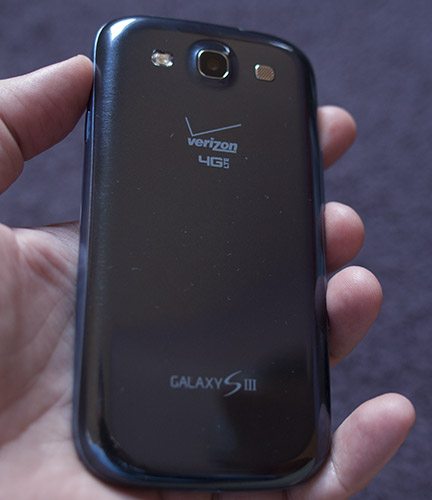 Julie: The Samsung Galaxy SIII from Verizon Wireless is one of the most anticipated Android smart phones of the past year. I've been anxious to get my hands on this phone and was very happy when Verizon was kind enough to send me a loaner for a week. Lucky for you guys, you won't just get my take on this phone, you're going to also get a 2nd opinion from Bryan Sherman. My comments will be in Blue italics and Bryan's will be in regular Black text.
Bryan: As I alluded to in the Verizon Share Anything Plan post, I was eligible for a discounted phone, and planned on getting one before the plans changed. I was able to pre-order the Samsung Galaxy SIII and retain my unlimited data plan, but had to wait for it to arrive. This experience was exacerbated by the fact that my wife entered the smartphone world with her purchase of the Galaxy Nexus. Finally the wait is over.
Julie: I've been eligible for an upgrade since April and have been biding my time trying to wait for worthy successor to my iPhone 4S which I have been growing a little bored of. I plan to switch over to the Share Everything plan with my next phone. 

The Delivery
Bryan: Being the geek that I am, I was keeping an eye on the FedEx tracking as soon as the number hit my mailbox. I had even planned on working from home on 7/11 when the phone was due to arrive. Then a cruel twist happened when I saw it was scheduled for 7/10. There was no way I could be home for the delivery, but I knew it would be back on the truck the next day.
Checking in after lunch I was surprised to see that it had been delivered. Then it got really strange. It listed a name I was unfamiliar with as the signer, and said receptionist/front desk. Now I don't know all the last names of my neighbors, but I do know that I don't have a front desk, or a receptionist at my house. When I arrived home, there was no notice about delivery, so it looked bad for getting my phone. I called FedEx, they looked into. Turns out the box got mixed up in the deliveries destined for a company, and the driver quickly returned to the business and delivered my phone that night. Score one for FedEx.
Julie: I stayed home from work one morning just so I would be sure to intercept the FedEx delivery for an 8:30am delivery. I don't remember being more excited about receiving a new gadget in a long time.
What's in the Box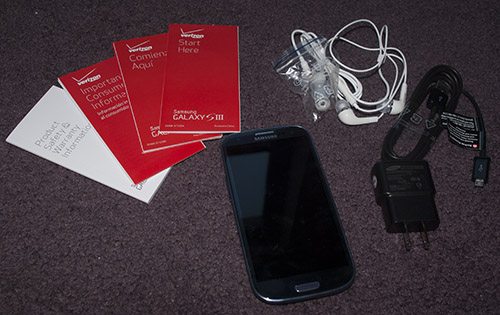 Bryan: It didn't take me long to open the box. No huge surprises here:
Samsung Galaxy SIII (Blue, 32 GB)
AC Adapter
Micro-USB cable
Headphones
Assorted manuals
Battery
4G LTE sim card
I would have preferred a black phone, and had no desire for the white, but am pleasantly surprised by the looks of the blue. It is actually darker than many of the product shots I saw. The AC adapter is a classic plug with USB port. It is actually not as nice as the one that comes with Galaxy Nexus, that one is the very svelte Samsung design I have come to anticipate. No big deal though. The headphones seem really nice, though I have not used them yet. They come with a number of ear pieces to choose from.
Julie: Verizon sent me the white version of the phone, which is the color I would/will choose if I end up buying this phone.
The Hardware
Bryan: Under the hood you have:
4.8″ HD Super AMOLED 1280 x 720 display
32 GB storage (16 GB available, and they list 64 GB as a future choice)
microSD slot supporting up to 64 GB
2 GB of memory
2100 mAh battery
1.5 GHz dual core processor
8.0 Megapixel rear-facing camera
1.9 Megapixel front-facing camera
Android 4.0 Ice Cream Sandwich OS
Setup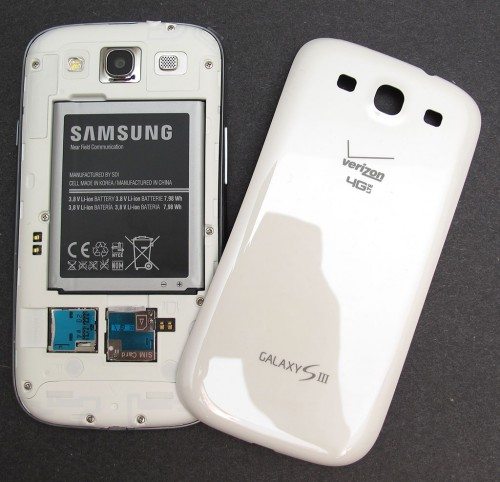 Bryan: I had to remove the protective plastic covering and open the back of the phone to insert the battery and SIM card. I am not a fan of this style of back. It has a number of plastic tabs, and frankly you feel like you are going to snap some off while removing the back. I went slow, and had no issue. The slots for the SIM card and micro-SD slot are clearly marked. I chose not to use a SD card yet (none is included) but it can support up to a 64 GB card. That is 32 GB + 64 GB for a total of 96 GB. That's a lot of storage.
Julie: My loaner came with the battery and SIM installed, but I went ahead and removed the back to see how scary it might be after reading your comment. Although it's made of thin flexible plastic, the back doesn't feel fragile to me. I think it will stand up to semi-regular removal.
Bryan: Good point. It's not that it feels all that fragile, just makes me nervous. On the plus side the back stays firmly on, as opposed to the occasional sliding of my Droid X.
After everything was put together, I tried to turn it on, and of course had it confirmed that it needed to charge. So I plugged it in and waited. As I waited I realized an appropriate aphorism for the 21st century is A watched phone never charges. I'd like to tell you I patiently waited, but I didn't. Once it got to about 90% charge I moved on.
I'll also admit that I didn't read all the directions. I setup phones all the time to test them, but this is my first upgrade with Verizon and I missed an important step. Once activation failed, I actually read their handy, well-written guide and realized I needed to activate the phone on my line. I logged into my account, upgraded the Droid X to the SGSIII and I was in business.
Verizon goes to great lengths to make upgrading simple. However, I am not a user of their backup system (Android after all backs it all up to your Google account) so I was a little annoyed skipping thorough a number of steps, and making sure I didn't skip too many. It did not take long, however, before I was good to go. My phone was syncing, and installing the apps I had before.
Julie: I skipped all the activation steps since my phone was a loaner. I also don't use Verizon's backup system. Whenever I swap between Android (and iOS) phones, I just link with my Google account and within minutes, my email, calendar, contacts and list of previously downloaded / purchased apps are available to me. 
Fit and Finish
Bryan: The phone is very attractive. I know there is a lot of comments about copying Apple, but this really does not have an iPhone look to me. Yes, it has a single physical button in the front, but that is flanked by two touchscreen buttons, and the overall design is thin and tapered versus the current iPhone's thick and boxy industrial look (and I DO like the look of the iPhone).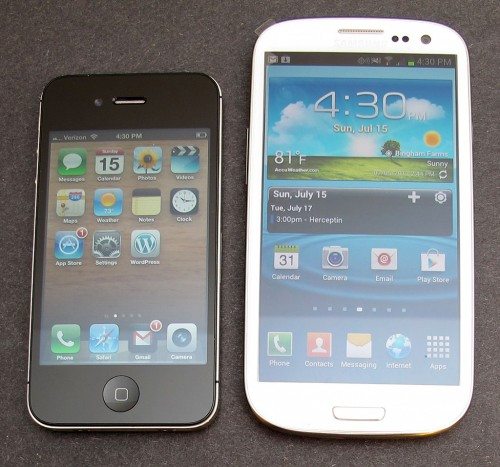 Julie: I think the White version of the phone is what has been causing all the copy cat talk. This is kind of dumb in my opinion… it's not like Apple has a patent on White phones. At least I don't think they do 😉 I agree with you, this phone doesn't make me think of Apple… because it's not as nice as an Apple product. An Apple iPhone feels like a solid chunk of glass with a metal band wrapped around it. The Samsung Galaxy SIII feels like a cheaper plastic phone. That said, it is solid and it didn't have any problems passing my normal Gadgeteer squeeze test. I didn't notice any flexing of the case, creaks, cracking noises or rattles when I shook it like a tambourine.

Bryan: Here is the front button. It is a wide button, and does not have a lot of travel to it. I have heard a fair number of mixed reactions to this setup, but I like having a physical button on front to wake the phone.

On either side of the home button are touch-sensitive Menu and Back buttons. These only appear when active, and will time out. You can change the setting on how quickly they appear. The Nexus phone (stock Android) has Back, Home and open applications. With ICS they are going away from the Menu button, but I do like still having it.
You can access search by long-pressing the Menu button (but only from a home page), and access the open applications by long-pressing the home button. In case you are wondering, long-pressing the back button just goes back.
Julie: I'd rather have more buttons and am still a fan of the original Droid X which had 4 physical buttons at the bottom of the display. I've never really liked touch screen buttons that most Android phones seem to have. The front button on the SGSIII is a nice size and has good tactile feedback, so I'm glad that it was included in the design instead of going with all touch screen buttons.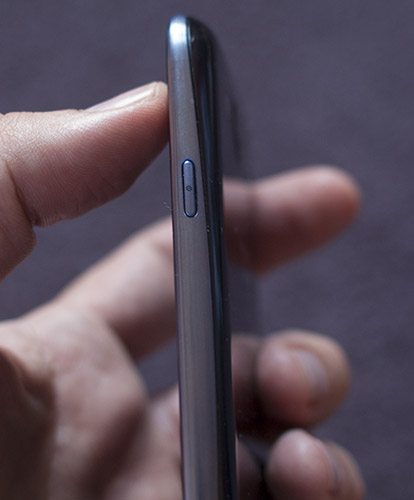 Bryan: The Power button is on the right side of the phone, and from this shot you can see the rounded edges of the phone.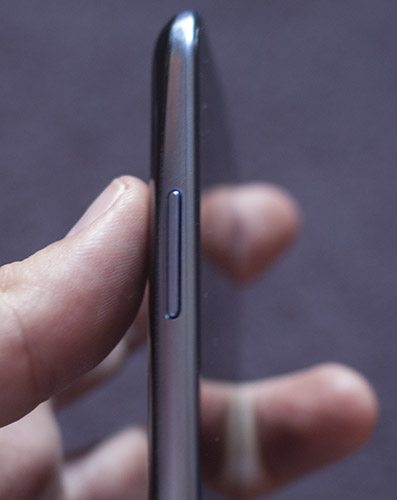 Bryan: The volume is a simple rocker switch on the left side. Pressing it will not wake up the phone. It works well.
Julie: As a lefty, I like that the volume rocker is located on this side. It always drives me bonkers when it is on the opposite side. HTC, I'm looking at you…

Bryan: The bottom of the phone has the microUSB port. There is no micro HDMI port, nor is there any sort of contacts for docks on this phone.
Julie: I'm still waiting for one of the big guys (Samsung, Motorola, etc.) to go with a wireless inductive charging system. I wonder how much longer we're going to have to wait.

Bryan: The top of the phone has the standard headphone jack. That's it for buttons and connections on the phone. A very minimalist approach.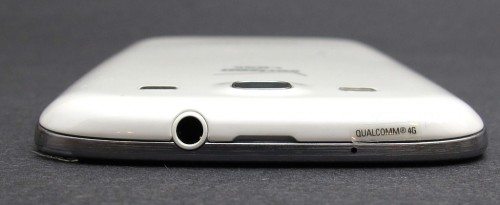 Julie: I like the look of this phone. It's thin and doesn't have a gaudy design. But it feels a little like it should be protected with a case or a screen protector, which I normally do not use. The camera which is located on the back of the phone sticks up slightly from the back of the case, which seems to be a bad design because it makes it easier to scratch against objects in your pocket or when you're sliding it around on a table.
Bryan: I agree about feeling like it needs a case. Luckily, it is so thin I see no issues putting one on, and I have not used a case since the one I bought for my old G1 was briefly on that phone.
4.8 inch Display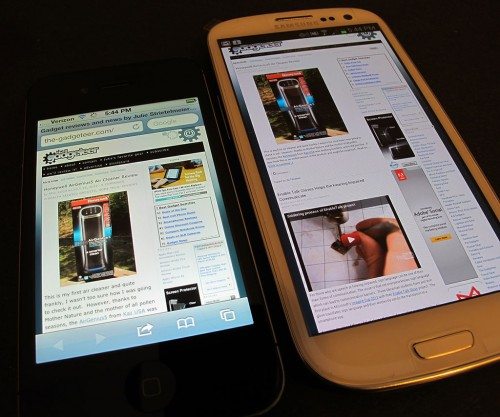 Julie: I really like the 4.8″ HD Super AMOLED 1280 x 720 display. It's sharp and vibrant and makes reading text and viewing images very enjoyable. I can't say the display is better than my iPhone 4S's retina display, but it comes close. I still prefer the brighter white backgrounds that the iPhone can provide. Even so, I have no complaints about the display. It's responsive when zooming in and out on text and images and also performs well when scrolling through long webpages. Reading eBooks on the SGSIII is great.
Camera
Julie: The SGSIII features an 8MP main camera and a 1.9MP front camera. 
Here are a few sample images from the main camera which does a great job at macros, which seems to be the majority of pictures that I take with my phone. Typically I use it to snap pics of magazine articles, labels, etc.
Bryan: I have a hard time getting excited about camera phones. I really need to pay more attention to them in reviews (thanks Julie). I thought the pictures were OK, but not eye-popping.
Making and Receiving Calls
Julie: I have no complaints with the SGSIII with regards to call audio quality, volume levels, etc. People said I sounded loud and clear when I would call them, and they sounded just as good on the SGSIII side of the conversation.
Bryan: Oh, that's right, the SGSIII is also a phone. I have had no issues with call quality, and it syncs nicely with my Bluetooth headset and my Jetta.
TouchWiz and Other "Enhancements"
Bryan: OK, I am not really a skinning fan. I would actually prefer my Android phone to be stock Android. But, in the end, the large screen and SD slot swayed me to the SGS3, so I am trying to keep an open mind. In fact, I am liking some of the enhancements.
I hit my first road block with screen captures. One of the things I looked forward to with ICS (Android 4.0) was OS screen capture. No more using the development tools on a Windows or Mac PC to get screen captures. And I was prepared. With ICS you simply hold down the power and volume down buttons for 2-3 seconds, click, flash and you have a screen capture in a folder in your gallery. I tried it to no avail on my SGSIII, and cursed TouchWiz. With a little spelunking, I found the solution in the Motions section of settings: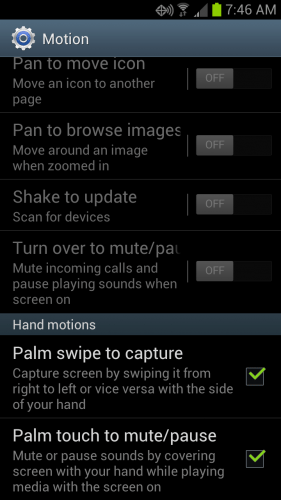 This worked like a charm. It is actually easier than the ICS method, and I was grabbing screens left and right. The motions section looks really promising. More on those later.
Julie: I agree that the palm swipe screen capture gesture is pretty clever. Especially with the scanner-esque animation that it shows when an image is saved.
Bryan: There are a quite a few motions available. Here is the top part of that list: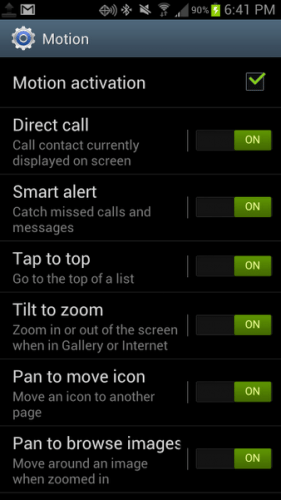 Bryan: Two of my favorite motions are Tilt to zoom and Pan to browse images. If you are viewing an image in the gallery, you can put your two thumbs on the screen and as you tilt it towards you it zooms in, and as you tilt away it zooms out. Remove one thumb and now you can move left, right, up, and down to pan the image. If you have ever played with Google Sky, or the street view on an Android phone you can imagine how it works.
Julie: Motions are fun and I thought they would probably be one of the new features I'd use most with this phone. But I must just be an old dog that won't learn new tricks because other than the screen capture motion, I don't use the others. Tilt to zoom doesn't feel easier to me than the good old two fingered pinch and spread gestures that I've been using for ages now.
Bryan: My favorite motion, however, isn't even found in the Motion section. You will find in in the Lock screen options section.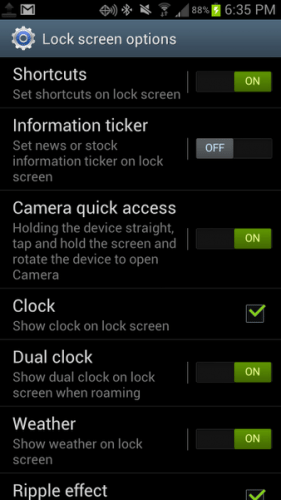 Bryan: With the Camera quick access option enabled, from the lock screen you simply hold your finger on the lock screen while you rotate it and the phone unlocks and the camera starts up. In fact, the lock screen is multifaceted. You have great control over what appears, and you can go directly to many apps as you unlock.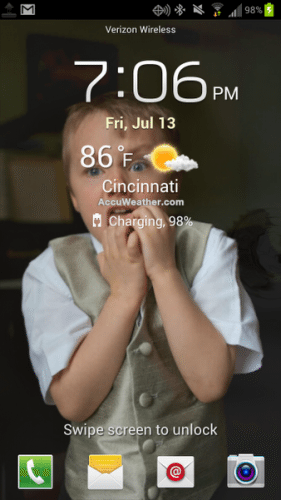 Bryan: In addition to the camera quick access option, I also turned on the weather information so that I can quickly see what the weather without unlocking my phone. You can swipe on the screen to unlock. There is no set place to swipe to or from. The four icons at the bottom let you quickly launch the phone, messaging, e-mail or the camera by starting on the icon and swiping up. You can customize these with any four applications you want. You can also swipe down from the notification area to unlock and display the notifications at the same time.
Julie: I also really like the new unlock screen features. Especially the fact that you can swipe anywhere to unlock.
Bryan: There are also some intriguing features like face unlock. You can access that from the Select screen lock screen: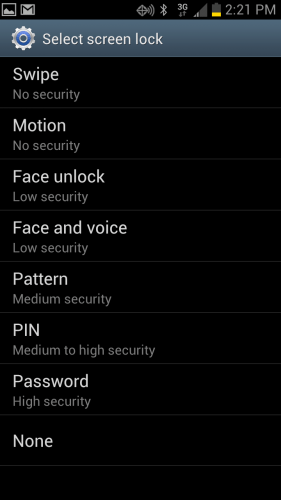 Bryan: The notification area has been enhanced. You have quick access to many things from the drop-down: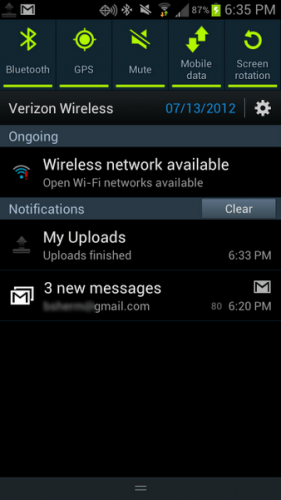 Bryan: Like a stock Ice Cream Sandwich phone, you have quick access to settings (the gear icon instead of the ICS sliders), can dismiss individual notifications by swiping them left or right, and clear all notifications with the Clear button. In addition, you have a number of icons to toggle things like Bluetooth, GPS, Mute, Mobile Data, Screen rotation, and if you swipe right you will see controls for Power saving, Airplane mode, Driving mode and Sync. I was surprised there was no Wi-Fi toggle, but that can be controlled in the Ongoing notification about Wi-Fi. Not as quick as a one-touch off and on, and not always available, but still handy when it is.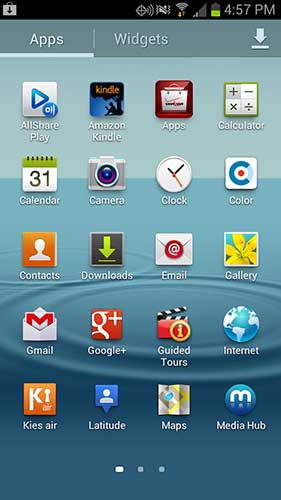 I still am not a big fan of the look of TouchWiz. The designer seems to like too many fluorescent colors for my taste, though I have noticed that the color assault is less than in previous versions. Also, they have a light widget, which is great, but inexplicably make it a 2 x 1 widget. It does not need to take the space of two icons on one of my home screens. But it does bring a fair amount of value add to the UI. I love the unlock options and motions especially.
Julie: I didn't like the gaudy color scheme for the original Galaxy phone because it seemed way too cartoonish. I find the interface with the SGSIII to be pleasing to my eyes. I also like that the applications screens have a revolving swipe. What I mean by that is that if you swipe on the last page, it revolves back around to the first page instead of making you swipe backwards.
I haven't used an Android phone in awhile, so I was reminded of one big annoyance that I think started with the version of Android before Ice Cream Sandwich… That's the fact that Android phones no longer mount as a USB drive on Mac computers without having to install a special file manager. Bleh! For some reason no matter what I try, I can't get the SGSIII to mount though. A popup keeps telling me to plugin an Android phone using the included USB cable. I've tried different ports and different cables with no luck at all. Very frustrating…
Bryan: Actually the USB drive issue is not as easy as missing it (and I do). It comes down to the model that Android is using, and it is cleaner to not provide USB mounting. There is a great break down over on Android Police. By the third reading I think I was understanding upwards to 3/4 of it! 🙂
Based on that, I expected for the SGSIII to mount a USB drive when I added an SD card. I was wrong, it still only lets you choose between MTP and PTP. On Windows this is not issue, your phone shows up as a camera, and you can assess the directory structure through that (and not just the images and video from your camera). This is actually a better experience, as you don't have the issue of your SD card unmounting. Another good read about this is at Android Central.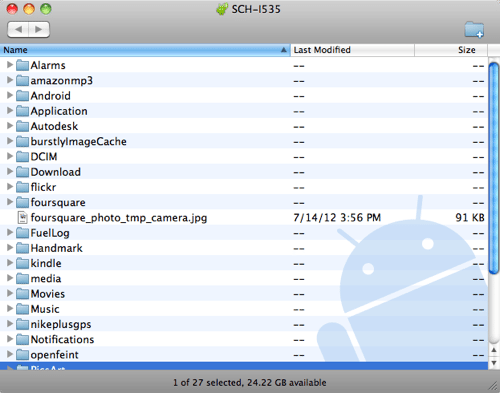 So to be clear, with Windows, it just works (sorry, I had to go there) with Mac OS and Unix you will need help. Android has an application called Android File Transfer for the Mac. The application works as advertised.
Julie: It may have worked for you, and it has worked for me in the past, but like I mentioned above, this application did not work for me on my iMac which is running the lastest version of the Mac OS. No matter what I tried, it would not recognize the phone was plugged in to the USB port. Maybe it's because I didn't have a microSD card installed. Unfortunately I can't test it as I had to send back the SGSIII to Verizon yesterday. I now have an HTC Incredible 4 to try, so we'll see if it works better.
Battery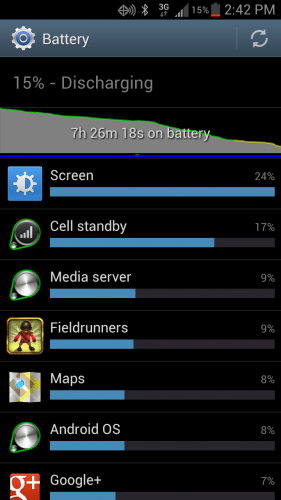 Bryan: My biggest concern with the phone was battery life. The battery, at 2100 mAh, is larger than most, but this has a huge screen and powerful processor. Day 1 is not the day to make any lasting conclusions, but I got to 15% in only 7.5 hours after charging it fully overnight. But, I was using it a lot, and downloading a number of apps. I even spent some time in processor/graphics intensive game to test it. You can see Fieldrunners accounted for almost 10% of the drain. The next few days will give a better indication. I did get 10 hours the next day to 15%. But you know, as much as I like how thin this phone is I would have appreciated a thicker phone with a bigger battery. I am holding out hope that an extended battery could be coming, either from Samsung or an enterprising third-party.
This was bothering me, and I reached out to Julie on her experience. After puzzling over this a little bit, and having a weekend where I was getting 14+ hours, I discovered my issue. This highlights a fear I have when I review phones, controlling for differences. My current gig has me at a company out in the burbs, in a building that must be built as a faraday cage. I do not get a good signal where I sit, though OK near the windows. As a result, my phone spends a lot of time connecting and disconnecting from data. This is a big drain on the battery. So, I actually find the performance of the battery, in the end, to be pretty good for 4G and so powerful a processor.
Julie: I don't have much information about battery performance either after only using the phone for a few days. But if those few days are any indication, this phone seems to have better battery life than my iPhone 4S. As long as I can get through a full day, I'm happy and the SGSIII seems to be going beyond that for me with normal use.
Third Party
Bryan: Speaking of 3rd party, the popularity for the SGSIII would seem to promise a lot of 3rd party options. I already see that my favorite case maker on the planet, Vaja has three different cases designed for the phone. There is also a nice selection of accessories including multiple cases and docks from Samsung, cables, including one to output HDMI, and to use your phone as a USB host (ready to read a thumb drive on your phone?). Another intriguing option is the TecTiles from Samsung that let you program your own NFC tags.
Julie: I am going to have a quick look at 2 Seidio SGSIII cases later this week. And I have to tell you that one of these cases made me realize that the SGSIII is more robust than I originally thought. Now I have no worries that this phone is tough and might not need a case at all.
Conclusions
Bryan: I hope to check out the NFC on the phone, my wife's Nexus has it, and I may have to check out the TecTiles Samsung sells. This is my phone for the long-term (bought, not just a review unit) and so far I have absolutely no buyer's remorse.
Julie: Unfortunately, I was not able to test the NFC (Near Field Communication) feature. It reminds me of the good old days of beaming apps back and forth between Palm Pilots!
I came into the Samsung Galaxy SIII review with the goal to figure out if I want to go ahead and use my upgrade on it. Like I mentioned at the start, I have been due for an upgrade since April but have been waiting for something worthy to come along. The SGSIII definitely fits the worthy criteria with its nice display, latest version of the OS, fast performance, good battery life and maximum allowable memory. But with the iPhone 5 right around the corner, I'm dragging my feet because I know I'll be buying it regardless if I decide to stick with Android for awhile. I'll need the latest iPhone for my Gadgeteer duties. I talked to Bryan about this and he told me I should just jump now and start the clock on my next 2yrs. I think he's right and I may head over to my local Verizon store after work or place an order online today.
Product Information
Price:
$199.99 (16 GB) $249.99 (32 GB) with 2yr activation
Manufacturer:
Samsung
Retailer:
Verizon Wireless
Pros:

Big display
Fast performance
Motion gestures

Cons:

Plastic case
Have to jump through hoops to mount as a USB drive on a Mac