We use affiliate links. If you buy something through the links on this page, we may earn a commission at no cost to you. Learn more.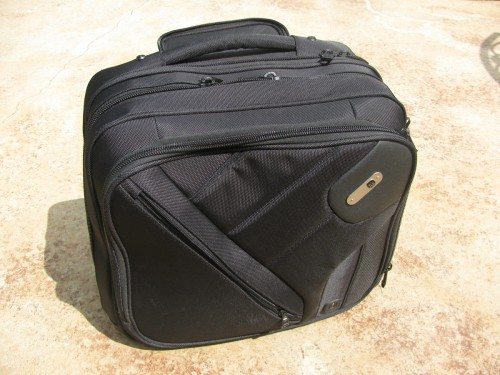 As any gadget fan knows, the bane of our existence is the battery. No matter how wonderful the device or gadget, if the battery lets you down, you aren't happy. You would think that someone by now would have been able to come up with a battery that you simply don't have to worry about, but alas, not so. We can put a man on the moon, but making a cellphone last for longer than a day is almost impossible.  Sigh. Until then, what's a gadget fan to do? Well, there are many solutions out there to give you more juice on the go. One such solution is the Powerbag Wheeled Briefcase from ful.  I travel several times a month and my biggest hassle is finding a place to charge up my gadgets. I hate trying to find an open power jack in the airport, so I jumped at the chance to review the Powerbag. Was my craving for juice satisfied? Was I no longer banished to sitting on the floor in the airport? Let's find out!
(NOTE: click the thumbnails to see a larger version of the pictures)
Let me start out this review by saying that the Powerbag is designed to charge all forms of cellphones, tablets, and gadgets, but not computers.  The battery requirements of a computer are simply too big for this bag, or any of the Powerbag products for that matter, to fully charge. I do travel quite a bit, but I am never in a situation where I am going to be away from a power source for days.  By the end of the travel day I usually have access to a power outlet in the hotel or wherever I am going.  Having said that, the Powerbag has replaceable batteries, so you could purchase numerous batteries that really do give you days of juice for all your gadgets.
Bag Tour
The Powerbag Wheeled Briefcase (retail at $250) is a very high-quality bag.  The bag is made of the same type of material as most suitcases, so it is very rugged and sturdy and can handle anything that a typical travel day throws at you. I won't go so far as to say that the bag is waterproof, but when you get water on the bag it simply beads up, so I feel comfortable saying that it is water-resistant.  In fact, ful even promotes the charging port on the outside of the bag as water-resistant.  The dimensions of the bag are 10.35″x16.5″x10.5″.  It is designed to hold 15″ laptops (or maybe a 16 inch with a tight squeeze) and 10″ tablets in the compartments inside, and there are many, many pockets and compartments on the inside to hold anything and everything that you might need.  The bag is smaller than most of those smaller suitcases that everyone takes on the plane as carry-ons, so I had no problem getting it in the overhead compartments.  I was not able to get it under any seat in front of me. The bag itself, empty, weighs in at just under 8 pounds.
There are many nice touches that ful included in this product.  For example, all the compartments for gadgets inside the bag are fully padded so you won't have to worry about any device getting bumped or damaged.  The two wheels on the bottom are not only as far to the outside of the bag as you can get, the tops of the wheels are slightly tilted toward the inside of the bag.  That means that you get a very smooth wheeled operation of this bag. When the handle was extended and I was rolling through the airport, even with a very heavy load, it was effortless to pull this bag.  I never once felt like the bag was going to tip over regardless of what I had loaded inside. I could pull this bag with just 2 fingers if I wanted (yes, I tried that to make sure that I included that in this review!).
The telescoping handle zips up inside an exterior compartment when you don't need it, and the grab handle on top is fully padded if you need to carry the bag that way.  Just below the zippered compartment on the back of the bag where the handle is, you will find a Velcro-secured flap that allows you to take this bag and slip it over the extended handle of your suitcase so that you can place the Powerbag on top of your suitcase securely. All along the bottom of the bag you will find hard, sturdy plastic panels that protect the bag and its contents when you drag the bag across curbs, escalators, and stairs.  On one side of the Powerbag, toward the top, you will find the charging port that is used to charge the internal battery before you take off.  On the front of the bag toward the bottom you will find the power button that turns the bag on and off.  When you press and hold that button to turn the bag on, you see a lighted bar increase from zero to 4 bars so that you can get a visual indication of how much juice you have left in the battery inside.
There are 3 main compartments in the bag.  The biggest one is on the back next to the handle and it is meant for carrying shoes, clothes, and such. I found that it was just big enough to carry clothing items for an overnight trip for me.  I was not able to carry more than that, so a multi-day trip required me to carry a separate suitcase for clothes.  However, if you were going to wear the same suit and shoes and you just needed some extra underwear, socks, and a shirt, you could probably use this bag for a multi-day trip. You would also need to keep your toiletries to a minimum, so this bag would definitely not be able to handle all the stuff my wife takes with her on a trip!
The middle compartment is meant for your laptops and tablets.  There are 2 padded compartments for those items, and the compartments are fully-padded all around.  I was able to easily carry my laptop and 2 tablets at all times, and I could have probably squeezed in another laptop and tablet if I had to.
The front compartment is where you carry all your small items, like gadgets, cables, pens, jump drives, gum, and in my case… lots of snacks!  There is also a padded pouch that is meant for tablets of any size, up to 10 inches. This front compartment is also where the bag's battery and charging cables are located (more on that in the next section).  On the front of the bag, you will find the only outside compartment, which is a zippered, padded pocket that I used to carry my travel documents and things I needed quick access to.  But the pocket was designed with the iPhone in mind, as you'll see in the next section of the review.  Read on..
The batteries
The thing that sets the Powerbag apart from all other business travel bags is of course the ability to charge things, so let's turn our attention to that. Here are the power specs from ful:
Battery: 6000mAh Lithium Polymer, weight 0.4 lbs
Input: 12VDC, 1.2A
Micro-USB, Mini-USB Output: 5VDC, 800mA combined
Apple Connector Output: 5VDC, 1A
USB Output: 5VDC, 1-2.1A
The Powerbag comes with the 6,000mAh battery, but you can purchase additional batteries in 3,000mAh ($39.00), 6,000mAh ($49.00) and 9,000mAh ($59.00) sizes.  I also got the 9,000mAh because I am simply a battery fanatic and never want to be without juice. The batteries plug into a slot inside the bag and can easily be swapped out when one is emptied.  Located in a pouch right next to the battery is where you will find the charging cable that you use to charge the Powerbag's battery, so the cable tucks away nicely when not in use.
To see the status of your battery's charge, you simply plug it into the bag, then press the button on the front of the bag to see a visual indicator (from 1 to 4 bars) of approximately how much charge you have left.  Pressing and holding the button on the front will turn the bag on and off.  After a few minutes of non-use the bag will turn itself off.
| | |
| --- | --- |
| | battery in bottom of front compartment, charging cable to left of battery |
Connecting your gadgets
The Powerbag has 3 power cables that are routed through the bag and sewn up into the linings of the bag itself.  In the exterior pocket that I have already mentioned as using for my travel documents, you will find a standard Apple connector so that you can charge your iPhone or iPod.  On the inside of the front compartment, you will find a pouch toward the top of the front of the compartment that contains micro- and mini-USB charging connectors.  I used this to charge my Bluetooth headsets and my cellphone.  Located at the bottom of the inside of the compartment where the bag's battery is located, you will find a standard USB port for charging USB devices that can't use the Apple, mini-USB or micro-USB cables.  I used this USB port to charge my HTC Flyer tablet which uses a proprietary charging cable.
| | |
| --- | --- |
| | |
| | Apple cable pulled into bag compartment from the front pocket |
| | |
Powerbag performance
Considering the Powerbag as just a business travel bag, I couldn't be happier.  I have gone through several travel bags over the years, including the MobileEdge ScanFast Checkpoint Friendly Briefcase which I reviewed in Oct. 2010 (which was still my daily-use bag), and this bag is now my go-to bag for travel – simply because having the mobile juice that this bag provides is too powerful a benefit for me to pass up.
Let me go ahead and get out of the way the few negatives that I have toward this bag.  It is strange to me that the only Apple connection you find is on the outside of the bag in a compartment that can only hold an iPhone or iPod.  I would have expected an Apple connection in the inside of the bag's front compartment where you find that special padded pouch for tablets because you know that most people will want to use this bag to charge their iPads. Of course, you can use the standard USB port next to the battery to charge your iPad, but it just seems odd to me that they didn't at least have 2 Apple connections.  I should also mention that the Apple cable in the outside pocket can be pulled into the front compartment of the Powerbag so that you can charge Apple devices in that same pouch where the micro and mini-USB cables are.  But there isn't enough slack in the cable to charge an iPad sitting in that special padded pouch in the front compartment.
I also don't understand why there is only 1 standard USB port. Not every device uses mini or micro-USB, or the Apple connection.  So it seems to me that 2 USB ports would have been really smart to include.  Also, the mini and micro-USB cables can only handle 800mA outputs, which means that some devices that require higher output (like 1A for example, that some newer cellphones require) are going to be forced to use the standard USB port – which further demonstrates the need for more USB ports. I do admit to being ignorant of power-requirement technology, so I am sure there is a perfectly good explanation as to why this was done with the Powerbag, but from the ignorant-consumer point of view, it doesn't make sense to me.
My cellphone is the HTC Thunderbolt 4G from Verizon, and I found some interesting performance issues with my cellphone and the Powerbag. In one instance my phone was about to die and I plugged up to the Powerbag while sitting in the terminal waiting for my plane.  I had several more calls to make, so I just continued to use the phone with my Bluetooth headset because the micro-USB cable in the bag isn't long enough to allow me to hold the phone to my head. When I finished using my phone 30 min later, I looked at the battery indicator on the screen of my phone and my phone had not charged at all while I was using it. The Powerbag kept my phone powered up so I could use it, but it wasn't able to charge it while I used it.  I am guessing that the 4G connection (which kills any battery in sight) and the use of my Bluetooth headset pulled on the battery so much so that the Powerbag couldn't charge it up.  After I finished using my phone and I turned off the Bluetooth and let the phone just charge, the Powerbag was able to charge my phone just fine.
I also discovered an interesting problem with my HTC Flyer 7-inch Android tablet.  To make a long story short, I contacted the Powerbag tech support people to help with this problem because I wasn't able to get my Flyer to charge up all the way before my Powerbag battery died.  The Powerbag was using the 6,000mAh battery and my Flyer has a 4,000mAh battery, but I was never able to get more than a 50% charge on my  Flyer.  What the tech support people found out by their testing is that the Flyer, when plugged up to the standard USB port, identifies itself as being charge via a PC which means that the rate of charge is significantly less and takes much longer to charge. When I used my 9,000mAh battery to charge the Flyer I was able to get it fully charged, but it took around 8 hours for that to happen.  So the bottom line is that 'performance may vary' when it comes to charging devices. I don't think we can realistically expect the Powerbag to charge every device and every battery out there. I don't think it is fair to expect this bag to handle every single situation with every single device.
Let me also say that the Powerbag tech support people were fantastic to work with. When I reached out to them with my Flyer problem, they responded very quickly and even did some testing on their end with an HTC Flyer to confirm what I was experiencing with the Powerbag.  In a world with lousy tech support from many companies, I give them props for responding to my issue.
Conclusion
The Powerbag meets every need that I have when it comes to charging on the go, as long as you don't expect it to charge your laptop.  It has saved me numerous times while traveling and I needed to find power for one of my devices. I do wish it had more features, like more USB ports, and the price is a bit steep at $250. But when you consider purchasing other mobile charging solutions and the cost of those, compared to the Powerbag, and having the extra convenience of having a business travel bag, it is well worth the cost to me. I have used the Powerbag at many conferences when I needed to carry 'stuff' around, back and forth between my hotel room and the conference booth, and that large compartment came in very handy. And if you have ever spent time on a conference showroom floor and needed power, then you are nodding your head right now because you understand. I don't have to hunt for power outlets anymore, and that is a very, very good thing indeed.
Update 12/18/14
Over 2 1/2 years after reviewing the Powerbag, I still use this wheeled bag today.  I use it on overnight trips because I can store a change of clothes in the large compartment, and I still use the built-in battery to charge my gadgets while I travel.  It hauls so much gear that I use it when I go to speaking events and workshops because I can haul multiple computers and lots of handouts.  The handle still works like a charm and the wheels are as solid as ever. Every zipper works, no seams are split, and none of the cloth pockets inside the bag have frayed or come unraveled.  These Powerbags by ful are the real deal!
Source: The sample for this review was provided by Powerbag. You can buy this bag from Amazon.