We use affiliate links. If you buy something through the links on this page, we may earn a commission at no cost to you. Learn more.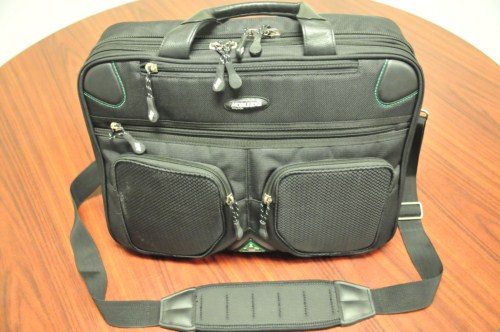 When you are going through airport security, what's the most important thing?  I mean, aside from making sure your socks don't have holes in them, that is.  You want to get through it fast, right?  And it sure is a hassle having to remove your laptop from its bag and then put it back in the bag on the other side.  Well, no more worries mate.  The MobileEdge ScanFast Checkpoint Friendly Briefcase 2.0 is the bag for you!
UPDATE:  new pictures added at the bottom of the review.
In the past month I went on 2 trips so I had to go through airport security in several different airports around the country.  I was intrigued by this bag that claimed I didn't have to remove my laptop before going through security, because they are pretty strict at airport security, right?  I wondered how all the airport security folks around the country got the message about this bag and what I was gonna say if they made me remove the laptop.  I wondered if Julie was gonna bail me out of jail for refusing to remove the laptop, because my review just wouldn't work if I had to remove it!  Luckily, Julie didn't have to come to my rescue.
I was successful at every airport getting through security without having to remove the laptop from the bag, and it was simply a breeze with this bag!  As you can see from the picture below, you just unzip the main zipper and open the bag completely flat.  Lay the bag on the conveyor belt and shazam, that's it.  I didn't have to get an extra bin to put the laptop in, thereby saving me a couple minutes and lots of hassle.  If I traveled alot, this bag would be extremely valuable because over the long run the minutes you save having to stand in line add up.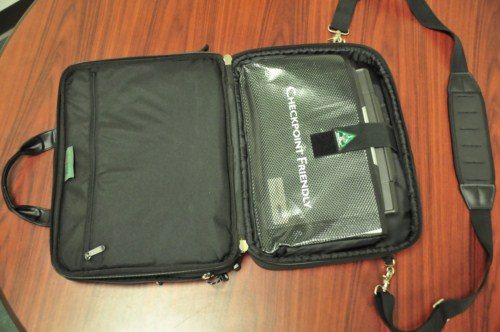 As you can see from the pictures, I took them in my office and not at the airport.  I was pretty confident in Julie's ability to negotiate with airport security, but I wasn't going to push my luck by trying to take pictures of the bag as it went through the scanner.  I wasn't interested in being on the CNN evening news!
Let me tell you some of things I love about this bag.  For such a small bag, there are a ton of pockets.  On the front of the bag you have 2 outside zippered pockets, as well as 2 horizontal zippered pockets.  I used these horizontal pockets to hold my travel papers, ID, baggage claim tickets, etc.  It made it very convenient to get to these items without having to unzip the main zippered compartments.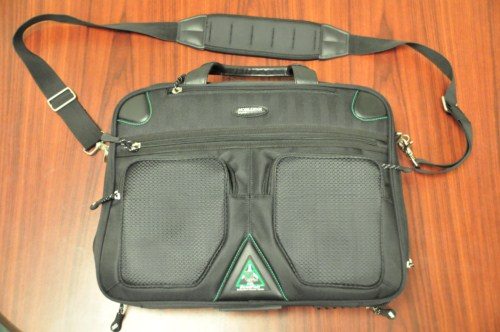 The bottom of the bag has rubber feet to allow the bag to stand by itself without falling over, and I really liked this.  I did pack it really tight one time and it was heavy on one side of the bag, which caused it to tip over.  But most of the time it did a good job standing up.  The bag is padded everywhere, literally.  This bag was made for traveling because no matter which pocket you choose, padding is everywhere.  The stitching and quality of this bag are also top notch.  From the zippers, to the handle, to the hooks on the end that hold the strap… it just feels like quality and not cheap at all.  The shoulder strap is also padded and made of some kind of elastic because it stretches and gives a little bit.  This made it easier on my shoulder when I carried it.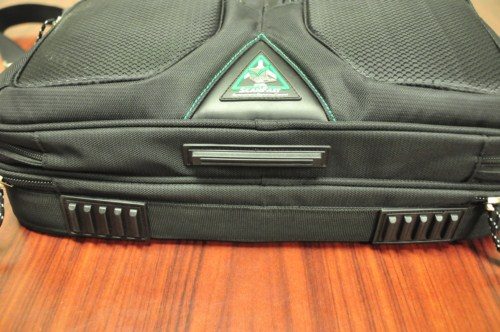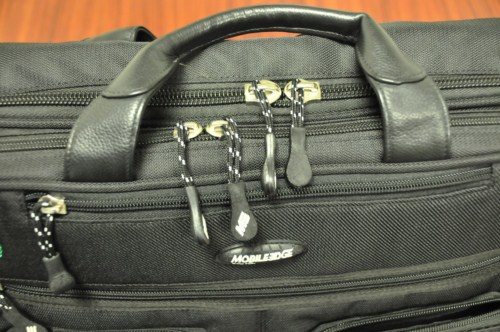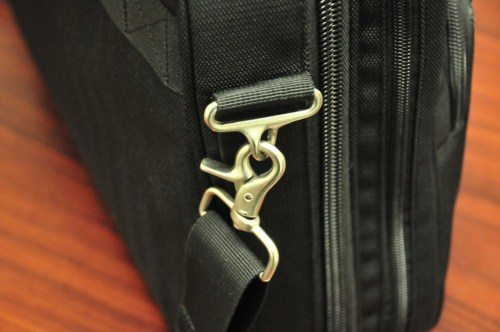 Inside the main zippered compartment where the laptop goes is a large zippered pouch that is perfect for holding file folders, magazines, books, etc.  The other large zippered compartment is where all your other gear is stored.  It has specific storage slots for flash drives, which is a nice touch, as well as 2 zippered mesh pouches to allow you to see what's inside the pouch.  There are also slots for pens, your business cards, and 2 velcro pouches to hold misc items.  There is also a small hook on a strap to hold things like your keys so they don't get lost in the bottom of the bag… nice touch!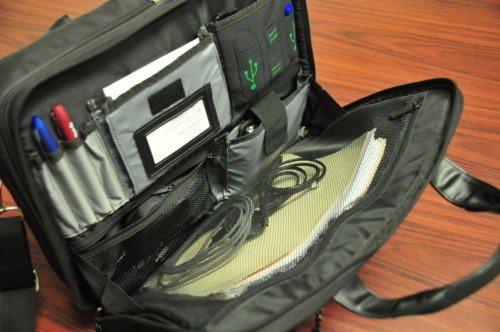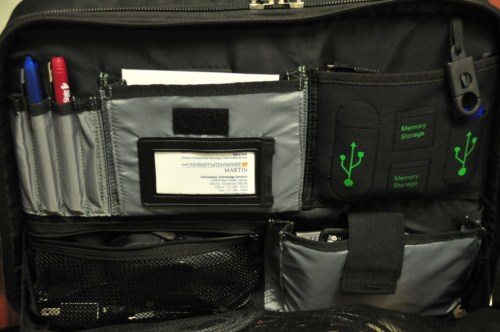 I am very pleased with this bag, and even though it can't hold as much stuff as some of my larger computer bags, this has become my daily-use bag of choice.  And because of the quality of materials, and a lifetime guarantee, I think this is going to last me a long time.  Some added benefits of the bag for traveling are that it fits in overhead bins of course, but also, because of its small size it fits under the seat in front of you.
MobileEdge has several different varieties of these ScanFast bags, from this briefcase, to messenger bags, several backpacks, and even a Netbook bag.  So there is a bag for everyone.  My only complaints are trivial… the tassels on the zippers sometimes got in my way as I was closing the main compartments.  But the convenience of having the tassels to close the zippers outweighs any hassle you get.  Also, as I mentioned, it will tip over if you pack the bag with too much stuff or let it get heavy on one side.
I have used lots of laptop bags to travel with over the years, even some really expensive ones that had wheels and a handle.  But the lightweight, durable quality of this bag, combined with the ease of use going through security means that I won't be traveling with any other bag.
—————————————————————————————————————–
UPDATE:  The pictures below show me holding the bag, which can hold up to a 16 in. PC or 17 in. Macbook.  The pictures also show everything that I currently have in my bag… 15 in. laptop, power cord, misc cables, CDs, chargers, iPad, adapters, headphones, and a 1 in. file folder.  I could easily double this and still fit it all into the bag.  And I actually find the laptop bag attractive, especially considering bags I have owned in the past.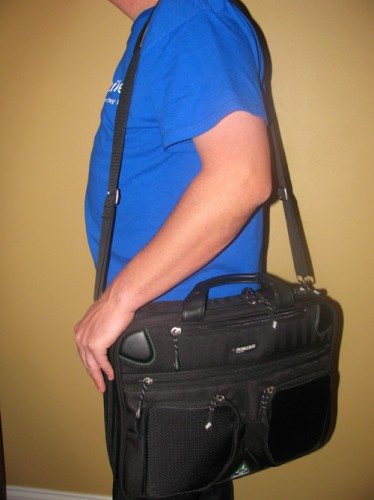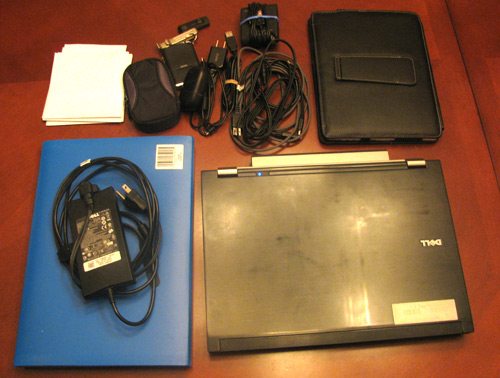 Product Information
Price:
$99.99
Manufacturer:
MobileEdge
Pros:

Durable and light
Pockets, pockets, and more pockets
Excellent padding
Quality materials and stitching

Cons:

Occasionally tips over if packed too tight
Tassels on the zipper handles get caught in the zippers