We use affiliate links. If you buy something through the links on this page, we may earn a commission at no cost to you. Learn more.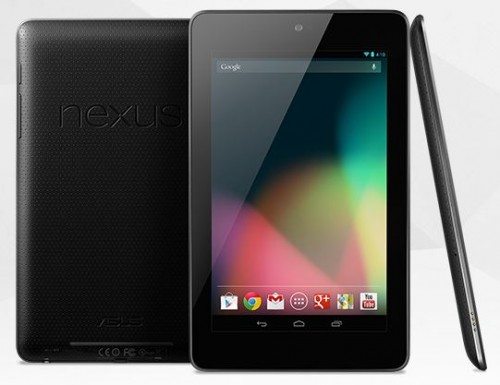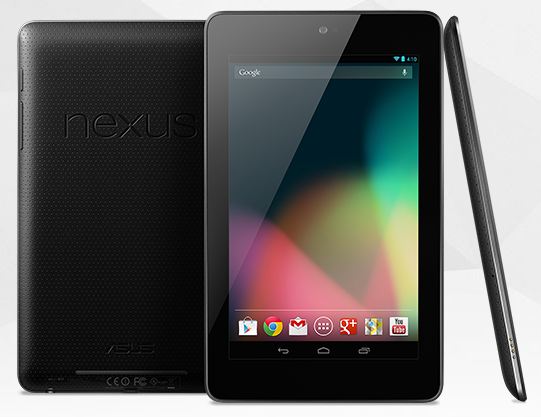 Those of you who have followed my posts will know that my first tablet was the original  Samsung Galaxy Tab 7″. I thought this was a fantastic form factor: slim, light and portable. It was so convenient with its 3G slot, and because of its small size, you could even throw it into your back jeans pocket – the ultimate compromise between  size and usability.  I then moved to the Lenovo Thinkpad Tablet , a 10.1″ tablet.  It's big strengths for me are the full size USB port, SD card slot, and most importantly, its active digitiser and pen. This lifted the bar for input rather than just output. Of course with all this came a much bigger size and weight.
When Julie offered me a Nexus 7 from Google to review, I jumped at the chance to go back to this form factor. Am I still going to love this form factor as much?
Technical Specifications
As you'll be aware if you've read my reviews, I'm not big on technical specifications, it's more about the experience, but just for completeness here's the important ones:
Processor: 1.3GHz Quad-core Tegra 3 processor
Operating System: Android 4.1 (Jelly Bean)
Screen:
7" 1280×800 HD display (216 ppi)
Back-lit IPS display
Scratch-resistant Corning glass
1.2MP front-facing camera
10 point multi-touch
Wireless:
WiFi 802.11 b/g/n
Bluetooth
NFC (Android Beam)
Battery:4325 mAh
Size: 198.5 x 120 x 10.45mm
Weight: 340 grams
The Nexus 7 is a collaboration between Google and Asus, and the Jelly Bean (JB) supplied is untainted; you won't find any third-party OEM bloatware here.
Size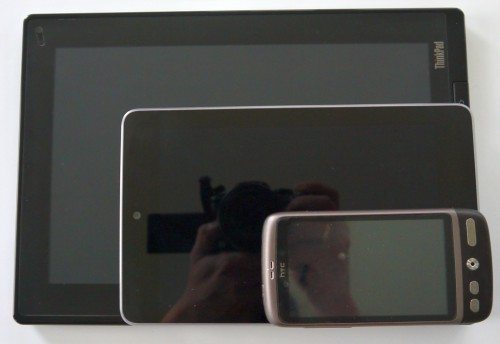 Here's the Nexus 7 with my Thinkpad Tablet (10.1″ screen) and my HTC Desire (3.7″) .  The Nexus 7 sits nicely in between these two devices.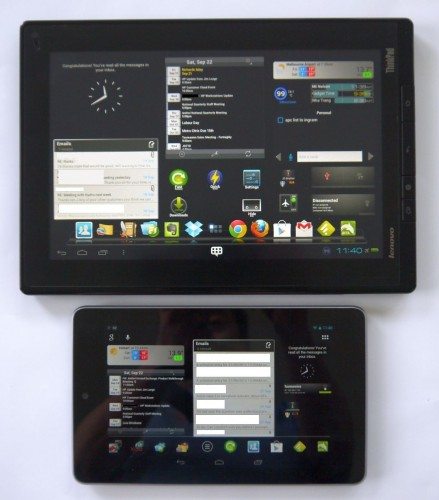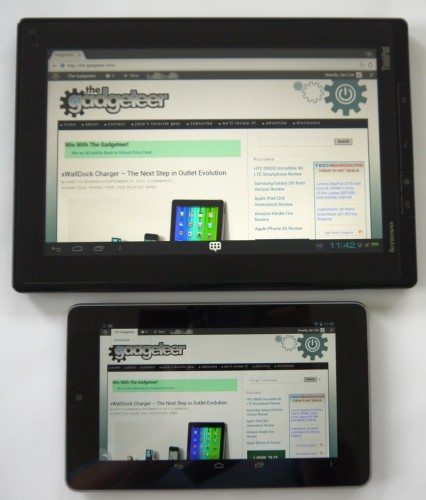 Here's a quick comparison of the Nexus versus the Thinkpad in terms of screen size and real estate.  Both the devices display at 1280 X 800. It's worth noting that the Nexus looks a lot duller than the Thinkpad. However, I've got both of them on auto brightness, and I really should have manually pumped them both up to max.  Sorry for that.
There are reports on the web about the quality and vibrance of the Nexus 7 screen; however, if not compared to another device directly, there's absolutely no issue with the screen. With the IPS screen, there's a nice wide angle for viewing, so you can easily watch a video on it with other people.
Right Hand Side

On the right hand side top (click for larger images), is the power and volume rocker switch. On the top of the screen (you can just see it in the picture above) is a 1.2 MP camera and ambient light detector.
Back, Bottom and Left Hand Side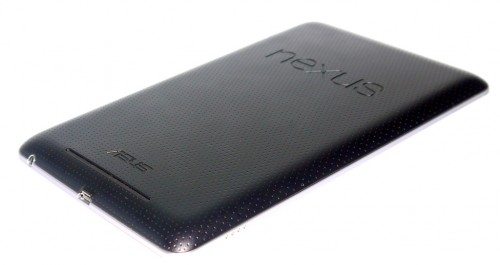 On the bottom you can see there's a standard 1/8th" stereo headphone socket and a micro-USB port for charging.  There are two speakers under the grill on the bottom, and there's some conjecture as to whether the unit is actually mono or stereo. Google's website doesn't actually say, but that being said, obviously because of the way they're positioned you're not going to get very good stereo separation if they are stereo. Sound is good and more than sufficient for "personal consumption" of movies or music.
On the bottom right hand side is a 4 pin POGO connector which is most likely for a docking/car  station.
The back is made of a plastic/rubber dimpled material. One of my work colleagues picked it up and said they liked the feel of the back better than their iPad, and that it just felt like it had that bit more grip than the aluminium back of their iPad.
There are two microphones on the unit – one on the top left corner and one on the bottom left for use in both landscape and portrait mode.
Performance
Sorry foks, you ain't gonna get any benchmarks here, just my perceptions. 🙂 The Nexus 7 has handled everything I've thrown at it admirably.  The combination of the Tegra 3 processor and Jelly Bean means this is a fast unit.  Whether it's a game, a movie, surfing the web, the Nexus easily beats the pants off my Tegra 2, Ice Cream Sandwich Thinkpad Tablet.
Phone, Tablet or Phablet?
There's one big issue with the stock Jelly Bean implementation, and that is that JB doesn't really know if it should treat your tablet as a phone or a tablet. JB's not smart enough to know what size screen you've got and it sets the interface based on pixels and pixel density. The operating system doesn't actually know what size your screen is. It just knows how many pixels your screen can display, what the pixel density is, and what the cutoff is for showing the 7 or 10 inch versions of the Android interface. Those of you who have played with an Android tablets and phones before will know that a phone displays the status/notification bar at the top of the screen while a tablet displays it at the bottom.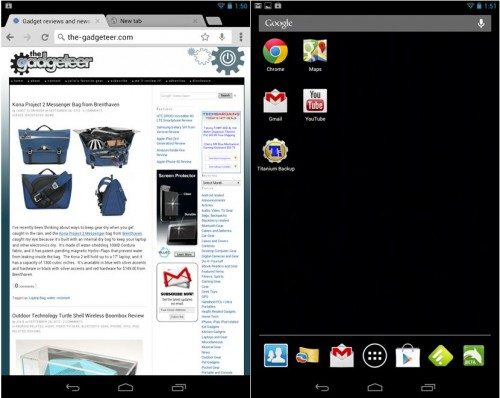 So here's the default mode, phone. Notice that the notification bar is up on the top of the screen.  The other strange thing is that in its default settings, the standard launcher will not go into landscape mode. There's a number of tricks to get your Nexus to play in tablet mode however most of them require root.  One way is to change the DPI setting, but you'll need to edit a system file to do this. The rotation mode can also be fixed with a system file change but you will need root to do both of these. 
The landscape default menu system "issue" has been fixed in release 4.1.2, hoorah! 🙂
Google Now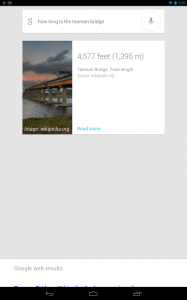 One of the big features of Jelly Bean is Google Now.  While not meant to be the equivalent of Apple's Siri, it's of course what it gets compared to the most. 🙂  A couple of things though about Google Now if you don't reside in the USA:
You really do need to make sure you have the right language and language pack installed.  Otherwise it just won't recognise your voice command properly.
If you choose any language other than English US you won't be able to use the "hotword detect", so you won't be able to just say "Google" to activate.
The amount of Google Cards are very limited as they appear to be fairly US centric.
Other than that, once it's set up correctly it's extremely good at being able to handle the voice recognition, and where possible, it will bring up a card and speak the answer back to you.  In the example above, it's recognized my voice query, brought up a card and spoken the length of a local bridge. Neat 🙂
SD expansion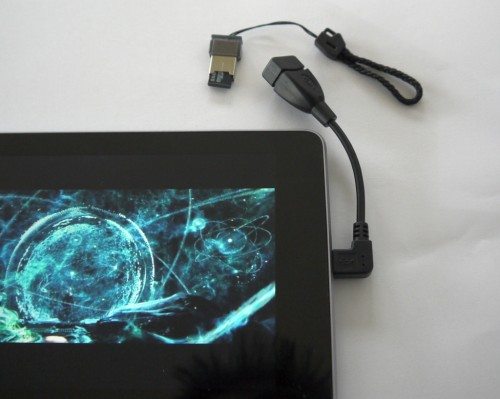 One of the biggest concerns raised when the Nexus was first released was the lack of a SD expansion slot.  These days 8 or 16GB doesn't sound like much storage.  There are a number of reasons (besides cost) that internal memory isn't quite as important these days:
Cloud storage has given users the ability to store gigabytes of data out on the cloud.
Given the small footprint of most Android apps, you can fit quite a lot onto your Nexus' internal memory.
The ability to stream video and music via LAN or the Internet  means that you don't need huge amounts of internal storage (assuming you have some sort of WiFi connection).
The biggest items I have on my Nexus are a couple of games which take up around 1.5GB of space each.  Fully loaded at the moment, my 16GB unit still has about 3GB free.
Now if you're the sort of person that wants to put heaps of HD movies on your tablet and be able to watch them while out and about , then you may have issues. If however you're going to be watching movies at home, then via apps like ES File Explorer, you can easily attach to network attached storage and stream your movies via WiFi.
If  you do require more external storage, the Nexus 7 does actually support On The Go (OTG) devices.  By using an OTG cable which is readily available from any number of sources for about $1, devices like keyboards, mice, thumb drives and SD card readers can easily be used.
Once you have the correct cable, it's an easy matter of loading an app and your tablet will have access. If you have root access, then the app you'll need is Stickmount; if you don't have root, then you can still access this functionality by purchasing Nexus Media Importer (though via this method your memory will be read only).
3G
Given the lack of external storage capability and the memory configurations that the unit comes in, to reach a price point, Google has aimed this unit at the home/work user rather than the road warrior, someone who will normally have  WiFi access. I'm guessing that  3G would have added cost to the unit.
These days however most people have a 3G+ capable phone that they can tether to should they need.  This has the advantage of not having to administer two data plan accounts.   I can easily WiFi-tether my Nexus to my phone if I ever need internet on the road.  There are rumours that the next release of the Nexus tablet will include some WWAN capabilities.
 NFC 
The Nexus 7 supports Near Field Communication, a low proximity wireless communication method.  Google's big push is to enable you to use your Android device and Google Wallet to pay for goods and as a means of communication between two NFC capable devices.  There is a neater use for these, and that's the ability to use it to read and write to NFC tags. And while for me it's a bit of a novelty rather than a really useful function, expect a bit of a write-up on this soon.
Battery Life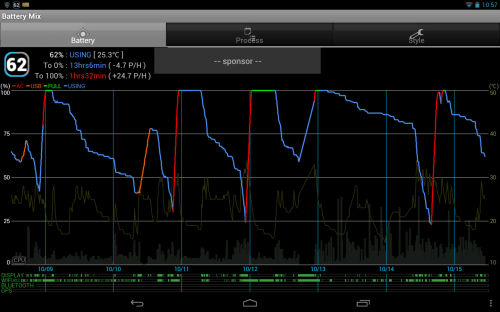 Ok, everyone's battery life is going to differ depending on their usage but just as an idea here's my last few days. My typical day consists of reading my emails and feeds over a coffee in the morning, checking them again a number of times during the day and evening,  Throw in a quick game here and there (mostly sitting in the car while waiting for the kids to finish an activity) and maybe stream the latest episode of a TV series over my LAN in the evening.  WiFi is always on and you can see that it easily  lasts me a whole day if not longer. Don't forget though YMMV 🙂
Root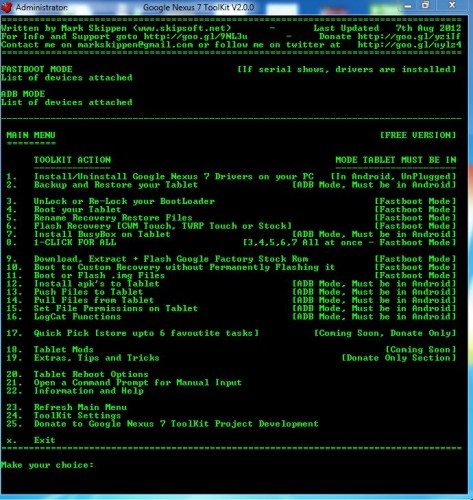 Rooting your Android devices these days isn't anywhere near as scary as it was in the "old days".  For the entire Google Nexus range, there are now toolkits that allow you to do everything from a single control panel. Why would you root?  See my article here.  Mark Skippen's Nexus 7 Toolkit allows you to easily manipulate your Nexus 7. From loading the correct Windows drivers, unlocking the bootloader and rooting, to resetting back to factory default without root, it's all easily menu driven.  If you look at the graphic above, you can easily root your Nexus 7 in 2 easy steps (steps 1 and 8).
There are graphic-based toolkits available too, but for some reason I'm happier using this text-based toolkit.  Perhaps I really am starting to show my age. 🙂
As mentioned in my previous rooting article, it's not just about loading alternative firmware; many will want to keep the vanilla Google Jelly Bean experience, but want to do things like block advertisements or do full system backups.
Be warned, rooting can come with (bad) consequences. 🙂
*Do note that when you unlock your boot loader you WILL lost any data on your Nexus 7. Make sure you have some sort of backup of your important apps and information. You however should only need to unlock the boot loader once.
Conclusion
For a starting price of $199, the Nexus 7 really is a top performer and good value for money.  However, to get the Nexus into the under-$200 price bracket, Google has cut a few corners, but nothing that's too much of a concern.  It's small, light, portable and fast, and for the consumption of information, it really is a versatile unit. There's going to be a lot of competition in this price range and screen size market in the not so distance future with the release of the Kindle HD and Nook HD.  However, each of these units is marketed at a difference audience, and which one suits you will really depend on your usage and level of Android experience.
For me, there are a number of  shortcomings with the implementation of Jelly Bean.  The fact that it's a tablet with a phone interface is one. But that's what I love about  Android,  that the things you  don't like can be customised. Yes sometimes you may require some technical knowledge to say, install a new ROM, but sometimes it may be as simple as loading a widget or an app. Don't forget too that the Nexus range is fully supported by Google, so you'll get all the latest updates first and directly from Google. No waiting around for third-party manufacturers to have to release their ports.
While I really wanted to keep the Nexus on vanilla JB from Google, some of the shortcomings that I noted have meant I've loaded an alternate ROM but again, I have a backup of the stock experience and can easily go back to that should I decide to. That being said I would consider myself an "advanced user" and have been playing with Android for years, and out of the box the Nexus certainly does everything you want out of a tablet.
Initially I thought that for me, my decision which tablet I love the best wasn't going to be whether it's a 7″ or 10.1″ screen, but rather whether I was consuming or creating data.  The Nexus is great for consuming data, and my 10.1″ Thinkpad Tablet is so much better at creating data.  However for pure portability and convenience, the Nexus 7 is clearly the winner.  I've only picked up (and boy does it seem big and heavy) my Thinkpad Tablet a couple of times since receiving my Nexus.
If you need an introduction to Android, already love your Android, love to tinker or want an extremely portable solution  you certainly can't go too wrong with a Google Nexus 7. 🙂
Updates 04/21/16
This form factor still suits me down to the ground, so much so that I bought the 2013 model as soon as it was released. Even though I've got a 13″ notebook, 10″ Windows tablet, 10″ Android tablets and multiple Android phones, the 7″ screen is perfect for me. The original 2012 unit's been passed onto my son who uses it for University and it's still going strong.
Source: The device for this review was purchased with my own funds. Please visit Google for more info.