We use affiliate links. If you buy something through the links on this page, we may earn a commission at no cost to you. Learn more.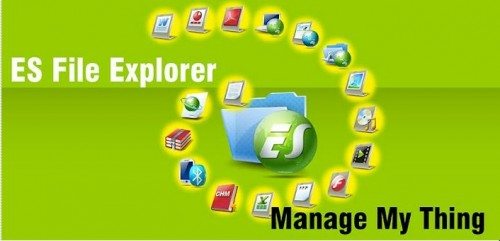 One of the best file managers on Android is ES File Explorer. Most people probably only use it to handle local files and maybe LAN shares, but if used properly, ES File Explorer handles so much more than that.  With the proliferation of cloud-based storage such as Sugarsync, Dropbox, your 50GB Box account,  and sync-enabled 25GB Skydrive account, ES File Explorer has gradually been adding little gems so that it handles Cloud Storage as well. Let's step through how you can set this all up 🙂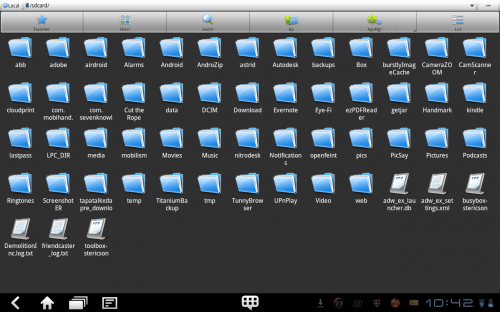 Here's the screen that most ES File Explorer users are probably most familiar with.  (Click on any of the pics to get enlargements). It's the standard SD-Card directory with all your standard Android directories.
If however you click on the top left hand corner where it says "Local"……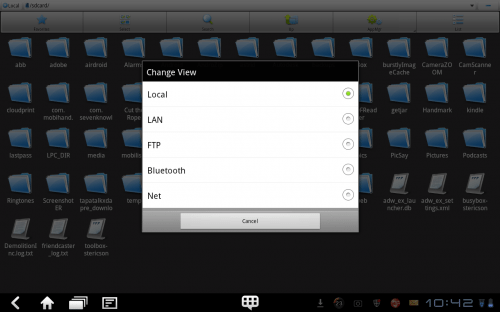 You'll get a few different choices.  ES File Explorer does a really good job of handling and even allowing you to play media from LAN shares like Windows SMBs.  It supports FTP Servers and Bluetooth shares and even allows you to access root directories, if your device is rooted as well. But today's lesson is all about accessing your cloud storage so the bottom option, "Net"  is the one we're looking for.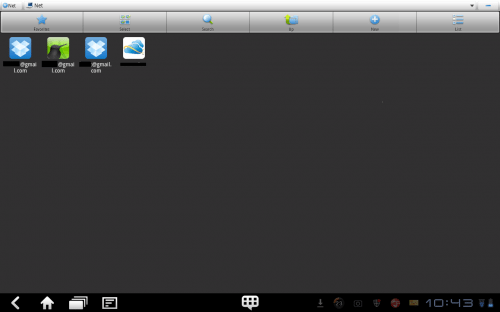 You can see up in the top left, the "Local" has changed to "Net", and I've now got access to my cloud storage drives. Here I've got two Dropbox, a Sugarsync, and a Skydrive account.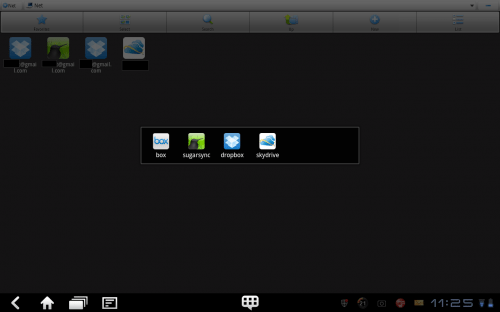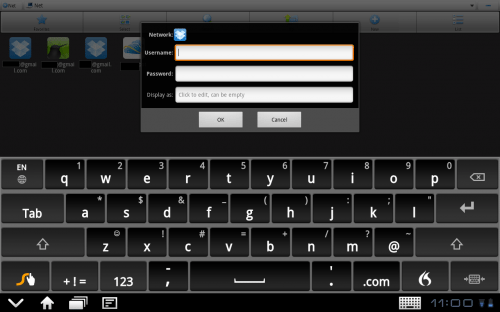 By clicking on the "+ New" button, you get a choice of adding a new Box, Dropbox, SugarSync or Skydrive account. Once you've chosen one, you'll be asked for your credentials, and voila! Your favourite cloud storage is available in the familiar ES layout. One thing to note is that I can't actually get an authentication screen up to add my Box account at the moment.  I keep getting a network error, but I'm sure that'll be fixed or work soon.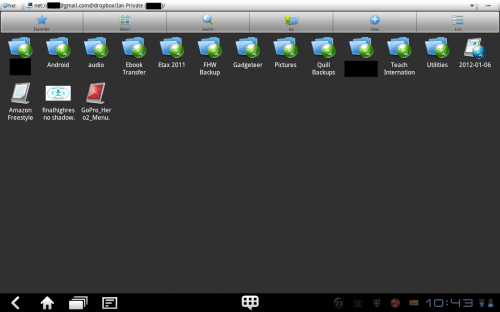 I can now just tag my way down into, say, my Dropbox account to an individual file level just like I normally would under ES File Explorer.   From there I can manipulate all the files or directories just like normal: make directories, create or delete, copy or move, anything you could normally do with a file system.
So why is this all important and so powerful ?
Never miss one of our posts again. Sent MON, WED, and FRI with the latest gadget reviews and news!
You don't have to download all the individual provider apps
You can use the familiar ES File Explorer interface to manipulate all your files both local, LAN, and cloud-based
You can easily use multiple user accounts for the same provider, compared with  having to login and logout of apps all the time.
You can copy or move files between all your different cloud providers or your local storage without having to temporarily store it somewhere. Using the apps to move a file from one cloud provider to another, you'd have to download from one provider via their app to your SD card, then upload it to your other cloud provider from SD.  Using ES File Explorer, it's an easy copy and paste from one to the other.
One "shortcoming" to take note of is that the Dropbox and the Box apps keep local cached copies of file structures when you've got no network connectivity. As such, you can actually still upload files into these apps when you're not connected, and the apps will sync your files once you're connected again. ES File Explorer needs to be connected to the internet to be able to do anything with your cloud storage.
To me ES File Explorer was always the best option for a file manager, but now with Cloud Storage support I'm on cloud 9. 🙂
Updates 04/21/16
This article still gets heaps of hits, even 3 years after being written. ES File Explorer has gone through quite a few transitions since then (many would say NOT for the better) but is still one of my essential Android applications and still contains all the abilities written about in this article. For me it's still much easier than having seperate client apps for all you cloud based storage.