The Gadgeteer is supported by readers like you! If you buy something through links on our site, we may earn an affiliate commission at no cost to you. Thank you! Learn more.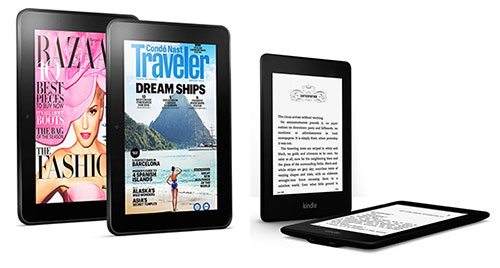 Amazon's gone big with the release of 5 new Kindle devices: 2 eBook readers and 3 Android tablets.
The new Kindle Paperwhite ereader is available in a WiFi-only and a 3G version.  This reader has a new screen with 62% more pixels and increased contrast.  A built-in front light allows you to easily read in low light conditions without the use of an additional external light source.  Prices start at $119 for the WiFi Special Offer version.
In the tablet space, there are 3 new models in the Kindle Fire HD range.  All new entrants include a polarized filter and antiglare screen, dual-core processors with Imagination Power VR 3D graphics, dual band, dual antenna WiFi and an Amazon-customized Android UI.
The Kindle Fire HD is a 7″ Android tablet with a 1.2Ghz dual-core processor, 1280×800 resolution, and the Kindle Fire HD 8.9″ comes in 4G or WiFi-only versions with a 1.5Ghz dual-core processor and 1920 x 1200 resolution.  The new WiFi-only models are available in 16 or 32GB models, and the 4G model in 32 or 64 GB models.   None of the tablets have a memory expansion slot; Amazon wants you to consume your games, books, magazines and movies from their store and store your information up in your Amazon cloud. 🙂
Prices start at $199 for the 7″ Kindle Fire HD with 16GB, $299 for the WiFi 8.9″ with 16GB, and $499 for the 32GB 4G model.  All models are available for pre-order on Amazon's website with expected shipping dates varying.