We use affiliate links. If you buy something through the links on this page, we may earn a commission at no cost to you. Learn more.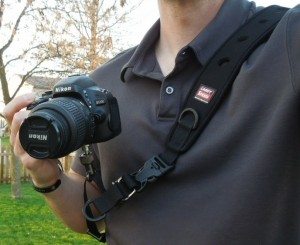 For photographers, one of the most important yet oft-overlooked accessories may be the humble camera strap.  It must be seamlessly functional,  comfortable, easily adjustable, and quickly attached to your camera.  Tall order!  Does Carry Speed fit its billing as "The Most Advanced Camera Strap System?"
Click any image to enlarge.
Background Info
Carry Speed offers several different lines of products that are basically divided into DS Series, FS Series and CS Series Sling Straps (which each feature a different mounting mechanism) and other assorted camera-related accessories.  Reviewed here is the DS-SLIM Camera Sling Strap with D-1 Wide Platform Ballhead.
Packaging
The Carry Speed DS-SLIM sling strap arrived in a nondescript, brown corrugated cardboard box.  Simple and recyclable.
Contents
The contents of the package included the following items:
DS-SLIM Sling Strap (Include the Connector)
D-1 Wide Platform Ball Head Locknut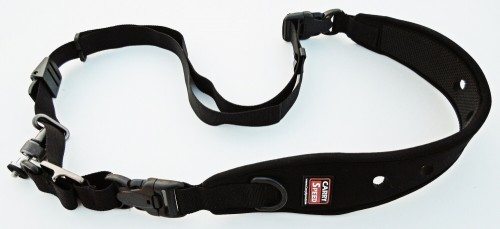 Features
OK, let's get down to brass tacks here.  Looks cool, what does it do?
The DS-SLIM Strap's main comfort feature is its shoulder pad.  It is made from a neoprene material that stretches to absorb the camera's load.  The underside has a grippy texture to keep it from slipping off your shoulder and several ventilation holes spaced throughout.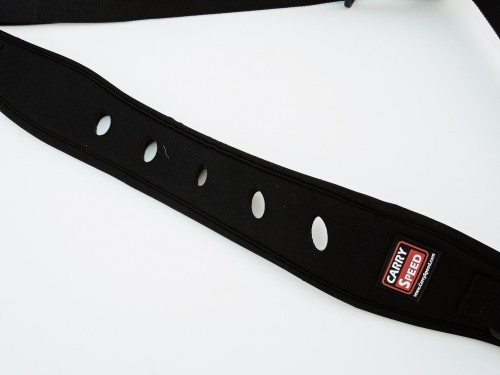 It includes a D-ring for attaching items that you might want to keep close at hand.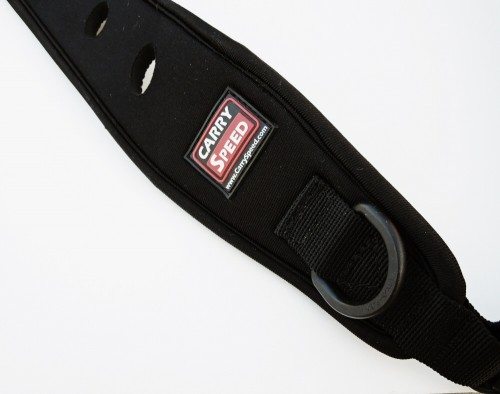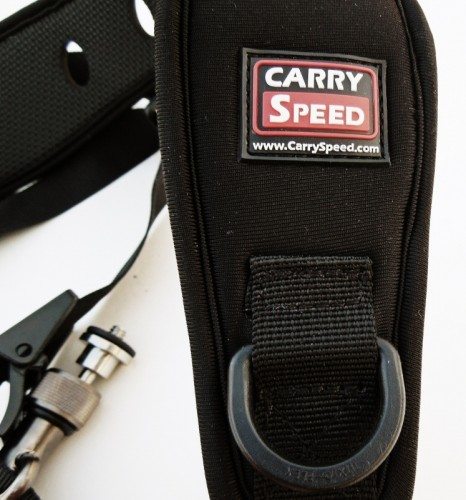 The shoulder pad is also detachable via a quick-release, 3-button buckle at either end.  The 3-button design gives added security without it being overly complicated to open.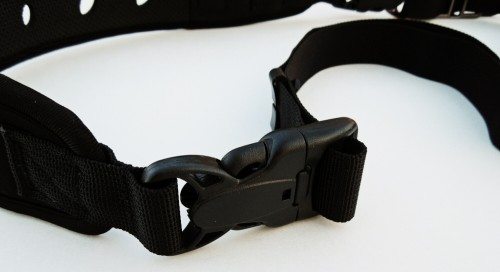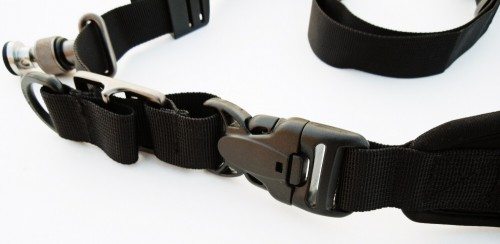 The DS-SLIM Strap includes a front quick adjustment feature that allows you to make changes to the fit quickly, without having to remove it.  It basically adjusts how far down your camera hangs with a simple tug on a D-ring, which is attached to a metal slider.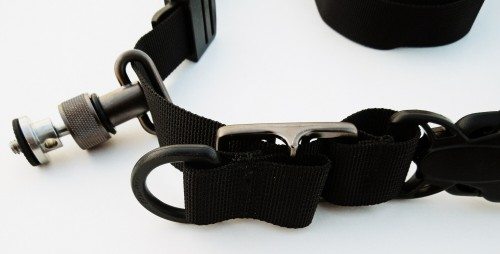 The DS-SLIM Strap attaches to a camera via the D-1 wide platform ballhead locknut.  This design is basically a ball and socket connection.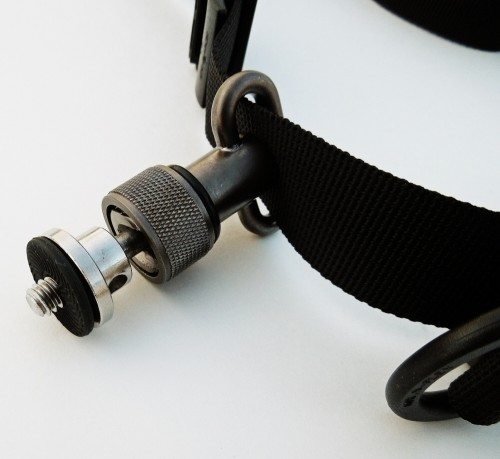 The main feature is a screw with a ball on the opposite end.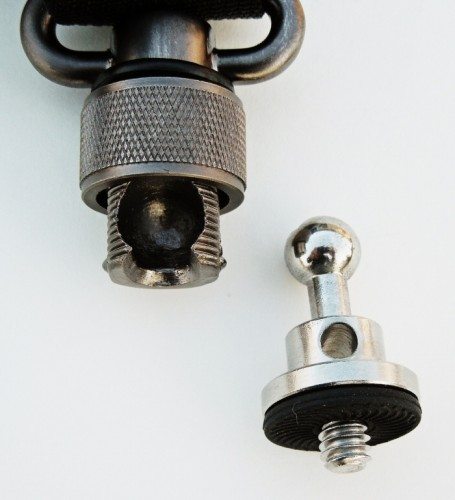 The ball is captured in the spherical cutout on the connector that is attached to the strap.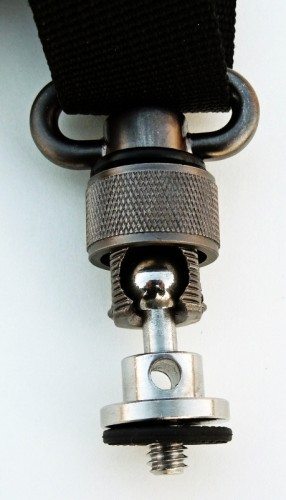 A knurled nut then captures the ball securely.  It allows a relatively wide range of motion while still being constrained to prevent the camera from being scratched.  A rubber O-ring helps prevent the knurled nut from inadvertently backing loose.  This seemed like a bit of a "belt and suspenders" to me, and although I questioned its effectiveness, I never had any issues during the time I used the DS-SLIM Strap.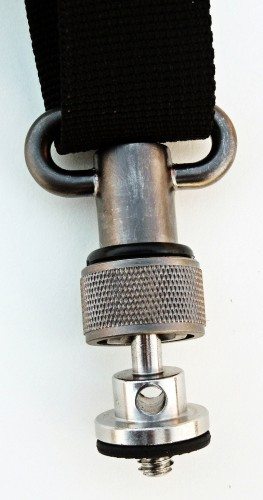 The screw then threads into the tripod mount on the camera's base and a rubber gasket prevents contact between the nut and the camera base.  There is a through-hole in the screw's base that can be used to tighten it by placing a hex-key, a small screwdriver or other similar item into it for leverage to twist it tight or loosen it.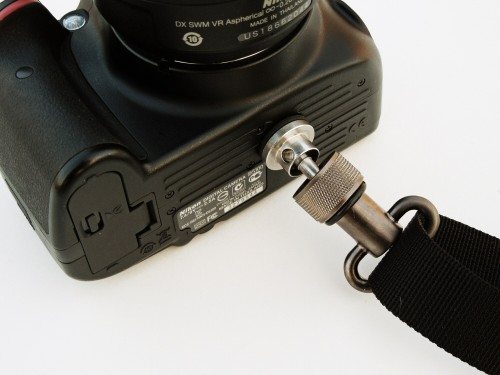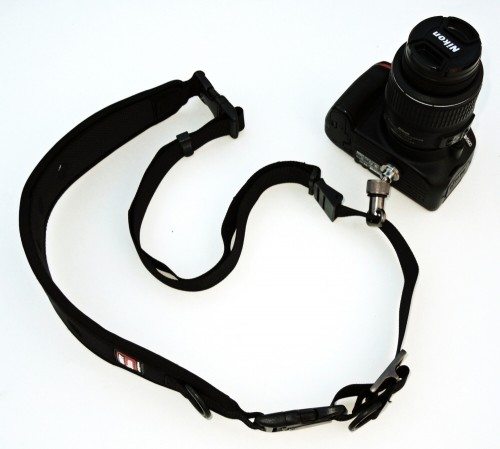 Usage
Once the DS-SLIM Strap was attached to my camera, I found it very easy to use.  I just slung it over my shoulder and across my body, placed the shoulder pad where it felt comfortable, then pulled on the D-ring attached to the metal slider to adjust the height.  Then, when I wanted to take a shot quickly, I just grabbed my camera and took the shot, and the strap adjusted itself appropriately.  The shoulder pad stayed in the correct position, and to readjust the camera's height, I just pulled on the metal slider's D-ring once again.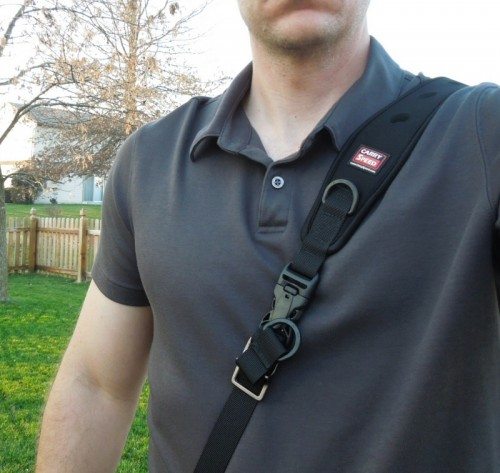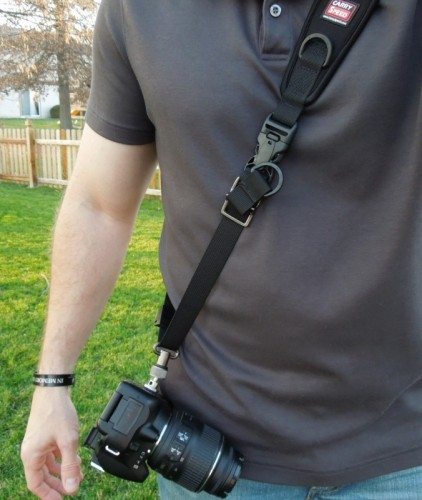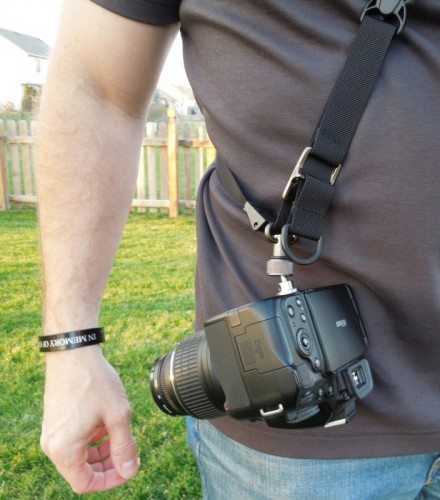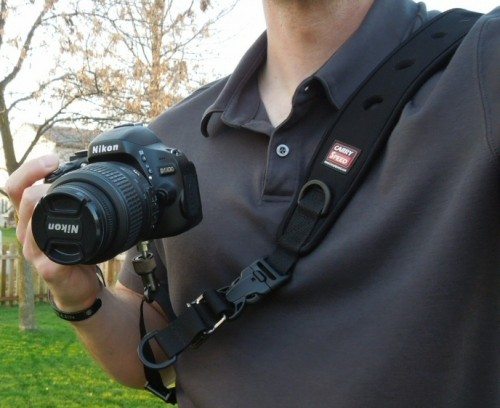 Conclusion
I took the Carry Speed DS-SLIM Camera Sling Strap on several trips and found it is easy to use, feels comfortable to wear, and holds my camera securely.  Its attachment system is quick to set up and prevents damage to your camera while providing a wide range of movement.  It is made from high-quality components and materials and feels solidly built.  The DS-SLIM Sling Strap would be worth a look if you are an active photographer with a demanding regimen or even a casual photographer who likes to have their camera at the ready.
Updates 04/09/15
Although I liked this camera strap at first, it eventually started to feel a bit too complicated for what I wanted in a camera strap, and I got tired of having to cinch it back up every time I used it, so I stopped using it altogether.
Source: The sample for this review was provided by Carry Speed. Please visit their site for more info.

Product Information
Price:
$44.99
Manufacturer:
Carry Speed
Requirements:

camera with threaded tripod mount

Pros:

+ Comfortable
+ Easy camera attachment
+ On-the-fly adjustment

Cons: