The Gadgeteer is supported by readers like you! If you buy something through links on our site, we may earn an affiliate commission. Thank you! Learn more.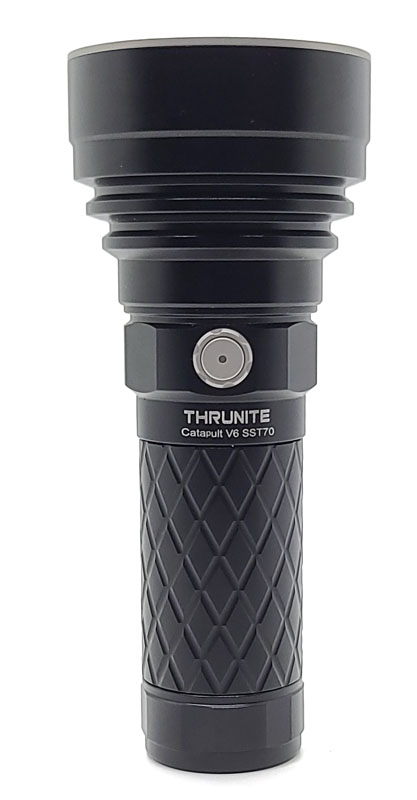 REVIEW – Do you like to bring a little light to a dark world?  If so, this post is for you.  Do you like to bring a lot of light to a dark world?  This post is for you too!  We're going to take a look at the Thrunite Catapult V6 SST70 flashlight that can put out between 0.3 lumens (;m) all the way up to 2,836lm from a package that is slightly larger than the palm of your hand.
What is it?
The Thrunite Catapult V6 SST70 is a flashlight.  Need more of a description?  OK, It's a really powerful flashlight with way more light output than you'd expect for its relatively small size. It is also IPX8 rated so if you need a light that works underwater, this can fit the bill.
What's in the box?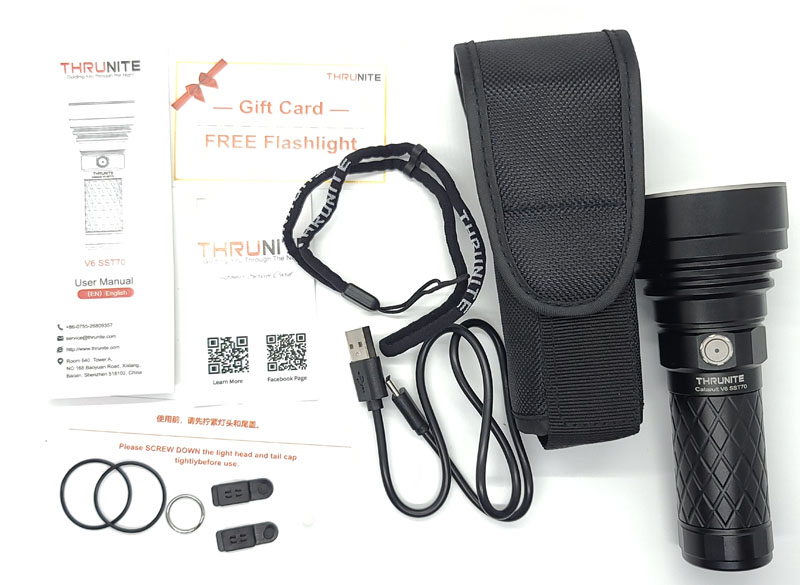 Flashlight
Holster
Wrist strap
USB-A to USB-C charging cable
Replacement o-rings (2)
Replacement charging port covers (2)
Split ring
User manual
Free flashlight offer card
Social media card
There was also a small white silicone disk called a side switch cap with no explanation as to what it is or where to use it – I finally Googled it and found instructions on how to remove the switch and replace the seal
Hardware specs
I can't summarize it any better than how they do!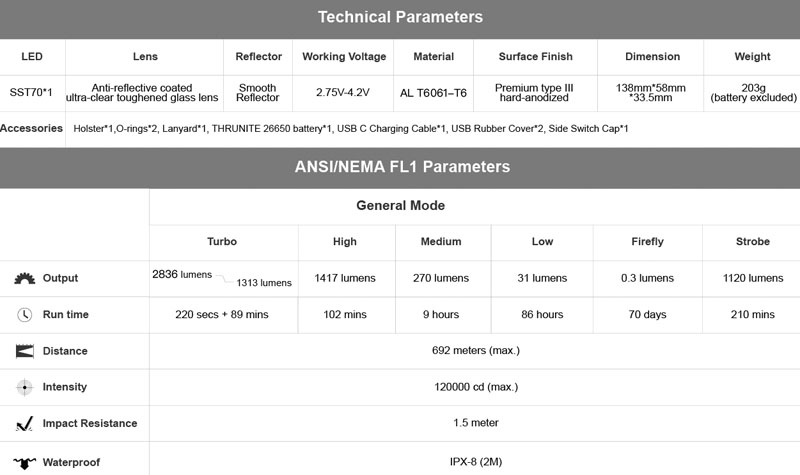 Design and features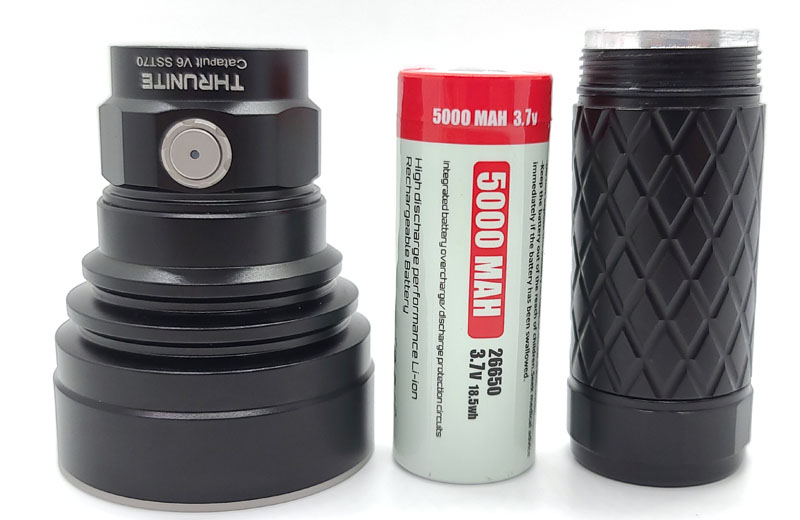 The Thrunite Catapult V6 SST70 flashlight has two pieces – the light end plus the handle.  The massive 5000mAh battery fits inside.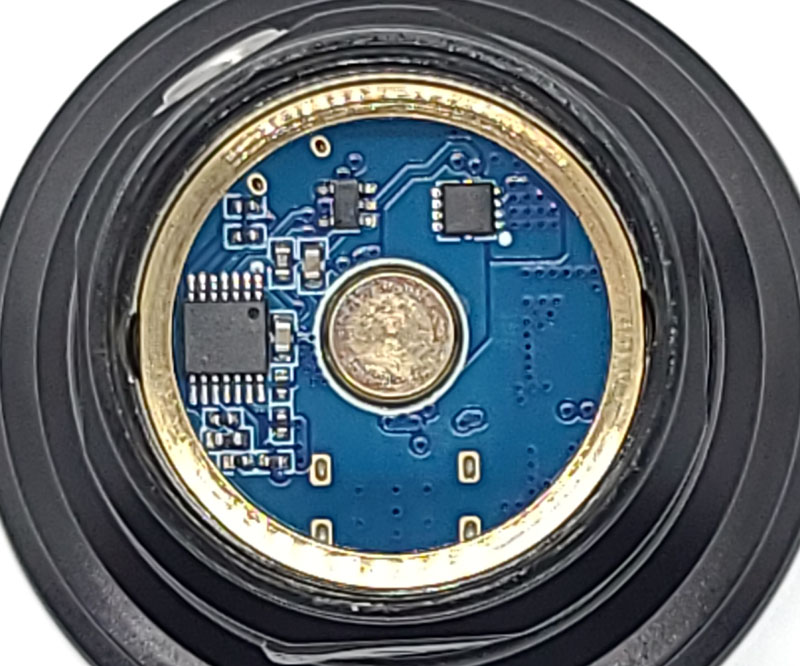 The control circuit board and battery contact sit inside the light end.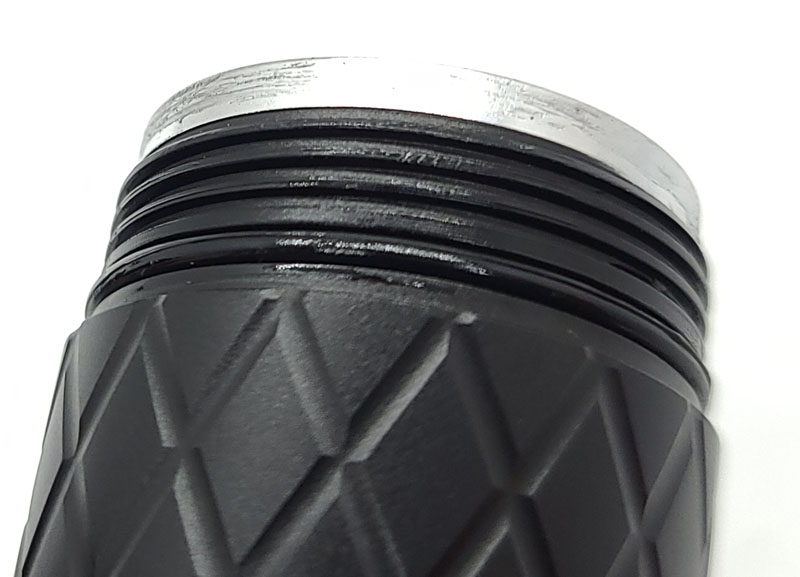 You can see the sealing o-ring at the bottom of the threads on the handle.  They thoughtfully include two replacement o-rings.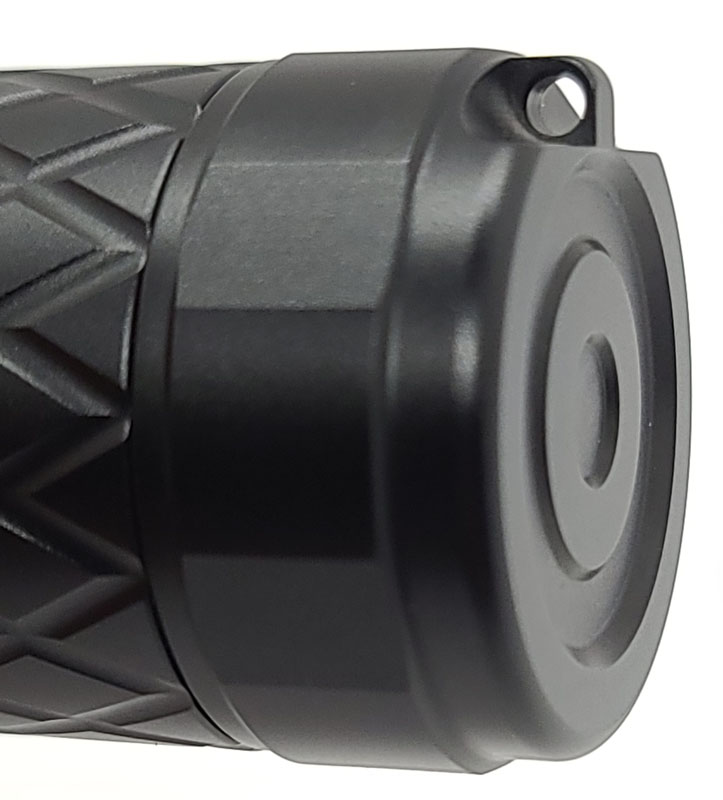 At the other end of the handle, there is a small hole for adding the split ring or wrist strap.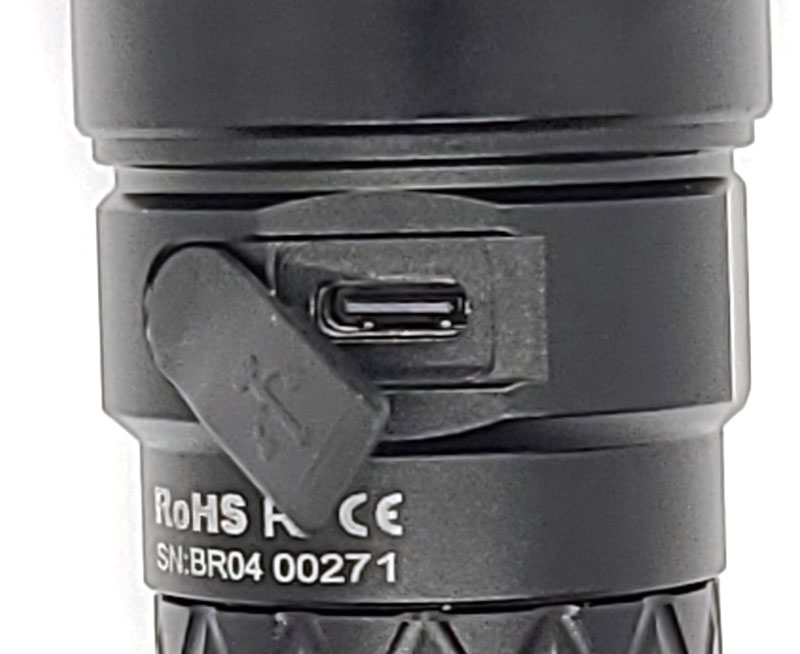 The USB-C charging port resides behind a rubber cover.  They also include two replacement covers if it wears excessively.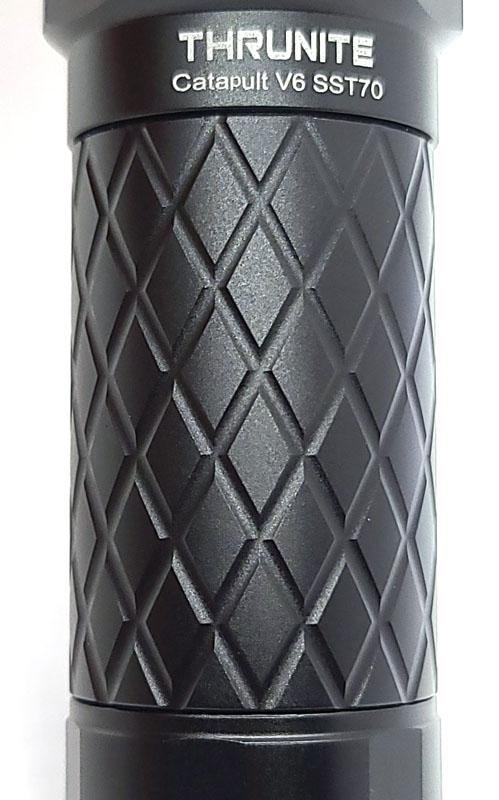 The handle has a nice diamond pattern that helps with grip.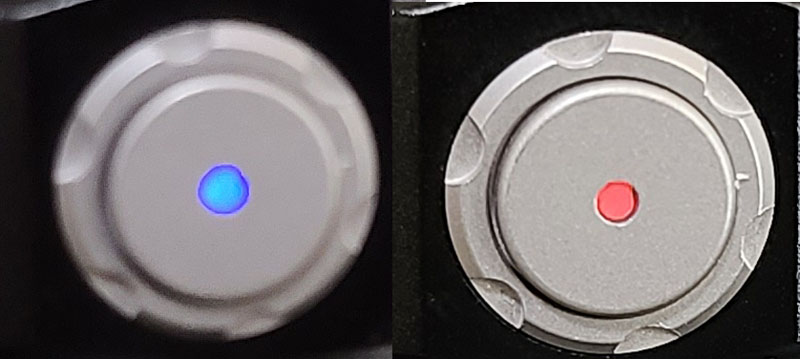 The power button also has an indicator LED.  It glows red when charging and glows blue at full charge.  When you're using the flashlight in anything other than firefly mode, it glows blue until your battery gets down to 21% when it starts flashing red.  Once you're below 11%, it glows red. Sorry about the bad focus on the left – it's my image, not your eyes!
Here's a look at the business end of the Thrunite Catapult V6 SST70 flashlight.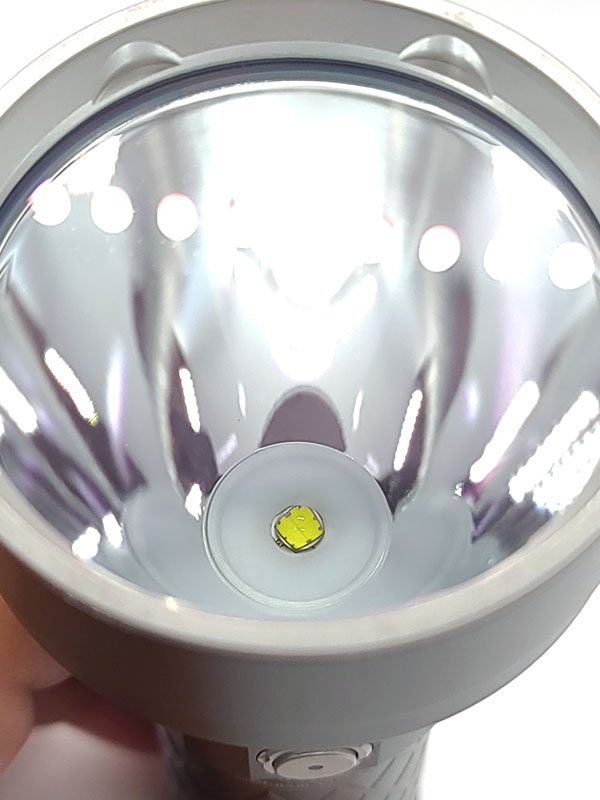 You can see the small LED in the center of the smooth reflector.
The reflector really does a great job of picking up and reflecting the light.  Here, you can see the reflector reflecting the LED itself when the light is off.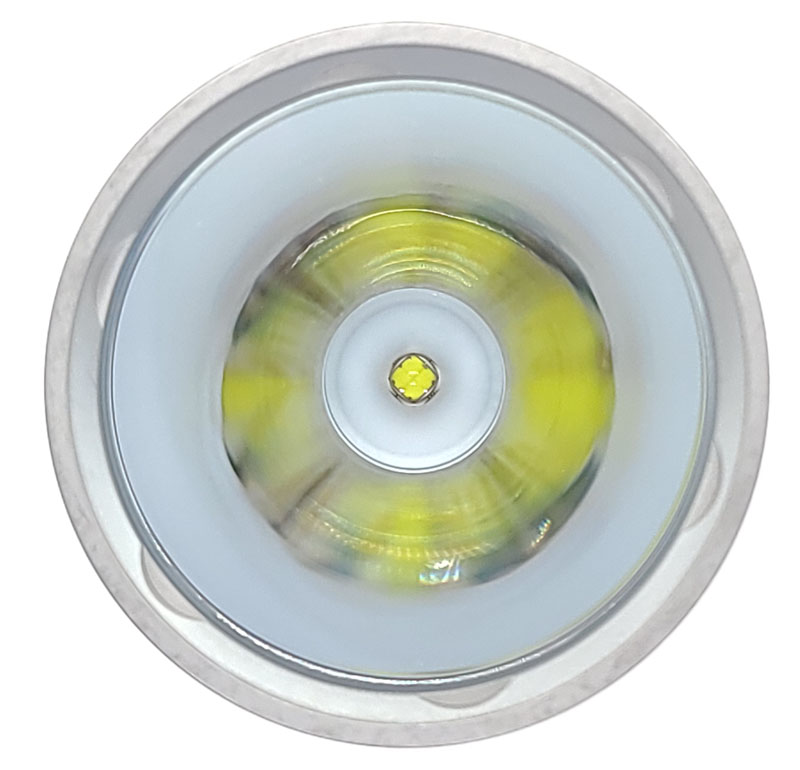 When the light is on, the reflector really does a great job of sending the light out.  This shows the light in its lowest setting – firefly mode.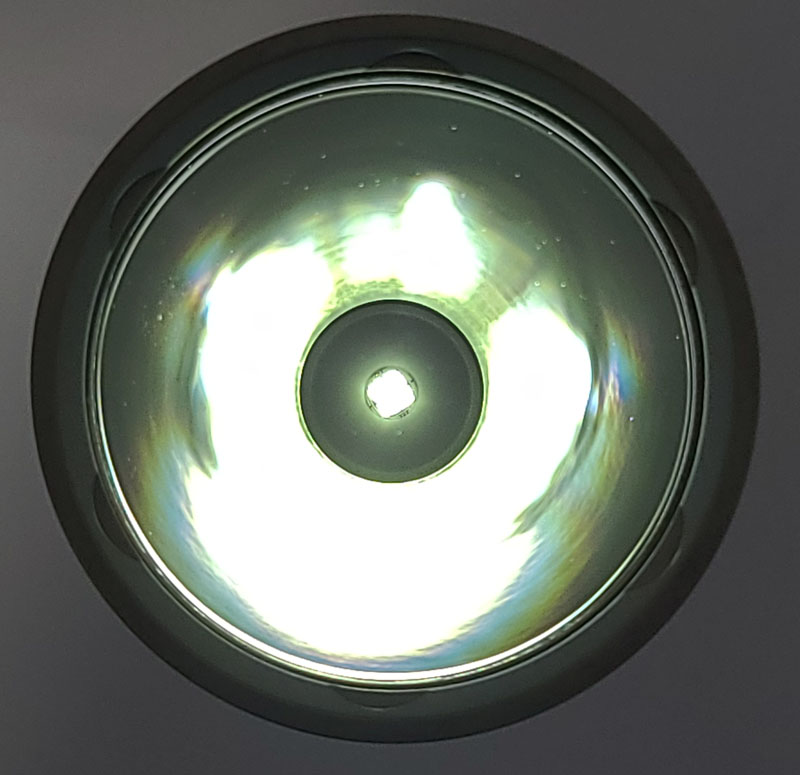 The light has some style as well, with fancy scallops on the rim around the lens.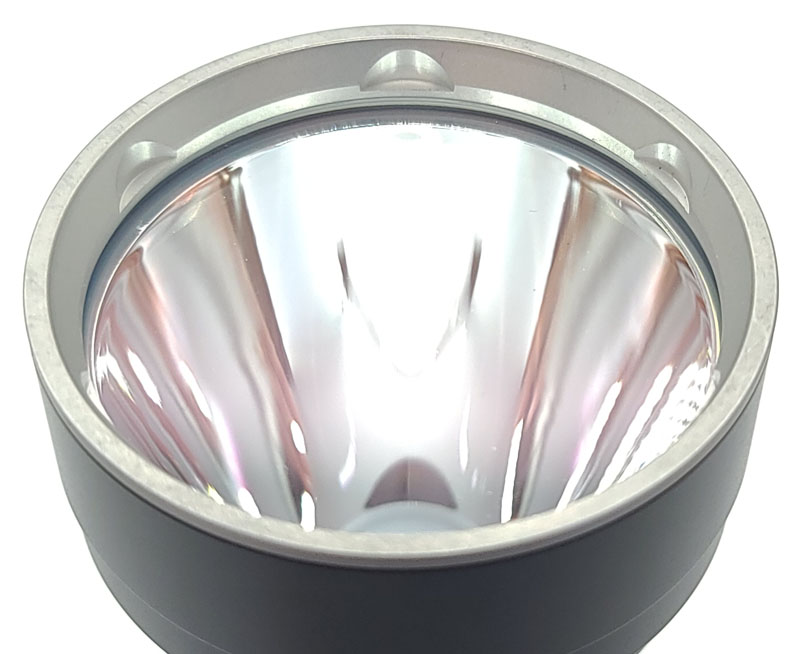 The Thrunite Catapult V6 SST70 flashlight fits nicely into the included nylon holster.  The holster has a belt loop and a hanger on the back.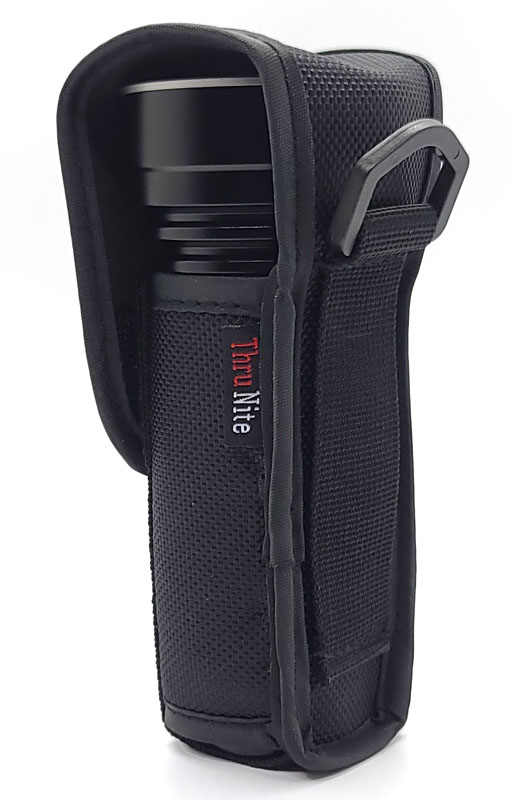 Setup
The flashlight ships with the handle slightly unscrewed.  To start using the light, you screw in the base and charge the light.
Performance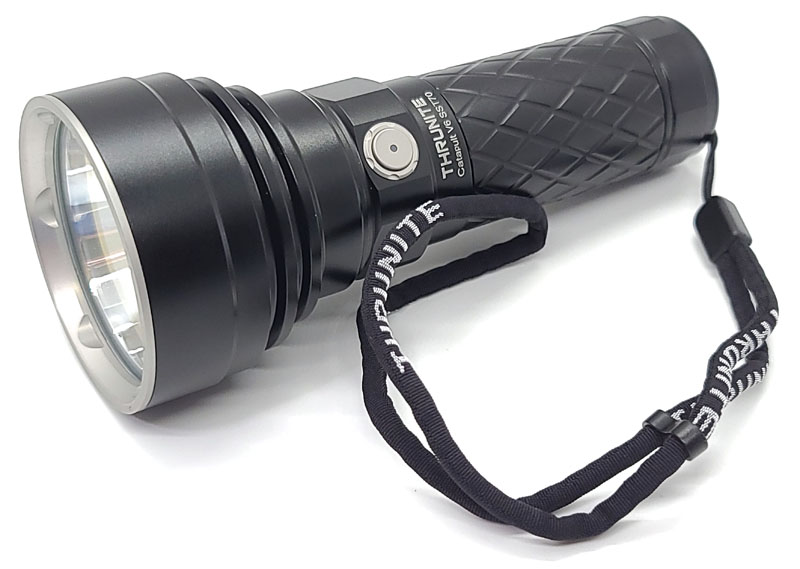 This is a nice light.  It fits well in my hand.  It has a nice heft to it and feels very well-made.  The handle's texture feels good and provides a nice grip.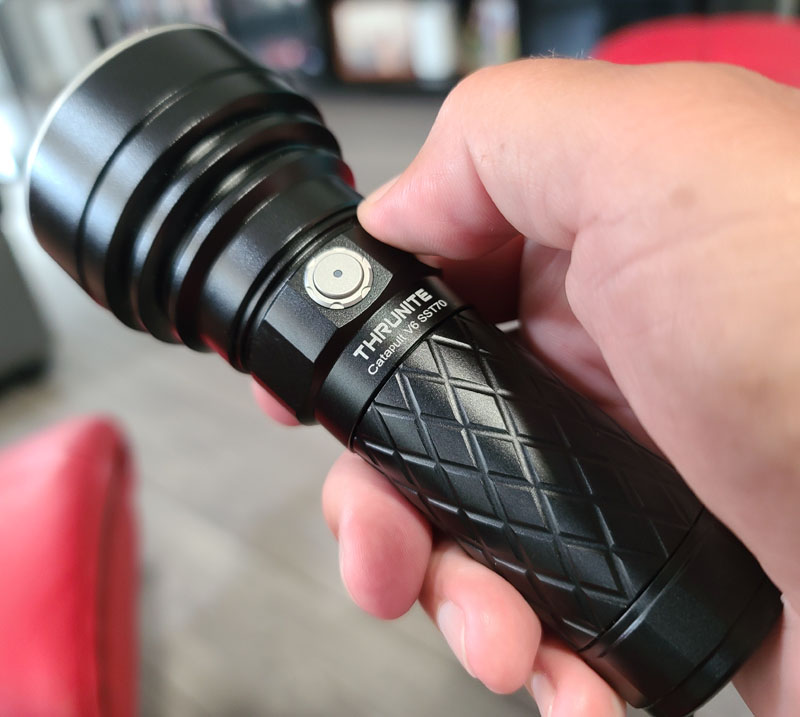 When the Thrunite Catapult V6 SST70 flashlight is off, holding the power button turns on firefly mode – more of a nightlight than a flashlight.  There are three direct light modes, low, medium, and high.  Clicking the button turns off the light, and back on to the last used mode. When the light is on in any mode, double-clicking turns on turbo mode.  A second double-click turns on the strobe.
I started in our closet – the only room in the house that I can totally blackout.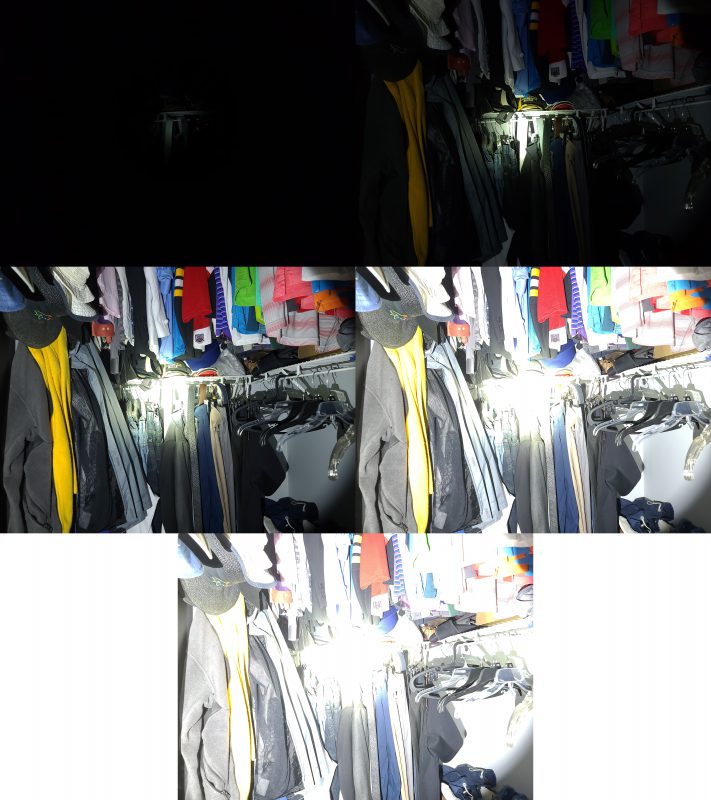 From upper left to lower center, the five images are as follows:
Firefly – 0.3lm
Low – 31lm
Medium – 270lm
High – 1417lm
Turbo – 2838lm
There is a sixth mode – strobe.  It is very bright and can be quite disorienting.
At only 0.3lm, firefly mode sounds kind of useless, but it isn't.  In a darkened room, firefly mode is just enough to be able to see without shedding and excess light where you don't want it. The fact that the battery will hold on for 70 days in this mode means that in an emergency, you could have at least some light for a long, long time.
I took the light out back just after sunset and tried it out.
If you really need to throw some light, 2,836 lm turbo mode is your answer.  You do need to note that you don't have much time – only 220 seconds before it drops back to 1,313lm – a little lower than high mode. You still have 89 minutes with a plenty-bright light.
When the light is in its brighter settings, it does produce some heat, but it's not excessive and the body of the light dissipates it well.
I need to make an observation about charging the flashlight.  First, it charges via USB-C – that's a good thing.  But…when I tried charging with any of my multiple chargers that support power delivery over USB – USB-C PD using a UCB-C to UCB-C cable – the flashlight would not charge.  I could only charge by plugging in a USB-A to USB-C cable and charging from a USB-A charging port.  What's up with that?
One more minor quibble – there is no lockout mode for the power switch.  If you're carrying it in a pack without the holster, it is conceivable that it could switch on accidentally.  If it is high power mode, the heat produced could cause an issue.
What I like
Great build quality
Impressive light output from a small package
Decent battery life
Nice lighting modes
Nice included extras like seals, a holster, and wrist strap
What I'd change
You can't charge it with a USB-C PD charger
Explain that side switch cover – not everyone disassembles flashlights for a living
Perhaps add a lockout button sequence to prevent accidental switch activations
Final thoughts
The Thrunite Catapult V6 SST70 flashlight is a lot of light power for under $75. Amazon has it on sale as I write this for under $65.  For a well-made light that can go from nightlight level to blinding level, that's pretty compelling.  The fact that it can slip into a backpack, or even a pocket and still pack that kind of power is impressive. This is a great flashlight at a great price.
Price: $74.95
Where to buy: Thrunite;
Also available for $74.99 on Amazon – as of this writing, on sale for $63.74
Source: The sample of this product was provided by Thrunite.
Support The Gadgeteer
:
The Gadgeteer is supported by readers like you! If you buy something through the links on our site, we may earn a small affiliate commission. Thank you! Learn more.