We use affiliate links. If you buy something through the links on this page, we may earn a commission at no cost to you. Learn more.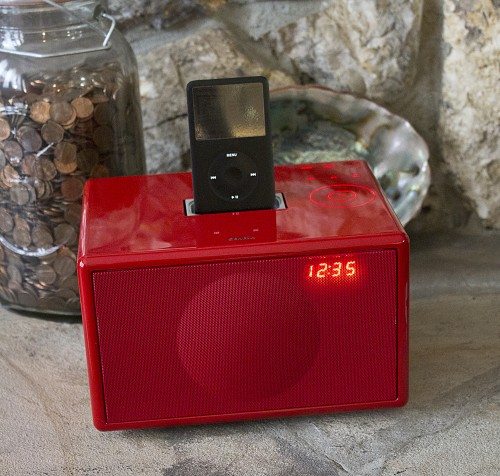 Red. Red box. Red controls. Red speaker grill. Silver remote with – red buttons. I guess you have to be a confident company to make a speaker as red as the Geneva Sound System Model S speaker. But I have to tell you, the Model S is drop-dead gorgeous. You can't not notice it on any desk. It stands out that much (In fact, I have received more favorable comments about the Model S on my desk than any other speaker). While it also comes in black or white and even silver, I don't care! This speaker is made to be red. End of argument.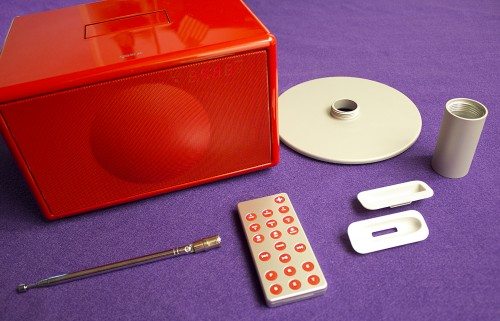 Geneva Labs makes some audacious speakers, ranging from the minute Model XS up to the monstrous Model XL. They are also priced accordingly. The Model S that I'm reviewing is their smallest box-shaped speaker. Measuring just 9.2″ W x 6.1″ H x 6.9″ D; the Model S is a desktop speaker to be sure, but it can fill an office or just about any room with audio that belies it size.
Photos cannot show the quality of Swiss craftsmanship in the hand-made Model S cabinet. It has eight layers of a high-grade piano lacquer (red, of course) finish which makes it extremely glossy. You can see a perfect reflection of yourself in the finish.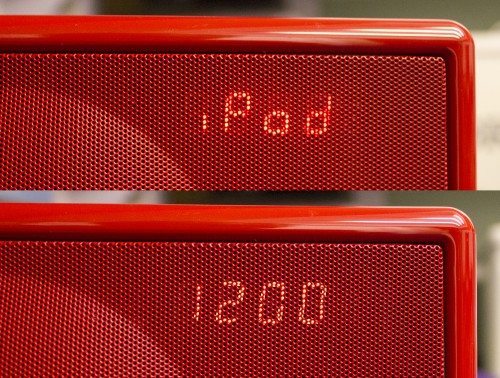 The Model S has an impressive bit of built-in tech. Included are two 3-inch drivers, two bass ports with two class D amplifiers – one for each speaker. I'll talk about the sound later. On the back, there's a mini line-in jack for external audio sources such as a computer, Android or other non-Apple device. There is also an FM radio with a removable and extendable antenna. It's handy if you like radio, and it does a good job of locking in on FM signals, but it's still only radio. FM audio is okay, but pales compared to the other audio sources available. In the top-right corner of the speaker grill, there is an LED display which shows what mode the speaker is currently using, or the time of day, or a numerical volume indicator (55 is loud). The LED also shows the built-in alarm clock functions. The lights are subtle enough to not be intrusive.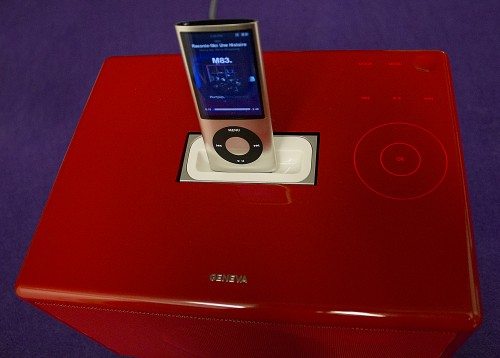 There are two uniquely impressive features of the Model S speaker. A motorized dock that rotates open and closed as needed. The motorized action is solid, relatively quiet and fun to watch (maybe I need to get out more). Also, when the Model S is turned off, the dock will not close if it senses an iPod/iPhone still connected. Even more impressive – and fun – are the capacitive (touch-sensitive) controls located on the top of the unit. Although I do use them occasionally, I don't use these controls as much as I thought I would.  However, they sure are a conversation starter.  The controls glow red (of course!) once they sense touch and dim when not used. It's all quite elegant, which is not a word usually associated with speaker/docks. Note: The scrolling action does not match iPods perfectly and it also does not work with some older iPods. Check Geneva's web site to see if your iPod is compatible.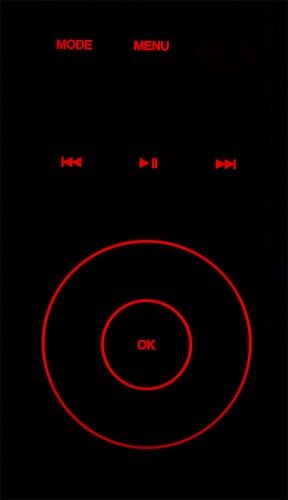 These capacitive controls let you adjust volume, skip, and change mode, but the best feature is a scroll wheel that acts like the scroll wheel on an iPod. For instance, you can click through the menus to make selections and then scroll as on an iPod. It can be useful if you walk around a room and use the speaker to make adjustments, but sitting at a desk, it's just as easy to touch the iPod itself. If the room lights are dim, the glowing controls are very easy to see.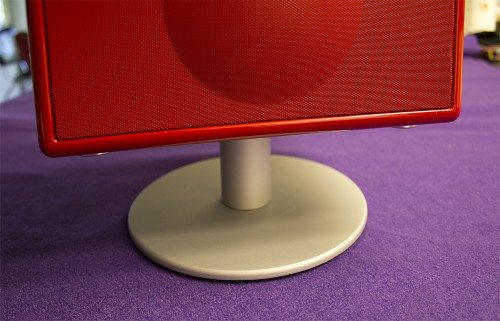 The Model S comes with a removable aluminum stand (not red, darn it) which raises the speaker about 3.25 inches off the table/desk. Whether the stand improves the audio or not is debatable. I prefer using the stand when it's on my desk about 20 inches away. However, if you use the speaker as a tabletop unit, it frankly looks nicer without the stand, and any perceived audio improvement is negated anyway as you walk around a room. I will say that there seems to be a bit more bass when the stand is not attached. Whether that's measurable or psychological, I can't say.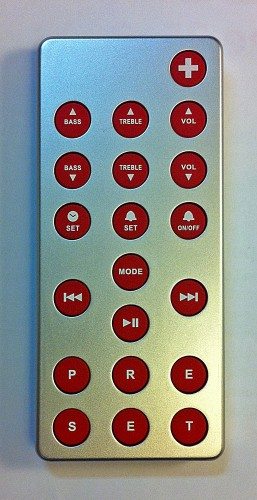 There is a credit-card sized remote included that covers all the functions you need. As with most other speaker/docks, the remote feels cheap and not up to the standards of the speaker itself. At least it looks nice. To be fair, I have yet to be impressed with any remote, no matter how expensive or cool the speaker may be.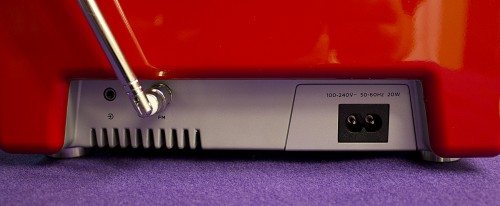 One glaring omission is the lack of any wireless functionality. I say glaring, because any $300 speaker in 2012 should include – at minimum – Bluetooth, even if the audio is compromised. Plus, Apple has changed the dock on the newest iPhone, iPod Touch and Nano which makes every speaker dock now available obsolete without a $30 Apple convertor (thanks, Apple!). That's something to consider, though it's no fault of Geneva. It's just the price of progress. The iPad and new iPad Mini are too large for this dock, regardless of connector.
As cool and well made the Model S is, it matters not if the audio doesn't match the speaker's specs. Happily, it does. Audio is clear across all frequencies with bass that's not overdone. If anything, the sound leans towards bright. Some brighter sounding speakers can border on harsh, but not the Model S. However, don't let that scare you if you like bass. The bass is tight and just right. It only became muddy and indistinct if the song was recorded that way. Vocals are similar, meaning that if the song has upfront mid-frequency voicing, then that's what you will experience.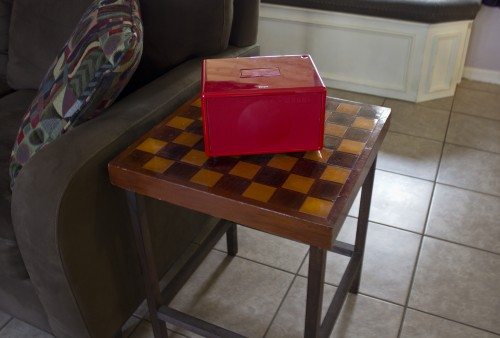 Despite its size, the Model S cannot just fill a room with good sound, but can fill a few rooms. I had the speaker set up in my living room in the center of my house with the volume set fairly high. I could walk around the house (about 2,000 sq. ft.) doing chores without wanting to bring the speaker with me. This is the petit Model S I'm talking about! I can only imagine how a larger Model M or Model L might sound. Sure, I wasn't fooled into thinking I was listening to a stereo system, but that isn't the purpose of the Model S. The fact that it could fill the house without distorting is saying something.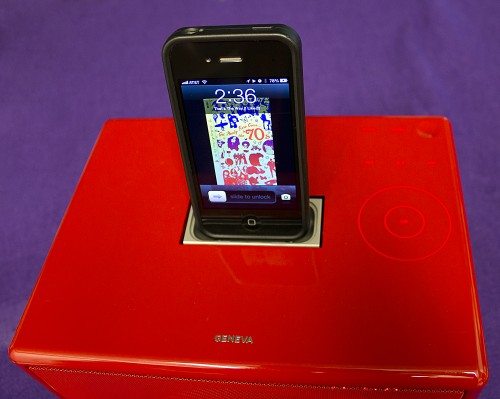 Now, about that sound.
The Manhattan Transfer are a prime example of what the human voice can achieve. Yes, their songs favor mid-frequencies and the Model S doesn't disappoint here, but the higher – and lower – range of the instruments is not pushed in the background. That's one of the nice things about this speaker: the way elements compliment, rather than compete with each other. "Sweet Talking Guy," "Tuxedo Junction" and "Operator," from their eponymous debut album are a delight.
I tried Moby's "Love of Strings" from "Extreme Ways," to test the bass response. Only in the upper volume ranges did I detect some aural struggling. The bass didn't distort; it just didn't rise in proportion to the increases in volume, like the mids and higher frequencies did. In other words, the louder the Model S got, the less impactful the bass became. This could be a built-in safeguard, similar to what Bowers and Wilkins does with their Zeppelin Air. As a result, there was no desire to turn down the volume just to avoid distortion. I liked that "no choice" option.
With the Model S sitting on my office desk, I got to test it in a social environment where the volume had to remain relatively low so as not to disturb coworkers. Many speaker/docks are used in offices, so this test is useful for real-world, lower volume situations.
While the bass may decrease as volume increases, that's obviously not an issue here. Whatever I listened to sounded… complete. Strange description, I know – but at a socially acceptable volume, the Model S simply excels. Bass sounds like bass. Even at low volumes, the music was clear and rich. Understand that this is not an easy thing for a speaker to do. At lower volumes, sound can be absorbed by the busy surroundings. The Model S cuts through that.
I am blessed to be able to listen to music in my office all day which also allows me to test speakers and headphones while working. "A Little Touch of Schmilsson in the Night" by Harry Nilsson is a gorgeously textured album with Nilsson's superbly controlled vocals backed by Gordon Jenkins' lush orchestration. It's an hour-long ode to master songwriters at the peak of their careers which the Model S exploits completely.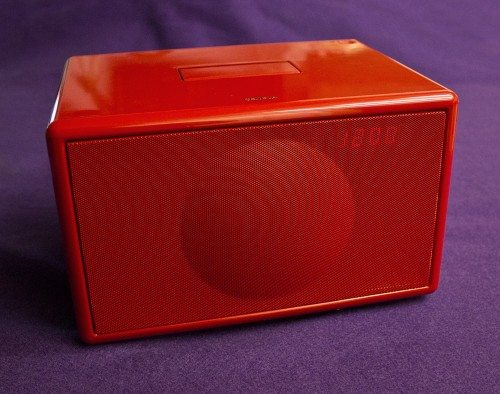 The more I use the Model S, the more I like it. Unfortunately, I think technology has passed this version by because of Apple's move to the Lightning connector. However, once Geneva updates their speaker line, the successor to the Model S could very well be a perfect speaker/dock solution for many people – as long as it remains red.
Product Information
Price:
$299.95 US
Manufacturer:
Geneva Sound System
Requirements:
Pros:

Red!
Meticulously made
Sounds quite good for its size
Low volume listening seductive
Cool capacitive touch controls

Cons:

Expensive
Technology outdated by Apple overnight