We use affiliate links. If you buy something through the links on this page, we may earn a commission at no cost to you. Learn more.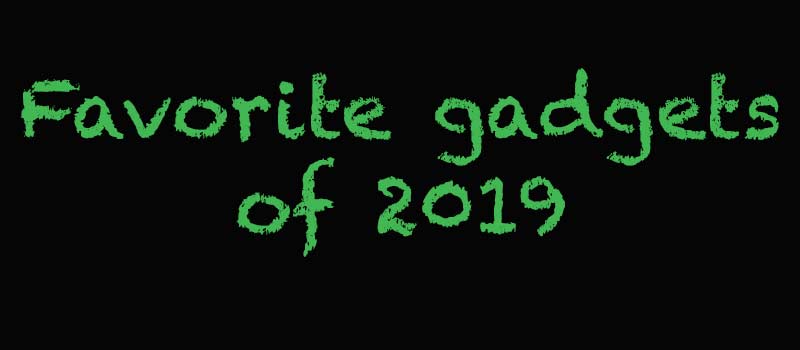 ARTICLE – A few weeks ago I asked everyone on the Gadgeteer team to send me a list of their favorite products of 2019. I told them that the products that they pick didn't need to be restricted to the items that they had reviewed this year, but that they could include any products that they have enjoyed using most during the past year. Was there one type of gadget that was the most popular with the entire team or was it a mixture? Let's find out. Here we go with part one of the Gadgeteer's favorite gadgets of 2019. Also be sure to check out part 2.
Mike Dixon
I absolutely love this thing. I use the Ninja Foodi grill just about every
day. Perfectly cooked food, consistent, and easy clean-up.
Still my main jacket, it has held up well. It's warm but still light. It
doesn't feel bulky when you wear it.
This laptop has been a pleasure to work on. No bloatware, just a clean and
fast machine that works like it should. The price is affordable, and it even
has room for an extra SSD inside.
I use a bunch of portable power banks in my life, but the ZMI has been a go-to device for me a lot! It is stylish, compact, and charges my devices quick. Plus, it has multiple ports so I can charge 2 devices at once.
This was a gadget that I never really knew that I needed so bad. I am a fan of robot vacuums now! Our floors have never been cleaner and we (and when I say we, I mean my wife. 🙂 don't spend nearly as much time sweeping the floors.
Tronsmart Spunky Beat True Wireless Bluetooth Earbuds review
I am sold on true wireless earbuds! The Tronsmart Spunky Beats are affordable and the sound is amazing. I haven't touched a wired headset since opening the package on the Spunky Beats.
(review hasn't been published yet)
Jacob Haas
Apple's late year update to their already-wonderful AirPods is far and away my favorite gadget of 2019. I listen to music and podcasts for much of the day, so having all-day battery life and instant connection to my music in a format that actually fits my ears is awesome.
I reviewed the expandable Bellroy Sling shoulder bag in the middle of 2019 and was still using it by the end. Given my propensity for switching bags, that's saying a lot that I would continue to use it for 6 months. It can fit my normal EDC items and then some, and might be enough bag for a lot of people.
Bill Henderson
Once again, Julie has tasked us with coming up with two or three favorite products from 2019. So I came up with five instead. Sorry. Choosing 5 of my favorite items I've reviewed in 2019 wasn't easy—well, except for a couple of items (coughEGOcough). So, here goes …
I reviewed a few really good headphones this year but this killer headphone has one feature that blows the others away: Waves Nx technology. This technology utilizes three technologies: Sound localization, head-tracking, and room emulation. You feel like you are in 3D space, which is why it's a gaming headphone. It's amazing. Plus, they sound great!
Audeze has two entries this year. In my review, I stated that you should not buy the planar magnetic LCDi3 earphones. So then, why are they a favorite? Simple—they sound fantastic. But they are expensive. And since Audeze makes a less refined, but more affordable iSINE 10 earphone similar in sound and looks, I recommended trying those first. That way, if you love the iSINE10, these are even better and worth the upgrade.
Master & Dynamic MW65 wireless headphones with active noise canceling review
No one makes better looking headphones than Master & Dynamic. No one. But that doesn't matter if they don't sound good. The good news is that the MW65 wireless headphones sound great. Not only that, they have active noise cancelling, so you can use them while commuting or traveling on a plane. And you will look good doing it.
EGO 21″ Self-Propelled Peak Power electric lawn mower review
Over the last few years, I have become one of EGO's biggest fans. Their battery powered tools can compete with any equivalent gas powered version. The 21″ Self-Propelled Peak Power electric lawn mower has become my go-to mower—and my back yard is well over an acre! This mower's two battery setup lasts up to 90 minutes, so I don't worry about stopping and waiting for a recharge. But even if I did, recharging each battery only takes 40 minutes. My gas Honda mower is beginning to collect dust.
Again, EGO. This 18" chainsaw is so cool. It uses the same EGO batteries as any of their other tools, mower included. The thing I like the best is that when you set it down between cuts, it's dead quiet. It only comes on when you press the trigger. You never have to hear that annoying 2-stroke gas motor that keeps running until you manually shut it off. With EGO, there's no string pulling, no gas, no fumes. Once you try EGO, you'll never look back.
Samuel Pair
The Roborock S6 has become the hardest working member of our house. We use it very frequently to keep our floors clean and spotless with both the vacuum and mopping functions getting their fair share of use. And even with the heavy usage, it just keeps going and going. We have 4 pets here in the house and the vacuum gets the hair from every nook and cranny of our living areas. This is definitely a time and effort saver and has been a big improvement to our home.
The MECO Power Spin Scrubber turned out to be another of my favorite reviews, as it has also seen quite a bit of use in cleaning our bathrooms. The long handle and effective spin brush attachments make getting the whole tub clean an easy job. This really does the trick for anyone with back, hip or leg ailments who need the ergonomic ease of this type of product.
As far as mini-fridges go, they all serve a pretty plain and, honestly, boring job. However, we really love the retro style of this mini-fridge and having separate compartments for refrigeration and freezer. I feel like it makes a great accent piece rather than just being another appliance. If I had a kid headed to college or needed something cool for my man cave, I wouldn't hesitate to add this mini fridge to the shopping cart.
Liz Rodriguez
My two favorite things this year have been:
They both have let me enjoy PC gaming to the max. The gaming chair gives me great comfort for few hours of sitting at a time as well as feeling sturdy, and the microphone allows my voice to be heard really clearly over discord voice chat or through my Twitch stream! I haven't had any issues with either product so far.
Bob Patterson
Happy Holidays, Everyone! 2019 has been a busy year for great gadgets. For my year end wrap-up, I'm picking those that really stuck with me over the course of the year.
I love what Saddleback Leather is continuing to do with their updated bag and accessories designs. The Simple iPad Case that made my 2018 favorites list is still in my daily kit, now joined by the Boot Leather iPhone case. The 100% leather design is tough as nails, works perfectly despite 10 months of daily use, and is looking better and better as it develops its unique patina.
So I doubted that this thing would actually work, but it really has stopped my snoring at night. I stopped using it for a few weeks back in October to see if it was a fluke… and it wasn't. My wife actually asked me to start using it again, and I've used it every night since.
This knife is simply amazing. I've used it almost every day since I started testing it, and it is still my go-to weapon of choice in the kitchen. 9 months in and the blade is still holding its edge; I haven't sharpened it yet! Expensive? Yes. The last knife you may need to every buy? Also yes!
I've tested about a dozen bags in 2019, and two made it into my favorites list. The first is the Tom Bihn Luminary 15. This little multitasker is simply brilliant for travel, day trips, and light commuting. It's at the top of my daily rotation for its brilliant design, flexibility, and capacity far beyond its slim size. Well played again, Tom.
I tested a bunch of USB-C compatible accessories for my new MacBook in 2019, and the Kanex 7-in-1 MacBook Hub is the one that goes everywhere with me. Everything you need for connectivity, all in a package that is the size of my thumb. It's a keeper.
Finally, we have a bag that genuinely surprised me. This pack is fully featured with everything you want in a travel and tech bag, but its size is still manageable as a daily commuter. The amazing thing is that you get a legitimate road warrior that retails for under $100. It's a sleeper, and a good one.
Thanks for reading all my reviews this year, and I hope I was able to help you with your gadget-seeking journeys. May you and yours have a great holiday season!
Garry Kolb
I was surprised at how much I like this device.  I use it almost daily and sometimes multiple times per day. It really does a great job of getting muscles loose before activity and then relaxing them after.  It's pricey, but like many things, you get what you pay for.
The Arboleaf scale is one of my favorite things because I use it every single day, as does my wife.  While I was attempting to drop some weight earlier this year, it allowed me to closely monitor progress and go back and review day-by-day fluctuations.  Today, it helps me to maintain that loss, keeping me on track when small gains inevitably arise, so I can focus on keeping the weight off.  It's stylish and fits well in our bathroom.
We have used an air fryer for several years. We used it sparingly because it was a bit of a pain to clean. This Uten model has a huge capacity, cleans up in a breeze, and does an outstanding job of both cooking and reheating foods.  We use it multiple times a week and it has earned a coveted spot on the kitchen countertop.
Alex Birch
When Julie asked us to pick two or three favorite products from the past year, I knew it would be tough. To make that easier, I chose from my own 2019 reviews, before realizing that will have been 43 products! So much for easier. Here's the top three…
This one only posted about a month ago, but I'm still seriously impressed. Why buy an eBike if you can convert a favorite bike you already own? As a bike mechanic, I love working on bikes and knew I could handle an involved eBike installation. As it turned out and noted in my review that process is well within anyone's ability and the end result is a great ride you'll happily use for years to come. Now that they're fundraising effort is successfully over, you can order one here. Just remember to wear a helmet and be safe out there.
This multiple device charges is unique in its dedicated iPad stand and adjustable watch position. While I mentioned in my Air Trio review that there's more chrome finish than I like, that has not stopped me from using it every night to charge my iPad Pro, Apple Watch and iPhone. They've actually just introduced the Air Quad which adds an additional spot for your wireless charging AirPods to the left of the watch charger. Sounds like a pretty good upgrade if you're all in on Apple gadgets.
These headphones were my first review of 2019 and at the end of the year, they're still sending it. They're barely showing any signs of wear and may be even more comfortable now that they're well broken-in. There's been at least one app update that has improved the sound test process. It looks like they might be a bit harder to find in the US than they were at review time, but solid none the less.
Final thoughts
As I mentioned, it was hard to choose just three. These just missed the cut as they get used almost daily: Tineco Pure One S12 Plus Smart Vacuum Cleaner, iRig Micro Amp, Hedkayse One. Hope you all had a great year.
Michael Strange
2019 was a great year for reviews at The Gadgeteer. I reviewed a lot of fantastic products, here are my top three.
My favorite product of 2019 was the WORX 20" cordless electric lawnmower. The WORX 20" 3-in-1 cordless electric lawnmower is a lawnmower that's powered by 2-20V batteries instead of gas. There are several reasons why this was my favorite. It's easy to use with a one-button startup. It's durable – The 20″ cutting deck is made of steel. Steel is not only more durable, but it's also mulching friendly. The 3-in-1 versatility allows you to bag, mulch, or side discharge. It has a collapsible handle for easy upright storage in small spaces. Because the mower uses 2-20V batteries, there are no gas, oil, or filters, making it virtually maintenance-free. But the most important thing is that it cut my lawn every bit as good as my old gas-powered mower. It even powered through tall and damp grass. I love using this lawnmower, and I'll never go back to using gas again.
The Roborock S4 Robotic vacuum comes it at #2. The Roborock S4 is a robotic vacuum engineered to take on complex homes and environments using advanced mapping, navigation, and an improved drivetrain. Before I reviewed the Roborock back in October, I had never given any real thought to reviewing a robot vacuum. I was skeptical about how they would work in a complicated home like mine. The Roborock S4 made me wonder how I ever got along without one. It easily navigated and vacuumed my floors. It maneuvered under and around chairs and furniture, not once getting stuck. The S4 has powerful suction (up to 2000pa) with four different power modes. Overall I was thoroughly impressed by how well the S4 cleaned my home. I especially appreciated how it picked up my dog's fine hair. With the Roborock app, you can clean specific zones or rooms and set up virtual walls and no-go zones. Like I said in my review, if you own a home, you need to have a Roborock S4 cleaning it.
Last, but certainly not least on my list is the Cuisinart 360º Griddle Cooking Center. The Cuisinart 360º Griddle Cooking Center is an outdoor griddle featuring a 22-inch diameter cooking center and a stainless steel lid. The Cuisinart 360 was my introduction to outdoor griddling, and I loved it. The griddle has a 22" cold rolled steel cooking surface that is heated by two propane burners. It's easy to use and features a foldable side prep table, paper towel holder, 360-degree grease trough with grease cup, and a stainless steel lid. The lid can be used to roast, steam, warm, and even smoke. The griddle has four wheels that make it easy to move around, and its size makes it ideal for smaller spaces. The best thing about the griddle is the variety of food that you can cook on it. You can make everything from bacon, eggs, and pancakes to burgers, stir-fries, and Philly cheesesteaks. I don't have a garage, so I had to retire my griddle for the winter, and I sorely miss using it already. Come on, spring!
Brooke and Mason
The BriteOWL light-up wall outlet cover was my favorite product this year. It's simple, elegant and does the job. Most importantly, these light-up outlet covers give me peace of mind that our stairs are illuminated at night, and I don't have to worry so much when we have overnight guests (we host a lot of sleepovers for our kids!). Plus, it saves us money by not having to leave on the hallway or bathroom lights all night long. And it leaves the outlets free.
Mason's:
The Mixcder E9 headphones are my favorite product this year. Even though we reviewed them back in April, and we've since reviewed, purchased and borrowed many, many sets of headphones, these are still my go-to, everyday pair. Why? Amazing sound quality and comfort.
Andy Jacobs
The Spoke Designs Spoke Pen has become the pen I use most often day-to-day.  I like its unique tech-retro styling, its feel in my hand, and its magnetic cap.  Plus, although I'm partial to the version I have, which I think resembles a miniature lightsaber, the Spoke Pen is available in multiple colors and color combinations.
I must admit that I was initially skeptical of the effectiveness of robot vacuums, but I was pleasantly surprised at how well the ECOVACS DEEBOT 600 Robotic Vacuum Cleaner worked in our home.  While it certainly doesn't replace a full-on vacuum cleaner, it works really well for a vacuuming session of our main traffic areas in between our weekly vacuuming, and especially since we have two pugs that shed all over the place.  Plus, it does so nearly silently and is easy to empty.
I'm a coffee junkie, and since I started using the AeroPress Go while reviewing it, I have almost stopped using my old-style drip coffee brewer.  The AeroPress Go brews a delicious cup of coffee with almost no acidity or bitterness.  Plus, it's quick, fun, and easy to clean.  While the original AeroPress is great, the AeroPress Go is a bit more compact, which makes it easier to carry it between work and home in my backpack.
Andy Chen
I've stopped looking for desktop wireless chargers after this one. I think it's because of the large surface. No need to carefully align my iPhone- I just place my phone down on the gigantic surface and I'm good to go.
I have many gigantic USB batteries to choose from for campouts, but I only carry the Tech Care DS01 with the built-in cables and percentage display. No more forgetting the right cables, and I know exactly how much juice I have left. Turns out I don't need the biggest battery in the world on a 1-2 night campout.
This one surprised me. I figured if the wheels didn't work out I'd just swap back to the old ones my chair came with. Four months later, I'm still rolling away on these Stealtho wheels.
Kathleen Chapman
Saddleback Leather Drawstring Leather Backpack – I feel spoiled using this backpack because it is so well-made using thick leather and it's so good lookin'! It is one of Saddleback's lightest backpacks, it's beautifully simple in its design, and it accommodates all that I need to carry. I love the interior floppy pocket which is where I store my Lenovo Yoga 730 13-inch laptop in its Tomtoc padded case when out and about. The backpack is a joy to use! You can purchase the Saddleback Leather Drawstring Leather Backpack from Saddleback for $399.00.
HyperJuice has created my dream portable battery with a total output of 130 W
HyperJuice 130 W USB-C Battery + 112 W Charger Bundle (not published yet) – I finally have a portable battery that successfully charges my USB-C Lenovo Yoga 730 13-inch laptop, our 12.9-inch iPad Pro 3rd generation, as well as my phone (Pixel 2 XL) and other devices. It has two USB-C ports (one delivers up to 100 W and the other up to 60 W using Power Delivery 3.0) and one USB-A port (which delivers up to 18 W). Moreover, the battery recharges in less than two hours! It is expensive, so if you don't need it right away, you might want to wait until the price comes down; but boy, is it handy in a pinch!  You can purchase the HyperJuice 130 W USB-C Battery + 112 W Charger Bundle from Hyper for $249.99.
Brightech LightView Flex LED Magnifier Lamp with Clamp and Base for Desk (5 Diopter) review
Brightech LightView Flex LED Magnifier Lamp with Clamp and Base for Desk (5 Diopter) – I love having this magnifying lamp to take a quick look at tiny objects. The gooseneck portion of the lamp allows it to quickly adjust to the exact position that I need it. What did I ever do without it? You can purchase the Brightech LightView Flex LED Magnifier Lamp with Clamp and Base for Desk (5 Diopter) from Brightech (free shipping on all orders) or Amazon for $37.99 or $39.99, respectively.
Xerox Duplex Combo Scanner – This duplex scanner has scanned in several of our old documents that were laying around in binders. Even though the scanner periodically cuts off information located in the right margin, it has made quick work of the tedious task of scanning two-sided large documents. It is important to note that it needs to be connected to your computer or laptop via the provided USB-A cable in order to work. You can purchase the Xerox Duplex Combo Scanner from Xerox, B&H Photo, Dell, or Newegg for $219.99.
Also check out part 2 with the rest of the team's favorites.