We use affiliate links. If you buy something through the links on this page, we may earn a commission at no cost to you. Learn more.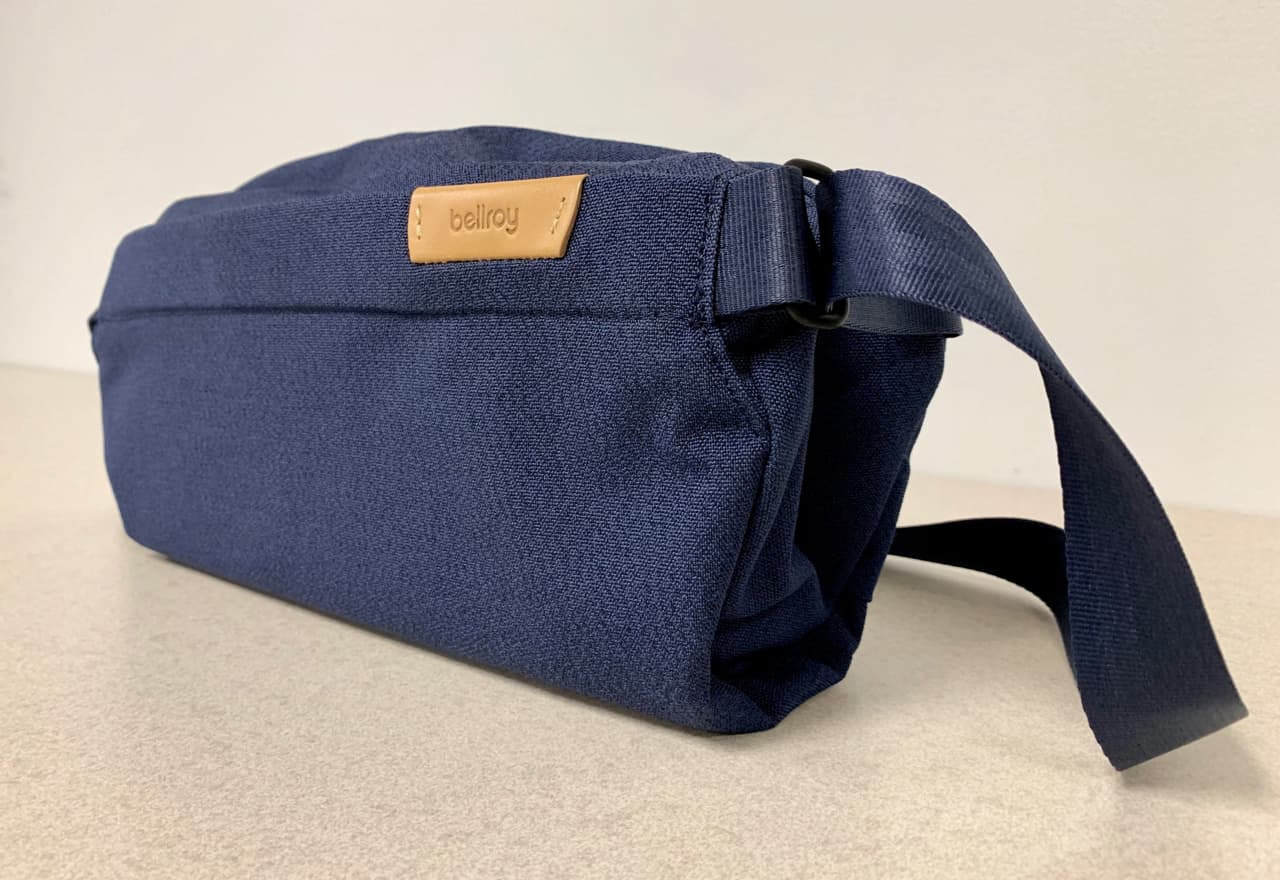 REVIEW – More often than not, we have to tote around a bunch of daily-carry items that don't fit in our pockets, but feel like overkill to put into a big backpack. Legendary wallet maker Bellroy looks to do away with your bulky shoulder bags and heavy packs with their diminutive Sling satchel. Is it up to the task? Read on!
What is it?
The Sling is a small shoulder satchel with two soft-lined, zipper pockets, an expandable main compartment. It's appropriately sized for when you need to carry more than your pockets would hold, but less than a messenger bag or backpack.
What's in the box?
just the Sling and a warranty card
Specs
23 x 34 x 10cm
Holds up to 7 Liters
350g (12.3oz)
Front compartment with key clip
Main compartment with soft-lined, zippered glasses pouch
Magnetic clasp on strap for easy removal
Self-compressing, expandable gusset
Padded paneling on the back for comfort
Soft Nylon webbing straps
Water-resistant materials
3 year warranty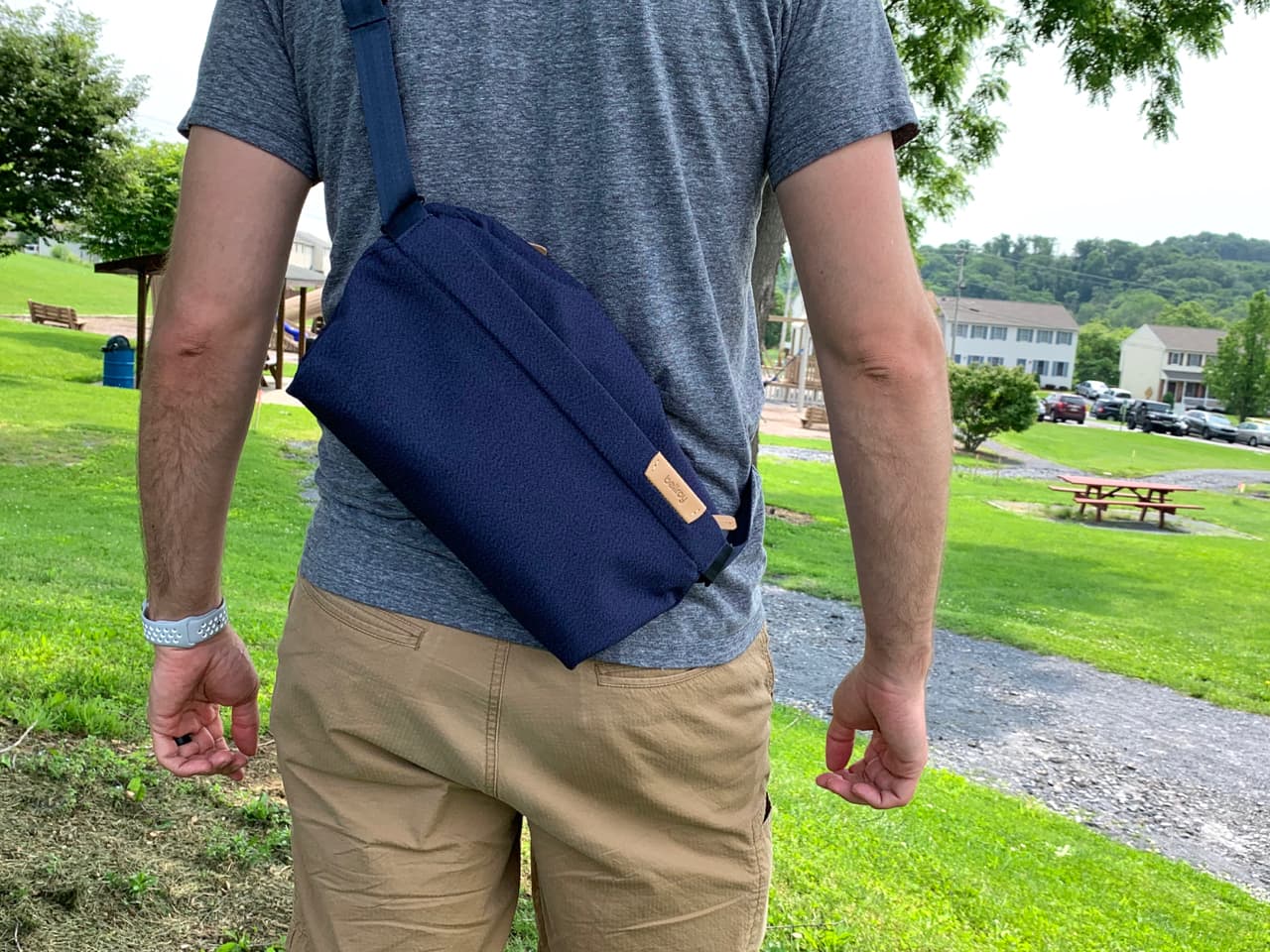 Design and features
You may be familiar with the name Bellroy from their wallet ads, whose revolutionary design claims to reduce the thick billfold in your back pocket down to a sleek, svelte and downright sexy size.
The Sling takes the concept of trimming down that extra thick wallet and applies to the standard shoulder bag, asking "What if you just carried what you needed, and that's it?"
When I first got my hands on the Sling, it very much reminded me of the classic fanny pack, only with a longer strap. At its shortest strap length, the Sling could be used in a typical hip bag fashion, but it's intended to be placed on the body in a cross-chest configuration, the bag resting comfortably in front or in back.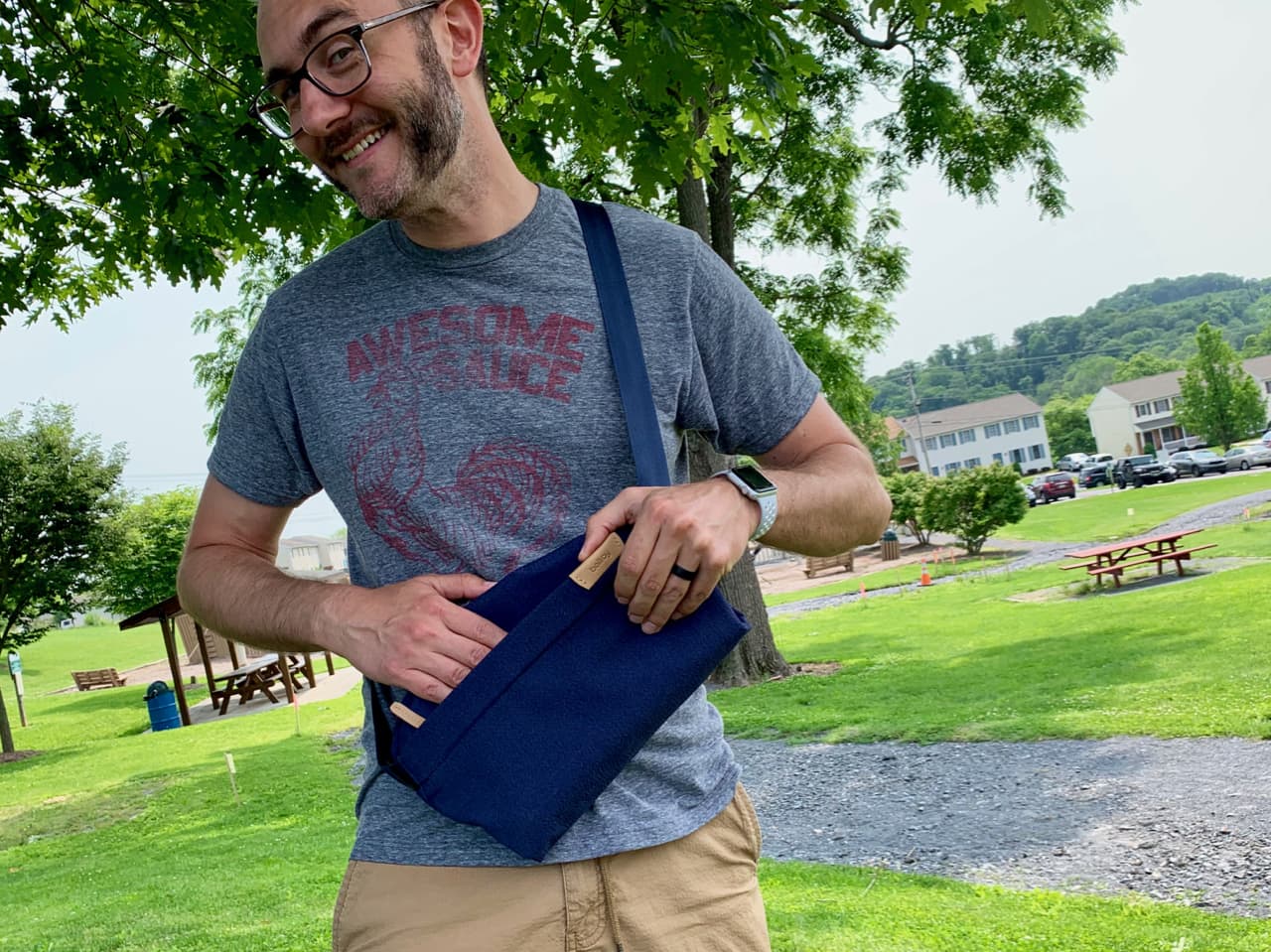 Organization freaks might be turned off by the fact that there are only 3 pockets. I, myself, like lots of smaller pockets for pens, chapstick, change … the small things I like to carry in a bag instead of sloshing around in my pockets. There is one front zipper pocket, one expandable, gusseted main compartment, and a soft-lined smaller zipper pocket inside that main section meant primarily for sunglasses.
Also included in the main compartment is a keyring hook. I don't think I've ever used one, but I suppose it's handy to stick a spare key on, or keep your keys in one corner of the compartment.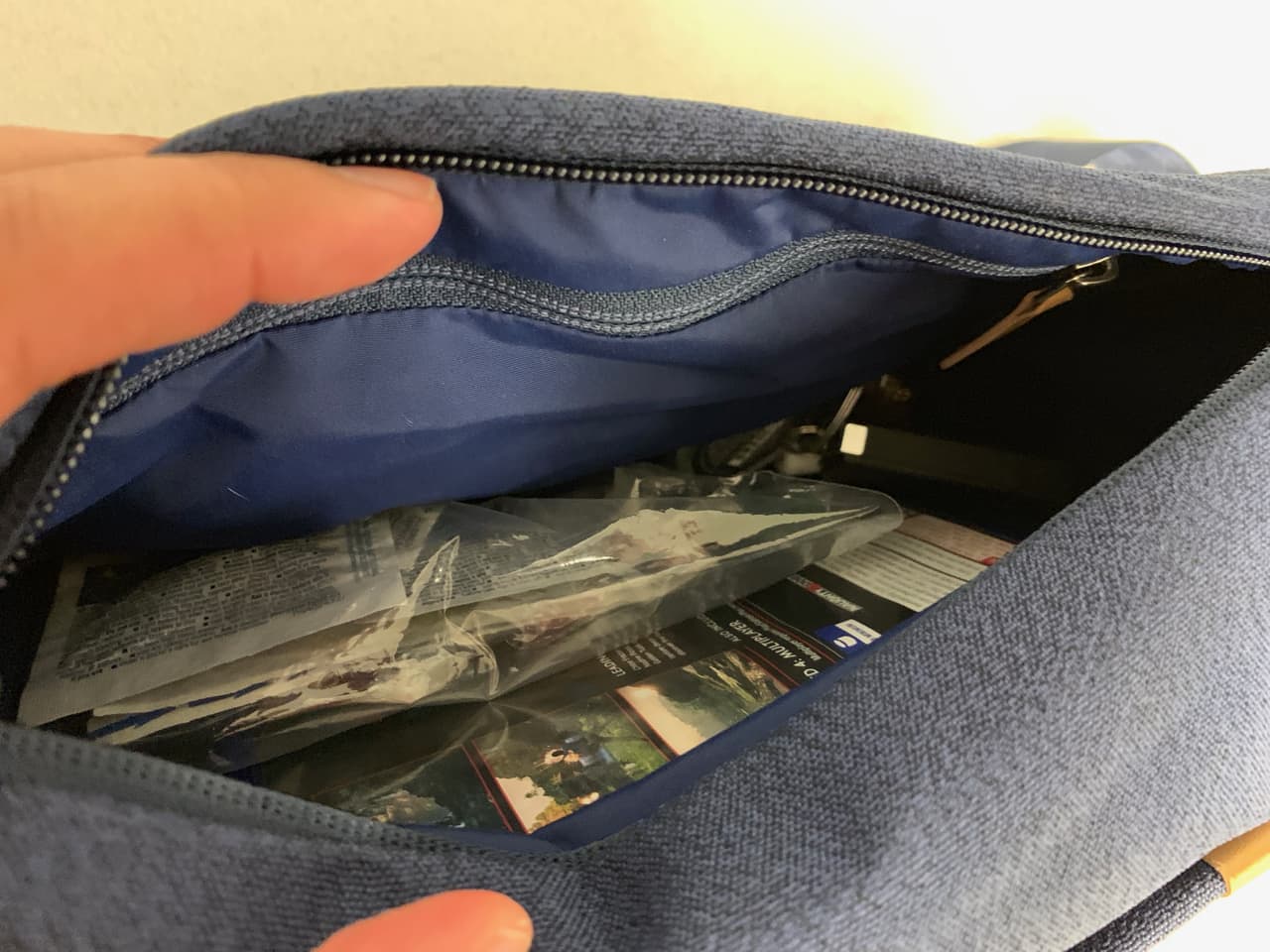 I would have liked maybe one more zippered bag to hold some of my smaller items. I like to carry around some minor first aid stuff like bandages and Tylenol, and I simply put all that stuff in a sandwich baggie. I'll probably get a more durable small bag at some point for exactly this purpose.
As you can see from the picture, the expandability of the main pocket is very helpful in being able to secure an unexpectedly large payload.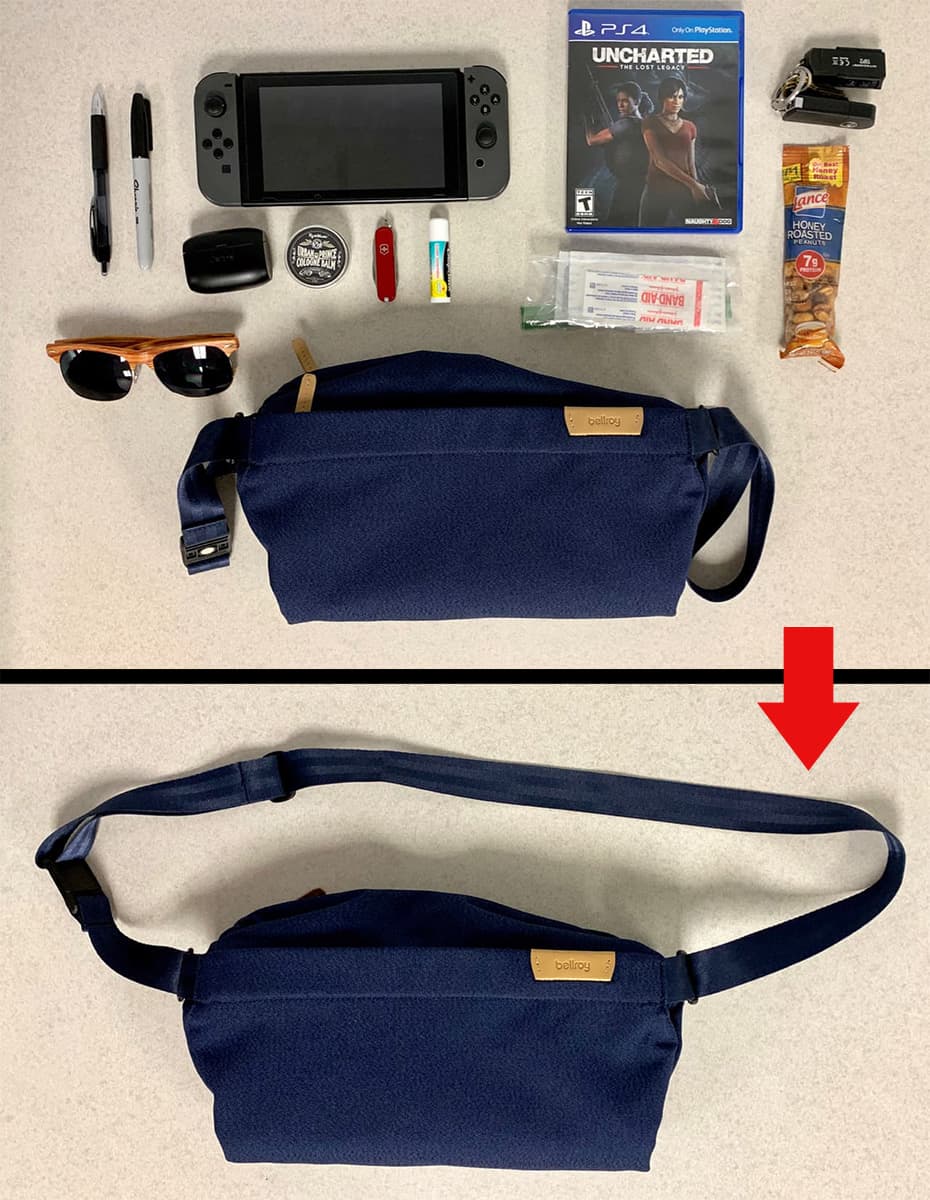 The front pocket is wide and tall enough to accommodate my Switch, which is personally my go-to test in seeing if a bag is too small to be worth carrying. The Sling just passes, in my eyes.
One key feature worth mentioning is the extra loop that the strap passes through. When being worn, the weight and tension compresses the gusset and keeps the bag as thin as it can be, which is quite smart.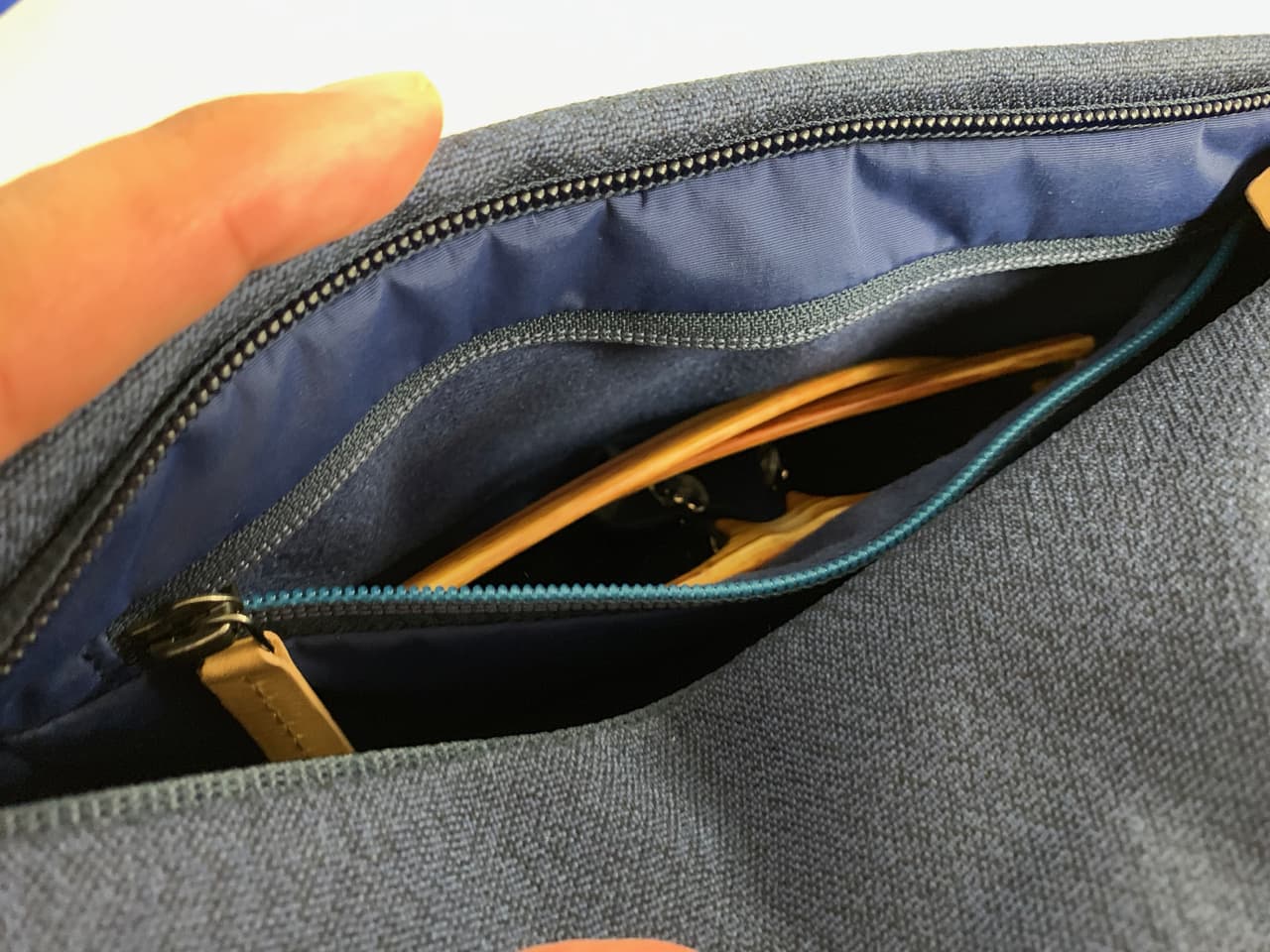 Another unique addition to the Sling is the magnetic clasp. At first, I was concerned that it would continually come undone, but I didn't experience that even once. It is easy to undo, but it requires force to be exerted in the opposite direction of how the strap would pull when being worn. This makes the Sling easy to don. Admittedly, I didn't use this feature often. It's just as easy to slide the strap over my head rather than unclasp it, hold the bag in place on my chest, and fish around my back to pull the other end over my shoulder. Maybe I just didn't "get" it and there is an easier way.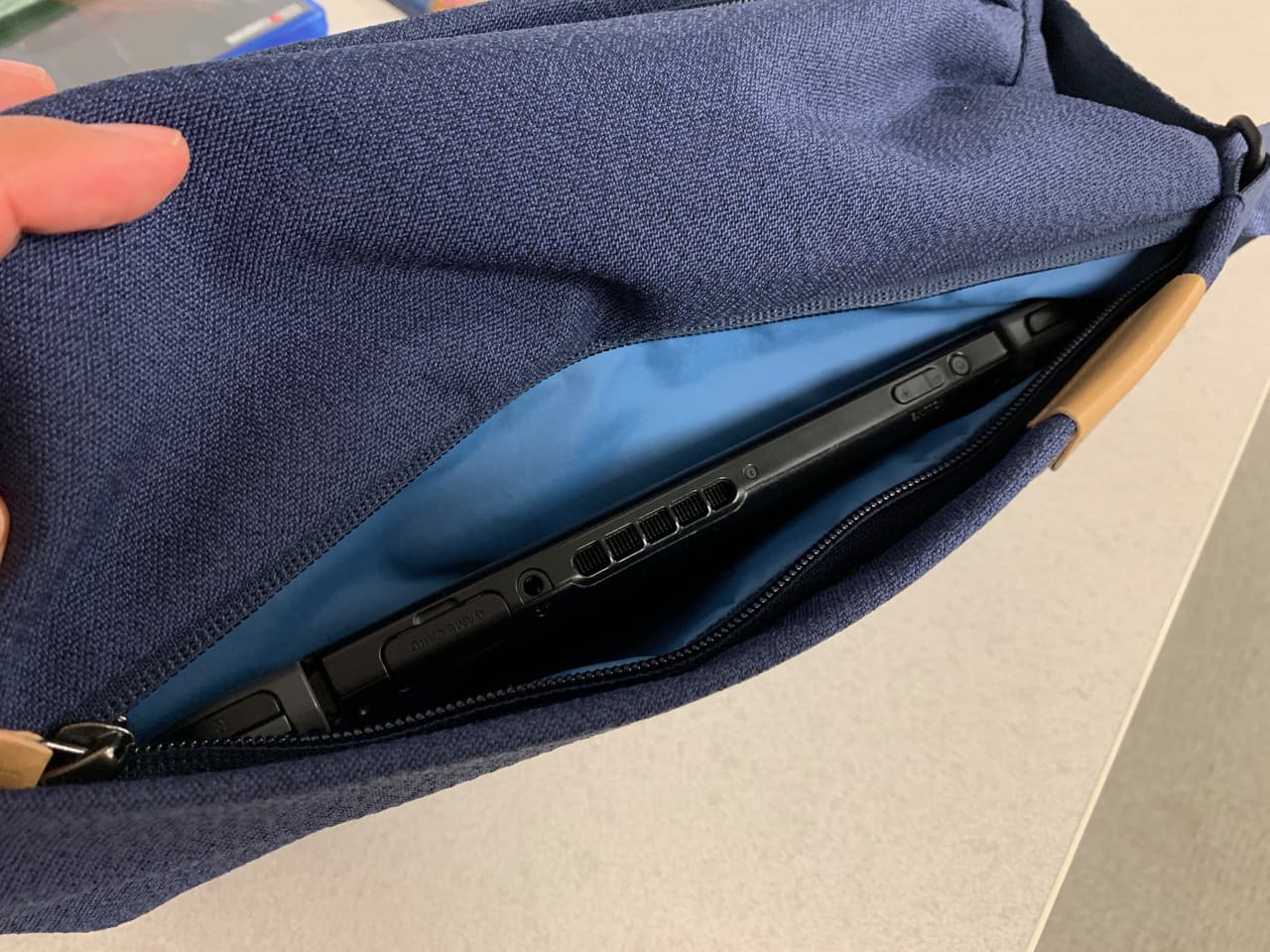 It would certainly be useful when, say, wearing a motorcycle helmet, prohibiting the strap from going over your head. Most of the time I just carried the Sling over one shoulder like a purse, which is just fine.
Slipping the bag from back to front to access the contents is quick and easy. It's meant to be ambidextrous by design, so it can be worn over your left or right shoulder and still be accessible. It's very comfortable carried on your back or your chest. Although I have to admit, it's a unique look. It sort of reminds me of those tiny little backpack purses that girls carried around in the '90s. I still get a little self-conscious about wearing smaller bags like this.
Aside from the lack of smaller pockets, which really just speaks to the simplicity of the Sling, I really like this little satchel. It might be too small for some, or even most. And it's not cheap, weighing in at nearly $100. It's quality, through and through. At least it feels expensive. For the commuters and EDC enthusiasts out there, it's a nice little bag aimed at paring down your larger bags to just the essentials, if you can get past the look of strapping such a tiny satchel to your back.
What I like
super durable and lightweight
discreet glasses pocket
magnetic clasp is a unique addition
What needs to be improved
strap takes a bit of fiddling to lay straight
pretty expensive for such a small bag
Final thoughts
Bellroy's diminutive Sling satchel is up to the task of carrying your essential items in any setting, helping you leave your large, bulky backpack at home. However, it could be a little too small and little too expensive for some.
Price: $99 with free shipping
Where to buy: You can pick up your own Bellroy Sling in four different colors on their website.
Source: The sample of this product was provided by Bellroy.