We use affiliate links. If you buy something through the links on this page, we may earn a commission at no cost to you. Learn more.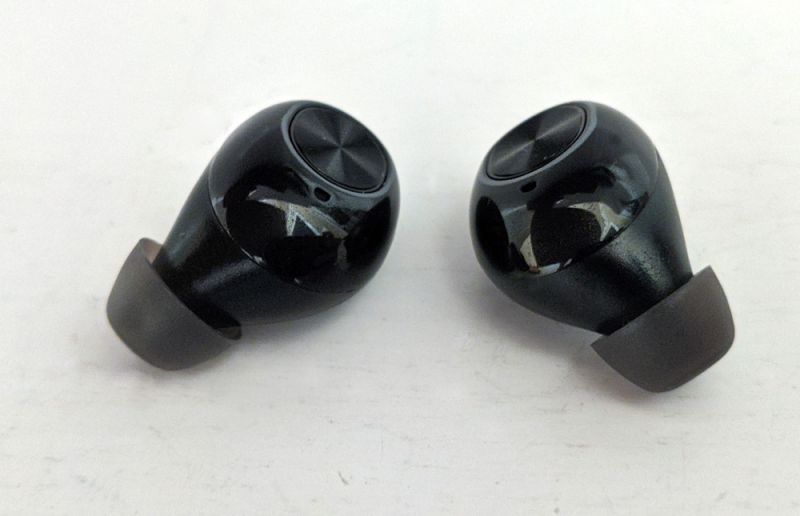 REVIEW – The true wireless earbud market is red hot!  There are so many choices and with all the choices it is also confusing.  So many features, so many form factors, and so many prices.  How is an audiophile supposed to choose?  So let's toss another player in the market with the Tronsmart Spunky Beat True Wireless Bluetooth Earbuds.  Aside from the funky name, is it worth the $39.99 price?  Let's find out!
What is it?
True wireless earbuds that offer some neat features that set it apart from many other earbuds.
What's in the box?
1 pair of Tronsmart Spunky Beat True Wireless earbuds
1 portable charging case with integrated USB-A charging cable
1 USB-C charging cable
2 sets of extra ear tips
1 user manual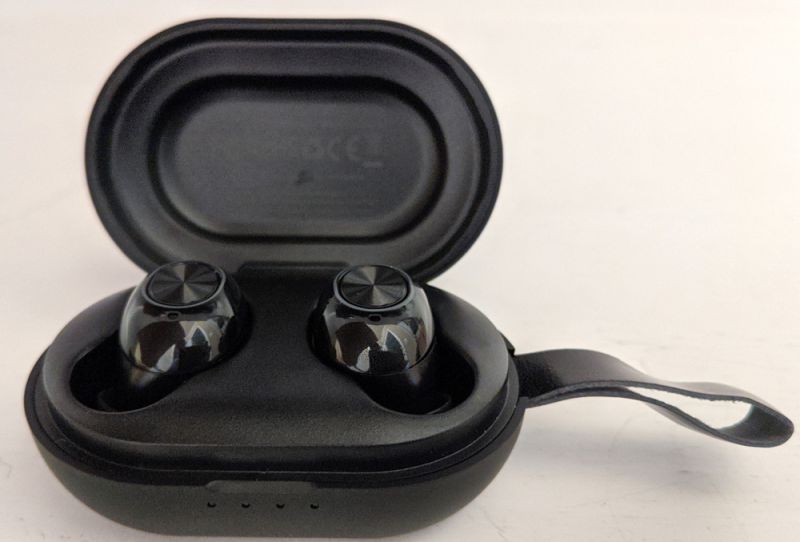 Hardware specs
Here are the specs from Tronsmart:
Qualcomm® Chip
The advanced Qualcomm® chip guarantees exceptional performance by delivering consistent and lossless audio streaming, providing the most stable connectivity.
Three Decoding Mode: aptX, AAC and SBC
Custom graphene-coated drivers produce detailed sound and deep bass while aptX™ for distortion-free sound listening.
aptX™: Superior high-fidelity & lossless audio.
AAC: Crystal clear & detailed sound for iOS.
SBC: Well balanced & rich sound for Android.
CVC 8.0
Qualcomm® DSP & cVc™ 8.0 technologies perfectly work together to bring richer audio streaming and clearer hands-free calls.
DSP: Reduce high & low frequencies noise for more immersive sound.
CVC 8.0: Suppress background noise for clearer calls.
Voice Activation
Access Siri or Google Assistant from the earbuds with a simple tap.
Unilateral Use
You can use a single earbud with your device, perfect for sharing the other with your friend.
All-day Listening
Enjoy 7 hours of playtime on a full charge. Up to 24 hours of listening with the charging case to keep you going throughout the day.
5 minutes of quick charging = Up to 1 hour of playtime
One-touch Control
Intuitive touch control lets you activate all features with just a tap on the earbud. No need to reach for your phone.
Two Ways Charging
Two charging solutions for choose integrated USB-A cable or the coming with USB-C cable.
IPX5 Splashproof
Rated IPX5 against sweat, splashes, and rain.
Design and features
The Spunky Beats (hereinafter referred to as the 'Beats') come in a nice little charging case that has a charging cable built into the bottom of the case.  That way, you'll never have to hunt for a cable when you need a charge.  When fully charged, the case will allow you to charge your earbuds 3 times, which is awesome.  In fact, if you charge your earbuds in the case for 5 minutes that gives you about an hour of playback time, which is also awesome!  If you want to use your USB-C cable to charge the case you can also do that with the port on the back of the case.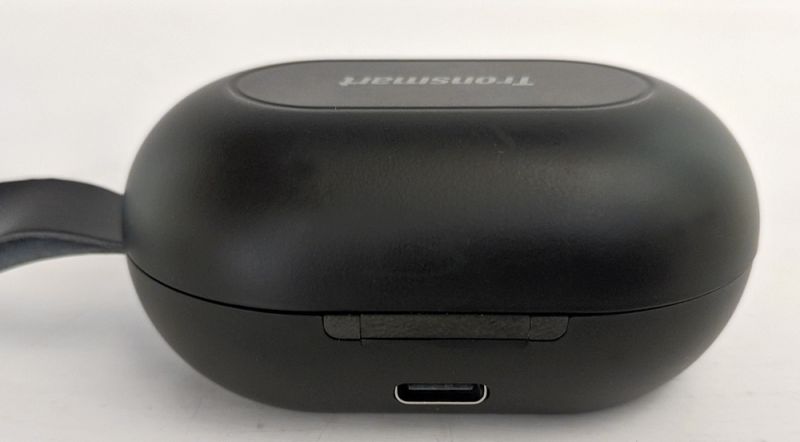 The charging case also has a built-in strap that makes it easier to pull out of your pocket.  On the front of the case are 4 indicator lights to let you know when the case needs to be charged.  Unlike some other wireless earbuds that I own, when you open the case to the Beats, nothing happens.  You have to pull the Beats out of the case before they will turn on.  And consequently, when you place them back in the case they automatically shut off.  I actually prefer that functionality over the functionality of the other wireless earbuds I have.  With my other earbuds I sometimes accidentally open the case, which causes them to connect to my phone.  And when you pull the earbuds out of the case you need to get them into your ears quickly to hear the prompts for "Power On" and "Connected".  They connect very quickly!
You can also use the Beats with a friend by simply sharing one of the earbuds with them.  I love this about wireless earbuds in general because in the 'old days' if I wanted to share my music with a friend then I had to fish out my Y-adapter so that we could both plug in our wired headphones.  The world of wireless is just so much nicer!
As far as sound goes, I am no audio expert, but I was pleasantly surprised by how rich the sound was from the Beats.  The base was much better than my other earbuds.  And the seal I get with the Beats means that I hear very little background noise around me.  And I couldn't listen to these earbuds at full volume because it was simply too loud.  The sound is really great with these earbuds!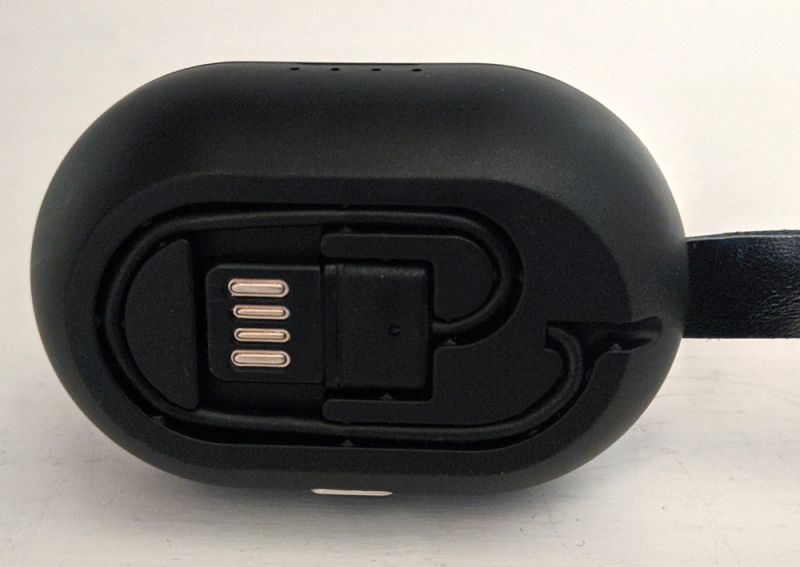 I use a Plantronics Bluetooth headset as my daily driver for making calls, and I love it.  But I don't use it for listening to music at all because it only sits on one ear.  And I don't use the Beats to answer phone calls.  I just use them to listen to music.  But I did test the call features for this review and they work as designed.  People on the other end of the call could hear me just fine.  When I took the dog walking once by a busy street and made some calls, the callers on the other end did make a comment that they could hear the background noise from the traffic.  So I would take a call using the Beats, but I wouldn't want to use it daily as my headset for calls.
I should mention that while you are using the Beats to listen to music the earbuds will blink blue.  This can be annoying to others around you, and especially if you use them in a dark room or in bed.  Your partner may get annoyed with a blinking light flashing in the darkened room!
I saved this last part of the review to cover the features that I am torn about.  The way that you control the Beats is with touch controls on the surface of each earbud.  Tronsmart has 3 other wireless earbud products, and all those have touch controls as well.  And many other wireless earbuds use touch controls as well.  If you think about it, how else could you do it if you want a small form factor that fits tight in your ears?  You physically can't have buttons on these things because you lose the form factor that makes them so attractive.  So the Beats aren't alone in this challenge.  My other wireless earbuds frustrate me the same.  Let me explain.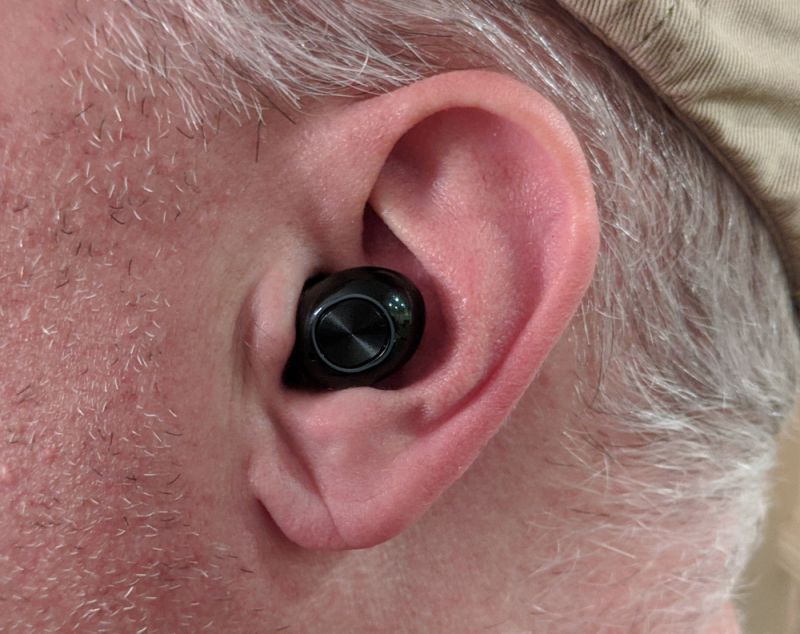 The Beats have a flat, smooth surface on each earbud that you either tap once, twice, or three times, depending on what you want to accomplish.  You can also touch and hold to accomplish things.  And again, this is exactly how other wireless earbuds do it.  The problem is when you are trying to use the touch controls you don't always touch them in the right way.  Sometimes my finger doesn't touch the earbud flatly, as required.  So sometimes my finger hangs off the edge of the earbud and I don't touch it cleanly, which may or may not get registered by the earbud. Sometimes I may scratch my ear or brush the hair around my ear and the earbud registers a touch.
Also, when you are pulling the earbuds out of the case or placing them back into the case, it is almost impossible not to touch the surface of the earbuds that perform functions.  There were numerous times when I pulled an earbud to hold in my hand while I was trying to hear someone talk to me and I accidentally performed actions because I touched the surface of the earbud.  As I mentioned before, this isn't unique with the Tronsmart Beats.  This is a hassle that you have to put up with if you want to use this type of product.  I don't see any way around it.
What I like
Charging case with integrated charging cable
7 hours playback time is great
Rich sound is great for this price point
What needs to be improved
The touch controls can accidentally be touched causing unwanted actions
The blinking blue lights on the earbuds while in use can be annoying to others
Final thoughts
For the price of $39.99, the sound with the Tronsmart Spunky Beats is amazing!  I thought that my previous set of true wireless earbuds were great, and they are.  But I have found myself grabbing for the Beats more because of the better sound, which comes at a better price than my older wireless earbuds.  And the charging case with the strop and built-in charging cable are just icing on the cake.  The touch controls take some getting used to, and I am dealing with it to get this wonderful form factor and fit.  Until the industry figures out a better way, this is the best we have, which is pretty awesome if you ask me!
Price: $39.99
Where to buy: Amazon (Apply the $5.00 on-page Coupon and use the discount code 9KX7D6PU at checkout for an additional $5.00 off (expires 12/31))
Source: The sample of this product was provided by Tronsmart.