We use affiliate links. If you buy something through the links on this page, we may earn a commission at no cost to you. Learn more.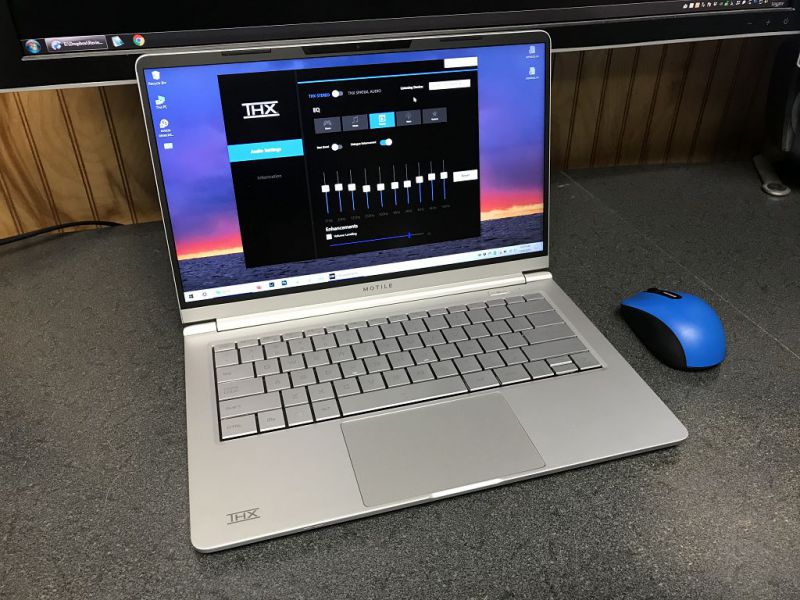 REVIEW – My main computer is a desktop with three huge screens, and my portable device has been a Surface tablet for about four years now. When the offer for me to review the Walmart Motile brand laptop came along, I thought this might be an excellent time to see if a budget laptop could stand up to my needs.
What is it?
The Motile 14″ Performance Laptop (model M142-SL) is an affordable Windows 10 laptop offered exclusively from Walmart.
What's in the box?
Motile 14″ Laptop
Charging cord
Quick Start guide
Warranty information
Hardware specs
Operating System: Windows 10 Home
Screen: 14" FHD (1920×1080) – Tuned by THXTM display
Processor & Chipset: AMD Ryzen 5 (Gen 2) with Radeon Vega 8 Graphics
Memory: 8GB Memory (DDR4 2400mHz) – 2 GB used by the graphics
Storage: 256GB M.2 SATA SSD
Battery: 4100 mAh Lithium Polymer
Camera: Front 720p IR Camera
Audio: THX® Spatial Audio, speakers 2 x 2w
Ports: 1 x USB-C, 2 x USB 3.1, 1 x USB 2.0, 1 x HDMI Port, 1 x Ethernet Port, 3.5mm Headphone jack
Card Slot: 1 Micro-SD slot
Wireless: Bluetooth 4.2, WiFi a/b/g/n/ac
Dimensions: 12.6″ x 8.4″ x 0.75″
Weight: 2.55 lbs
Design and features
I'm a desktop guy, and I like my big, high-resolution monitors. I have two 30″ monitors and one 40″ monitor attached to my main desktop computer. That's 85.25 inches (216 cm) of horizontal screen space. I have a lot of things going on at one time when I'm working.
However, my portable devices need to be just that; portable. For about four years now, my portable device has been a Microsoft Surface 3 tablet with a keyboard cover. It's served me well while on road trips and couch surfing. However, it hasn't always been the fastest thing in the world, and lately, it has gotten even slower.
I'll be honest, I was excited about doing this review, yet I was hesitant about how well this laptop might perform. Experience told me that a modern quad-core processor with 8GB of RAM utilizing an SSD drive should run very nicely, yet it was a new brand with only limited information. I always have family members that could use a new laptop, so I figured if nothing else, I could give it to one of them if I didn't like it.
When I opened the box, I was impressed. The Motile laptop utilizes a clean, efficient design without any extravagant design that serves no purpose. The top and bottom are aluminum with a semi-flat finish.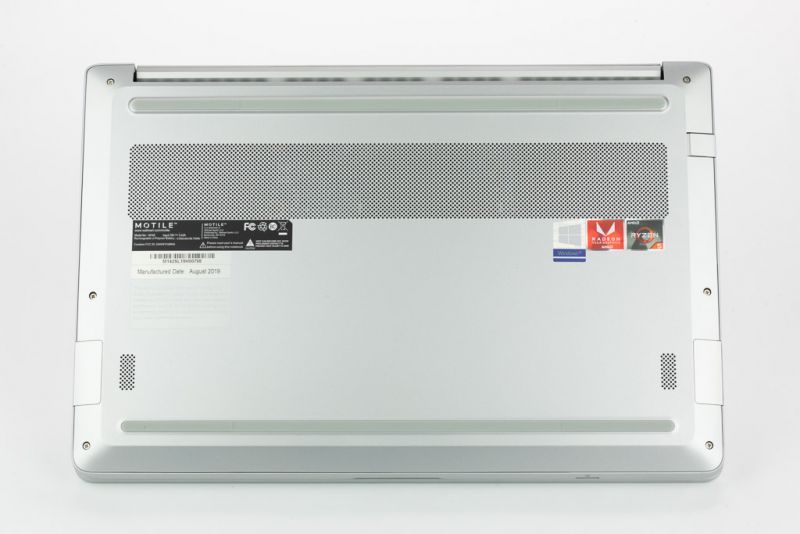 On the bottom are two large rubber feet span almost the entire width of the base, providing exceptional grip. There are a large intake vent and two speaker grills.

The left side of the Motile laptop is equipped with a lock slot, ethernet jack (expands to fit a standard CAT5 cable), USB 2 port, USB 3.1 port, and a 3.5mm headphone jack.

The right side features a USB-C port, USB 3.1 port, HDMI port, and the charging port.
The Display
Being a resolution junky, I was a little reserved about the 1920×1080 resolution at first, being that it was 1/4 of my primary monitor resolution, but then again, my Surface was only 1920×1280. However, after changing the text scaling down to 125%, it wasn't that bad. For browsing the web and the things that I do, it was surprisingly usable. The 14″ IPS (non-touch) display was quite nice compared to my 10.5″ Surface tablet.
The display also has a non-glare (matte) finish, which is something I really appreciate. The Motile laptop has a "Tuned by THXTM display," which does look very nice. My photos look incredible on it. Motile states, "Tuned by THX devices come with a unique viewing mode that mimics displays used by Hollywood and TV professionals."
The Radeon Vega 8 Graphics chipset can output simultaneously to a 2nd monitor via the HDMI port, and can even output up to 4k (3840×2160) at 30 Hertz. I tested this by connecting it to my 40″ 4K display, and although 30 Hertz isn't as good as 60 Hertz, it was certainly usable.
Above the display, there is also a 720p camera, which is especially nice to use the Windows Hello feature to unlock the device using facial recognition.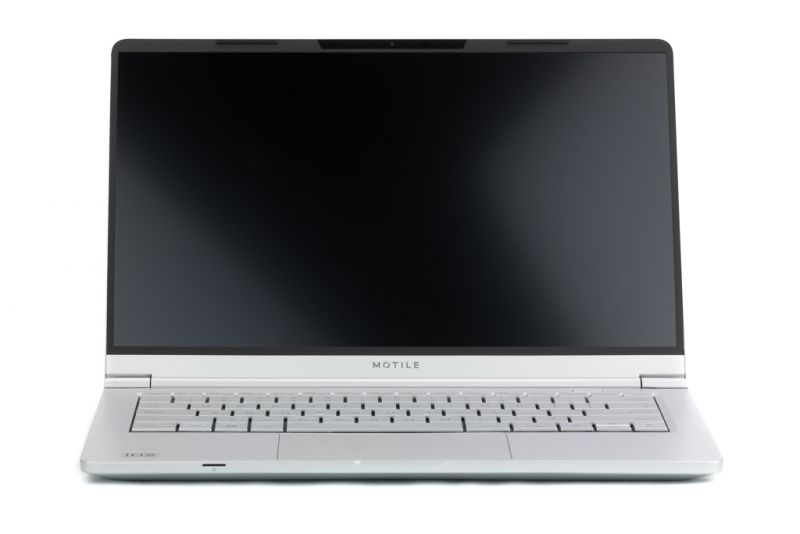 The Keyboard and Touchpad
I'm also one of those people that like a mechanical "clicky" keyboard, but that's something you can't reasonably expect in a portable laptop. That being said, I found the keyboard had a very nice feel to it. The keys felt solid when pressed and had just the right amount sound for typing without being overly noisy.
The 4.5″x2.75″ touchpad is centered and works well. It also features the ability to double-tap in the top left corner to turn it off. There's even a little light that comes on when the touchpad is turned off. I almost always use a mouse on my laptops, so this is a very welcomed feature.
The keyboard backlight is something that could use some improvement. Although it works well in very dark lighting, in a semi-lit room, the white backlight on the silver keys made letters blend in and almost disappear. There is a feature though to turn off the backlighting, which makes them much easier to see.
Audio
Advertised as having "THX Spatial Audio," I was disappointed to find out that this feature only works through the headphones. It was especially disappointing to find out since the built-in speakers aren't the greatest but wasn't a big deal for me since I usually have it either plugged into my audio mixer or use Bluetooth headphones.
The THX Spatial Audio software is helpful, having both preset EQ buttons and the ability to fine-tune the settings to your liking.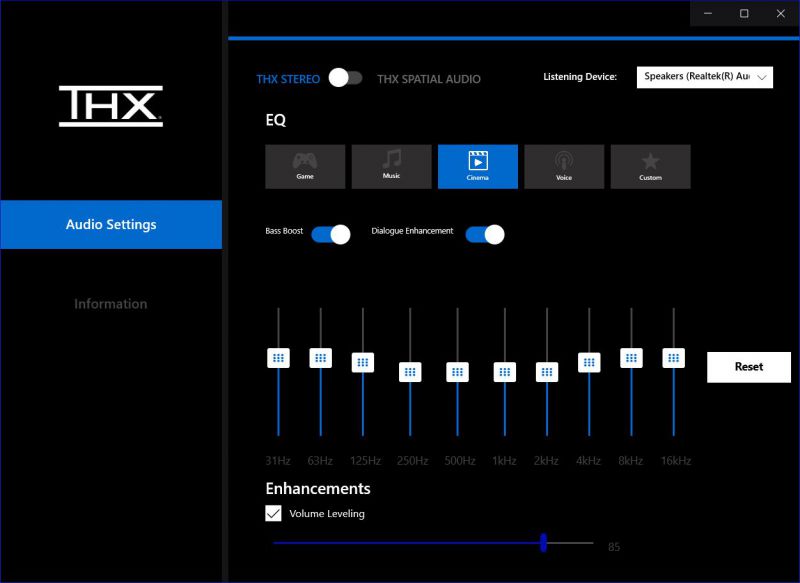 Software
The Motile laptop comes with Windows 10 Home and absolutely no bloatware. That's right, no extra software that slows things down, just Windows, like computers should come. There is the "THX Spatial Audio for Headphones" software, but that's just something that comes along with the audio driver.
Performance
I was pleasantly surprised to find that the laptop performed very well with everything I did. Even Adobe Lightroom and Photoshop ran very well. Web browsing was so much better than my Surface tablet. The combination of a modern processor, 8GB of RAM, and the SSD drive make for a very responsive machine.
I ran a test where I watched YouTube videos, full-screen, via WiFi, display brightness at max while on the battery. I ran the test for four hours while monitoring the battery usage and estimated time remaining. After four hours, I still had 25% battery remaining with an estimated 58 minutes left. If you utilized the power saving features, you could probably get nearly eight hours of use depending on what you were doing.
Upgradability
A pleasant surprise with the Motile laptop was that it did not only come with a 256GB M.2 SSD drive but that there is also a second M.2 SSD slot that can accept an NVMe SSD drive! This will be very useful for syncing my dropbox account!
But wait, there's more! The RAM is not soldered in either; it is a standard 260-pin DDR4 (2400 MHz) laptop type RAM module. There's only one slot, but it does accept a RAM module up to 32 GB. I received a spec sheet on this laptop from one of the readers and it states
16GB max RAM, so the customer support person I called was wrong about the 32GB.
Unlike some laptops that have far too many screws to remove the back cover, this laptop has only six.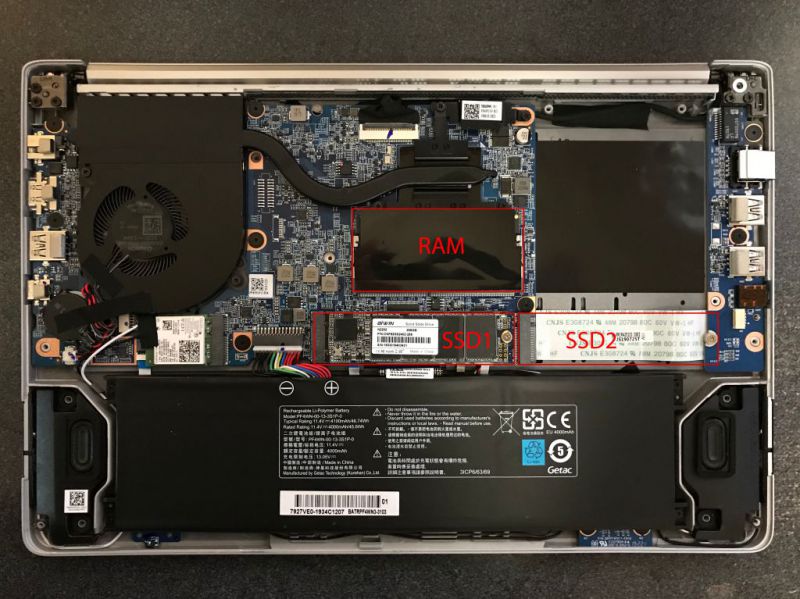 The Quick Start Guide mentions a user manual that is online, but I was unable to find it. I contacted the Motile support via phone and they promptly sent it to me via e-mail. The manual isn't very extensive but does provide a few bits of information that could be useful.
What I like
Affordable
Very nice display
No bloatware
What I'd change
USB-C charging would be nice
Better keyboard lighting
Micro-SD card slot could be deeper
Final thoughts
I'm delighted with the Motile laptop, much more than I thought I would be. Honestly, I thought I would probably be giving this to my wife to use or end up using it as a test machine. However, after seeing its performance, and how much I like it, I'm keeping it. I'm probably going to buy one for my wife as well. It's certainly not a high-end machine or one aimed at gamers, but it will undoubtedly get the job done for other everyday tasks. For the price, this is an outstanding laptop.
Update 3/4/20
I recently updated my Motile laptop to 32GB of DDR4 2666MHz RAM. The 8GB of RAM that it came with was 2666MHz, so even though they run the RAM at 2400MHz, you can still put in the faster RAM. I had previously also put in a Samsung 070 EVO Pro 1TB NVMe SSD in the second slot. Even though the first slot is supposed to be faster, I elected to keep the original SSD with Windows on it. Later if I need a speed boost, I can move Windows to the second drive and then move it to the other slot. I still love this laptop.
Price: $349
Where to buy: Walmart
Source: The sample of this product was provided by Walmart.