We use affiliate links. If you buy something through the links on this page, we may earn a commission at no cost to you. Learn more.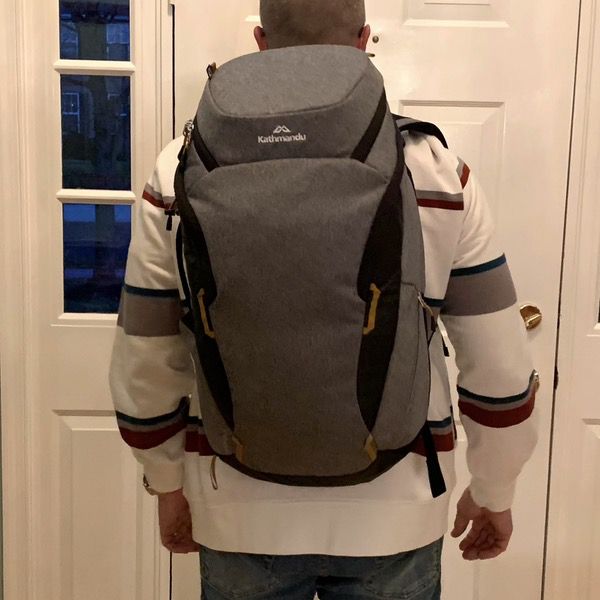 REVIEW – If you're into one bag travel, the Kathmandu Transfer 28 L Travel Pack may just be your jam. I just took this beastie on an overnight trip where I got to play with all of its travel-friendly innovations, so I have lots to share in this in-depth review. Let's get on the road!
What is it?
It's a 28 liter backpack designed for travel, with a bunch of thoughtful design elements to manage your gear and your tech while you're on-the-go.
Hardware specs
23.2″ by 12.6″ by 9.8″
3.2 pounds
100% polyester
Integrated rain cover
Design and features
The Kathmandu Transfer 28 L travel pack is a big boy, but it carries very well despite the large size. Check out the profile picks below. See how it tapers at the base, and positions the bulk of the bag between and above my shoulders? That's what you want in a big travel bag for balance and comfort if you'll hauling a bunch of stuff all day long.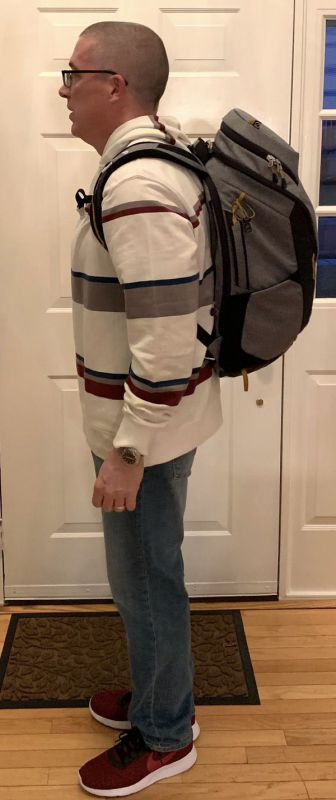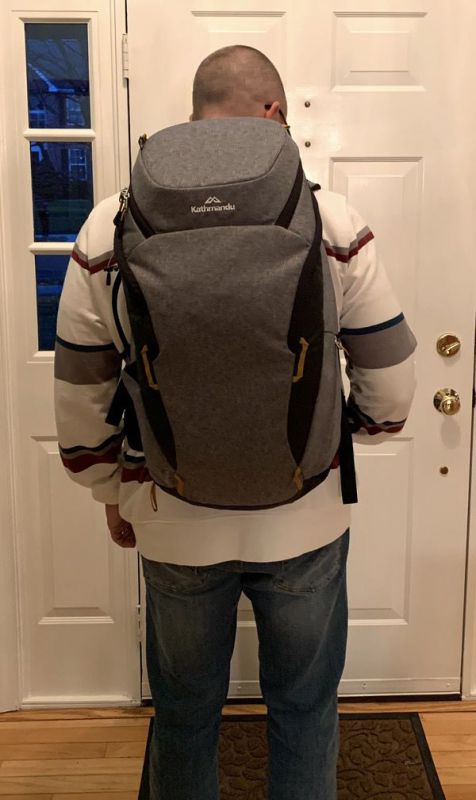 The overall build is rock solid. The primary material is a lightweight polyester that comes in at a comfortable 3.2 pounds overall, but still burly enough to take some punishment. You've got YKK zips, extra reinforcement along all the seams and stress points, and outstanding finishing throughout the bag. The grab handles are all nice and beefy, and there's even a bit of waterproof material on the base for extra protection. This bag will go for a lot of travel miles with no fear of rips or tears.
One of more unique (and obvious) aspects of the Transfer's design is the removable gear pod, which sits at the top of the bag. A zipper on that pod opens to reveal a semi-rigid, impact-proof case for keeping your electronics and small bits sorted out. Multiple slots and pockets in the pod accommodate pens, earbuds, your phone, and whatever else you want to keep safe.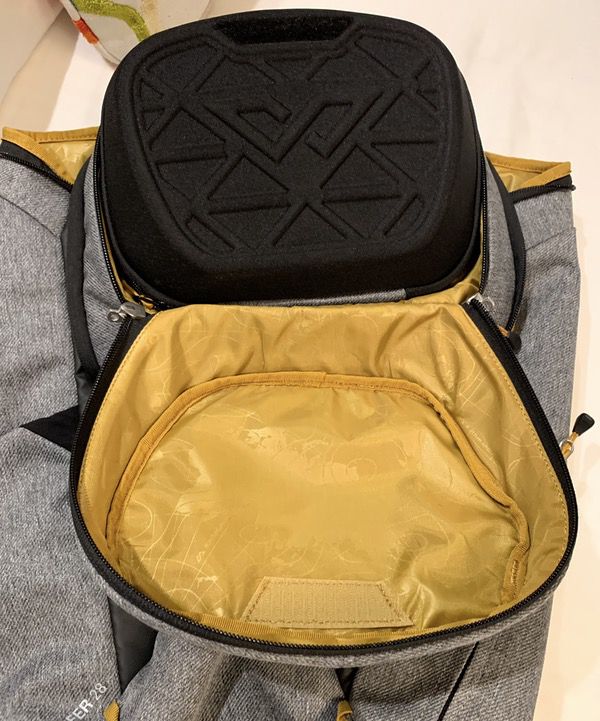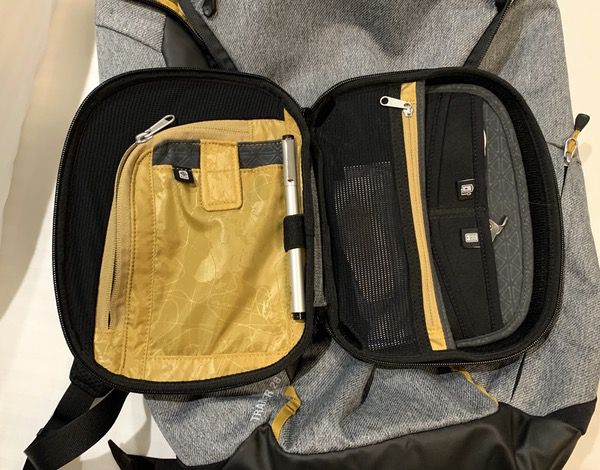 This pod is attached with Velcro so you can remove it for use a self-contained organizer. It's very handy if you want to stash your bag in an overhead bin and take your essentials to your seat, or to to manage your personal bits (like toiletries) at your destination.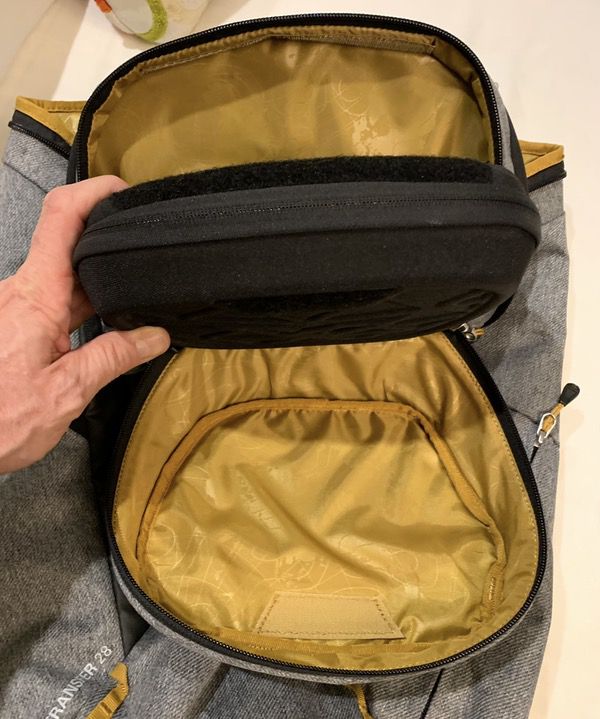 While you're on the move you'll find a two side pockets for quick grab stuff. One side is zipped, and is currently stashing my snacks and, well, excess wrappers. I'll throw those out at my destination.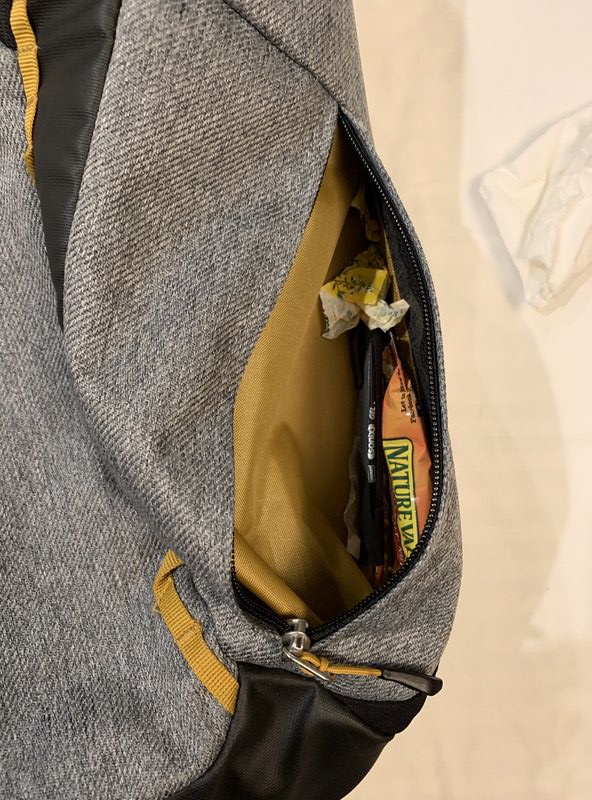 The other side has a generous water bottle pocket, sized for just about every hydration bottle I could test it with. Note that this does sit low on the bag, so very tall bottles do have a tendency to fall out if you're tossing the bag around.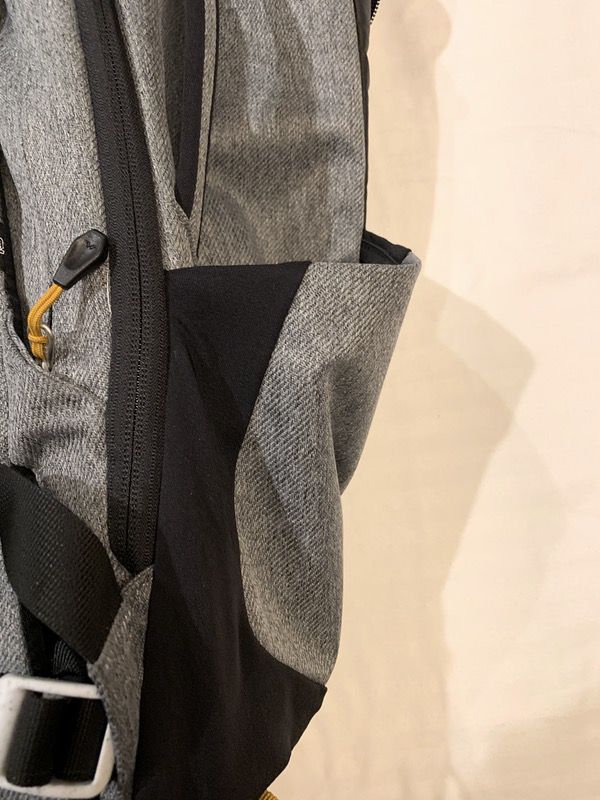 Your laptop and tablet ride in a separate compartment, accessed by unzipping the back panel. There's plenty of room in there for a 15″ laptop and an iPad Pro. This whole chamber is padded all around, including the edge bumpers you see in the pic. Coupled withe the beefy back pad, you'll get full protection for your moneymakers.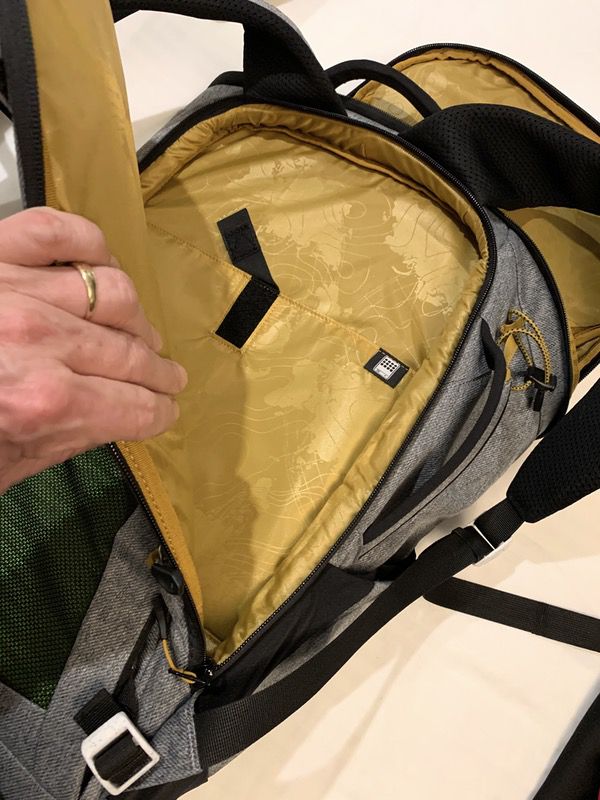 Close that compartment and you'll find a big zipped pocket on the rear panel. I see this feature in most bags these days, and it's great as a secure stash area for things like travel documents. A pass through slot for a luggage handle sits between the pad and the back of the bag.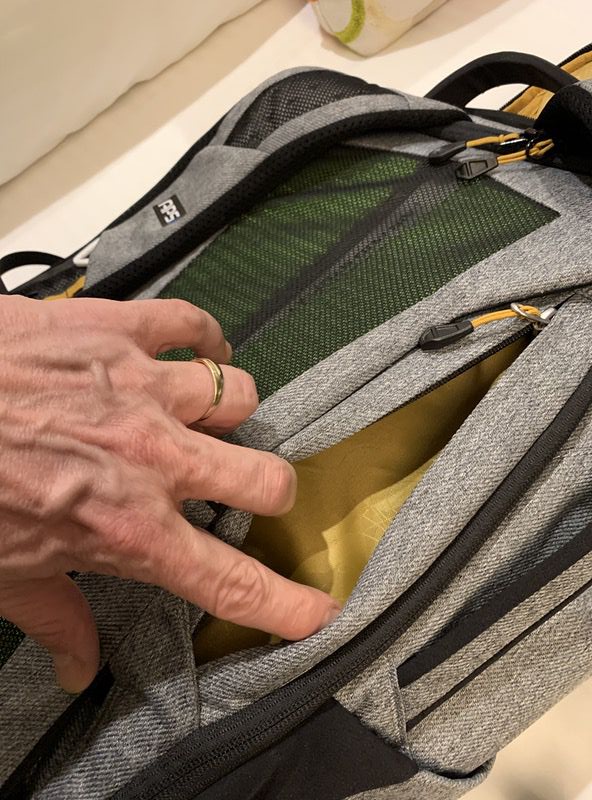 The Kathmandu Transfer Backpack is a top loader for the rest of your gear. You'll find a second zipper under that to top pod that provides access to a massive space for packing your clothes, toiletries, and anything else that doesn't involve tech or quick-grab items. There's a sleeve in there for a laptop, tablet or documents. You'll also find a zippered mesh pocket for stuff like chargers you may not need on the go.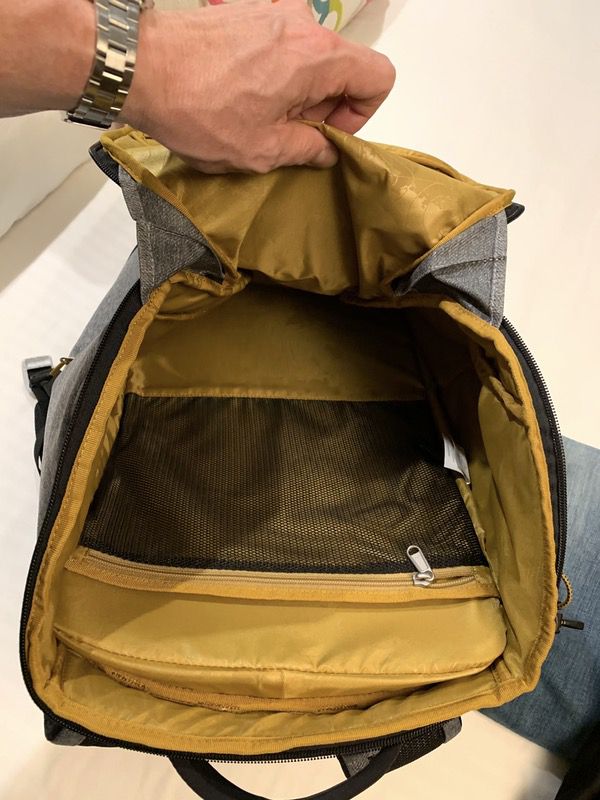 The carry system is excellent. It uses an "air pod system" that consists of three different corrugated pads with channels between them for breathability. The shoulder straps are wide and thin for less bulk, but disperse the weight nicely for heavy loads. You'll also find a basic adjustable sternum strap, just enough to balance the weight if needed.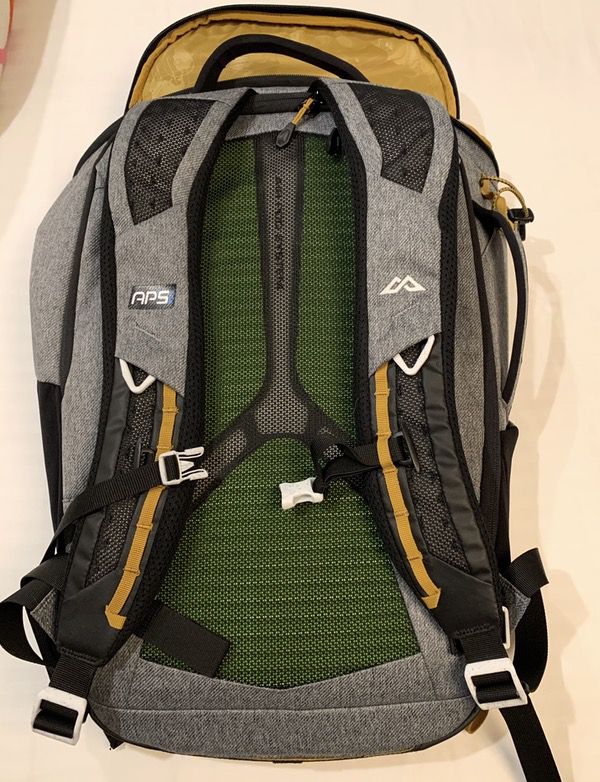 See all those loops and attachment points? You'll find them at numerous places on the exterior build in the pics, and they're great for hanging extra gear. The transfer is even set up to attach a solar charging panel that sits on top of the bag if you are going into the wilderness. These little loops are all over the place, and really handy if you have a carabiner or two to snap on extra gear.
A padded grab handle can be found on the top and side of the bag, I'm a big fan of the generous side handle for slinging the bag around.  Here's a close up, and the side handle in action.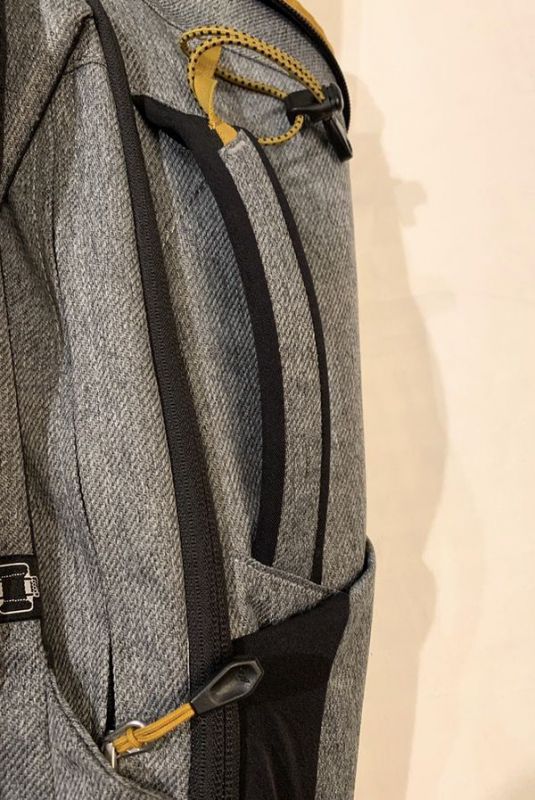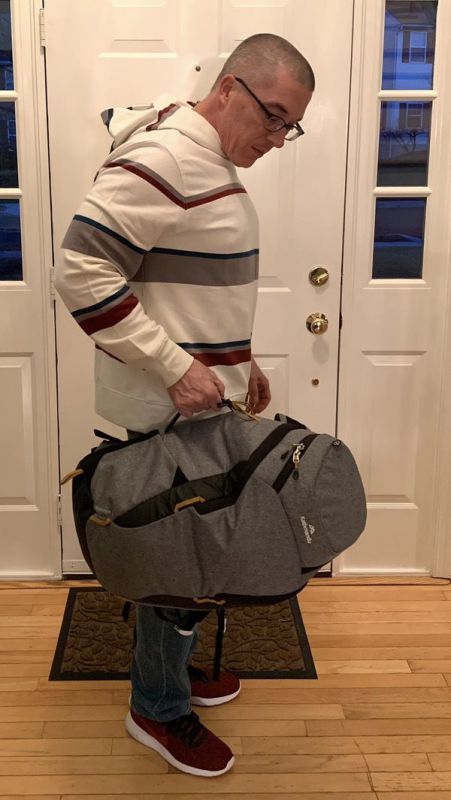 If you're hiking or carrying an extra-large load for long distances, the Kathmandi Transfer has a built-in waist strap that completely disappears when not in use. A pair of slots at the bottom of the back panel stow the straps…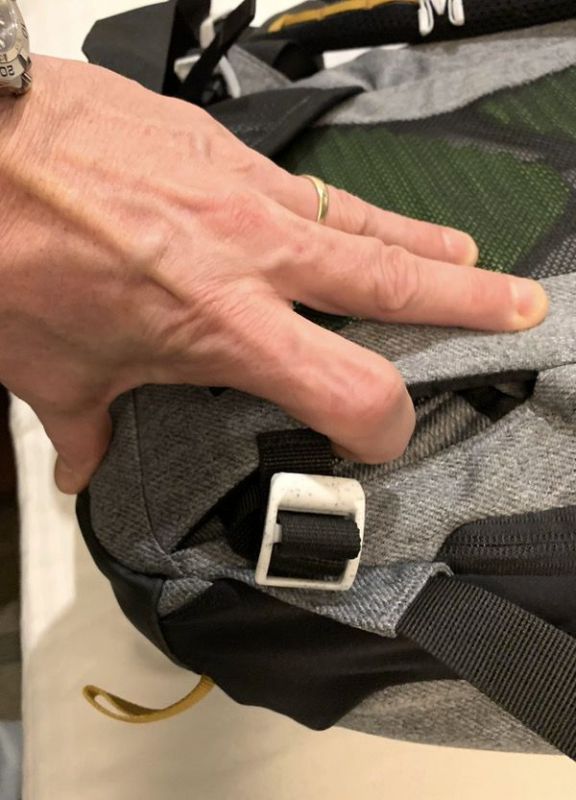 … which, when pulled out, include wide (and ventilated)  side pads. If you don't need them, you'll never know they were there!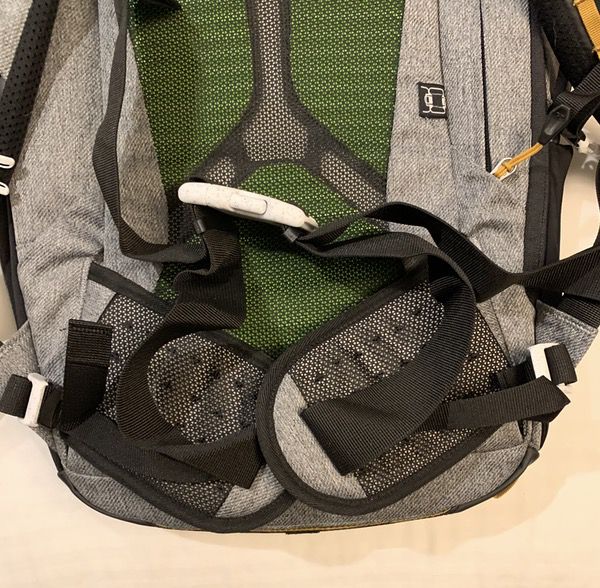 Here's a shot of the waist strap and sternum strap engaged. With plenty of adjustments including the shoulder straps, you'll find it easy to dial in the right setup to keep the bag nice and tight against your body.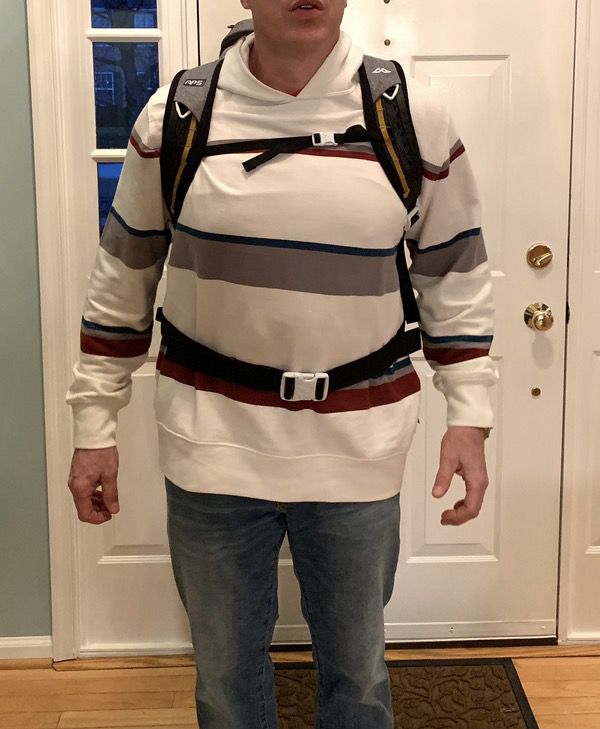 I keep finding other nice design touches in the build as I use it. Under that waterproof boot, for example, is an attached rain cover that you can use in the event of a downpour. It packs away neatly in that boot when you don't need it. I'll probably still find new little tricks as I continue to use the bag.
Performance
If you're looking for a one-bag solution for travel, the Kathmandu Transfer has pretty much got every angle covered. On a recent business trip I used this as my only luggage. All my tech (MacBook Pro, iPad, notebook, iPhone, and the usual mess of cables and chargers) fit in the external pockets and that removable pod. All of this went in the main compartment of the bag: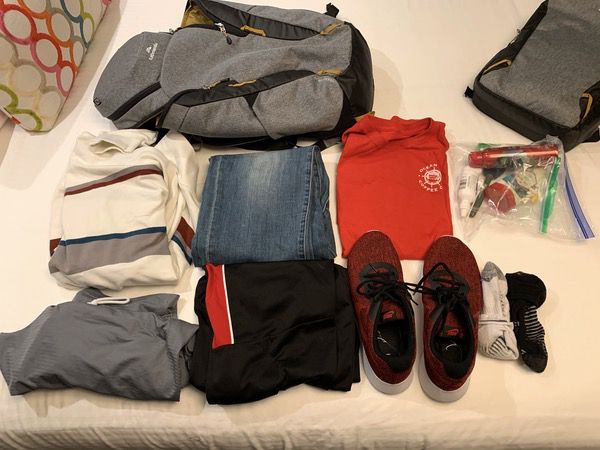 Here we've got a pair of jeans, a t-shirt, a light sweater, a pair of track pants, workout gear, sneakers, and my toiletries. The main compartment swallowed all of that with room to spare.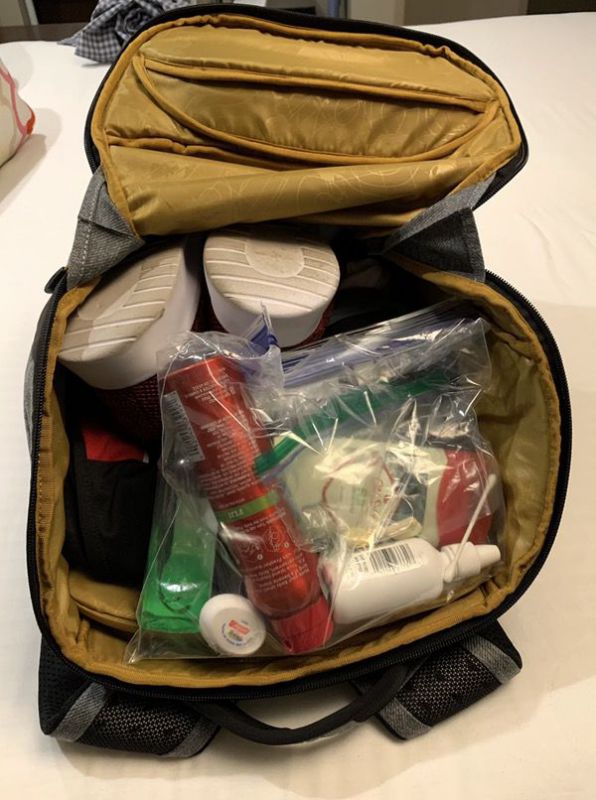 I could easily pack this out with 3 days of clothes if I needed to and was more careful with my packing. And I can get to all my on-the-go stuff without touching that main compartment. It's one of the best one-bag solutions I have had the chance to play with.
Kathmandu also sells this as part of a carry system. I paired this with the Kathmandu Litehaul I reviewed a few weeks ago for my trip as my daypack/briefcase/work bag. Clips on the Litehaul marry up to the Transfer so that you can carry it up front if you need your hands free: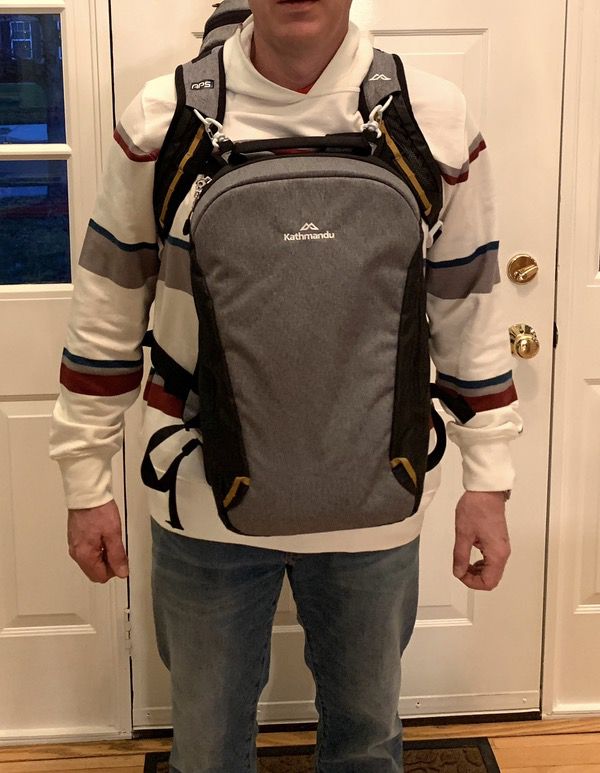 Here's a side shot of the same configuration. It's nice for use in a pinch, like if you have to make a dash down the terminal with a coffee in hand.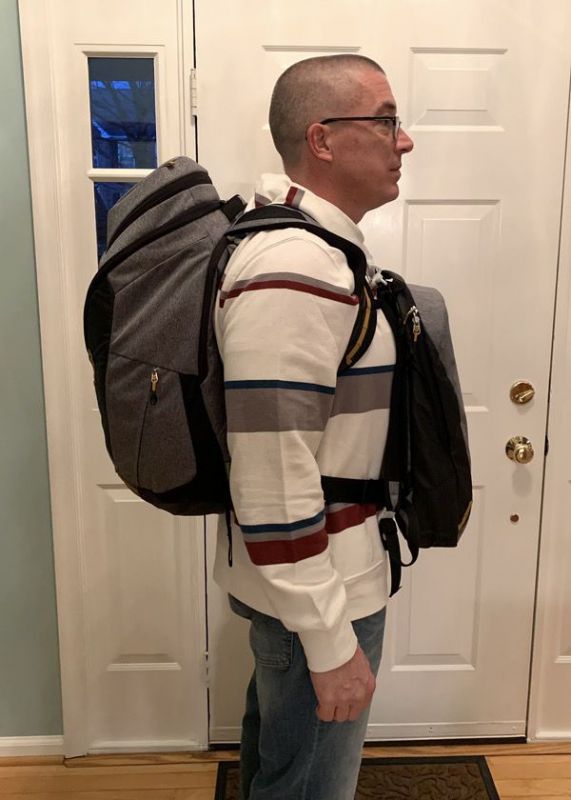 If there is one knock against the Kathmandu Transfer Backpack, it comes when you don't have that main compartment fully packed out. The top lid incorporates that removable pod and opens towards you if you are facing the front panel (or away from my head in the picture above). This works just fine when the bag is full, but can be a bit clunky in practice if you're under packed. That pod kind of slouches into the body of the bag in that case. It's a minor issue in my mind, however, if you're using the bag as intended for overnights.
What I like
Excellent build quality
Packed with travel-friendly features
Comfortable to wear for long journeys
Carryon friendly
What needs to be improved
Entry into the main compartment can be a little awkward if the bag isn't fully packed.
Final thoughts
I really like how Kathmandu has put together all the details in the Transfer Backpack without overcomplicating the layout. You've got spaces for your tech (including that removable pod) that line up small pockets to keep things organized, but your quick-access areas and main storage are wonderfully uncomplicated. And all of those travel-ready features make it an easy bag to live with on the road, on a plane, or on the trail. 28 liters is also a great size for 2-3 day travel. If you're looking for a one-bag travel solution, I think this bag is worth putting on your short list.
Price: $130.00
Where to buy: Go to the Transfer Backpack Product Page on Kathmandu's web site. Also available on Amazon and at other outdoor retailers like REI and Moosejaw.
Source: The sample of this product was provided by Kathmandu.