We use affiliate links. If you buy something through the links on this page, we may earn a commission at no cost to you. Learn more.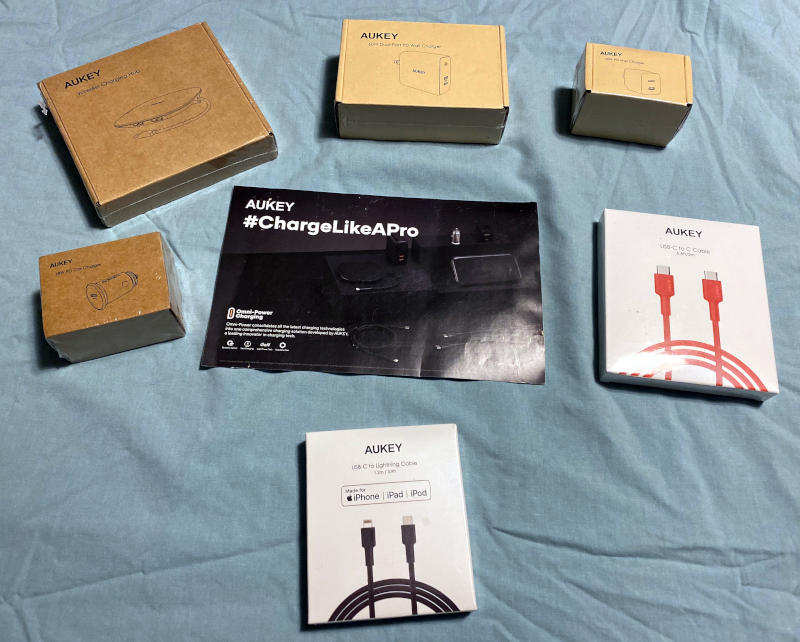 REVIEW – I recently upgraded to a new iPhone that supports wireless charging and a new laptop with a USB-C port, so when the opportunity to review the new Aukey Omni-Power accessories arose, I leapt on it. This review will cover all of the Omni-Power line of accessories except for the Sprint Wireless portable wireless charging power bank which is being reviewed by one of my fellow reviews.
What is it?
The Omni-Power line of products unites the majority of the latest charging technologies using Aukey's extensive knowledge and engineering expertise. These technologies include dynamic detection of the power needs of various devices, GaN (gallium nitride) power technologies which dramatically improve the efficiency of the power transformers, PD (power delivery) USB power delivery technology, and graphene insulation technology. The line includes USB-C cables, PD-compliant wall and automobile adapters, a portable wireless charging power bank, and a USB-C hub with integrated wireless charging.
What's in the box?
I was sent an assortment of the Omni-Power devices including
Focus Duo 63w Dual Port PD wall charger
Minima 27W wall charger
Expedition Flush-Fit 18W PD car charger
Unity Wireless 100W 4-in-1 USB-C Hub with wireless charging
Impulse USB-C to Lightning cable (1.2 m)
Impulse USB-C to USB-C cable (2 m)
All of the devices were packaged in cardboard boxes which can easily be recycled and packed with minimal amounts of foam sheeting (used to protect from scratches). Each device was packaged with a user manual and a warranty information card. The boxes were shrink wrapped to keep them closed. Overall the packages get an A for ease of unpacking and a B+ for waste. All Aukey products carry a 24 month (exactly 2-years from date of purchase) warranty if purchased directly from Aukey or through Amazon.
Design and features
Overall the Omni-Power products show a high level of fit and finish and performed exceptionally well. I will discuss the individual products below.
Expedition Flush-Fit 18W PD car charger and Impulse USB-C to Lightning cable (1.2 m)
I am going to combine these two products under one heading since this is how I use them.
The car charger has the standard lighter-socket plug on one end and a single PD USB-C port on the other end.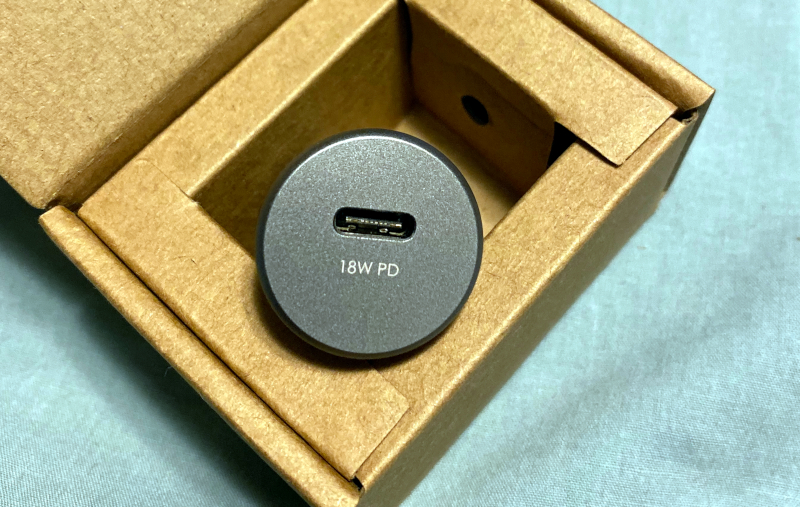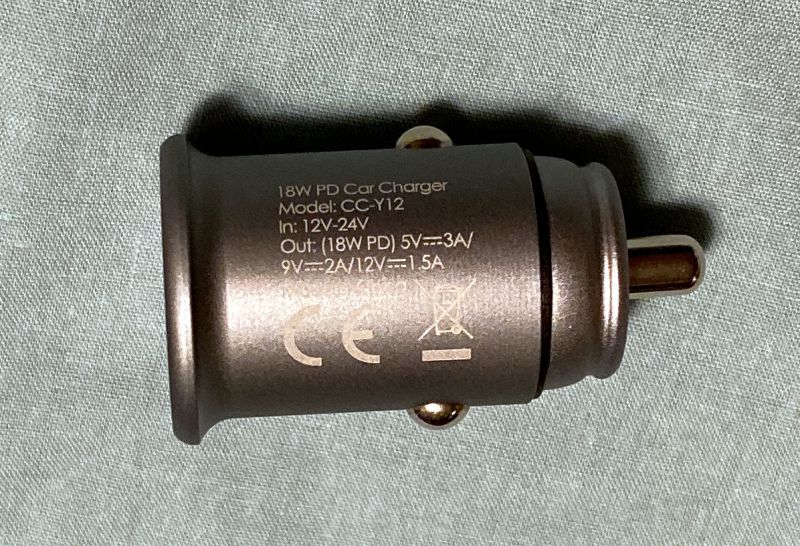 The USB-C to Lightning cable is what you might expect, a 1.2 m long cable with a braided covering with a connector on each end. The cable uses graphene-containing materials in the insulating layers to improve durability and allow for thinner insulation in the outer sheath. Aukey thoughtfully includes a cable strap to help tame the cable during storage.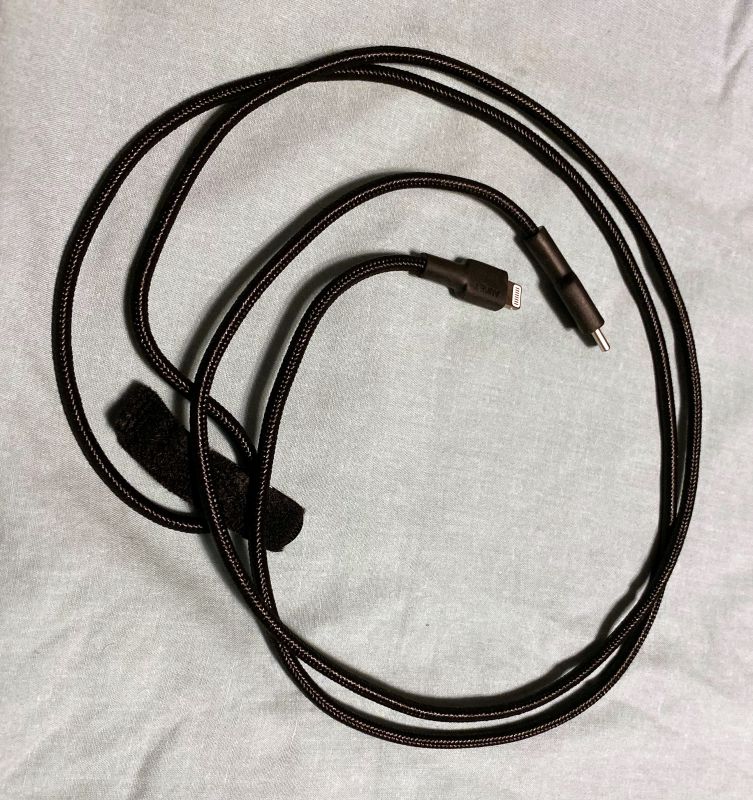 As I mentioned above, I recently upgraded by old iPhone 6+ to a shiny new iPhone 11 Pro Max and was going to upgrade my old car charger and cable to new PD-compliant ones, so the opportunity to review these came at a fortuitous time. I tested the cable and charger using my old phone and my new phone. I did not detect any significant difference in  performance between my old charger / cable and the new ones when charging my old phone. However, the new PD products were able to charge my new phone about 15% faster than the old cables. I do not know if this difference was due to a difference in the iPhone's charging circuitry, the newer battery, or the Aukey components.
Minima 27W wall charger
The smaller Minima wall charger is a typical single-port square wall wart with folding prongs and is outwardly unremarkable. It isn't until you read the specifications and realize that this charger which is not significantly larger than the small chargers that Apple packaged with their older iPhones can deliver 27W do you really start to take notice. It is both smaller and lighter than a similar official Apple iPhone charger and is significantly easier to pack in a bag.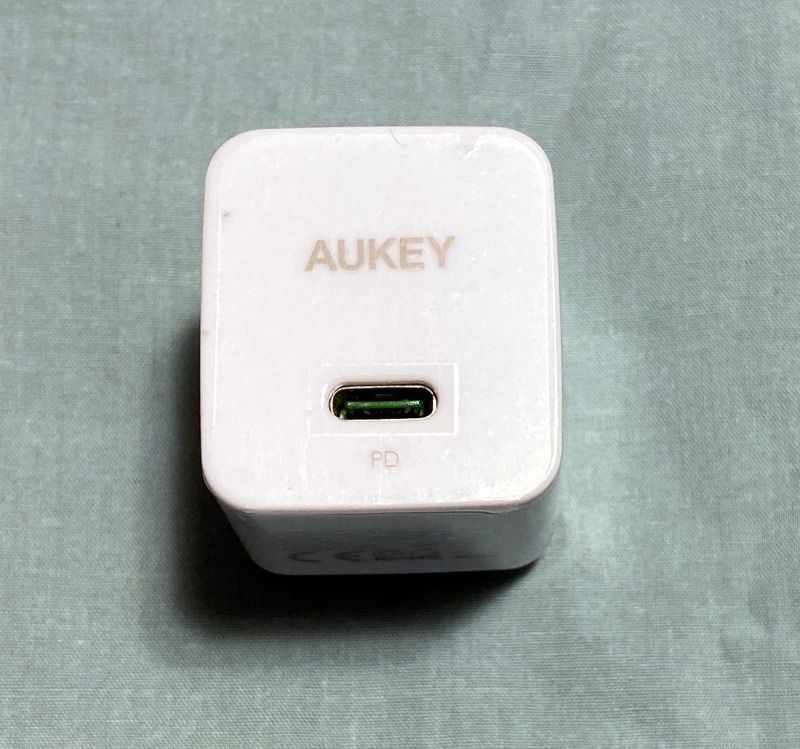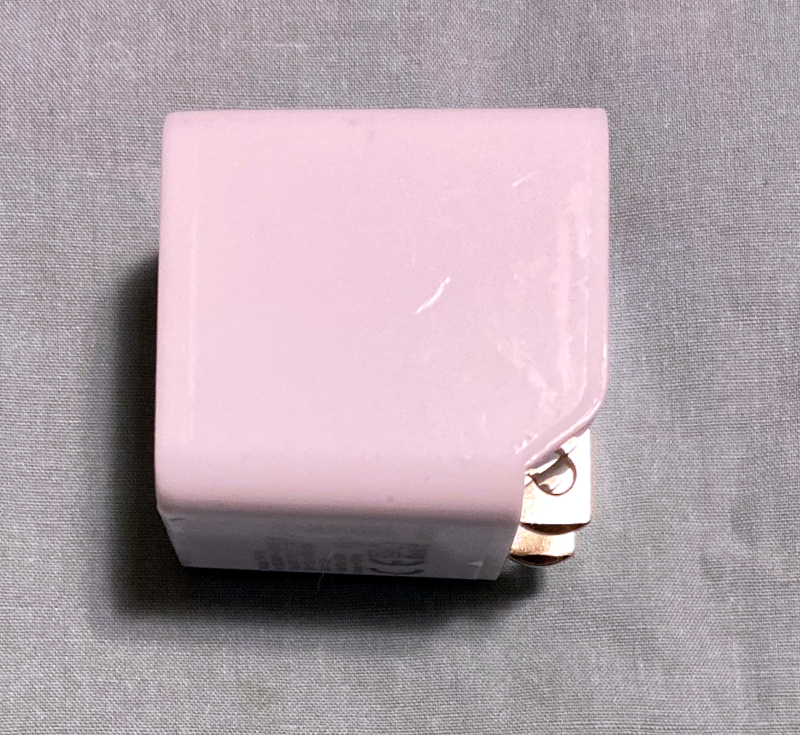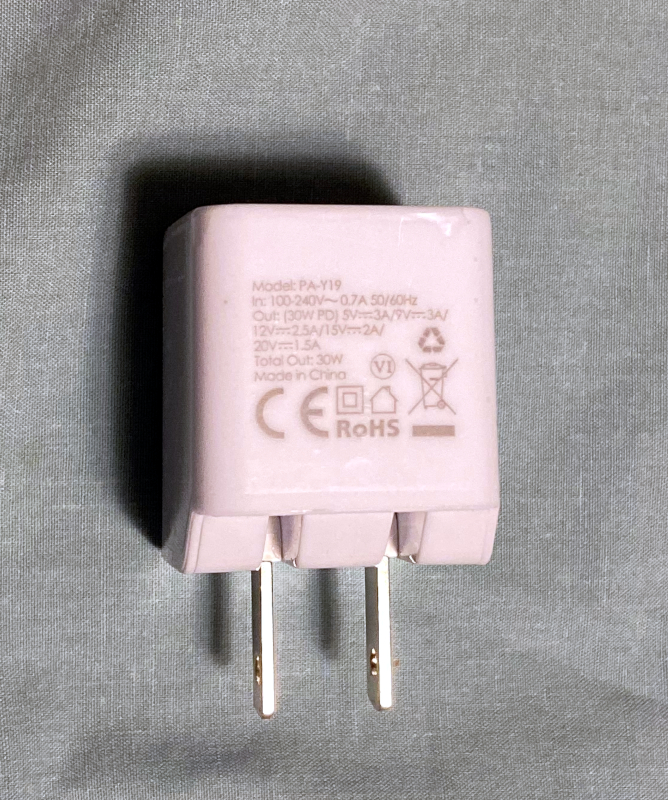 I have been predominately using the smaller charger to run just the wireless charging feature of the Unity USB-C hub. It has performed well over the past month, and I plan on making it part of my regular travel gear.
Impulse USB-C to USB-C cable (2 m)
The Impulse USB-C to USB-C cable is similar to its Lightning port-sporting sibling with the exception of the length and selection of connectors.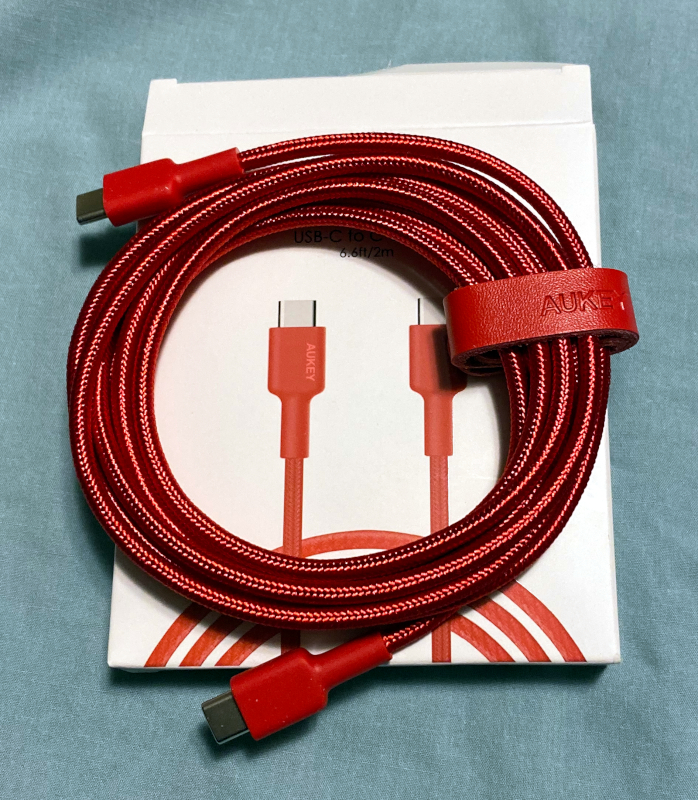 Like it's shorter sibling, this 2m cable sports a handy cable management strap, but this one is leather and sports a snap closure rather than being simply a Velcro-style strap. I have been using this cable to connect the hub and the smaller wall charger. I have had no problems with the cable.
Focus Duo 63w Dual Port PD wall charger
The larger wall charger is the only product that shipped in a protective wrapper (both a foam sheet and a thin plastic one). The 63W charger sports folding metal wall prongs on one end and two USB-C ports (one PD-rated) on the other side.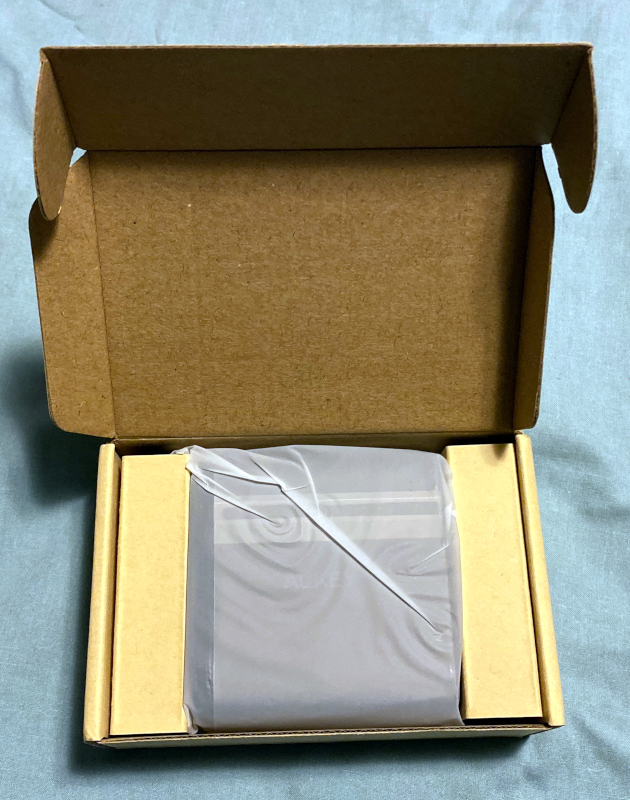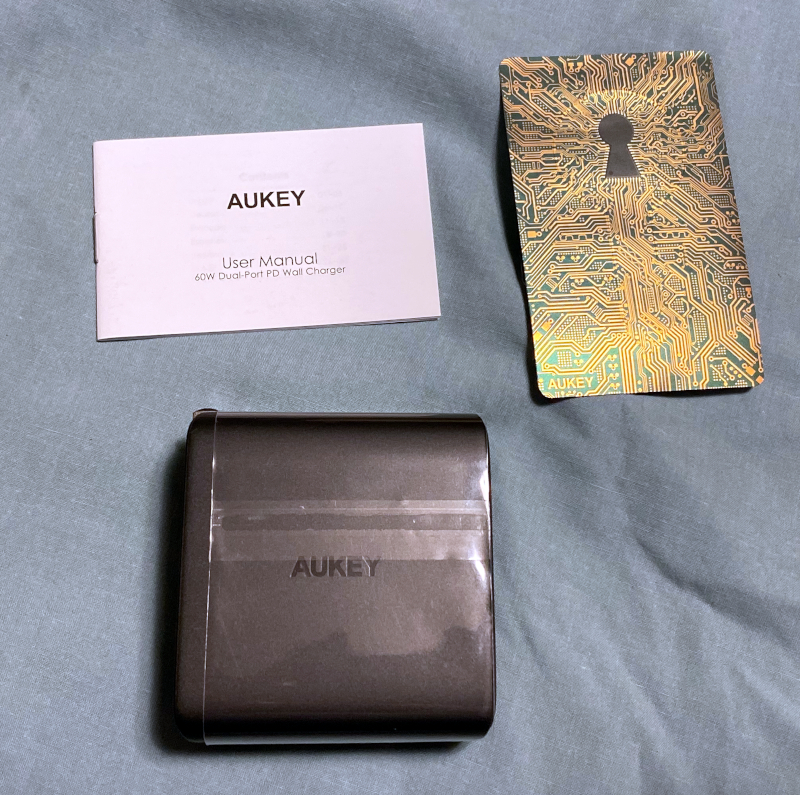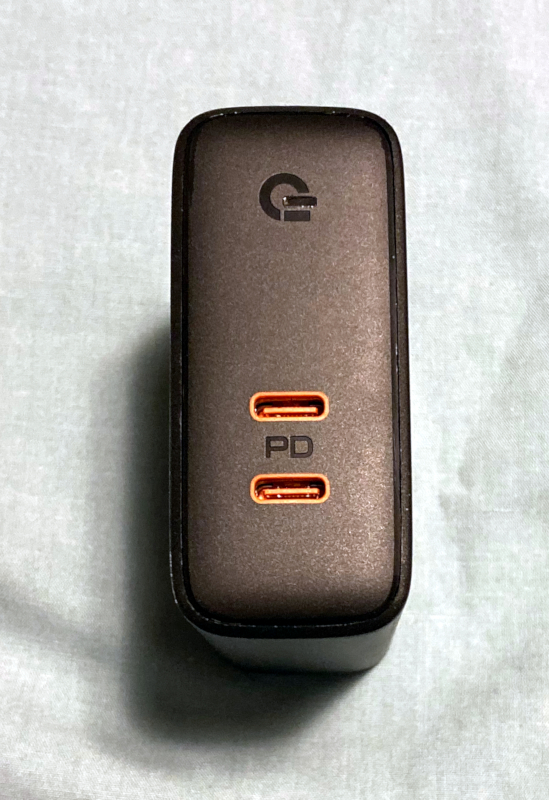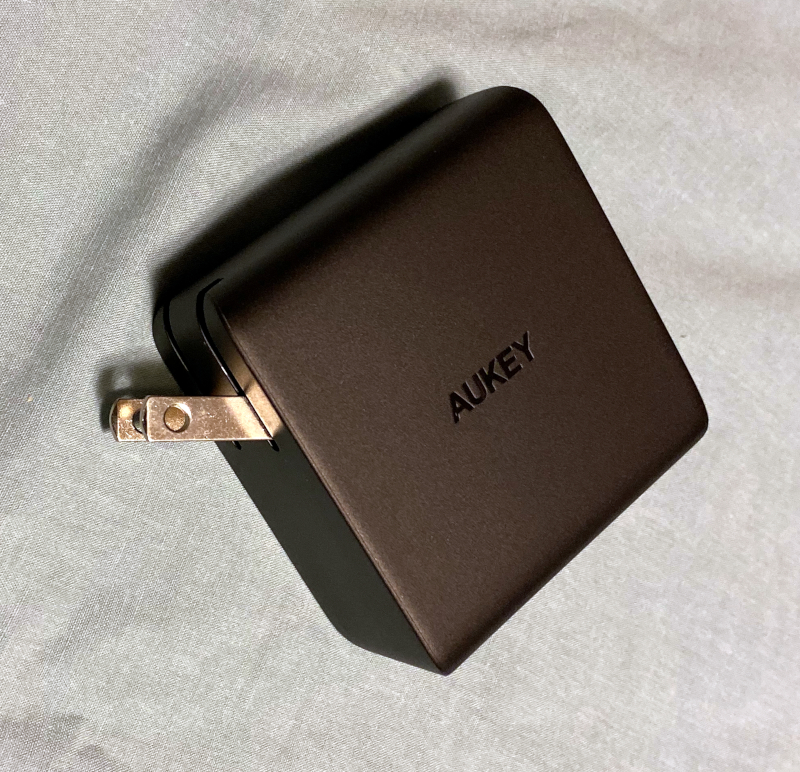 During testing, I used the 63W charger to power the Unity hub which provided power to both my laptop and my phone. This did push the power delivery limits of this charger, as my phone did not charge as rapidly as it did when the laptop was disconnected. There were no unanticipated problems with the charger. This charger and the Unity hub are now part of my travel kit for my work laptop and have replaced the OEM power cable and transformer.
Unity Wireless 100W 4-in-1 USB-C Hub with wireless charging
The Unity Wireless hub is the crown jewel of the Omni-Power system. While designed to connect to your OEM power system (up to 100W), I found it to be quite functional with the 63W wall charger. Visually, hub is basically a small rectangular box with a tail.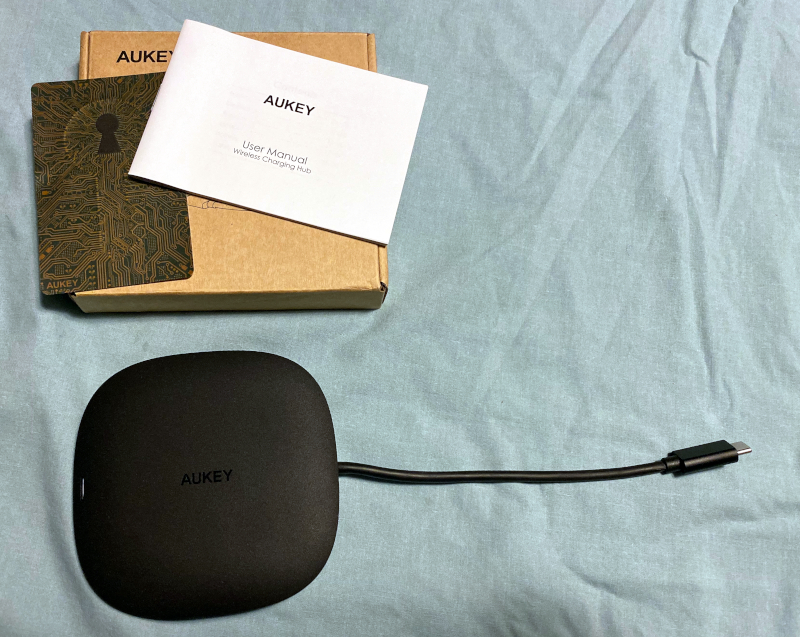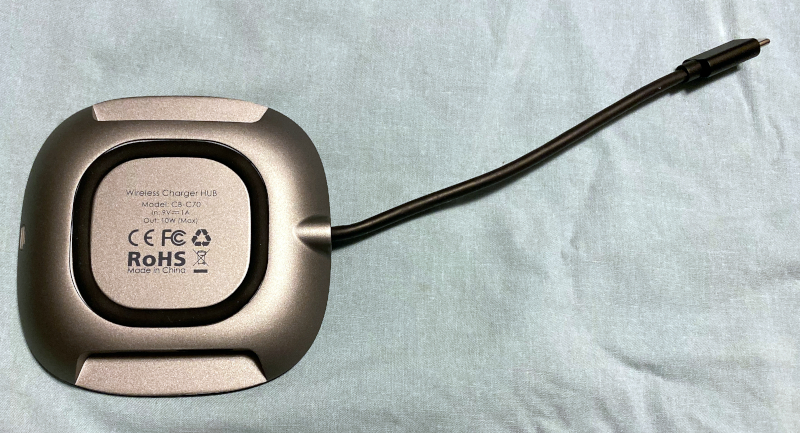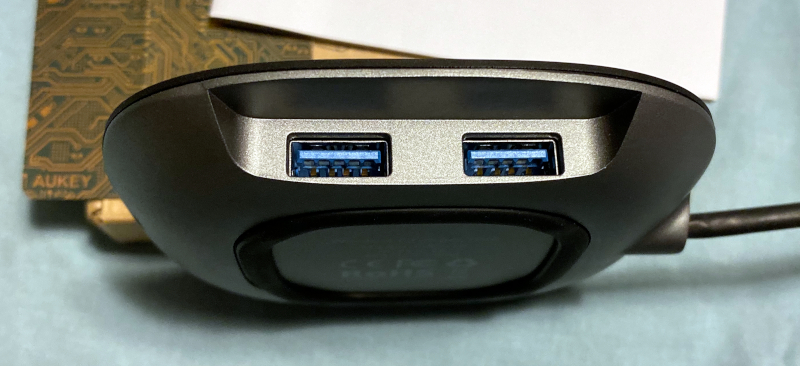 The tail is the umbilical between the hub and the host computer.
The two sides orthogonal to the umbilical sport recessed ports. One one side sports two USB-A 3.0 ports which allow for communication between the host and external devices. The opposite side sports the USB-C power connection (to a power supply) and a HDMI port. The top surface is a Qi-compliant wireless charging pad.
Setting up the Unity hub involves plugging a USB-C cable into the open port on the hub and then plugging the short umbilical into your laptop (the umbilical is only about 15 cm, but should be about 30 cm longer to give users greater freedom in where to place the hub). Optionally, a monitor may be plugged into the HDMI port and I/O devices (e.g. keyboard and mouse) may be plugged into the open USB ports.
The HDMI driver on the Unity hub supports video resolutions of up to 4K @ 30 Hz which is very impressive for such a small package. 2K is supported at higher refresh rates. Adding a port capable of outputting 4K at 60 Hz would make the Unity hub a real giant killer.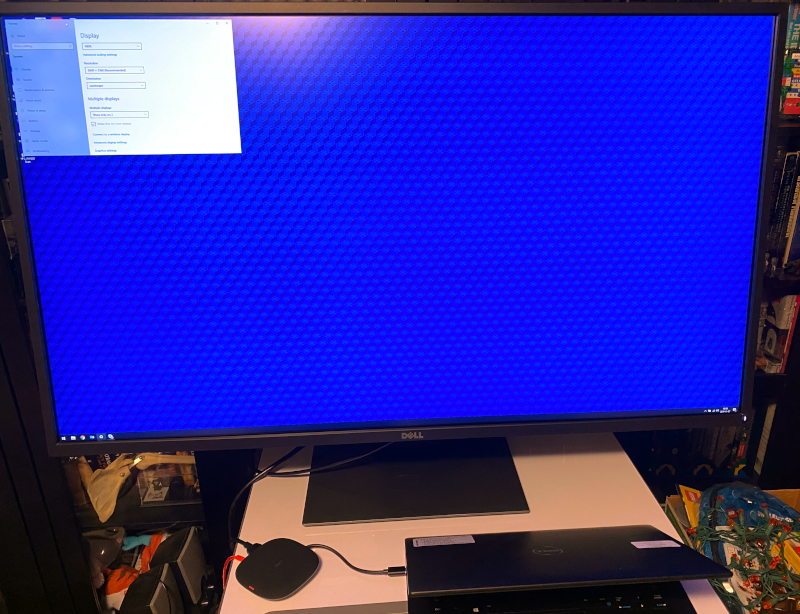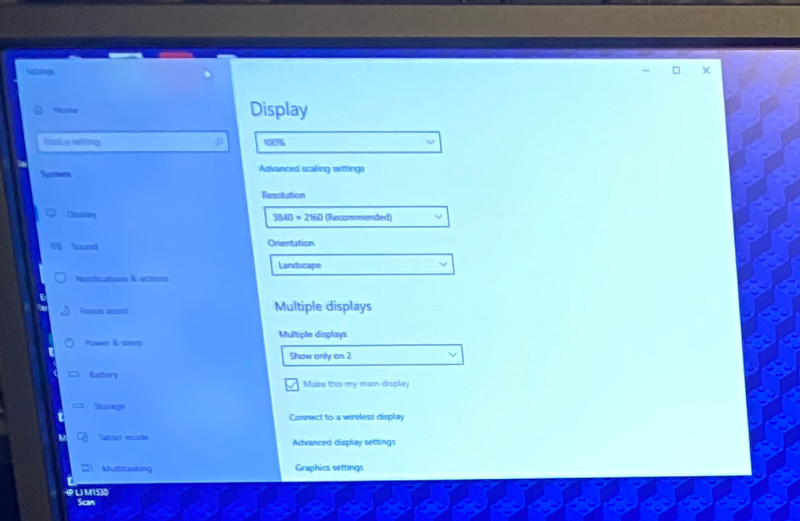 The only problem I have with the Unity hub is the length of the umbilical cable. This cable should be at least twice as long (or a separate port / cable) to allow for greater freedom in positioning the hub (for example the cable on my Dell USB-C docking port is over 45 cm long.
What I like
The fit and finish of the cables and power adapters
The impressive capabilities of the Unity hub — both laptop and wireless device charging
Simple, efficient packaging
What needs to be improved
The umbilical from the Unity hub to the host computer needs to be longer
I'd like to see the Unity support 4K @ 60 Hz (maybe a DP port in addition to the HDMI port)
I'd like to see a 100W power adapter to match the maximum power throughput of the Unity hub
Final thoughts
I am very impressed with the Aukey Omni-Power accessories that I reviewed. I found no flaws in the performance of any of the devices, and only found 2 areas for improvement on the Unity hub. If you are looking to add a basic USB-C hub to your laptop or want to add a travel hub to your toolkit, the Unity hub is the tool for you. The 63W wall charger can replace most OEM power supplies for road warriors. The cables are of excellent quality and should serve you for years.
Price:
$52.99 Focus Duo 63w Dual Port PD wall charger
$39.99 Minima 27W wall charger
$16.99 (was $21.99) Expedition Flush-Fit 18W PD car charger
$49.99 (was $59.99) Unity Wireless 100W 4-in-1 USB-C Hub with wireless charging
$15.99 (was $21.99) Impulse USB-C to Lightning cable (1.2 m)
$ 9.99 (was $15.99) Impulse USB-C to USB-C cable (2 m)
Where to buy: Aukey's e-commerce site (USA only) and Amazon
Source: The sample of this product was provided by Aukey.