We use affiliate links. If you buy something through the links on this page, we may earn a commission at no cost to you. Learn more.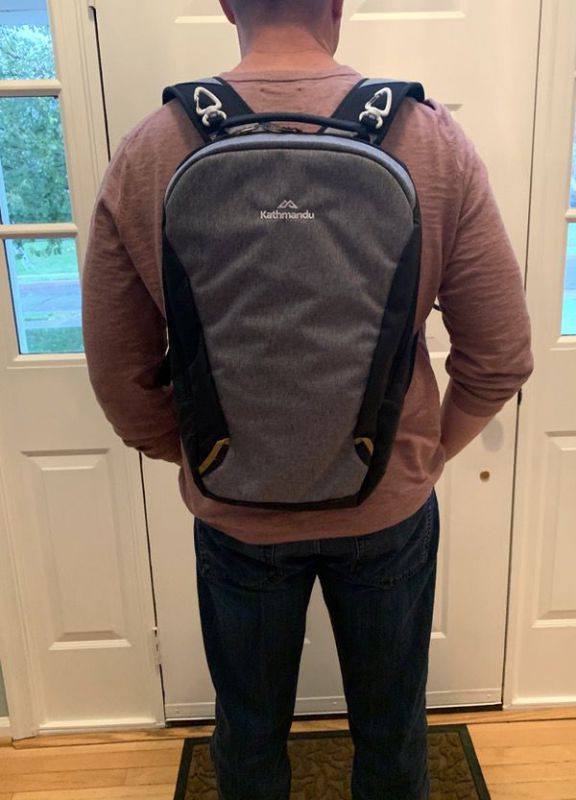 REVIEW – The Kathmandu Litehaul 12 Liter Backpack isn't made to drag around all your stuff. It's designed as a sidekick that holds just the bare essentials as you travel. And it does that very well. To the review!
What is it?
It's a small (12 Liter) backpack that's designed for travel. It will fit under an airline seat and serve double duty as a daypack or a small brief when you get to where you are going.
Hardware specs
17.7″ by 10.6″ by 4″
1.2 pounds
Nylon & polyester materials
12 liters
Design and features
The Kathmandu Litehaul 12 Liter Backpack is a sharp little fellow. I'm liking the colorway that I'm testing, which features a grey heathered polyester fabric trimmed in back nylon. You can opt for a solid green or black nylon build, but I think the grey pattern with ochre accents dresses the bag up a bit.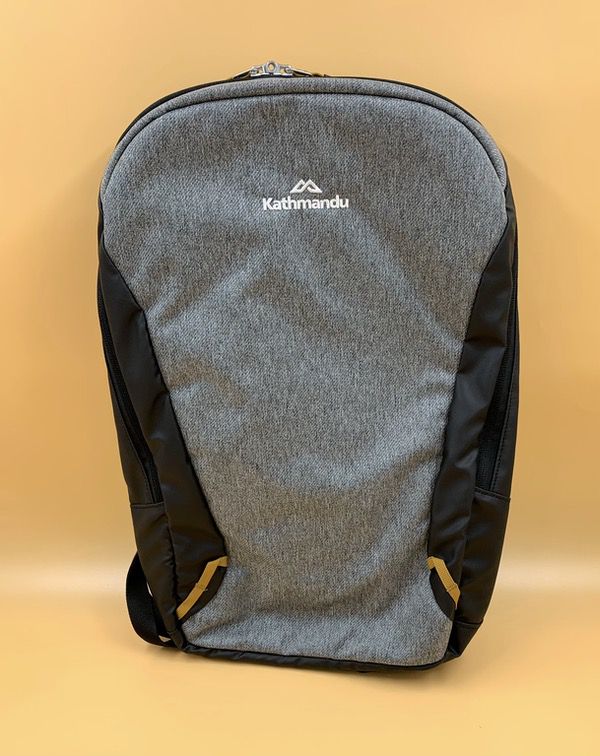 And look at the thin profile! This bag isn't for hauling tons of stuff. There are no external pockets to clutter up the simple, mission-ready design. It will carry your essentials for a flight or a day trip, and fits easily under an airline seat.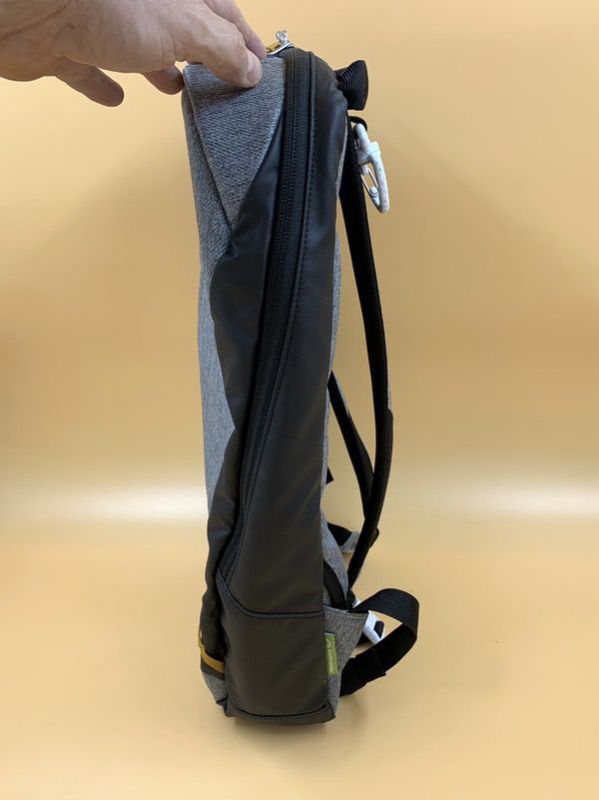 I'm really impressed with the build on this bag. The YKK zips and plastic hardware are small but rugged, with little extra details like pull tabs on the external zips. The front panel, rear panel, and base are all padded. A plastic sheet in the top panel provides protection and enables the bag to keep it's rectilinear form even when packed out. And while the sides don't have any padding, the internal laptop sleeve does to ensure 360 degree protection for your laptop or tablet.
Excellent finishing detail is apparent both inside and out on the bag. To be honest, there's a lot of nice detail here that I usually don't see in a bag at this price point. Here's a close up of the shoulder strap trimwork with a peek at the hardware.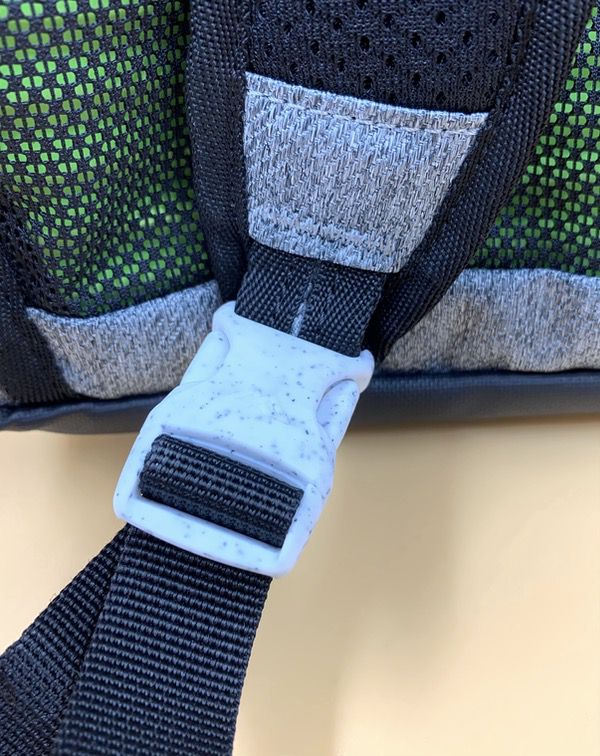 The liner is a custom print that's pretty durable and adds a bit of travel-inspired whimsy.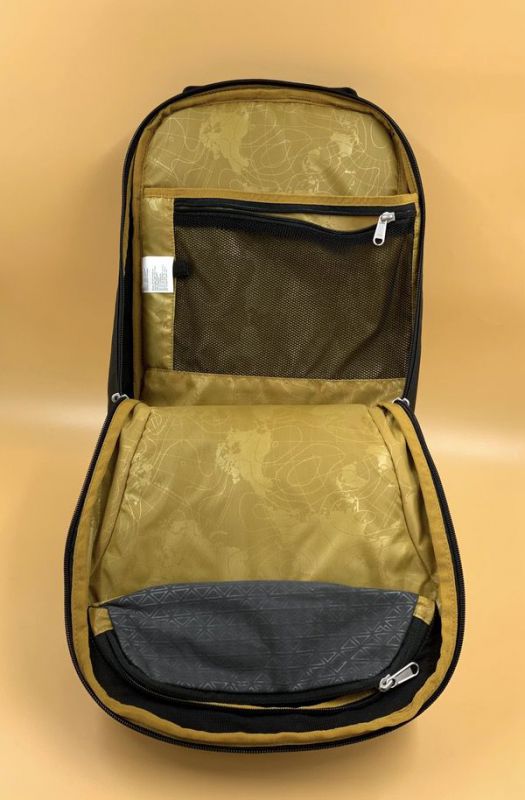 Getting on to the layout stuff, the bag is is a top-loader with dual external zips that travel about 3/4 down the sides of the bag for full access to the innards. A 15″ laptop sleeve leaves plenty of room for my 13″ MacBook Pro and iPad. This sleeve is fronted with a mesh zip pocket, which is great for seeing what you're trying to get to if you're rooting about for your earbuds or cables. And if you want to ditch the electronics for the day, the sleeve collapses to make the whole internal space available for whatever you're packing.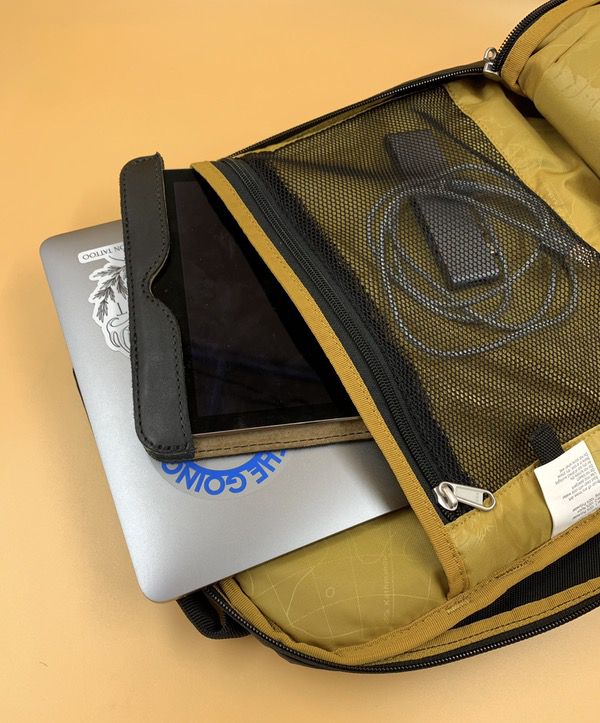 There's also a zipped pocket under that plastic hood on the interior front panel that uses a soft material to protect your phone or sunglasses from scratches. I like the way this tucks in under that hood so that it doesn't interfere with access to the main compartment. Check out the custom lining on this pocket.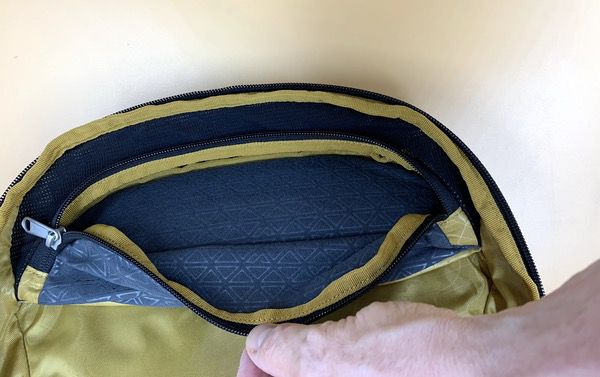 The whole interior chamber is about 4″ deep, so you'll be packing light. But the generous height and width, coupled with complete accessibility to that main chamber, leave you a surprising amount of room for travel essentials. You'll get a light jacket in there, a few snacks, and even a thinner hydration bottle if you like.
The bag comes with three carry options. A pair of slim padded shoulder straps are your main choice, and they're just fine for the usual business. They're slightly contoured with generous adjustments for a tight fit. The build also includes collars to wrangle any extra strappage, another nice detail.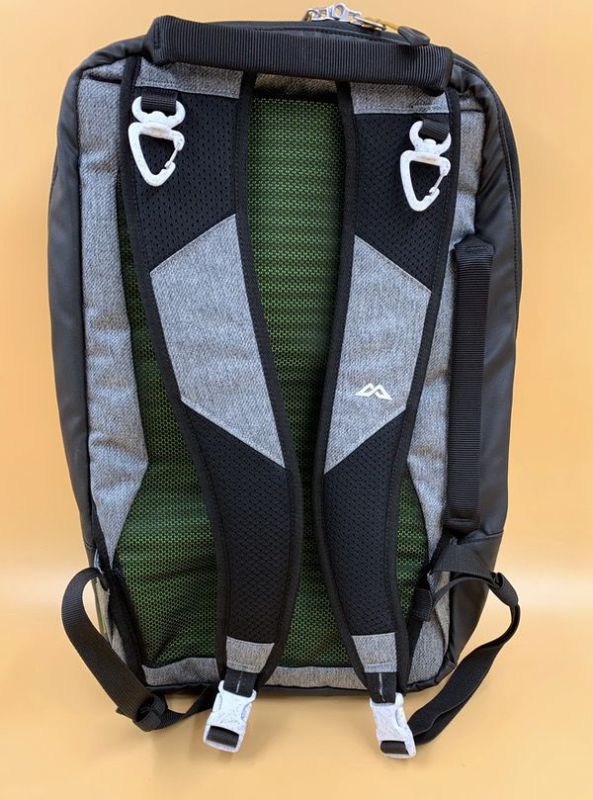 The rear panel is designed with horizontal ridges for ventilation and flexibility, and covered with a breathable mesh so it doesn't rub against your back. The whole rig is very comfortable for long-distance walks across terminals or sightseeing in the city.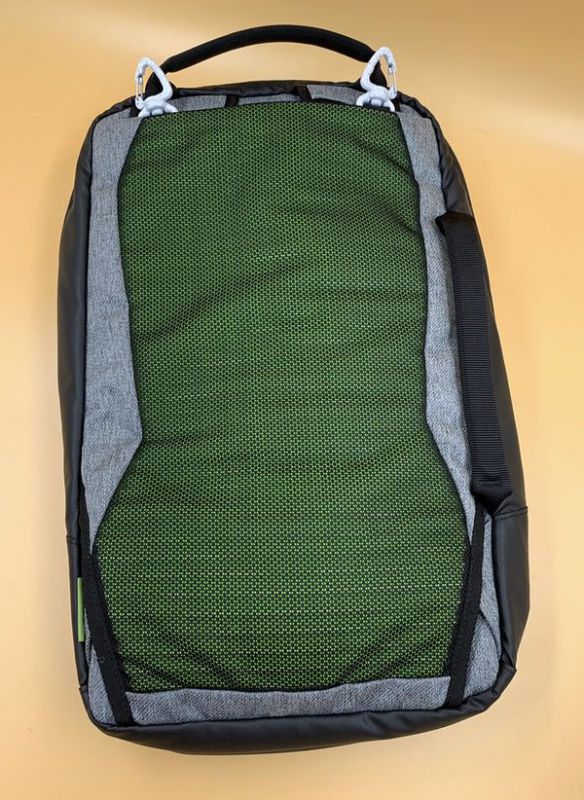 At the top of the shoulder straps are a pair of beefy clips, which are intended to be used when you pair this with its 38 liter carryon-friendly big brother. The idea is that you strap the big guy to your back and clip the little fellow to the front rig, carrying it like a papoose as you make your way through the airport. Then you unclip this bag and stash it under your airline seat. I don't have the big version to test with this, but I do like these clips as an attachment point for hanging stuff.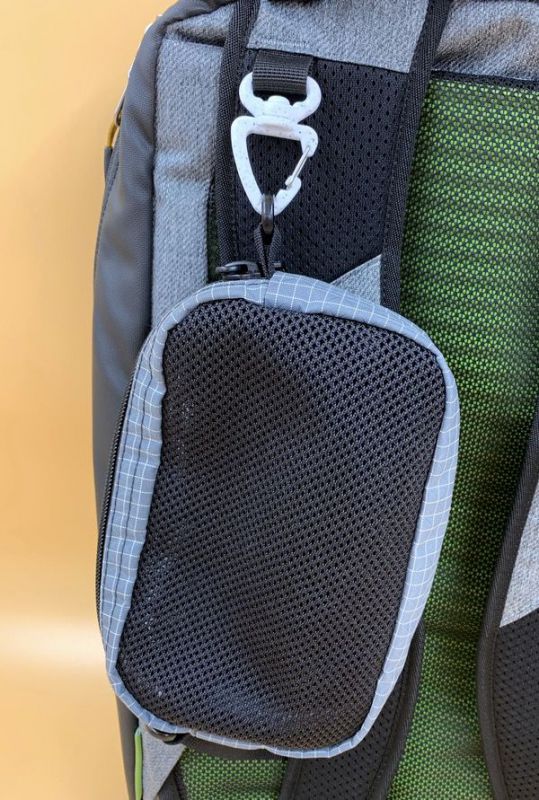 And here's the final trick that the Kathmandu Litehaul 12L has to offer. The back panel has an open pocket space behind it. Unclip the shoulder straps and stuff them into the back pocket at the top…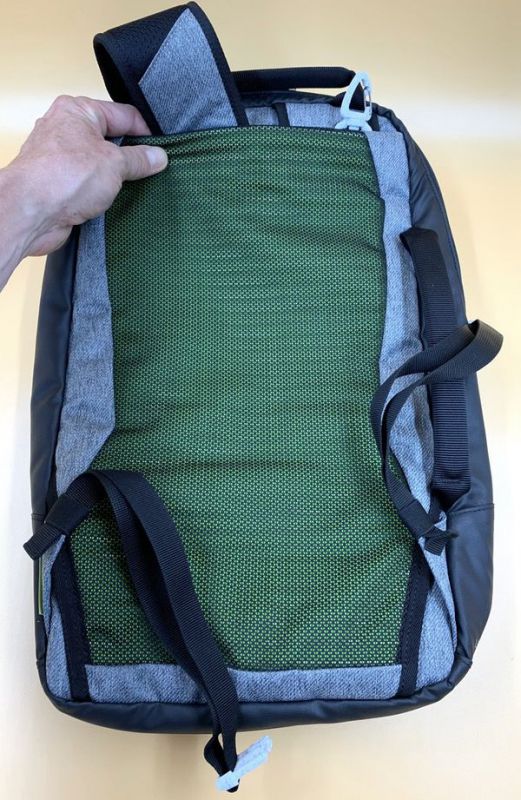 Then take those hip straps and stuff them into the corresponding openings in the base…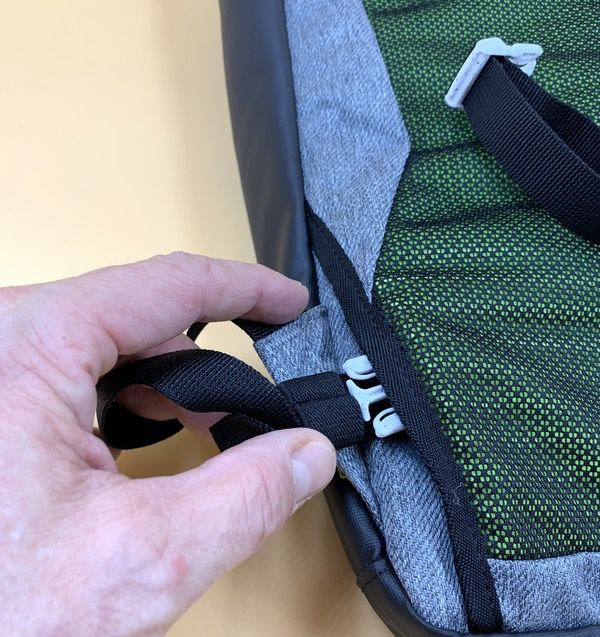 Snag that padded side handle, and you have a small briefcase to roll into a meeting!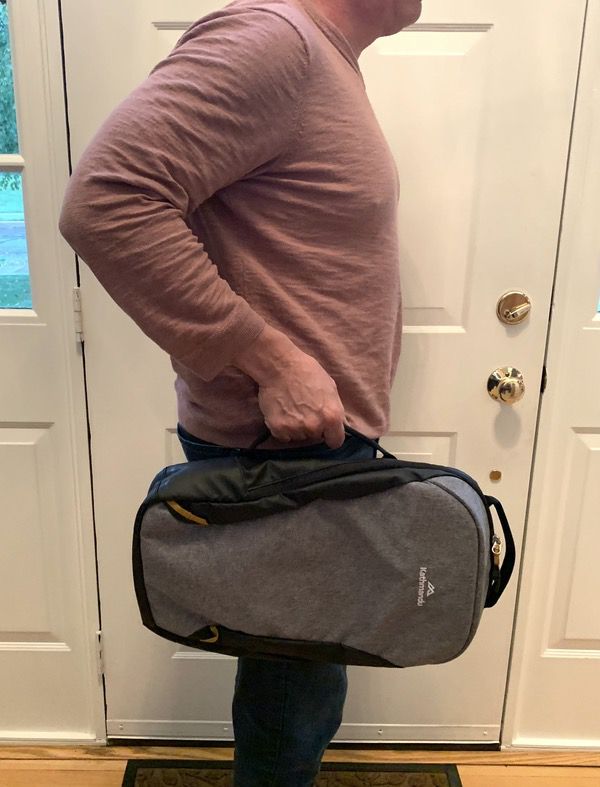 Clever, right? Yeah, it's not as nice as a mission-built brief or a convertible briefcase. But when you're trying to roll without checking a bag, it gives you a nice alternative to hauling your massive carry-on pack into the on-site location.
Here's a side profile shot to show you the thin profile in action. I love this for its maneuverability. You barely know that it's there, and it sure won't irritate your fellow flyers as you wander down the aisle and try to avoid bumping them on the way.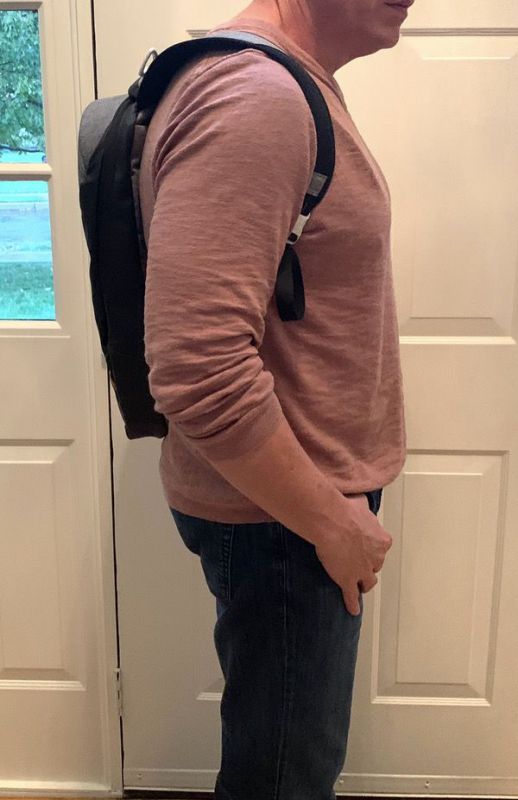 Performance
I see the primary use case for this bag in the traveler who is trying to economize space and function, especially if you pair this with its 38 Liter Litehaul running mate. If you just need a flexible option for a second bag on the road that carries the bare essentials, this will do the job nicely.
I also like it as a standalone daypack if you're a minimalist. The usability is excellent. The size is just big enough for your computer, a notebook, a tablet, and the critical accessories. And the design is flexible enough to handle some variety if you ditch the electronics. The build quality is also great, and the ability to switch to brief-mode in a pinch is nice. I love this bag if I am heading to an off-site event or a meeting at the coffee shop where I don't need access to all of my gear. If you find yourself needing more than the bare minimum, however, I think a daypack with a more robust feature set and a bit more size (15 liters or so) would be a better option.
What I like
Excellent usability.
Super-slim and lightweight profile.
Quality build.
Still accommodates a 15″ laptop despite the small size.
Perfect under-the-seat bag for air travel.
What needs to be improved
May not meet your need if you regularly need to haul more stuff than the bare essentials.
Final thoughts
The Kathmandu Litehaul 12L is an ideal bag as a travel companion or your grab-and-go bag for daytrips. It's simple and efficient design is easy to live with, and it's rugged enough that you can kick it around a little bit and even take it on a hike. It's also pretty easy on the wallet if you're looking for something that is budget friendly but still has a quality build.
Price: $60.00
Where to buy: Get it at the Kathmandu web site.
Source: The sample of this product was provided by Kathmandu.