We use affiliate links. If you buy something through the links on this page, we may earn a commission at no cost to you. Learn more.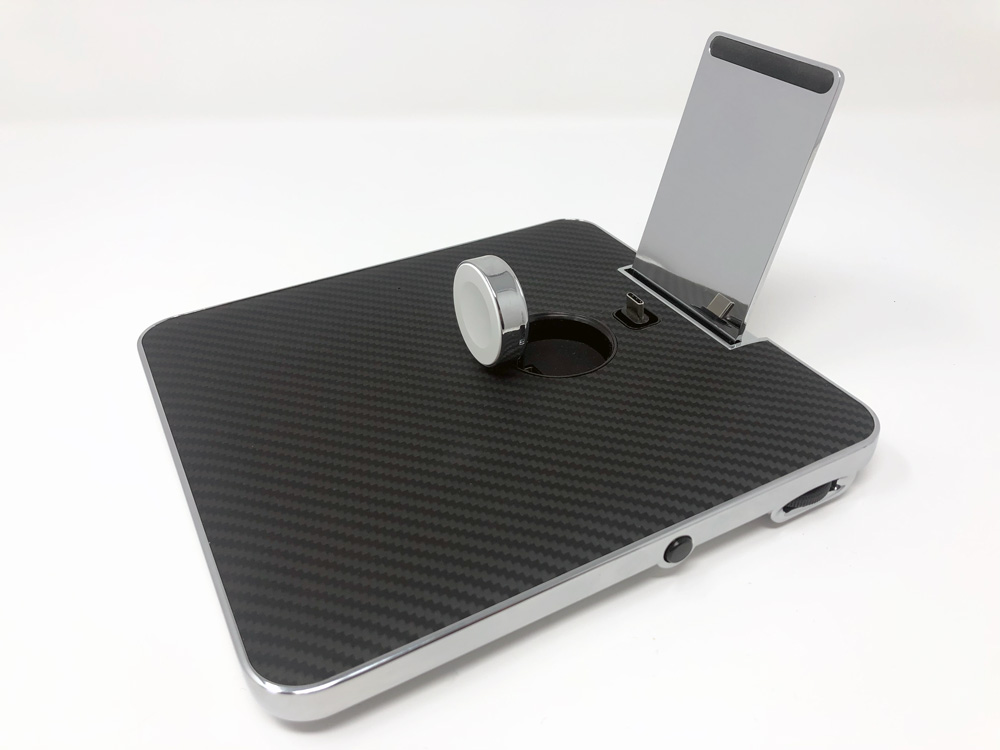 CROWDFUNDING REVIEW – How many of you need to charge more than one device every night? I'm guilty for sure. I've been an Apple addict since playing games on my Apple II as a teenager. These days I'm not without my Apple Watch (series 4) and my iPhone X. Both of those end up needing a charge every night and my iPad Pro (11″) frequently does as well. Well as it turns out Pitaka has a new product that solves that exact issue. It's called Air Trio and I've got a pre-production unit from Pitaka that I've put through the paces to tell you all about. Here we go.
What is it?
Air Trio is a triple charger that can charge an Apple Watch, a device with wireless charging and a larger device with USB-C. It's also available with a Lightning connector instead of the USB-C if that suits your quiver of devices better. There's a lot of unique features, so let's push on.
What's in the box?
A reminder that this is a preproduction unit so some details could change before the Air Trio ships.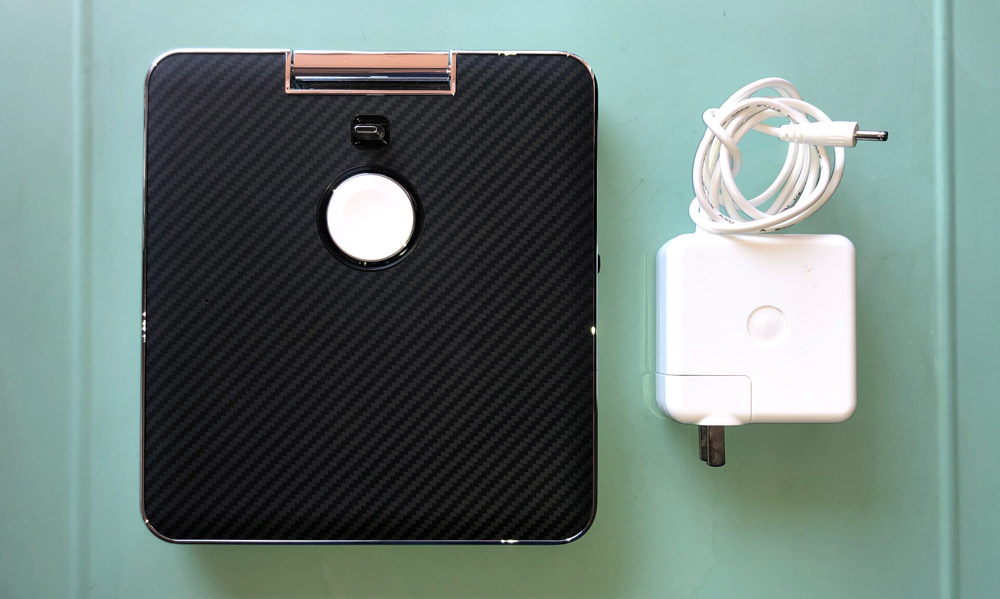 Air Trio
Wall adapter (supplies all necessary power)
Hardware specs
Device Support: 3 devices; Apple Watch, Wireless Phone, and USB-C tablet. (Lightning optional instead of USB-C)
Power:
– Input: DC15v/3.5A
– USB-C Output: 5V/3A, 9V/2A, 12v/1.5A
– Apple Watch Output: 5V/1A
– Wireless Output: 3 coils supporting 7.5W and 10W fast charging
Design and features
Pitaka has followed its brand ethos with the main surface of the Air Trio. The entire top is their aramid fiber with the silky smooth soft-touch finish. The Apple Watch charger sits in the back half just in front of the USB-C connector and adjustable tablet rest, and there's a small punch-hole to the left of the watch charger with a recessed LED.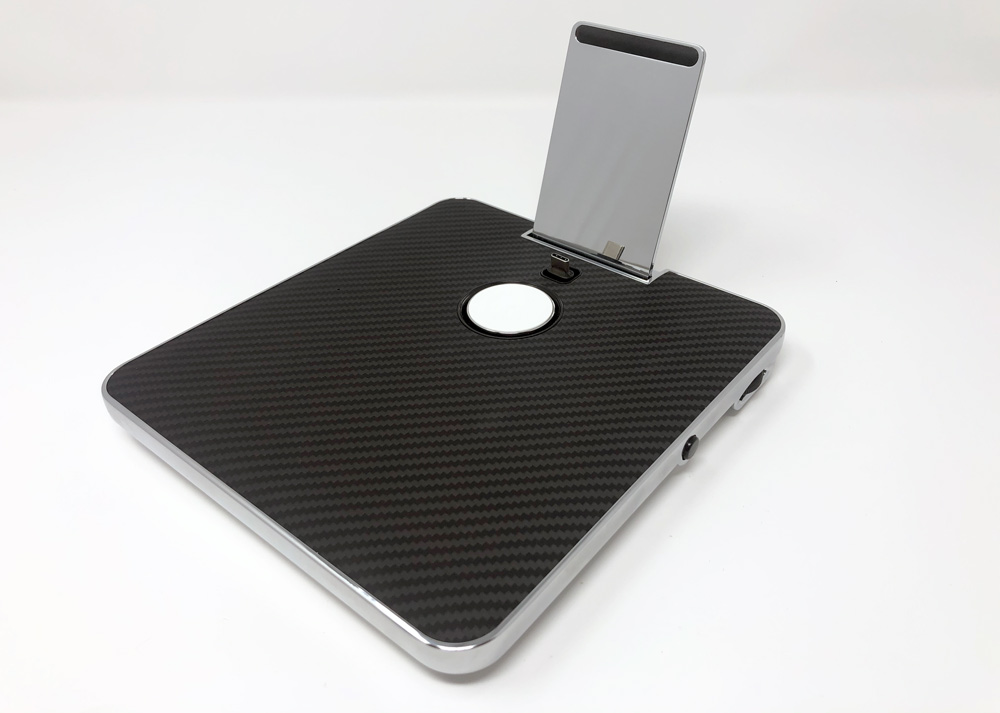 Both of these connectors/chargers have additional functionality. On the right side of the device is a button which releases the Apple Watch charger allowing it to slowly rise to a vertical position. Here's a closer look.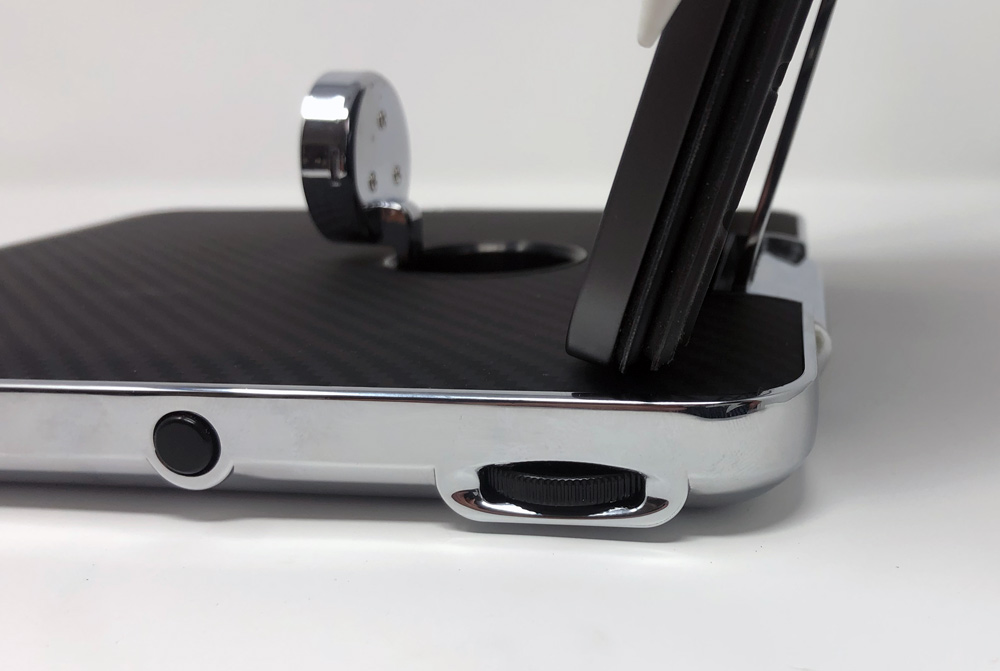 The USB-C has about 15º of range either side of the vertical position which allows for flexibility while connecting and disconnecting devices or adjusting the lean of your tablet. The dial on the right side raises and lowers that connector so you can match the depth of any case you might have on your device. Here's a look at the high and low limits of that adjustment.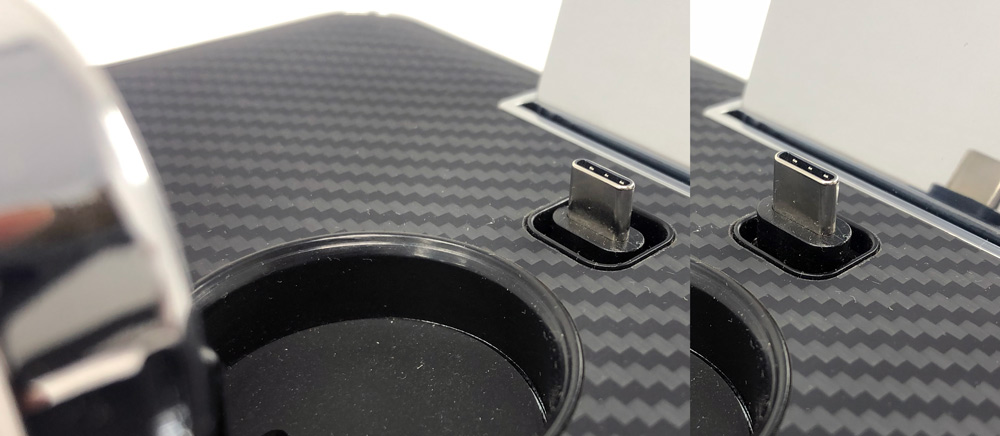 At the back of the device is the pivoting tablet rest which you can adjust between vertical and any amount of recline all the way to folded under for stowing. Without taking it apart I can't really tell, but it's either a friction pivot or opposing springs and holds its position without being difficult to move.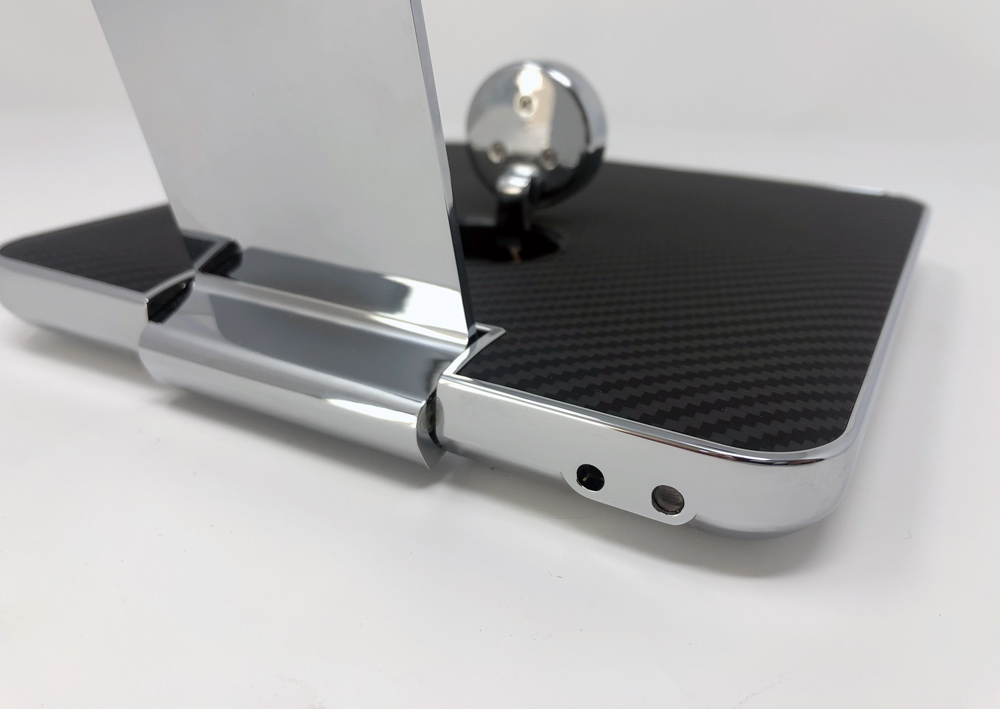 Also on the back is the power-in port (left) and an additional port which houses the LDR (Light Dependent Resistor) which enables a sleep mode of reduced brightness.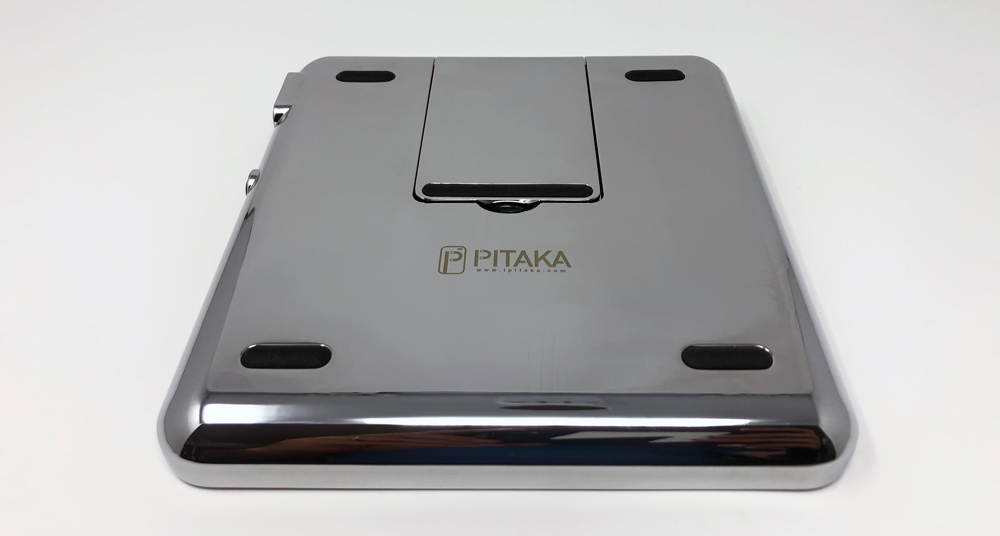 On the bottom are four rubber feet for a stable stance and it's here that you realize just how much of the device is a polished zinc alloy. The entire bottom, sides and complete tablet rest have this finish.
The wall adapter resembles a MacBook charger with a fixed cable that could stand to be a bit longer and barrel jack at the end.
Setup
The sample I received did not have any kind of instructions but I'm pretty confident the retail units will. Regardless, setup is pretty easy. Figure out where you're going to place the unit, connect the wall adapter's barrel jack to the back of the Air Trio and then plug the adapter into the wall. Any additional setup is specific to your devices so let's move on to how it works.
Performance
First off, the Air Trio has some significant heft in all the right ways. It weighs in at a little over 2lbs, 3oz. For reference, my 11″ iPad Pro with keyboard and pencil is about 1lb, 110z, so the stand has plenty ballast to keep from tipping over even before you add a phone and a watch.
For my purposes, I've been using the Air Trio on my nightstand. It's super handy for being that last stop as I go to sleep. I can plop my watch and phone down and then dock my iPad after I finish getting just enough blue light to let me have trouble sleeping.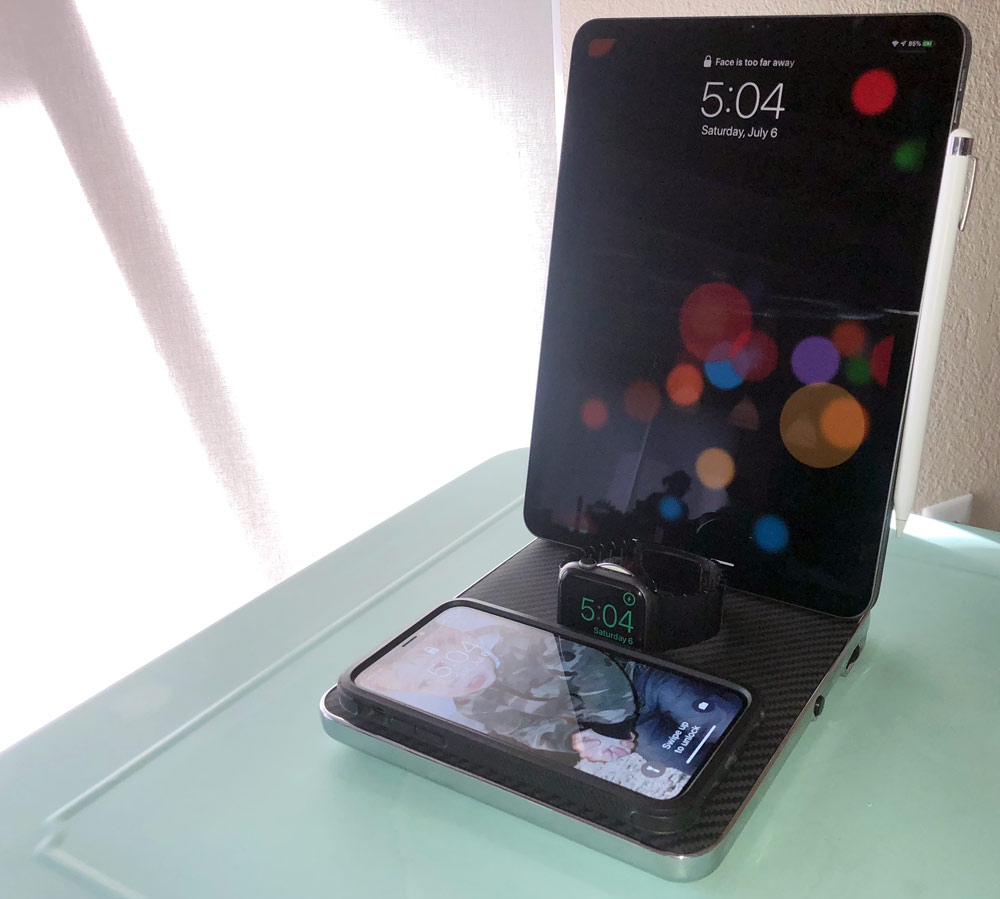 The iPad rest is set a little shy of vertical. I have the Apple Smart Keyboard Folio on my 11″ iPad Pro and between the lean angle and the amount of space between the connector and the rest, there's no issue docking it with the cover closed or folded behind.
I mentioned the adjustable height USB-C before which lets it adjusts for both case depth and/or your lean angle up until the point you go beyond the connectors angle limitation. Only things to know here is that if you're running a case with a charge port really tight to the Apple USB-C cable, it could be tight. It's also really tricky to dock your iPad with a single hand because the connector moves forward and back. This gets even tricker if you've got the Apple Watch charger flipped up as I do.
So, why does the charger flip up? One, it enables nightstand mode on your watch. Super useful for me as I like my bedroom dark and the watch display will time out until I knock on my nightstand for it to display again. Two, some of the bands available for Apple Watch do not fully disconnect which makes charging them on a flat surface very hard, if not impossible. Here's Apple's Link Bracelet to demonstrate that point and one of a flat charging position.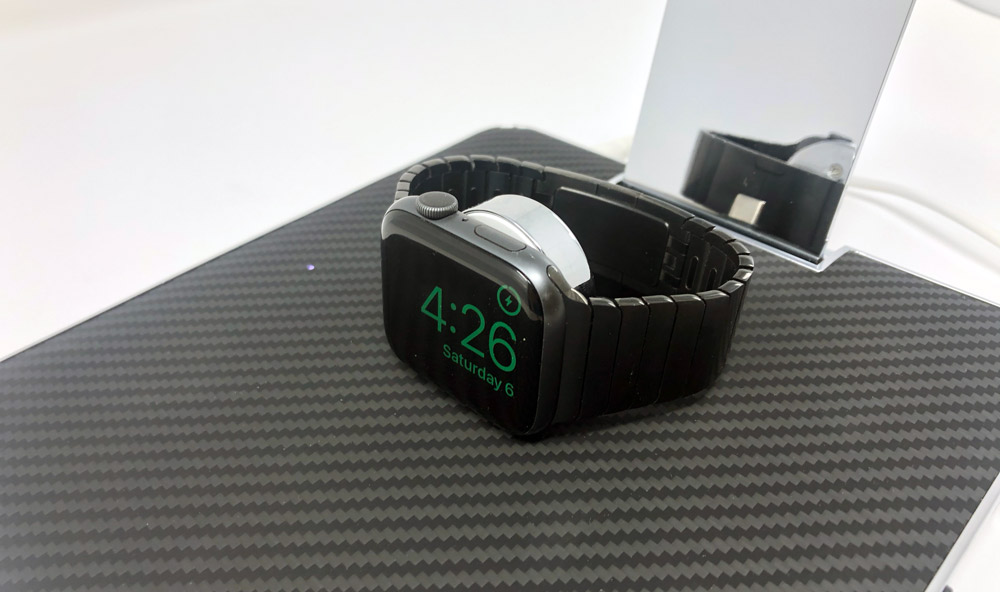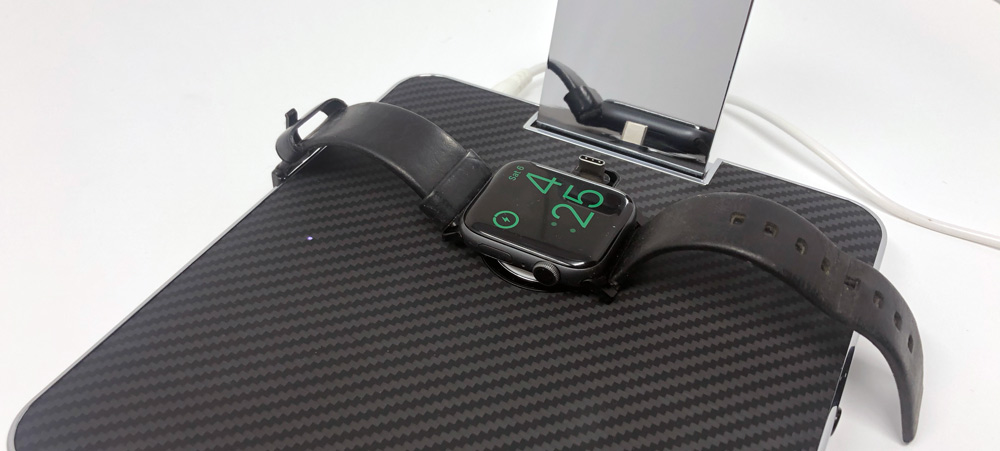 All the real estate to the front is for wireless charging your phone or other accessory. My iPhone X fits there really well, perhaps feeling a bit cramped when the watch charger is flipped up and occupied. Those of you with larger phones may find your phone overhanging the front a bit. There are three charging coils up there to help deal with the different coil placements in phones.
Overall, the Air Trio is a solid accessory if you're charging a trio of Apple accessories. Here's some things to be aware of…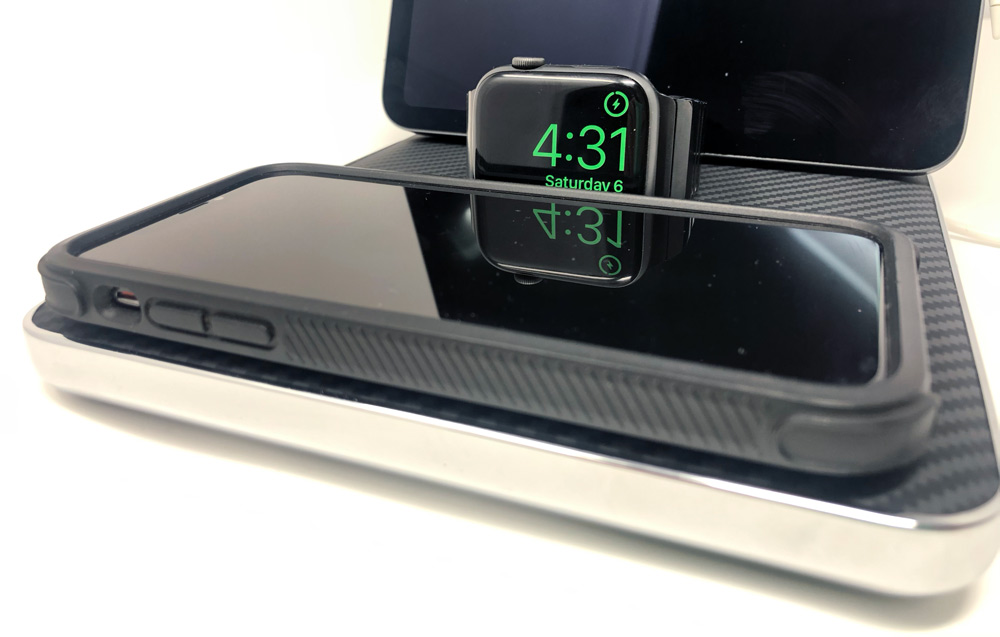 As you can see, some of the screen of my 44mm watch is obscured when I also charge my phone. Definitely not a deal breaker by any means, but if your case is much thicker it could be frustrating.
The charging coil is relatively tolerant to position, just experiment with your particular phone and adjust to make sure you're actively charging.
With as heavy as the Air Trio is, I was expecting to be able to grab my iPad with one hand for removal. Alas, the USB-C connection is a good one and I'd rather not wiggle the whole thing until it releases. One hand on the front of the base lightly while the other lifts and you're good to go.
That little LED to the left of the watch charger is really bright, and for some reason, it blinks while your devices are charging. If you put a piece of tape over the light sensor at the back, the LED power cuts in half. I'm relying on my devices to tell me they're charging so my piece of tape is going over the LED itself.
Finally, you can order any color you like as long as it's Aramid/Polished Zinc (carbon fiber look with chrome). This is sitting on my nightstand, so not a huge deal, but otherwise could be polarizing for potential customers.
What I like
Fast charging for 3 devices with 1 charger (remember to choose USB-C or Lightning for the tablet at purchase)
Heavy and stays put
Works with cased devices and any watch band combo
What I'd change
Remove the LED since your devices show charging status
Power cable could be a bit longer for getting behind furniture
More color options, less or no chrome
Final thoughts
Pitaka has a great charging product here and it's less Apple centric as it might initially sound. The Apple Watch charger is actually the only Apple specific thing as the USB-C rear and wireless front chargers can work with many devices. I really appreciate fewer cords and the Air Trio is a sweet spot for the accessories I use daily. It replaced 3 separate chargers on my nightstand with a single unit that works very well for me.
Price: $129 and up. Any order over $79 will win a Aramid Case/Tempered Glass (Random color & model).
Don't forget to check the combo discount up to 20% off via our New Website.
Where to buy: Kickstarter (campaign launches in 2-3 weeks)
Source: The sample of this product was provided by Pitaka.