We use affiliate links. If you buy something through the links on this page, we may earn a commission at no cost to you. Learn more.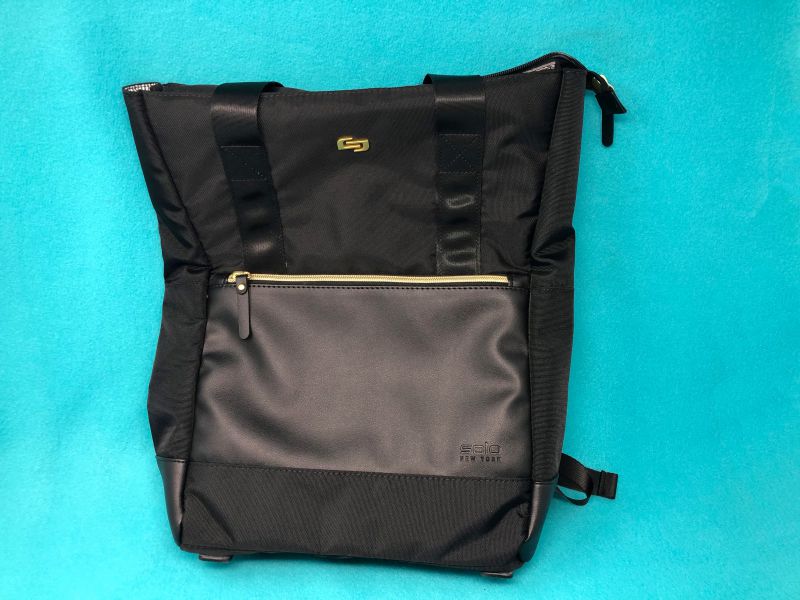 REVIEW – Tote bags can be great for tossing a bunch of stuff into and walking from point A to point B. But what if those two points get really far apart, or if you're needing your hands to, say, walk a child or a dog or even sip your coffee? Having the ability to strap the bag on your back may make a simple tote more versatile. This is exactly the philosophy behind Solo's Parker Hybrid Backpack tote bag. The idea is this: an upscale tote bag you're not embarrassed to carry into work, but also can use as a backpack or even a sling bag, should the occasion demand. I enlisted the help of my younger daughter, who carries a tote to work and back every day, for testing.
What is it?
The Solo Parker Parker Hybrid Backpack tote bag is a stylish bag with internal organization that can be carried as a tote, a backpack, a sling, or on a roll-aboard extension handle.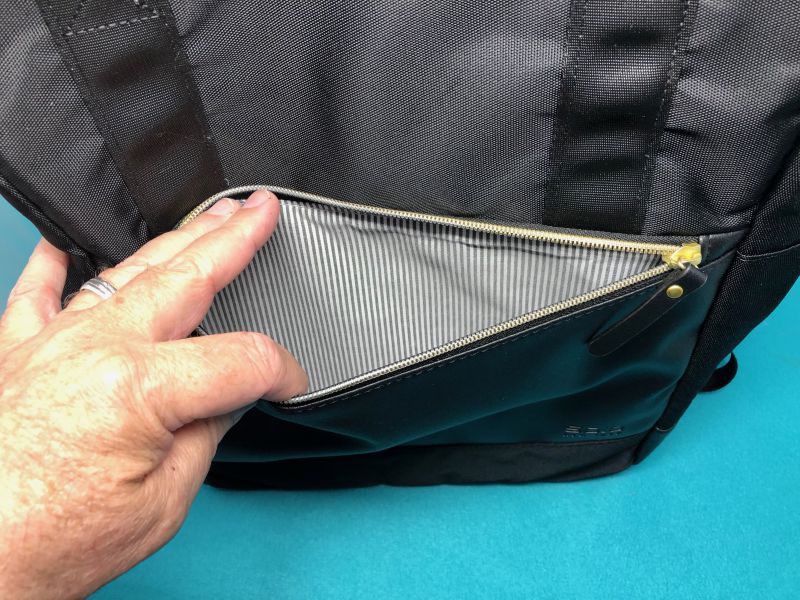 Design and features
The Parker tote is a nylon/polyester/faux-leather bag 16″ tall x 11″ wide x 4″ deep. The first thing you notice is that there are few little hits of branding (a single gold logo and an embossed "SOLO New York" brand on the rear pocket.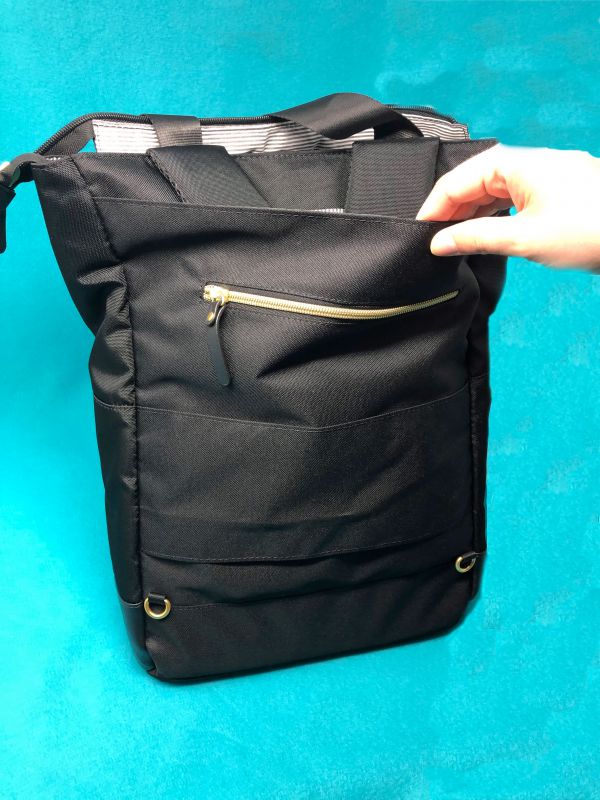 On the reverse side, there are two sewn-in padded backpack straps that terminate in buckles. Lengths of 1″ webbing attach to sewn-in D-rings at each lower corner. The straps can be unclipped and placed in a purpose-built full-length pocket behind the zippered pocket. You can also attach the left strap to the lower right hand (or vice-versa) and wear the bag as a sling over either shoulder. While the inward curve of the straps makes this a bit awkward, it's still not a bad way to carry things if you're needing to swing the bag around front to access the contents.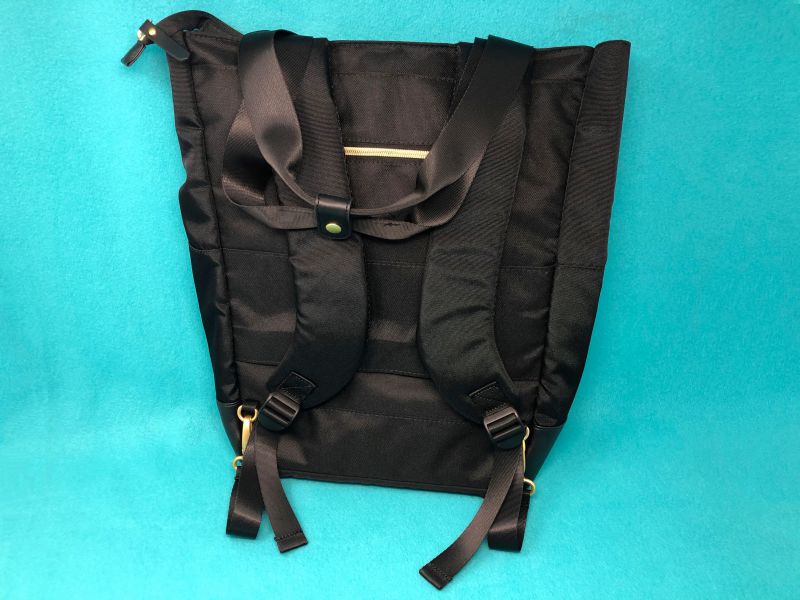 Cross-stitched and fully sewn into both side of the bag is a one-inch thick double tote-type handle. The center few inches of each handle have been doubled over and stitched to form a comfortable grip and there's a leatherette snap-on strap to hold them together. (This was one of our only complaints – there's no way to hide or stow the tote straps when you're carrying the bag with the backpack straps.)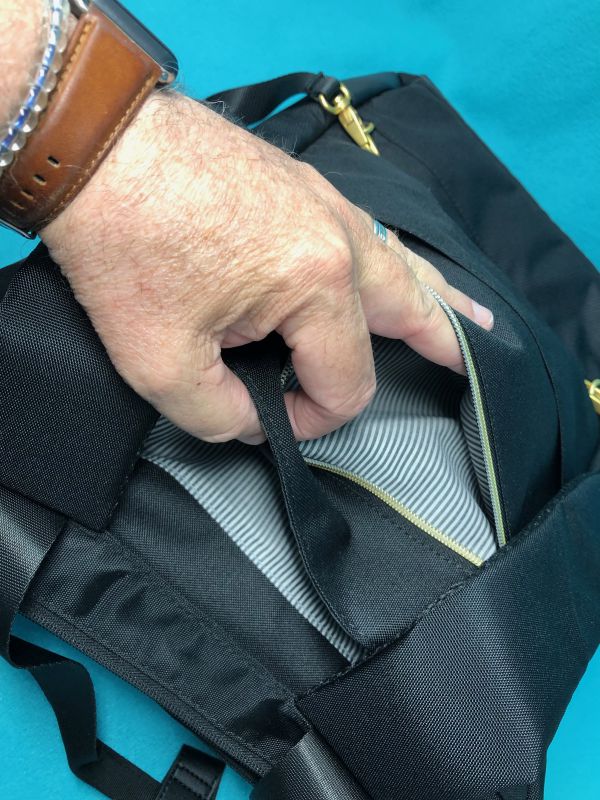 The lining in all pockets is a grey and white mattress-ticking pattern striped vertically. The light color makes it easy to see things in the depths of the pockets. The webbing is a fine-grain nylon seatbelt material that feels like butter. All the hardware is a gold metallic that isn't too gaudy, but it is not subtle. The zippers are very free-working, but not weather-proof.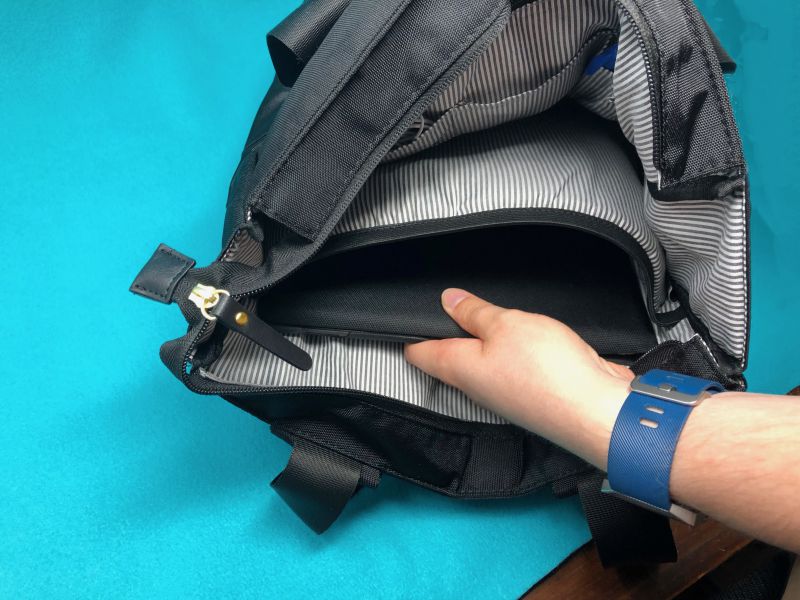 The top of the main compartment is closed with a single-pull zipper 16.25″ long. Within this main area is a separated sleeve that will hold laptops or tablets up to 16″ wide by 11″ tall and maybe 2″ thick. (We couldn't find anything to overfill it! Her 12.9″ iPad rattles around in it.) The other pocket matches it, but has a series of organizational pouches down one side. There are two medium-diameter pen loops, two card slots that could hold maybe 5 cards each, and a center patch pocket that could fit a Moleskine chair, but not a full-sized pocket notebook. They are pretty tight. Earbuds can fit into one of the card-sized pockets. (See picture) Above these is a zippered pocket that can hold quick-access items. My daughter uses this for her keys/ID for work.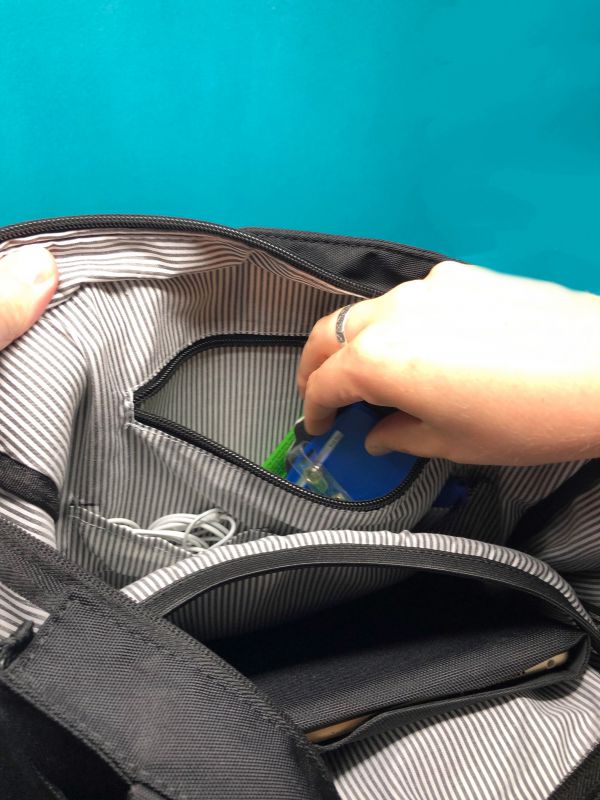 On the outside, there is a zippered pocket on both front and back. These measure about 6″ across by 12″ deep. Perfect for a Plus-Sized iPhone and car keys with the requisite wad of loyalty cards, hair ties, and gym access tabs. Below the pocket opposite the metal logo is a 3″ wide band made from the same material as the main body of the bag. When placing the tote over your roll-aboard handle, the zippered pouch on this side is very handy for boarding documents, foreign currency, or other travel needs.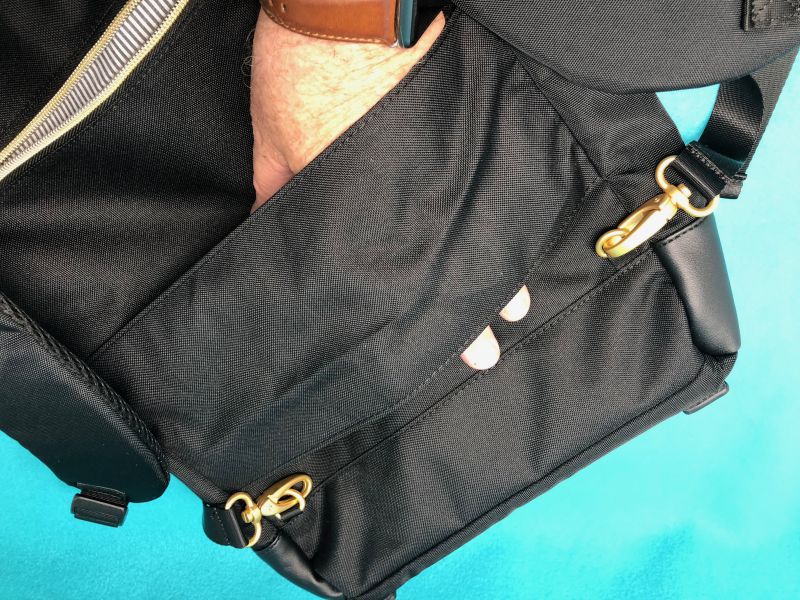 Final verdict? "I like it in general. I wish the main pocket was a little bigger (there's only room for my wallet really). I don't really use the backpack straps but they tuck away nicely. The smaller pockets on the inside are nice to separate headphones, chapstick, etc."
What We Like
Multiple carry options
Stylish look with quality materials
Inner pockets keep everything from going to the bottom
What We'd Change
Wish the central pocket had a bit more room
Wish the tote handles could be somehow tucked away while wearing as a backpack.
Final thoughts
As usual with Solo bags, the fit and finish of the Parker Parker Hybrid Backpack tote bag are first-rate. While the backpack straps are rarely needed in my daughter's case, the tote straps not being easily hidden made it odd looking on the few times using them. She's happily using it as her daily carry currently. I'm interested in her update after her next trip!
Price: $69.99
Where to buy: Company website and Amazon
Source: The sample of this product was provided by Solo.