We use affiliate links. If you buy something through the links on this page, we may earn a commission at no cost to you. Learn more.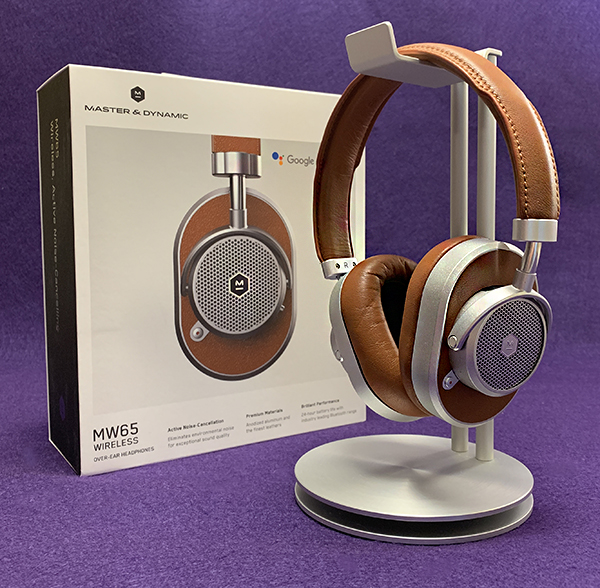 REVIEW – One of the perks of reviewing products is that sometimes, we get to test something before it's offered for sale to the public. Not only did I get to do that with the new Master & Dynamic MW65 wireless headphones with ANC (active noise canceling), but M&D make some of my favorite headphones, too. I had a feeling this headphone was going to be fun and I wasn't wrong. Once again, Master & Dynamic has scored big with an all-new product.

What is it?
The MW65 ANC Wireless headphone is the latest in a line of impossibly good-looking headphones from Master & Dynamic. Like their previous models, the MW65 uses real metal with real leather resulting in a premium feeling (and sounding) headphone that's priced accordingly—as in, not cheap. The MW65 is the first Master & Dynamic headphone to incorporate active noise canceling—something that's becoming more and more common in wireless headphones. It's an over-ear, closed-back design making it suitable for commuting. The MW65 is also optimized for Google Assistant.

Specs
40mm beryllium drivers
Up to 24 hours battery life,

 

Charges to 50% in 15 minutes and 100% in 40 minutes
4.2 AptX Bluetooth range of 65+ feet
Two active noise-cancelling modes
Google Assistant
Replaceable lambskin ear pads

In the box
MW65 ANC wireless headphone
Canvas and leather carrying pouch
USB–C to USB–C charging cable

 

USB–C to USB adapter
3.5mm to 3.5mm audio cable

 

Airplane adapter

Design and features
When it comes to Master & Dynamic, What I say is beginning to sound like a broken record. IMHO, Master & Dynamic make the most beautiful headphones available at any price. Just looking at them (and holding them) makes you want them—they are that pretty. Others may disagree, but they would be wrong. 
Note: Despite the different Master & Dynamic headphone models I've reviewed, I've never received my favorite color combination—silver metal with brown leather—until now. The wait was worth it—it's a stunner. 
As I said, the MW65 is all leather and anodized aluminum. Many headphones today (cheap and expensive) are made with a good amount of plastic to keep weight down, making them feel cheaper than they are. It's understandable. However, M&D have made the MW65 as light as any plastic headphones I've reviewed. How'd they do that?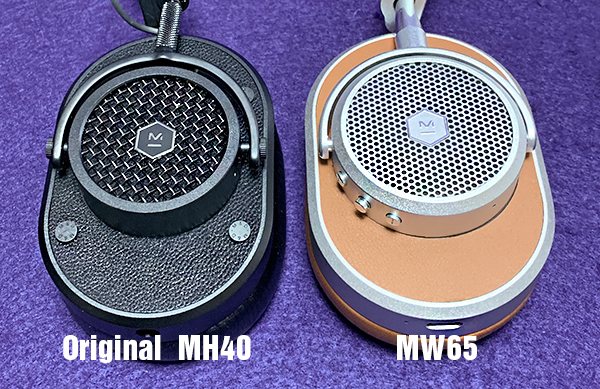 Master & Dynamic calls the MW65 over-ear as opposed to on-ear. Technically, that's true, but the ear cups are on the small side. For many, they will feel more like on-ear. It's a weird in-between feeling. It fits my ears just fine, but I can see where it might annoy some people. I compared the MW65 ear cups to the original MH40 headphone's ear cups. The MW65 ear cups are ever-so-slightly smaller, but the interior opening is noticeably smaller which can make them feel more on-ear than over-ear.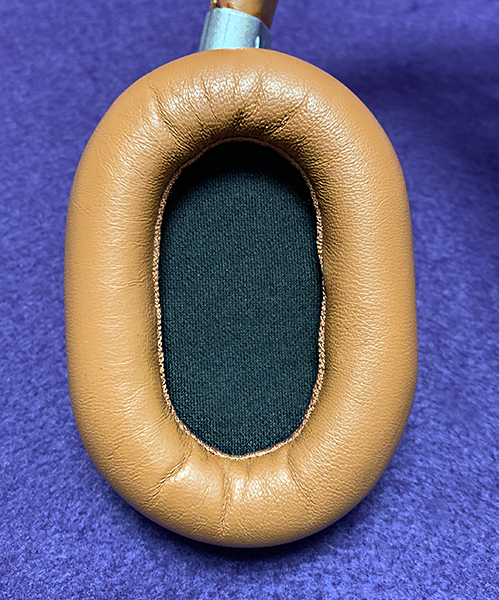 The ear cups are replaceable, but after removing one of them, it took some time to get them to snap back together as seamless as before. My OCD wouldn't let it go until it looked perfect.

Since the MW65 headphone is wireless, it has a built-in rechargeable battery. This is recharged via USB-C, a faster and more welcome alternative to micro USB. Battery life is rated up to 24 hours listening. I'm not one to use a headphone until the battery dies. I never reached the point where I had to recharge because it's always been my habit to recharge daily.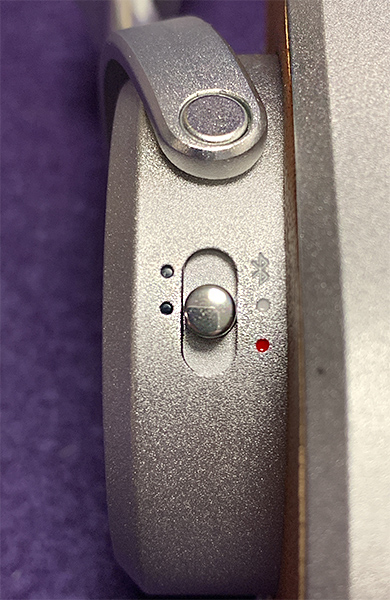 The MW65 headphone's button array on each ear cup is laid out in an easy-to-grasp design. The left ear cup houses the On/off/pairing slider and ANC buttons. The On/off/pairing button comes with tiny LED lights that indicate pairing and battery level indicator. The bottom of this cup has the mini plug port for wired listening should it be desired.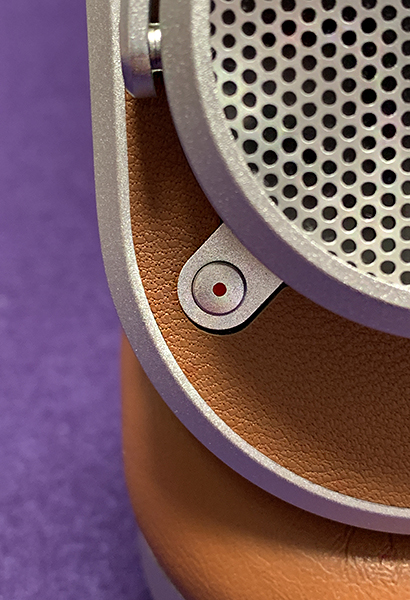 The ANC button is set farther away from the On button. What's interesting is that ANC comes with two modes—High and Low. High is for Airplanes, busy streets and similarly noisy environments. Low is used for a quieter (but not too quiet) environment. Each time the ANC button is pressed, a female voice prompt tells you (in English) either "Noise canceling is High, Low or Off." Voice prompts are always better than beeps you have to translate in your head. The High setting is total ANC on. The Low setting allows a bit more environmental noise in. This works best for low background noise and windy environments.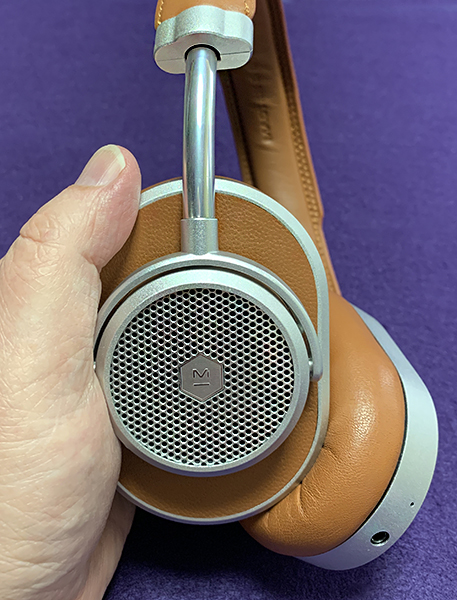 There's an ongoing argument about how much ANC can alter the sound of music in a headphone. I have two thoughts on this. I've never heard a headphone where ANC does not affect how music sounds. What's important is how much music may be affected. Also, using ANC in an airplane with its background engine noise is always preferable to not using ANC—no matter how much it alters audio.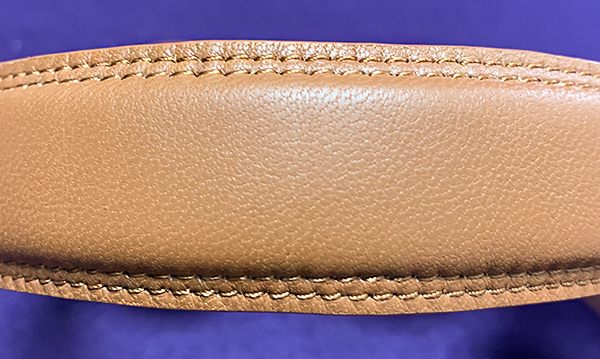 That said, the MW65 headphone has really good ANC. Yes, it slightly alters how music sounds, but unless I'm closely paying attention, I just don't notice it. I don't hesitate turning it on anytime I feel it's called for. Note that more headphone makers offer ANC and it's getting better as technology improves over time.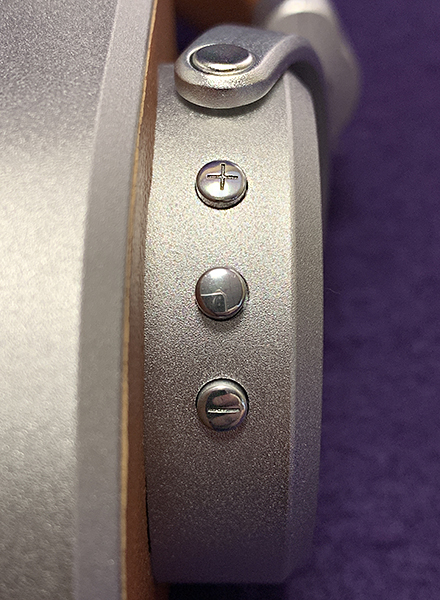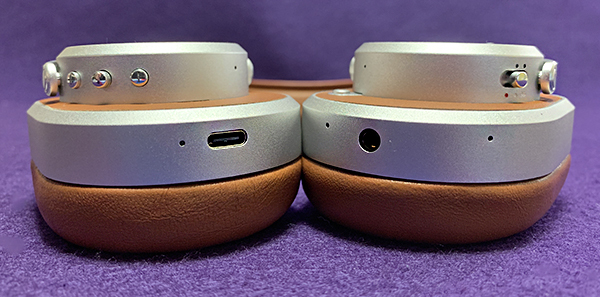 The right ear cup has the charging port and separate Volume up and Volume down buttons placed on each side of a larger Play/pause button. This button also serves as Call answering, Skip forward and Skip back depending on how many taps you apply. Call quality for the person I was talking to, was decent but not great, although I could hear them just fine. People I talk to have yet to experience excellent call quality from any headphone I use (regardless of price) that's as good as Apple's own AirPods.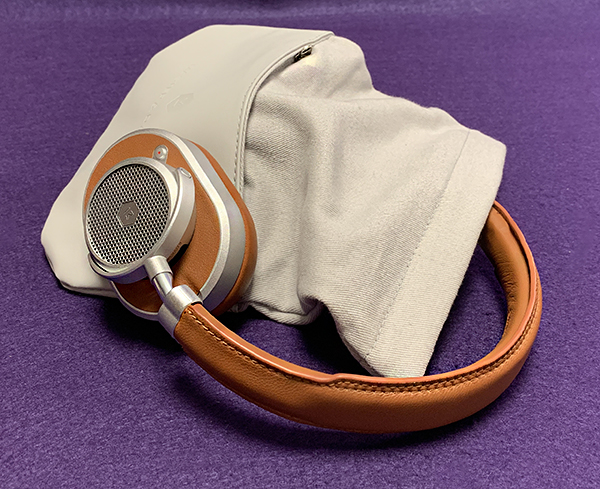 Another benefit of the M&D MW65 headphone is Google Assistant. Since it's built-in, you can use the headphone to get info from Google, play music via Google music and get directions help via google maps. The downside is that (at least with Apple iOS) the Google app needs to be pulled up on the iPhone and the mic button tapped in order to work. It's not native where you can just say, "Hey Google" and it responds. But once inside the app, Google understood my commands way better than Apple's Siri ever does. Apple needs to get on the ball if they want to compete. I noticed that when the mic icon is tapped there's quite a bit of static in the background. However, once a command has begun, the static disappears. I can't tell if this is an issue with M&D or Google. 
I'm lukewarm about Google Assistant being used over headphones and earphones. It's weird when I see people walking around talking to themselves whether it's Google, Amazon's Alexa or Siri. Maybe over time that will become more normal, but I'm not sure I want it to.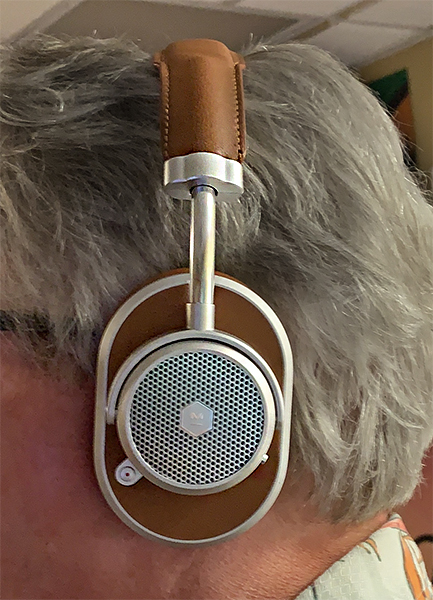 The really good news with the M&D MW65 headphone is that it sounds as good as it looks. Whether wired or wireless—and with or without ANC—music sounds full and rich. Master & Dynamic has a known sound signature across its entire line that exhibits a bit of a bass boost that's never overpowering. It's just enough to make listening a pleasure for hours. Sure, whatever music you're listening to may sound a bit less accurate than what comes from a more "accurate" headphone, but who cares? Even though I am a fan of extremely accurate music reproduction, I admit that it can become aurally fatiguing after a while. These never become tiresome. 

What I like
Luxurious in both sound and feel.

 

Well made
ANC works well
ANC doesn't alter audio much
Light weight and comfortable

 

What needs to be improved

Final Thoughts
When you combine a comfortable-to-wear headphone with a sound that's pleasing to just about anyone, it's a winner. But when you then add superior build quality, Google Assistant and active noise canceling to the mix, you have more than a winner, you have a keeper. The Master & Dynamic MW65 headphone is a keeper.
Price: $499 US
Where to buy:
Source: The sample for this product was provided by Master & Dynamic.