We use affiliate links. If you buy something through the links on this page, we may earn a commission at no cost to you. Learn more.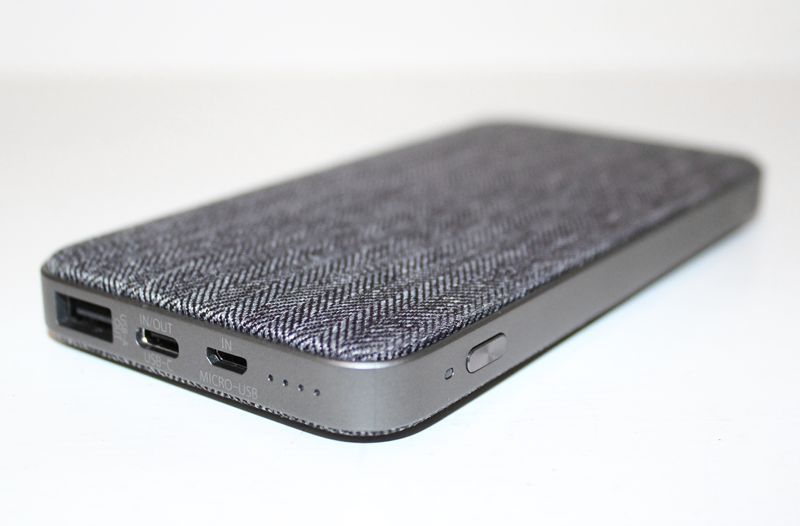 REVIEW – Just when I thought you couldn't add any more features to a portable power bank, I am proven wrong.  The ZMI PowerPack 10K USB-C Power Bank is not only a solid portable solution to keep your devices charged on the go, it provides something that I had never thought you might need.  What is it?  Let's find out!
What is it?
A portable power bank that provides quick charge 2.0 and Power Delivery 2.0 technologies, with multiple USB ports to support legacy devices as well as the newest devices out there.
What's in the box?
1× power bank
1× 20-inch USB-C to USB-C cable
1× 12-inch Micro-USB and USB-C to USB-A combo cable
1× travel pouch
user guided
(iPhone cords NOT included)
Hardware specs
Model: QB910
Cell Type: Lithium polymer
Cell Capacity: 10,000mAh 3.85V 38.5Wh
Nominal Capacity: 6,500mAh (5V𝌂1A), 6,000mAh (5V𝌂3A)
Conversion Efficiency: Approx. 84% (5V𝌂1A), 78% (5V𝌂3A)
Input Port Type: Micro-USB | USB-C
Output Port Type: USB-C & USB-A
Input (USB-C or Micro-USB): 5V𝌂2A, 9V𝌂2A
Output (USB-C only): USB PD 2.0 ⁠— 5V𝌂3A, 9V𝌂2A (18W max); QC 2.0 ⁠— 5V𝌂3A, 9V𝌂2A, 12V𝌂1.5A (18W max)
Output (USB-A only): 5V𝌂2.4A, 9V𝌂2A, 12V𝌂1.5A (18W max)
Output (USB-A & USB-C): 5V𝌂3A (15W total)
Recharge Time: Approx. 4 hours with 9V𝌂2A wall charger, approx. 6 hours with 5V𝌂2A wall charger
Operating Temperature: 41° to 104° F
Dimensions: 5.54 × 2.83 × 0.63 in
Weight: 7.41 oz
Package Weight: 13.69 oz
Compatible with:
iPhone XS · XS Max · XR · X · 8 · 8 Plus · 7 · 7 Plus · 6 · 6 Plus · 6S · 6S Plus · 5 · 5C · 5S · 4 · 4S
Google Pixel · Pixel XL · Pixel 2 · Pixel 2 XL · Pixel 3 · Pixel 3 XL · Pixel 3a · Pixel 3a XL
Essential PH-1
Samsung Galaxy S10 / S10+ / S10e / S9 / S9+ / S8 / S8+ / S7 / S7 edge / S6 / S6+ / S6 edge / S6 edge+ / S5 / S4, Galaxy Note
iPad 2 · 3 · 4 · Air · Air 2 · 2017 · Mini 2 · 3 · 4
Samsung Galaxy S10 · S10+ · S10e · S9 · S9+ · S8 · S8+ · S7 · S7 edge · S6 · S6+ · S6 edge · S6 edge+ · S5 · S4, Galaxy Note8 and earlier
Kindle Fire HD · HDX
LG Tribute HD · Stylo 2 3 · K7 ·K8 · Rebel · X venture · Q8, V30 · V20 · G6 · G5 · G4 · G3
Sony Xperia XZ · XZ Premium · XZ1 · XZs · XA Ultra
Fitbit fitness trackers
DJI camera drones
Bluetooth headphones and more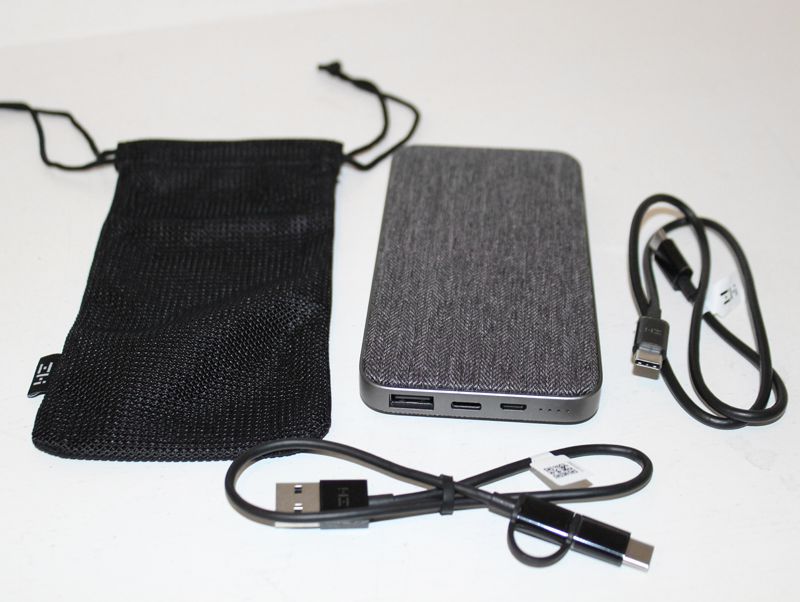 Design and features
The first thing you'll notice about this power bank is the beautiful woven fabric covering the front and back.  It feels good in your hands, and it feels premium because of the fabric combined with the brushed metal around the edge.  It is about the size of most standard-sized smartphones, but thicker.  From a distance, it would pass for a cellphone sitting on the desk.  They even include a handy little cloth drawstring bag to carry the power bank and cables!
Just like most power banks you'll find a button to turn it on, 4 LED lights to indicate the remaining charge available, and numerous ports for charging. You'll find a standard USB-A port to output charge to older devices, and you'll find a USB-C to output charge to USB-C compatible devices.  So the most devices you can charge at the same time with the power bank is 2, utilizing those 2 ports.
There is also a Micro-USB port to enable you to input charge the power bank using a Micro-USB cable, but that's all you can with that Micro-USB port.  It does not provide power out.
Thankfully, the USB-C port is bi-directional and can provide input capabilities as well so that you can charge up the power bank faster using USB-C!  In addition to a USB-C-to-USB-C cable that is included, you'll find a handy Micro-USB and USB-C to USB-A combo cable (picture below), so you can basically use those 2 cables to charge just about any device you have!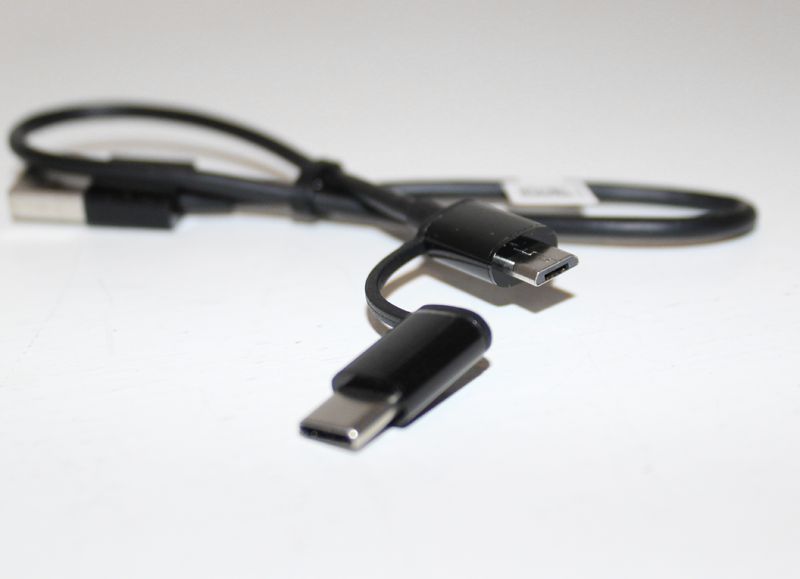 Not included in the box is a Lighting-to-USB-C cable, so you iPhone users will need to buy another cable or use the one that came with your phone.  Also not included is a power brick to plug to the wall, but I have come to expect that to be missing these days, sadly.
Special features
One feature that I like that I see included with some power banks but missing on most of them is that it automatically turns on when you plug in your device to charge.  I like that I don't have to turn the power bank on.  It also has pass-through power delivery which is nice if you are crunched for time and need to charge the power bank while also charging your phone.  And of course it has overcharge protection and it automatically shuts off when not in use.
Quick Charge 2.0 is included with the power bank, which is wonderful for me since I have a Google Pixel 3a XL, which means I get the fastest charging possible for my phone.  So you Quick Charge compatible device folks will be happy!  But it also has a built-in low charging mode for charging devices like fitness trackers and smartwatches too.
Also included with the power bank is Power Delivery 2.0, which is essentially advanced USB power delivery that is smart enough to figure out what the fastest method is to charge your device and then it provides that.  USB Power Delivery is the future of power-over-USB, so it is nice to see that feature provided in this power bank!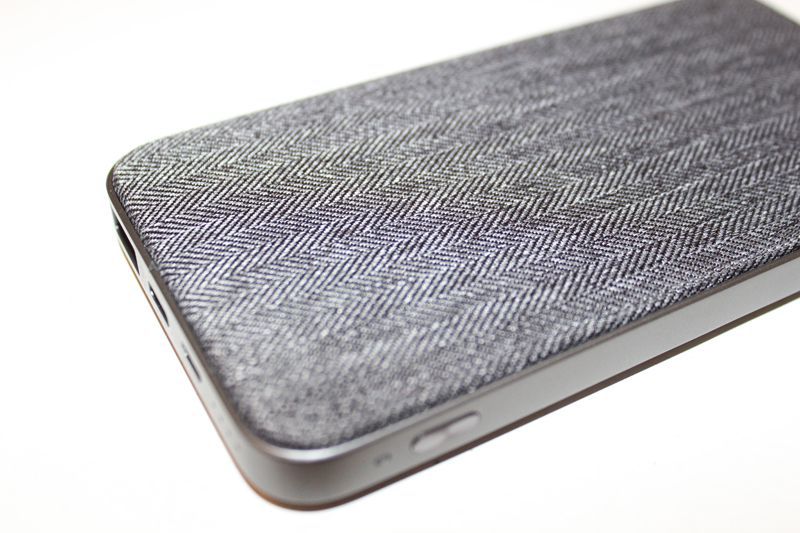 And finally, the neatest feature of the power bank that I teased in the opening paragraph is USB Adapter Mode.  That is a feature that enables you to connect the power bank to your computer via USB-C and then plug devices like a mouse, or keyboard, or jump drive into the power bank which you then use with your laptop!  Some newer laptops don't have many USB ports if any at all, so you can't use an older device like a mouse or a jump drive.  With the ZMI power bank, that problem is solved.  Pretty darn cool.
What I like
I get the fastest charging possible for my cellphone and I can still charge older legacy devices.
The price is amazing at $29.99
The design is premium
The form factor is easy to carry and store.
What I'd change
My only complaint is that I wish it had a bigger capacity
Final thoughts
Aside from wanting a bigger capacity of like 20,000 mAh, I don't have any complaints about this power bank.  For a price of $29.99 you get a power bank that provides quick charge, a premium design and feel, a carrying pouch and cables for any device you choose (except for iPhones, sorry for you guys), and USB Power Delivery is the icing on the cake.  And did I mention the handy-dandy USB Adapter Mode?  Yeah, you probably need to get this power bank.
Price: $29.99
Where to buy: ZMIUSA.com or Amazon
Source: The sample of this product was provided by ZMI.