We use affiliate links. If you buy something through the links on this page, we may earn a commission at no cost to you. Learn more.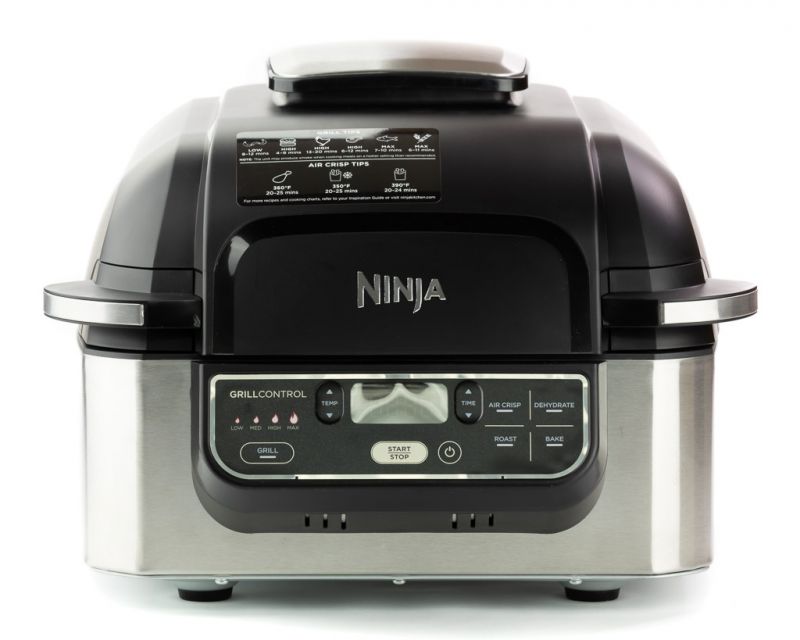 REVIEW – I previously reviewed the Ninja Cooking System, and thoroughly loved it. When the Ninja Foodi 5-in-1 Indoor Grill review offer came along I jumped at the chance to see if it was as good as the previous product.
What is it?
The Ninja Foodi 5-in-1 Indoor Grill is a virtually smoke-free indoor grill and air fryer.
What's in the box?
Ninja Foodi 5-in-1 Indoor Grill with 4-Quart Air Fryer
6-quart ceramic-coated cooking pot
10″ x 10″ ceramic-coated grill grate
4-quart ceramic-coated crisper basket
Kebab skewers (5 pack)
Cleaning brush
20-recipe book
Specifications
Product dimensions (in.): 17 L x 14 W x 11 H
Cord Length (ft.): 3
Wattage: 1760 watts
Color: Black/silver
Capacity: 10″ x 10″ grill grate, 4-quart crisper basket, 6-quart cooking pot
Dishwasher-safe parts: Yes
BPA free: Yes
Design and features
The Ninja Foodi 5-in-1 Indoor Grill has grill, air crisp, bake, roast, and dehydrate functions. Having been previously impressed with the Ninja Cooking System (crockpot), I was skeptical if they could impress me again with another product. I was also skeptical of the "air fryer" function, as I had not used one of those before.
When unpacking the Foodi 5-in-1 Indoor Grill, I was impressed with both the product design and materials. The crockpot that I previously reviewed had a non-stick surface that was and still is after over a year of use, super non-stick. The Foodi grill appears to have a slightly different non-stick coating.
The Foodi 5-in-1 Indoor Grill has a cooking pot, grill grate, and crisper basket. There is also a "Pro" package available with a smart probe, and there are also additional accessories available such as a roasting rack, griddle, and veggie tray.
The Ninja Foodi Grill has 5 modes: Grill, Air Crisp, bake, roast, and dehydrate. The grill mode has 4 heat levels, and the other modes allow you to select the temperature and time.
The operation of the grill is as simple as selecting the mode and the time. For the grill mode you choose low, medium, high, or max and then set the time. For the other modes, you select the mode, then select the time. Once pressing start, the grill will preheat. When the preheating is done, the display will show "Add Food." Simply add your food and close the lid. The grill will automatically continue.
The grill grate is designed to sit in the cooking pot while in use. This provides an area for drippings to collect so that the food does not lie in them while cooking. The grill grate also features vent holes and a spiral ridge design to help with drainage and airflow.
I've previously used those indoor "grills" that you place over your stove burner, and all they did was cook like a pan. Those things seem to dry out the meat faster than they cook it. The Ninja grill though, it's simply amazing. I was seriously impressed with the ability of the grill actually to cook like an outdoor grill. Grill marks, just the right amount of char, and it even cooks more evenly than my outdoor grill – and I don't have to baby-sit the temperature.
I cooked chicken, pork, and beef on the grill in the first two days of having it. I was in love from the first meal. This is my new favorite kitchen appliance after my coffee maker. Coffee is always first.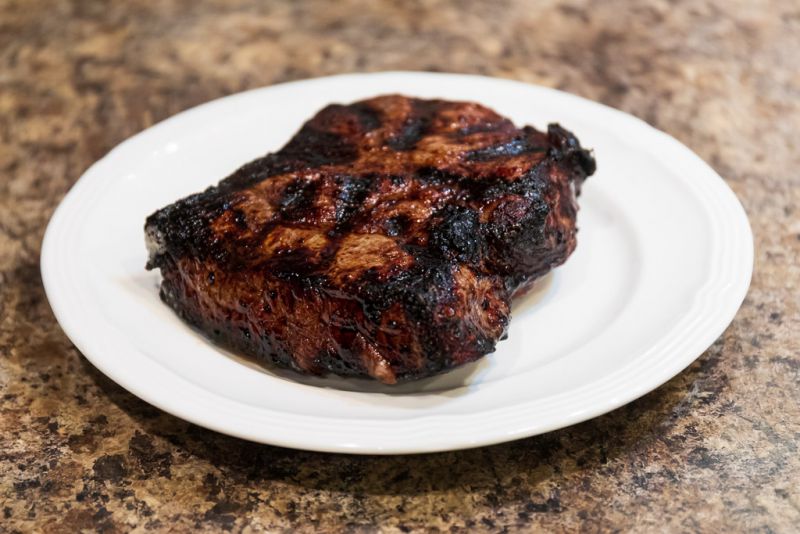 The non-stick grill surface is excellent. I cooked a steak coated in Hosin sauce, and even though the sauce looked baked on, it sprayed off with the sink sprayer without scrubbing.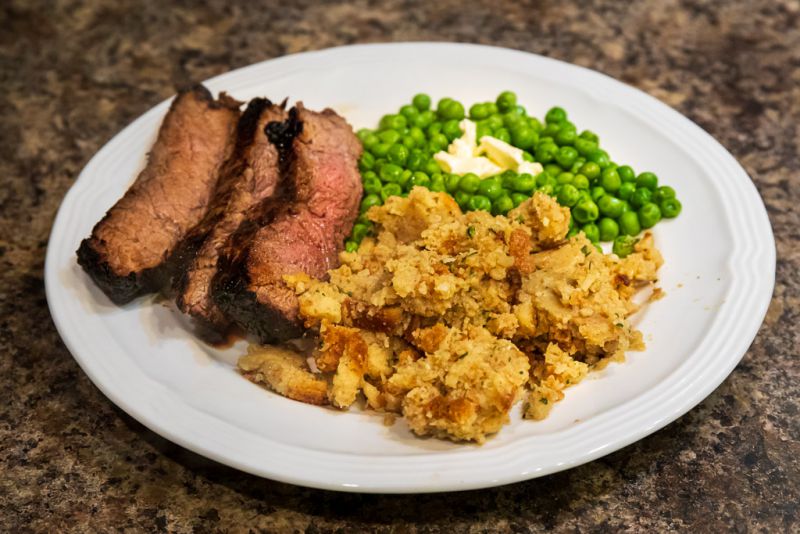 Next, the 4-quart crisper basket (also designed to sit in the cooking pot while in use) was put to the test cooking some tater-tots. It did very well. It cooked slightly quicker than in the oven. I also cooked some chicken legs in the crisper basket. In fact, I prepared three 25 minute batches, one after the other. The non-stick surface worked so well that you could just wipe it clean, nothing stuck to it. Nothing at all.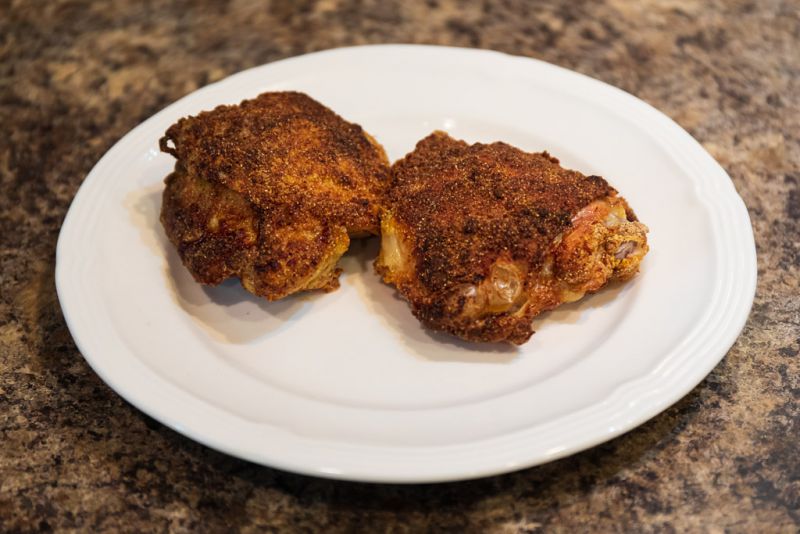 The 6-quart pot is coated with the same non-stick ceramic coating as the other items.
Another nice feature is that if you open the lid while you're cooking, the grill and the timer will pause. When the lid has closed, the grill and the timer automatically resume.
Cleaning the Ninja Foodi Grill is extremely easy. The non-stick ceramic coating is simply amazing. I wish Ninja would make pots and pans with this coating. The included brush is also very helpful for getting down into the groves of the grill.
All air-fryers are just basically small convection ovens (an oven with a circulation fan), but the Cyclonic Grilling Technology of the Ninja Foodi Grill cooks food more evenly and faster. The cooking pot, air crisper basket, and grill grate make the Ninja Foodi Grill truly a multi-use kitchen appliance. The cooking range of 105-500°F (40-260° C) allows for a great range of uses.
The recipe book is great also. It's not only well-illustrated but easy to follow. The recipe book includes recipes for marinades, spice rubs, dipping sauces, and recipes for various types of meats and vegetables. The back of the recipe book contains 12 pages of cooking charts that are very helpful.
What I like
Easy to use
Extremely easy to clean
Automatically pauses when checking/turning items
What I'd change
A large version would be nice but would be a little harder to store
Final thoughts
If my Ninja Foodi Grill were stolen, I would run out and buy another tomorrow. I now find myself at the store shopping for items that I want to try to cook in it. I'm still amazed at just how well it grills meat with real char-grilled flavor (and char marks). I don't rave about many products, but this one really does continue to amaze me in its ability to quickly and easily prepare great food. Well done Ninja, well done!
Price: $199.75
Where to buy: Ninja Kitchen and Amazon
Source: The sample of this product was provided by Ninja Kitchen.