We use affiliate links. If you buy something through the links on this page, we may earn a commission at no cost to you. Learn more.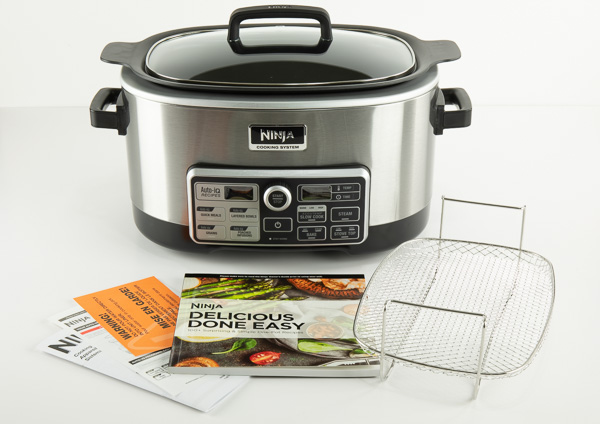 REVIEW – Lately, I've had a few reviews that were a little bit on the frustrating side, either dealing with problems or just a lot of figuring things out due to the lack of features or inadequate software. The Ninja Cooking System with Auto-iQ broke that trend by being simply a joy to use.
What is it?
The Ninja Cooking System with Auto-iQ is a multi-cooker system that is four appliances built into one. A slow cooker, a stovetop for searing and sautéing, a steamer, and an oven for baking. Not only that, but it has a little bit of seamless technology tossed in that makes it even nicer to work with.
What's in the box?
6-Quart Lightweight Nonstick Cooking Pot
80+ Recipe Cookbook
Steaming/Roasting Rack
Glass Lid with Handle
Multi-Purpose Pan
Design and features
I work from home I and often do a lot of cooking in our household, not just because my wife often works later into the day than I do, but because I enjoy cooking, and I enjoy eating! The Ninja Cooking System was a welcome addition to the various cooking appliances I have, and may very well send a couple of them to an early grave.
I was initially intrigued by the Ninja's ability to do several things. Often multi-use kitchen items work, but they don't do each individual task they're designed to do very well. The Ninja does each thing very well, and I think that's because they're each close in function to each other.
The first thing I did after taking unboxing photos was to toss in a bison roast and fire that baby up for a nice 9-hour slow cook. I must say, it came out fabulous. I think it was one of the best roasts that I've cooked. My old slow cooker only had warm, low, and high settings which were often either too low or too high of a temperature. Not with the Ninja! If the settings on the slow cook mode aren't to your liking you can simply put it into bake mode and set any temperature in the range from 250°–425°F.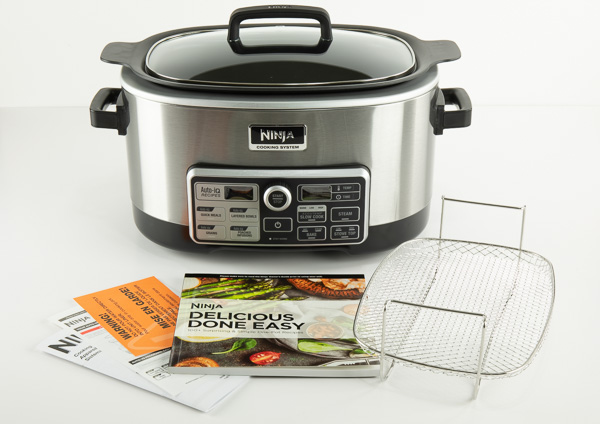 I really liked the steam mode, as it had much more room than my regular steamer. The removable steamer rack is 7.25×10.5″ and provides 3.5″ of vertical room to the top edge of the pot. That's a lot of vegetables! It's also easier to clean than my steamer.
The steamer rack can also be used to place a small pan or loaf pan in the cooker for baking bread or other items. It did a pretty good job of cooking a small loaf of bread.
The stovetop mode is just as it sounds, it's like cooking in a pan on the stove top. This was a welcome addition to my kitchen because I really don't like the electric stove I currently have because it's too hard to control the heat. The stovetop mode also lets you sear meat and then cook whatever you want without having to dirty a separate pan. When I cook my chili I like to sear my meat very well, then I would normally have to add a little water to get all the caramelized goodness into my crock pot. With the Ninja, I simply seared the meat and then added my other ingredients directly to the pot without using a frying pan.
If you're not comfortable with the manual cooking modes, there are the Auto-iQ modes. Simply pick a meal from the included 80+ recipe cookbook, follow the easy directions and select the recipe number and press start. Some recipes are as simple as just dumping in all the ingredients, selecting the recipe number and pressing start. You can choose from over 80 pre-programmed recipes divided into four Programs: Quick Meals, Layered Bowls, Grains, and Poached Infusions.
I found that the non-stick surface on the cooking pot was fabulous, it cleaned up very easily, even after cooking BBQ ribs for 8 hours. Unlike some slow cookers, being able to remove the cooking pot for cleaning was a real time saver and it is extremely light-weight as compared to a ceramic slow cooker. My wife even commented on how easy it was to wash.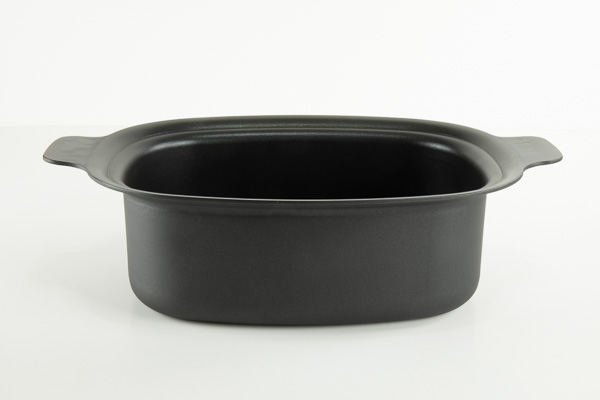 Although the product I received did not include the multi-purpose pan, the product listed on the Ninja site shows that it is included when ordering it through their store.
A PDF of the cookbook is also available on the Ninja website if you want to check out the delicious recipes in the recipe book. The recipe book also contains a chart for steam times for various vegetables and a slow cook chart for various meats.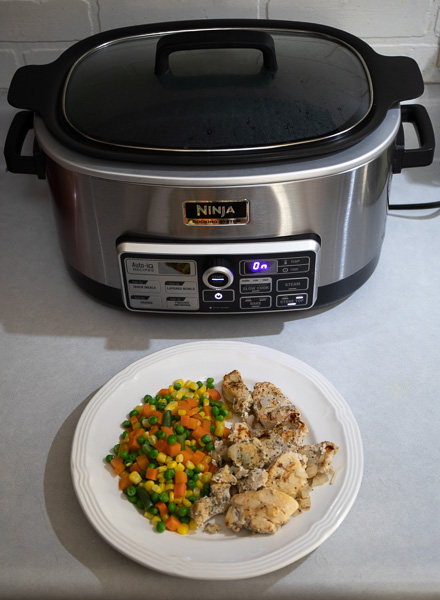 What I like
Additional accessories available such as a loaf pan, mini muffin tray and multi-purpose pan.
Temp and Time bake mode
Auto-stay warm feature when cooking is done
Steaming/Roasting Rack
6-quart capacity
What needs to be improved
I can't really think of anything that could be improved with this cooker as it does everything so well. If I wanted to be really picky I would say that the stove top feature could heat up a little quicker, but I like how the current model works because I don't have to worry about it getting too hot too fast.
Final thoughts
Whether it was a roast, ribs, steaks, or corn or whatever else I cooked (can't remember everything because I've used it a lot) everything came out great. I really like the control of time and temperature, without the need to constantly babysit stuff as I would on a stove top or oven. I'm so impressed with this cooker that I'm going to purchase another one because you can never have enough slow cooked food!
Price: $149.99 (other models available also)
Where to buy: Ninja and Amazon
Source: The sample of this product was provided by Ninja Kitchen