We use affiliate links. If you buy something through the links on this page, we may earn a commission at no cost to you. Learn more.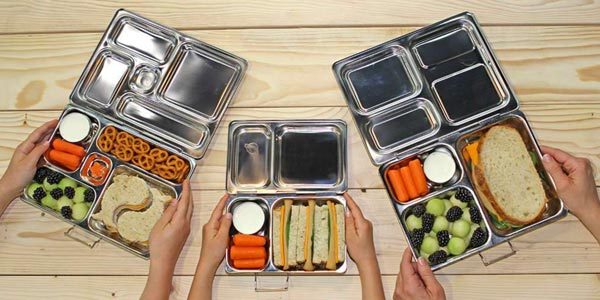 NEWS – Just like with most reusable lunch kits, taking your lunch from home will be more eco-friendly.  You will reduce waste because you won't need plastic bags, waxed paper, or aluminum foil to package up your lunch.  You don't have to worry if the PlanetBox lunchbox is food-safe and BPA-free.  PlanetBox says they take "non-toxic, non-leaching, safe from BPA, phthalates, and lead" very seriously.  Their lunch kit isn't made of plastic – it's made of high-quality stainless steel that's warranted for 5 years.
PlanetBox lunchboxes have been thoughtfully designed after years of studying how people use lunchboxes.  They have compartments of various sizes to hold sandwiches or an entree, veggies, chips, fruit, and even some tiny compartments for dressings or even a small dessert.  The size of the compartments can guide you to pack sensible portions.  The lunch kits are dishwasher safe, and unlike plastic containers, the stainless steel doesn't stain or hold on to odors.
The boxes are available in three sizes, so just like Goldilocks, you'll be able to find a PlanetBox that's just right for the way you pack lunch for your kids or yourself.  The Shuttle (small, center) holds 3.5 cups of food and is $39.95; the medium-sized Rover (left) holds 5 cups of food and is $55.95; and the large Launch (right) holds 7 cups of food and is $59.95.  You can purchase magnet kits to personalize the kits with designs from dinosaurs to galaxies, or you can have custom-printed magnets made for a truly unique kit.
PlanetBoxes are available alone or as part of kit with magnets, a carrying bag, and a drink bottle.  Other accessories, like cutlery sets, napkins, and snack containers, are also available.  Shop PlanetBox for your own eco-friendly lunchbox and accessories.  Also check out the meal planning ideas while you're at the PlanetBox website.