We use affiliate links. If you buy something through the links on this page, we may earn a commission at no cost to you. Learn more.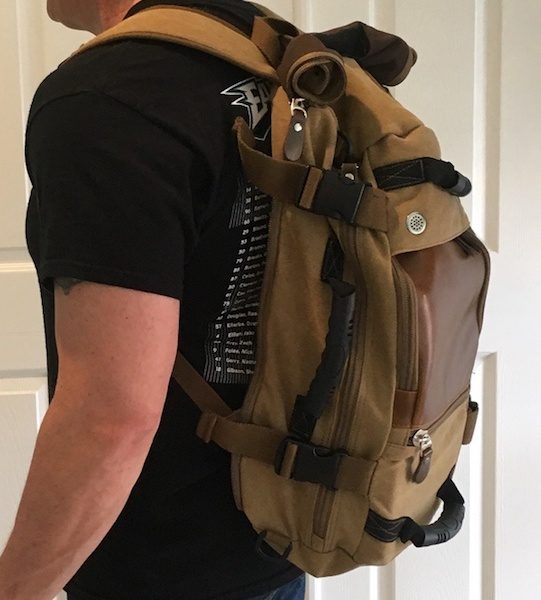 REVIEW – Convertible bags are great, but they also present a tricky design challenge to make sure the bag works in both vertical (backpack) and horizontal (messenger) mode. Today we're looking at Lululook's take on the convertible backpack/messenger bag. There are 's a lot of interesting  design happening here. How does the whole package come together? Let's have a look!
What is it?
It's a canvas backpack that converts to a messenger bag.
Hardware specs
Cotton canvas with leather accents

Molded plastic hardware

12" by 18" by 7"
Design and features
The Lululook Canvas Backpack is a convertible backpack/messenger that's all about urban style. Tan is the primary color in my tester, but there's some well-balanced use of earth tones in the trim & hardware (plus some leather hits) that provide visual interest. It's a good looking piece of carry.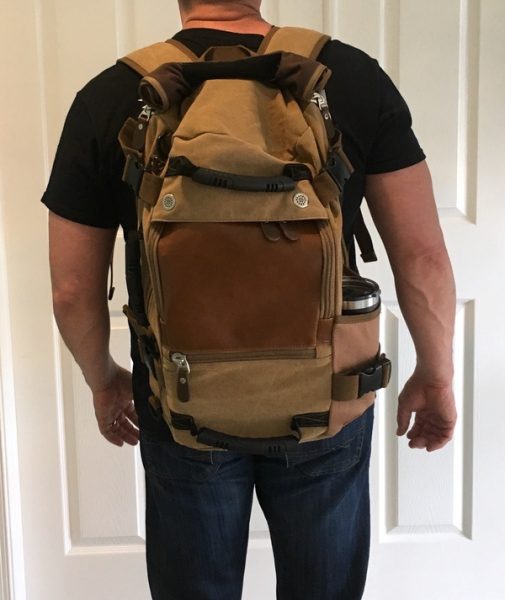 The exterior seems pretty well put together for a bag at this price point. Soft cotton canvas is the primary material, with cotton webbing used for straps throughout. Rugged plastic hardware and chunky zippers (not YKK, unfortunately) add to a build that feels fairly substantial. The interior fabrics are an issue, however, as we'll see below.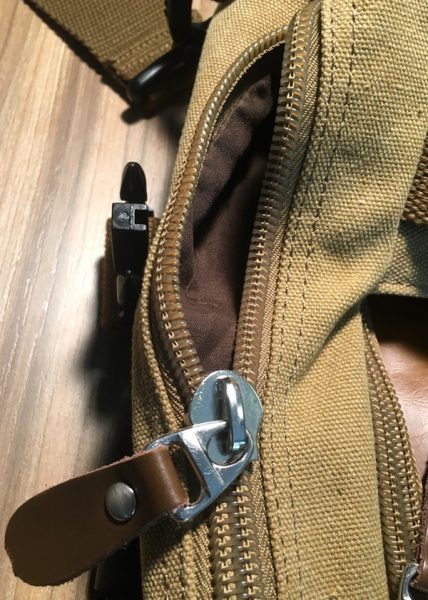 The design is built around a simple 12" by 18" by 7" box shape. The backpack straps are hidden behind a zippered panel on the rear of the bag that rolls up and velcros to the top of the bag when in use. See below for the walk through: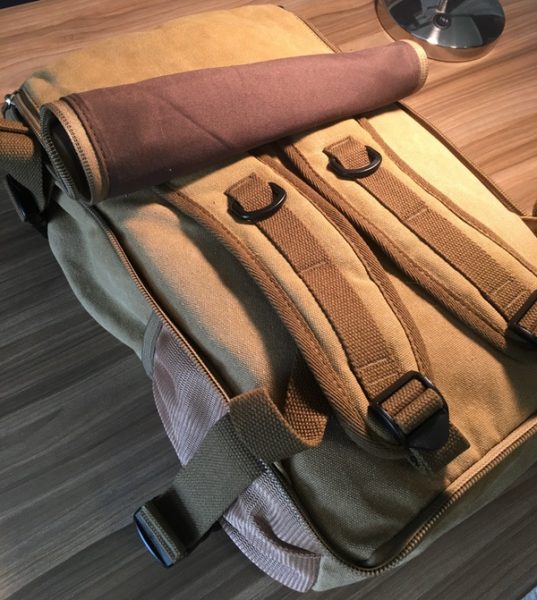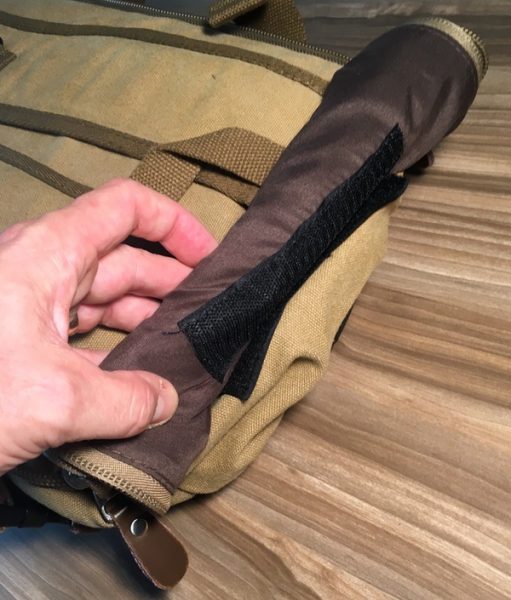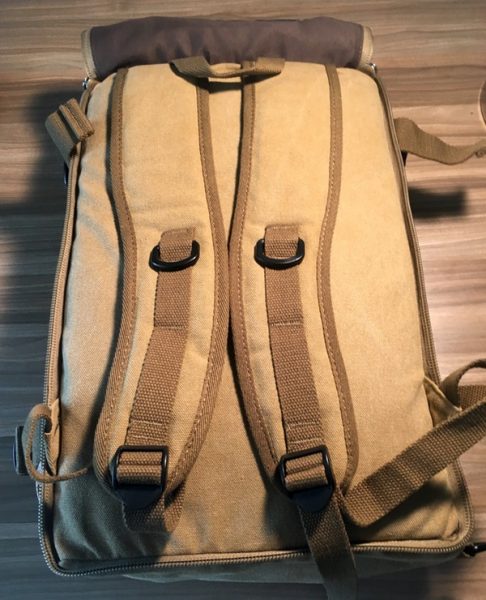 It's a clever solution that, when combined with the low-profile backpack straps, gives you a nice option for stashing those straps without adding a lot of extra bulk. Those straps are also comfortable despite the light padding.
You'll find two pockets on the front face to organize your goods. That leather flap unzips on three sides to reveal a monstrous pocket that runs almost the full height and width of the bag. There's also a horzontal pocket below it that's plenty big enough for power bricks and such.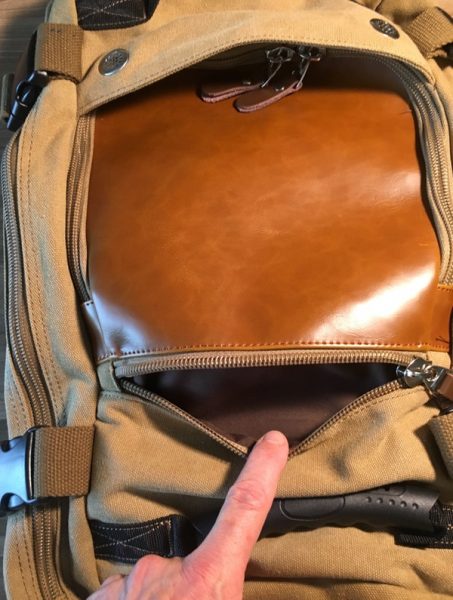 This presents one of the challenges I have with this bag design. See how those zips have to get under that rain hood at the top of the bag? It's really tough to make that zipper turn those corners under the grommets without a fight. Maybe the zips will loosen up over time, but I found it really hard to get into this compartment.
This leads to the second issue I have with the front pocket: not only is it huge and tough to get into, but the pocket is backed by nothing but a thin piece of fabric. There's a thin fabric divider in this space, but it just gets in the way. I dropped a 9″ by 11″ textbook in there… you can't see it, can you?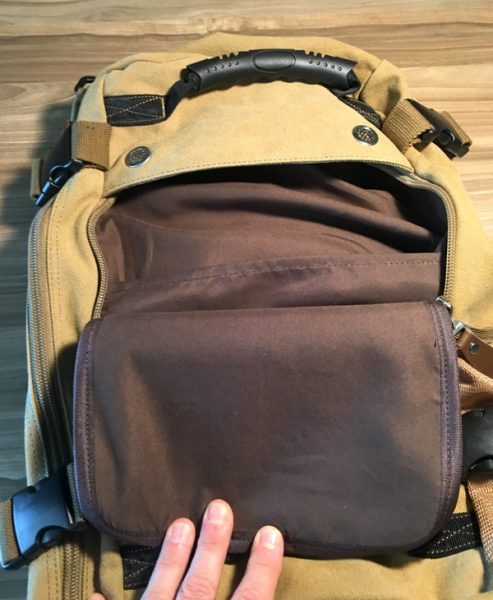 With no internal support, that space just turns into a big floppy black hole. Big items get lost, and small items vanish into the void. Between this and the trouble working that zipper, I found myself not using that pocket much on a day-to-day basis. I also see that thin fabric as an area with a high potential for tearing over time.
On the plus side… the main compartment is enormous. Some soft padding on the rear panel and the divider will protect a laptop up to 15″, and the rest is just open space for whatever you like. We're talking roughly 30 liters of space if you're not putting too much in the front compartments.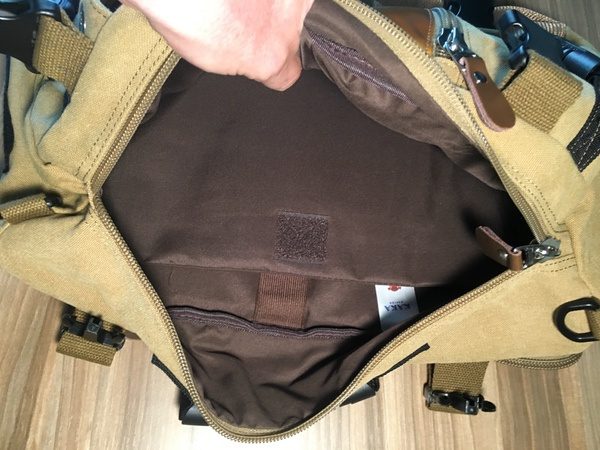 I stuffed 6 books, my laptop, and an ipad in there in addition to the textbook in the front compartment with plenty of room to spare. If you like big spaces to bung all your gear, you'll like this.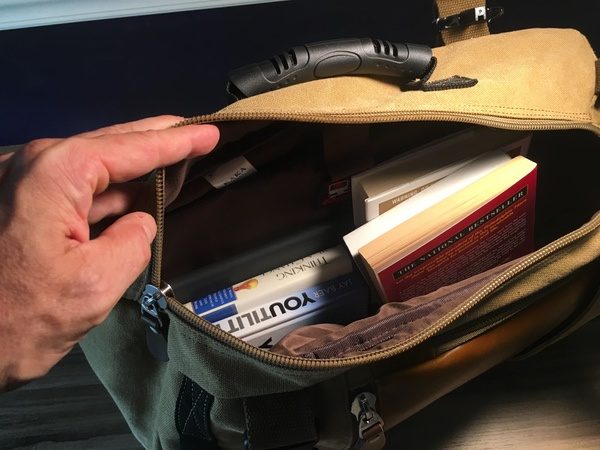 There are some thoughtful additions to design that I like quite a bit. Three rubberized grab handles are placed at the top, bottom, and side of the bag for tossing it around. They're nice & grippy, and work well when getting in and out of vehicles: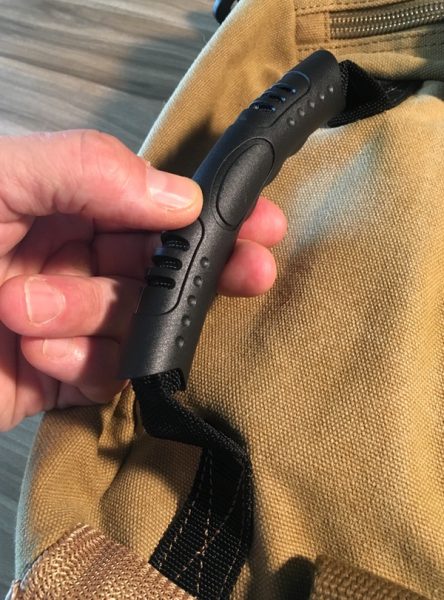 Compression clips at the four corners of the bag are very much appreciated for cinching things down if you're lightly packed: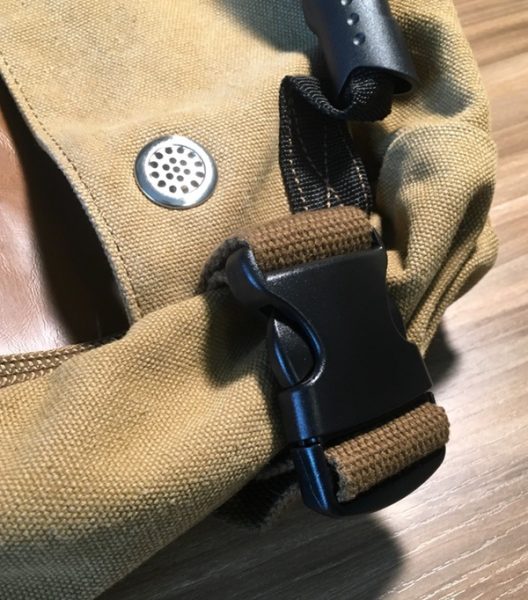 The elastic mesh water bottle pocket is also a nice touch… while I have that compression strap unlocked here, it actually expands with the pocket to handle the Yeti 24 ounce mug you'll see in some of the other pics: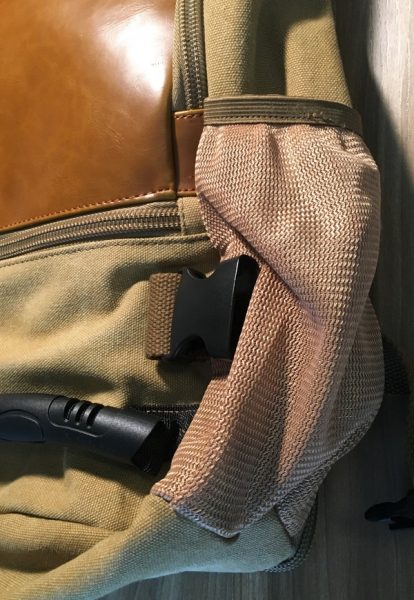 When you want to go to one-shoulder mode, the included cotton web strap clips on the same side as the main compartment opening and side grab handle (which now becomes a briefcase-style handle). There's no shoulder pad, but the strap is sturdy and comfortable. The hardware and attachment points are all solid.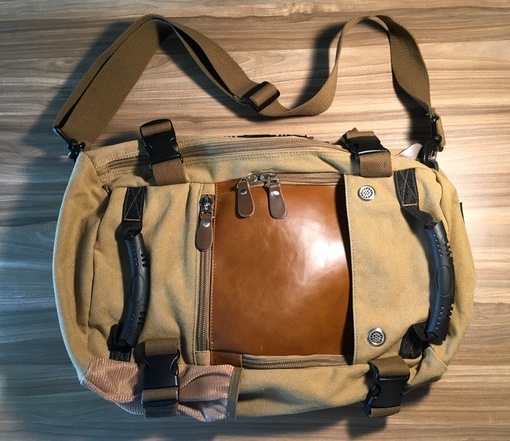 Sadly, that front panel pocket is even less usable in this mode. It's just impossible to access when the bag is turned on its side. The messenger-style carry works great for the main compartment, however, which turns into one big ol' stuffable space. Note that the compression straps need to be unlocked to unzip to the main compartment in this mode.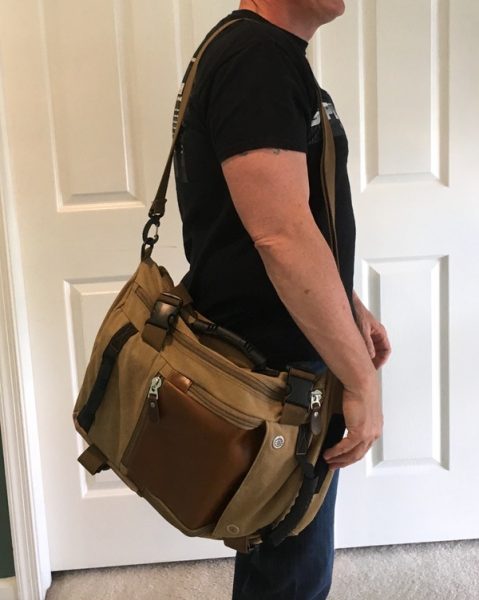 With all those soft fabrics and no framing, it's important to note that the bag tends to sag and flop based on whatever you put in it. You can see that everything I loaded into the bag sinks to the bottom as shown below: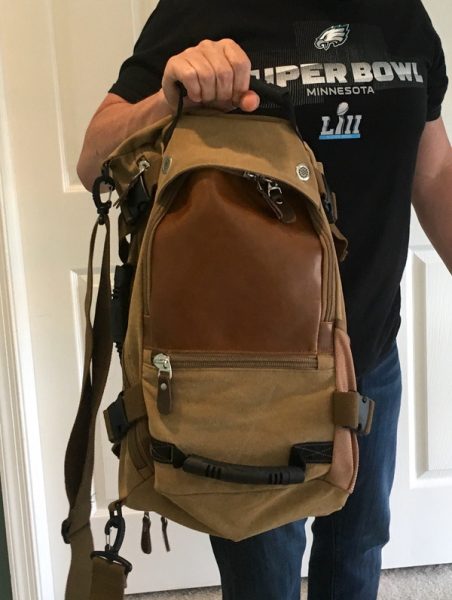 There's a lot to like in this bag, but I found myself dealing with tradeoffs in both backpack and messenger mode that took away from the overall usability. If you're an organizer with a lot of tech, you probably won't be happy with this bag. If you like a floppy, unstructured bag that will accommodate all kinds of stuff, this may be a good fit for you. I'd prefer to see that front pocket redesigned (or removed entirely) to make this bag really usable.
What I like
Good looking, modern style
Some nice additional features in the compression clips, multiple grab handles, and water bottle pocket
Roomy
What needs to be improved
The main front pocket is not very usable
The bag could use some more structure to keep your stuff from sinking to the bottom
Interior fabrics are flimsy
Very little organization for tech and small bits
Final thoughts
The Lululook Backpack for Men is a mixed bag (pardon the pun) for me. It looks great, and there are some nice design elements that I quite like. There are some challenges in the overall layout, however, that you may want to consider if you're thinking about this one.
Price: $45.99
Where to buy: Visit the Lululook web site for purchasing information.
Source: The sample of this product was provided by Lululook.