We use affiliate links. If you buy something through the links on this page, we may earn a commission at no cost to you. Learn more.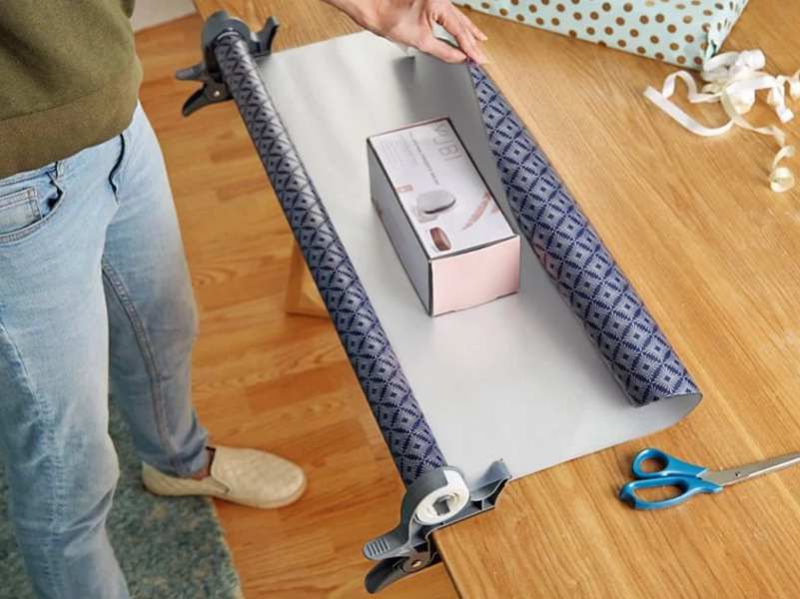 NEWS – I love the holidays, and I'm one of those rare people that also enjoy wrapping the gifts I purchase for family and friends. But as much as I like giving nicely wrapped gifts, the wrapping process itself can be challenging. No matter how big the working surface, the roll of wrapping paper always seems to find its way onto the floor. And I always seem to lose the tape roll during the process.
Enter the Wrap Buddies Table Top Gift Wrapping Tool. This simple 2-piece wrap dispenser is here to save the holidays. Well, that might be overstating things a bit, but it will make wrapping gifts easier. The tool consists of a pair of clamps that securely attach to any table and can be adjusted to hold any width of wrapping paper roll. Using it is easy. Clamp it to a table, insert the wrapping paper, roll it out and get wrapping. Both clamps feature an integrated tape dispenser. So you'll always have tape handy. And the two pieces can be pressed together for easy storage.
The Wrap Buddies Table Top Gift Wrapping Tool sells for $20 and is available from The Grommet. Currently, both colors are back-ordered, but The Grommet says new orders will ship on 11/20, just in time to get those gifts wrapped for the holidays.