We use affiliate links. If you buy something through the links on this page, we may earn a commission at no cost to you. Learn more.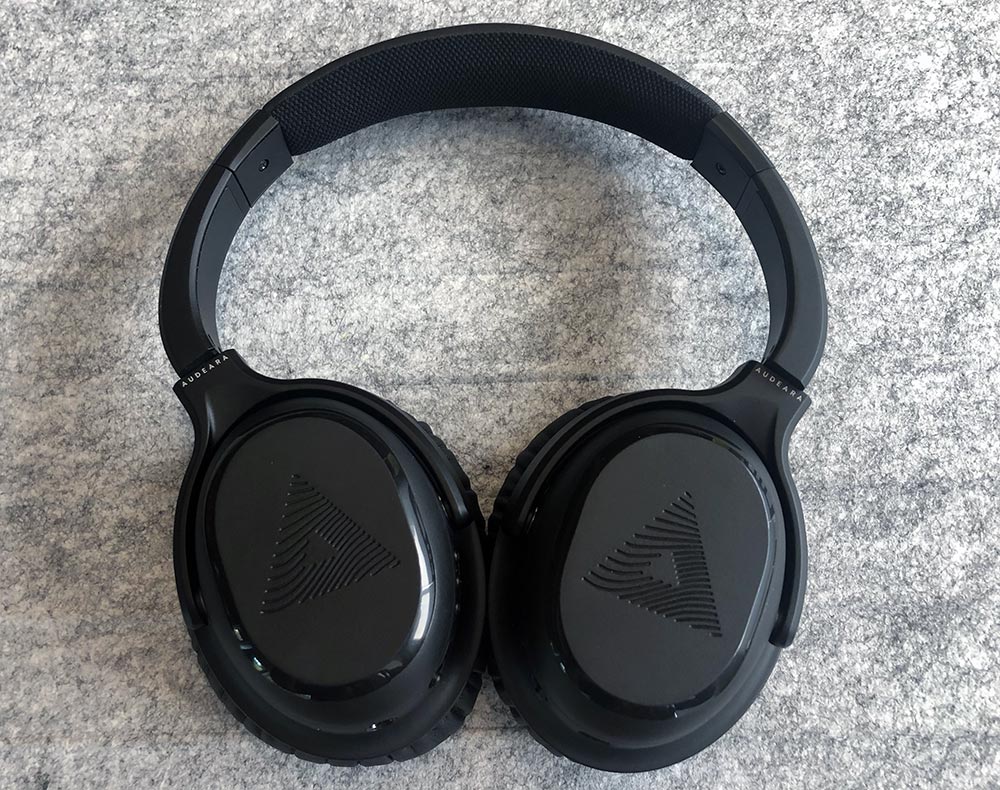 REVIEW – Over-ear headphones have always been my favorite go to for immersive listening. Audeara reached out about reviewing their A-01 headphones and since I've been traveling quite a bit for my day job, the timing turned out perfect. A good set of noise-cancelling headphones are a must-have for long flights to help reduce fatigue or even just to be able to enjoy media in-between fitful bouts of sleep. The A-01s have a key feature for customizing the sound profile unique to your own hearing. Seeing as I turned half-ninety a couple of years ago and have been increasingly concerned that my hearing is not what it used to be, that was a feature I was most excited to check out.
What is it?
The A-01s are over-ear headphones that support both Bluetooth, 3.5 cable connections, active noise cancellation, and sound profile customization.
Hardware specs
• Connectivity: Bluetooth and 3.5mm wired
• Range: ≤10m (BT)
• ANC: Active Noise Cancellation
• Listening Time: ≤65 hours
• Drivers: 40mm Mylar
• Freq. Response: 20Hz-22kHz
• Impedance: 32 Ohm
• Charging: MicroUSB
What's in the box?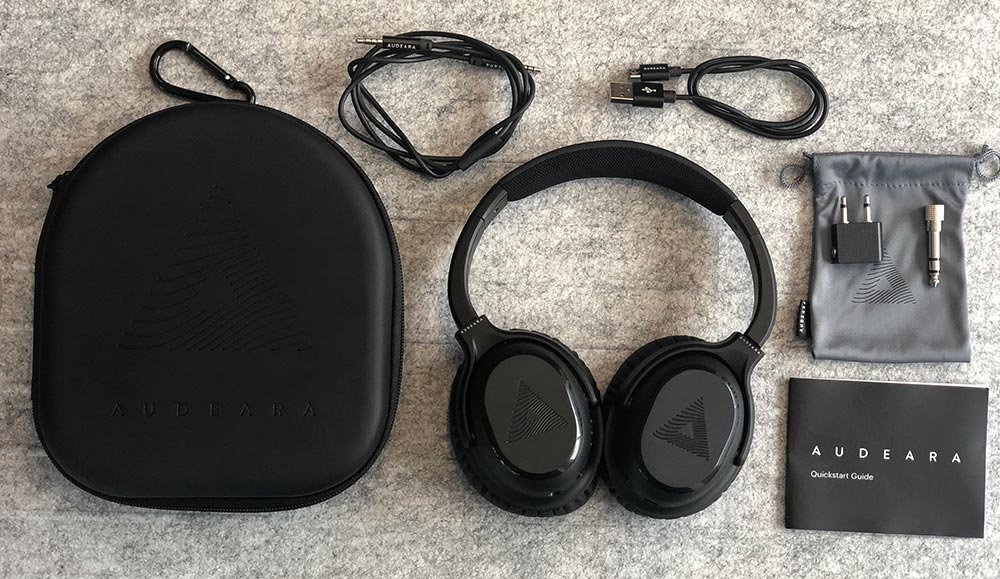 • A-01 Headphones
• Charging cable – Micro USB to USB-A
• 3.5mm audio cable with microphone and single multi-function button
• Airline audio adapter
• 1/4 Phono plug adapter
• Microfiber pouch for cables and accessories
• Molded travel case
• Quickstart guide
Design and features
The overall design of the A-01s is a clean, traditional take on over-ear headphones. They're a glorious matte black with understated graphics that are hard to object to. They are slightly heavier than I was expecting, but very much a positive as the construction is largely aluminum and feels very solid. Nothing about them feels cheap.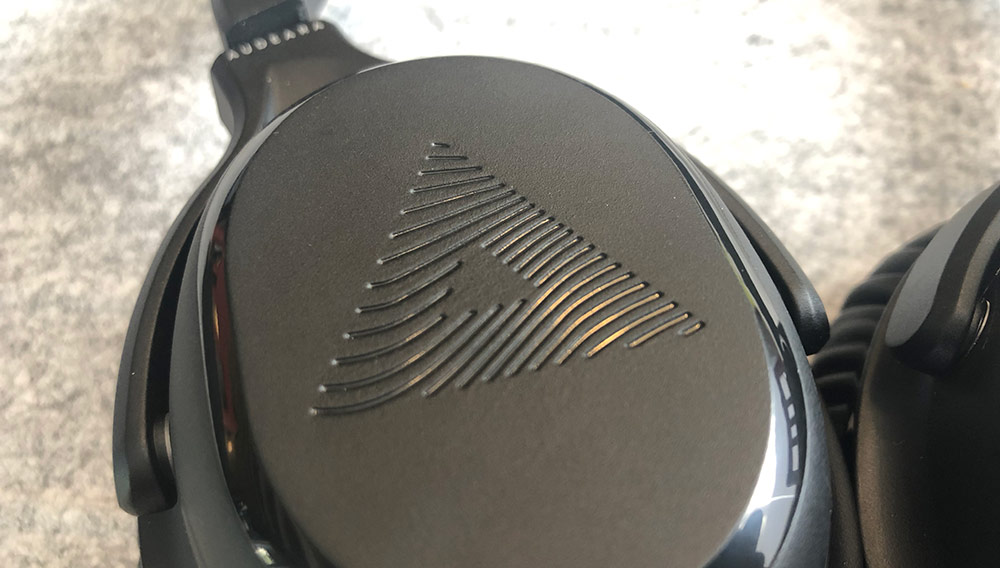 All the accessories are a notch up from what's typically included with metal housings on the cables and tasteful Audeara branding across most of them. The molded EVA case holds all of it in a compact, fit-in-your-pack form.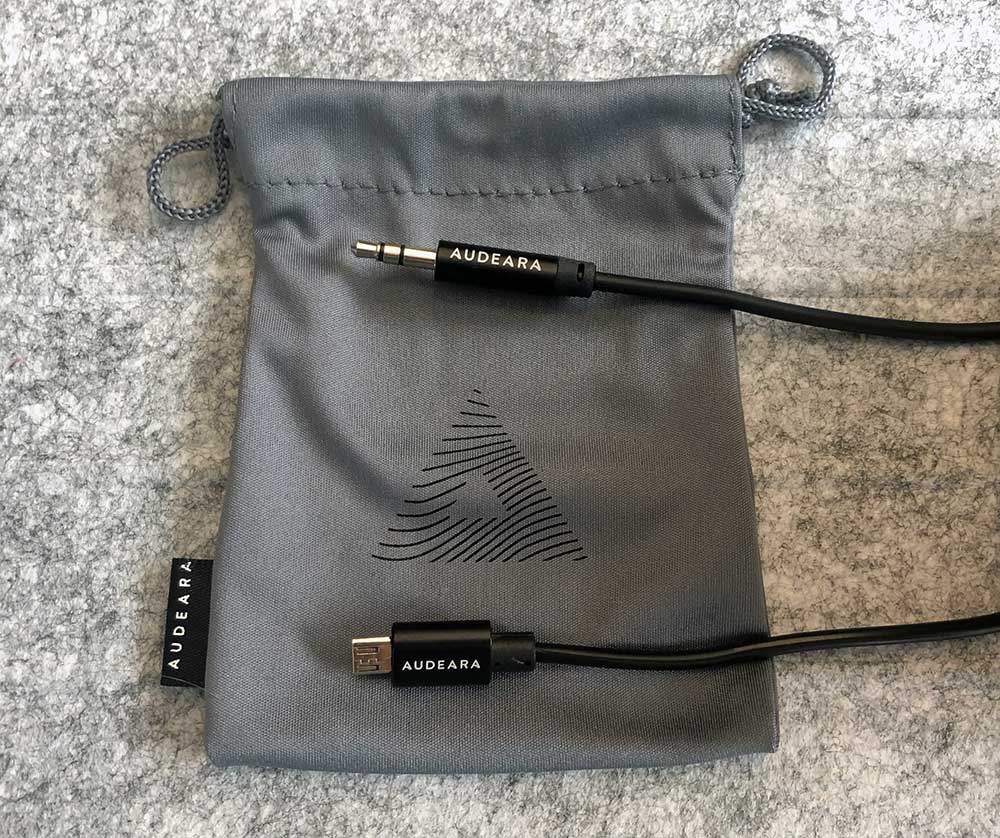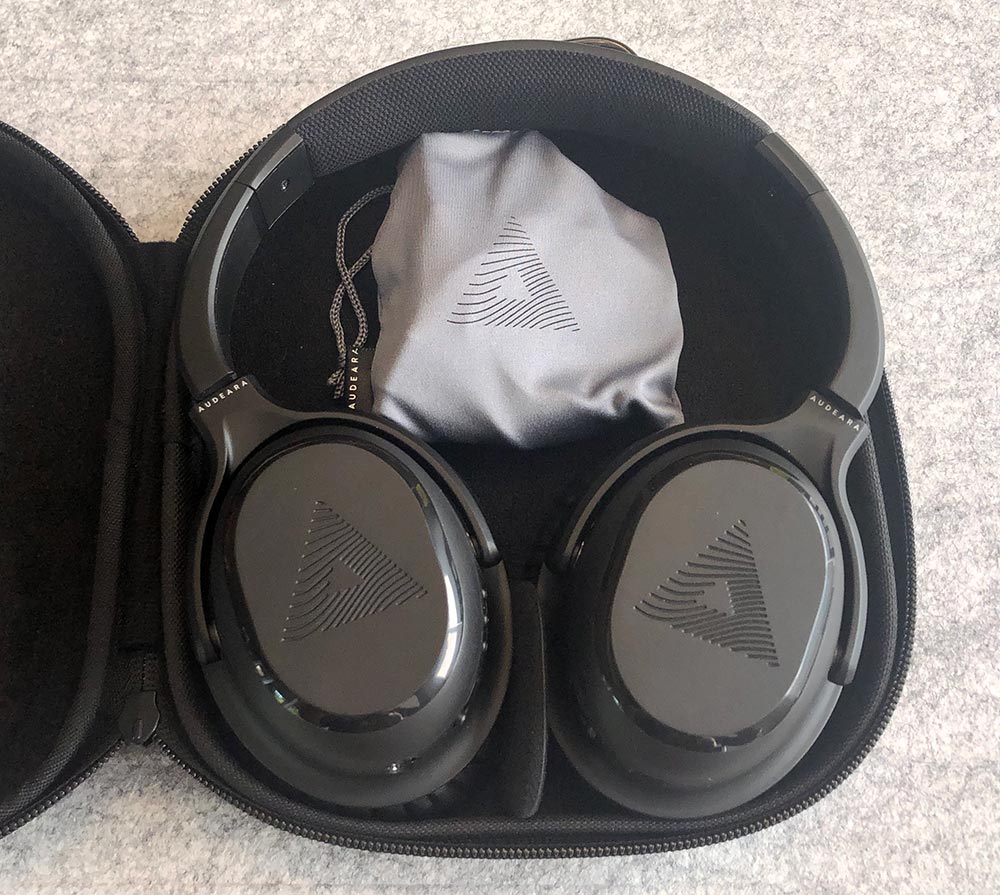 From a fit perspective, the ear cups pivot 90º inward just above the yokes which provide about 30º of vertical rotation to seal against your head very well. The clamping force of headphones are directly related to their weight and nailing that balance can be pretty tricky. Audeara opted to have the headband extend further out from the head to help strike that ratio. I think they got it right, but it does stick out a bit as you can see in this photo.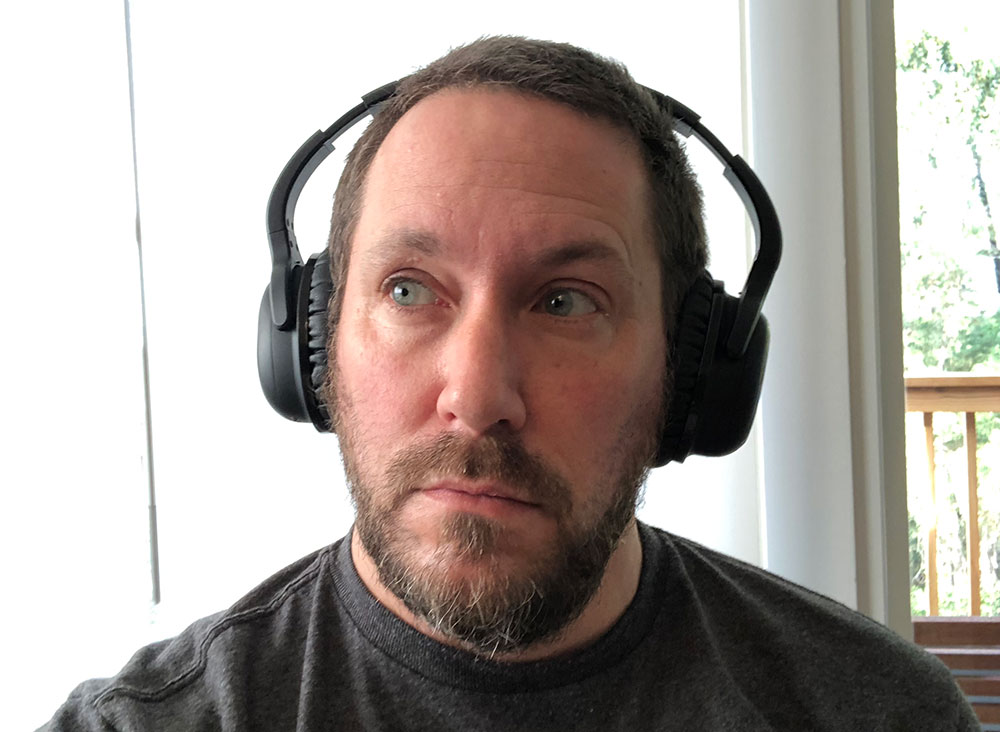 The headband is a very soft synthetic leather (guessing) with a subtly debossed Audeara logo and a padded air mesh that rests against your head.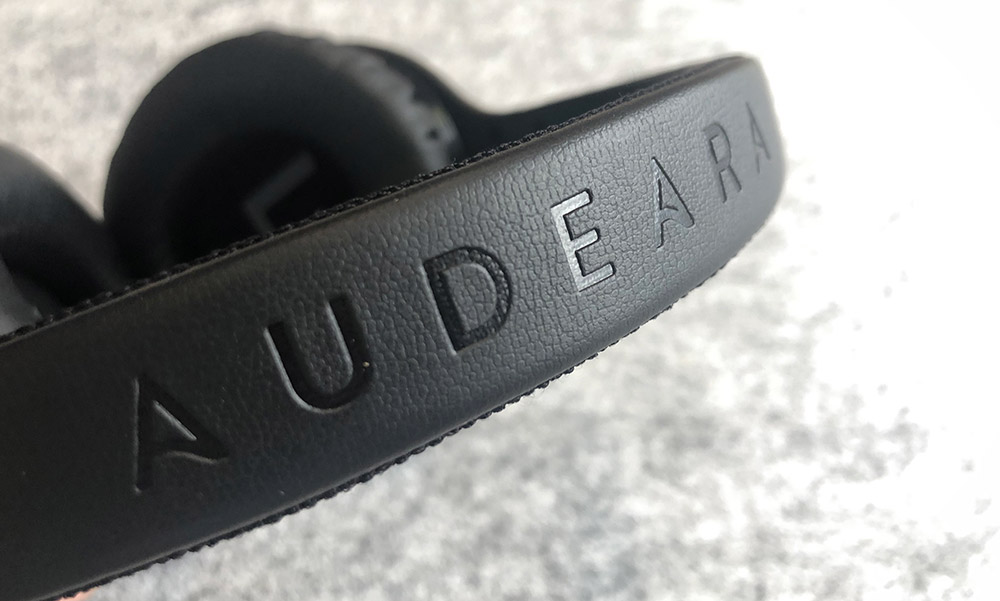 The sizing adjustment uses a friction slide with detents for positioning. The detents are not super positive, but they also do not slip once set.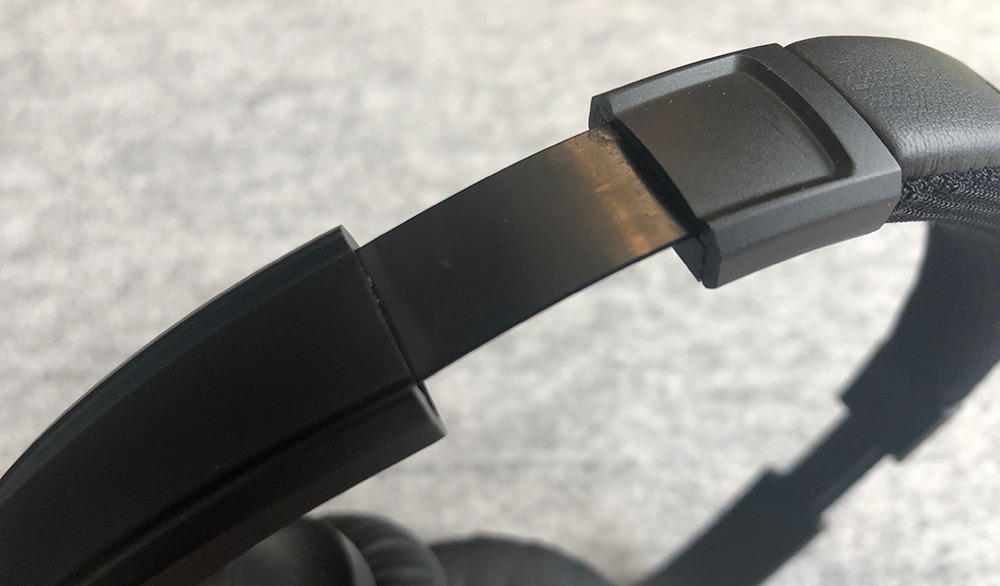 The ear cups are comfortable foam wrapped with a soft synthetic leather material and sport very large R and L indicators on the inside speaker covers that you cannot miss.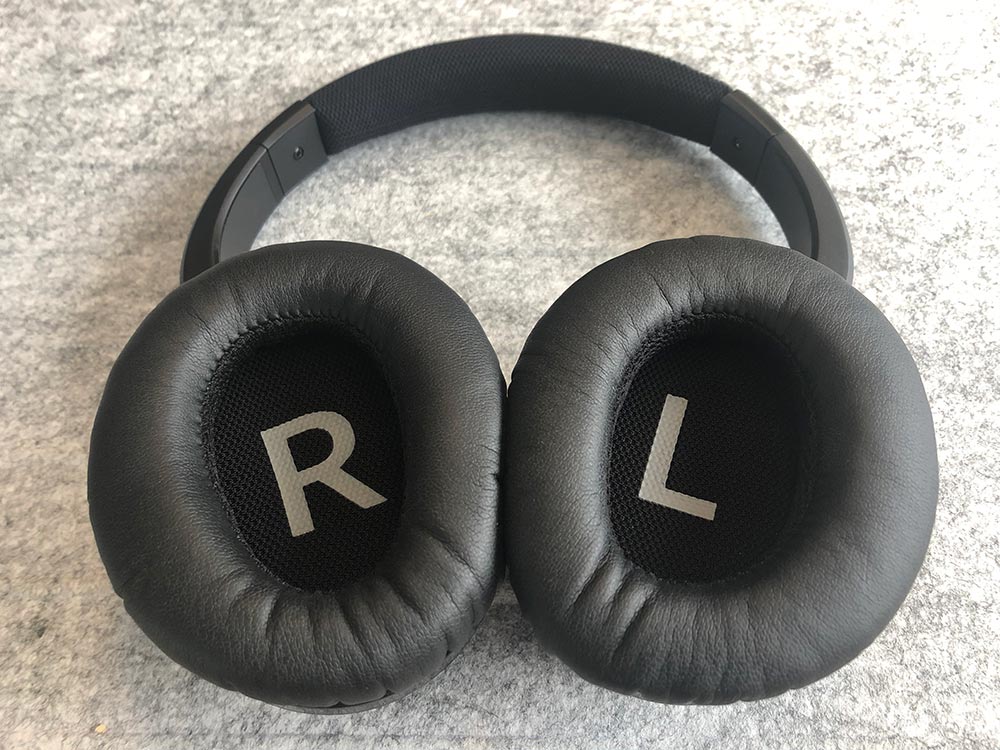 The majority of all the controls are on the left ear cup, where you'll find…
• Volume Up, Multi-function (play/pause/skip), Volume Down
• Power on (bluetooth) and corresponding LED
• 3.5mm audio jack
• A small hole which I'm assuming is the microphone for ANC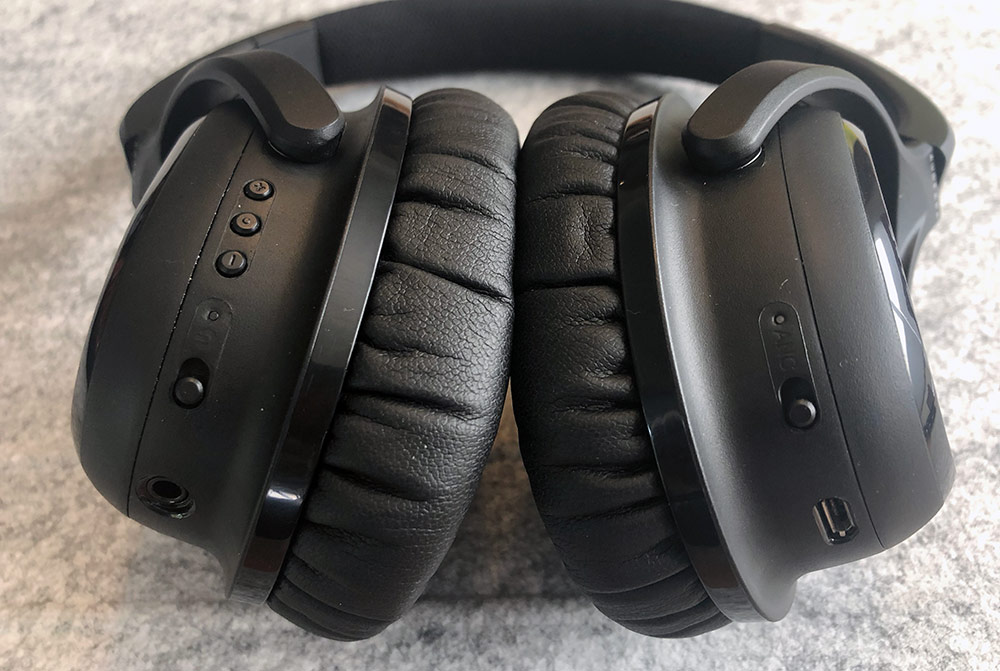 Over on the right ear cup are the following…
• ANC switch and corresponding LED
• Micro-USB charging port
Setup
1. Insert the micro-USB charging cable and fully charge the headset. Allow up to 6 hours for a full charge. The LED will be red while charging and will turn blue when charging is complete.
2. Download the Audeara app from the Play store for Android devices or from the App Store for Apple devices.
3. Turn on your headphones with the switch on the left ear cup. It may help to put them on your head before you flip the switch as there are voice prompts. Press and hold the multifunction button (center of the three) for three seconds to put your headphones in pairing mode. You'll hear "pairing" and/or see the LED flash blue/red. Go into Bluetooth settings on your device and select Audeara A-01 from the new device list. You can set up a second device repeating the same step with a limit of two connected devices.
4. Now you get to personalize your headphones. This is technically a setup step, but I'm going to move into performance because it's so intricately linked.
Performance
As I mentioned earlier, I was excited to jump into the hearing profile test. Their App offers 3 levels of customization; 8, 16, or 32 bands which translate to a test that is either 3, 5 or 10 minutes of listening to beeps and adjusting sliders to show what you can and cannot hear. You can run the test for yourself or for others. It's a cool process where you can increase the volume of each tone until you hear it (know what you're listening for) and then back it down until you select 'barely audible' and move on to the next tone. You'll need a quiet place to do this as the tones get really faint at the bottom of each adjustment. I left noise cancellation off for this step as I did notice some suppression.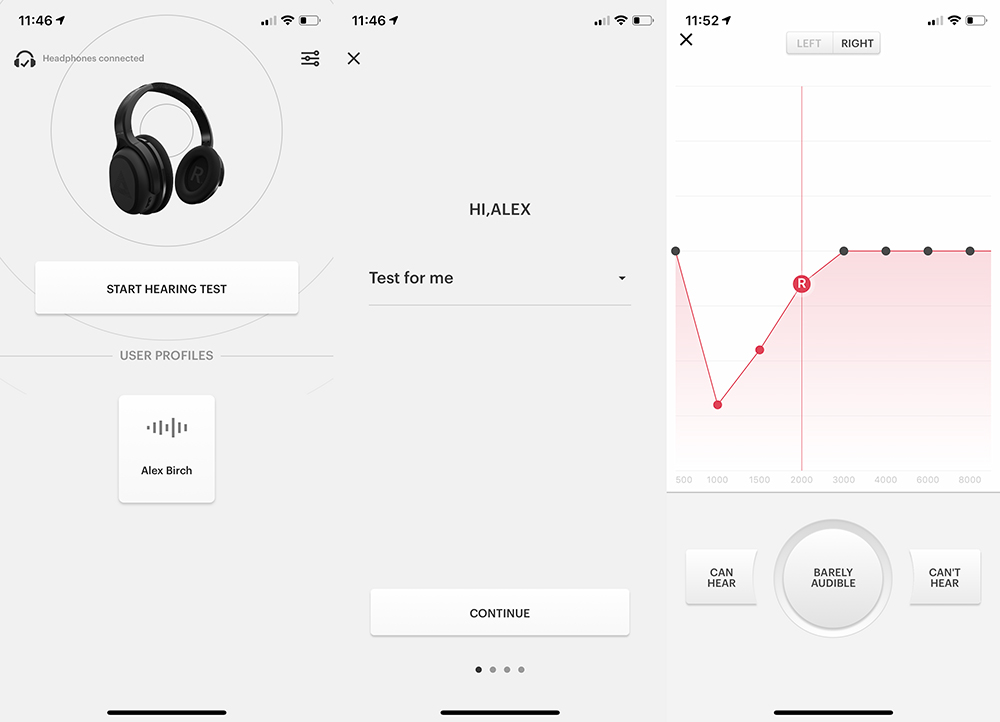 Here's what my 32 point graph look like after going through the steps and instructions on how to read them.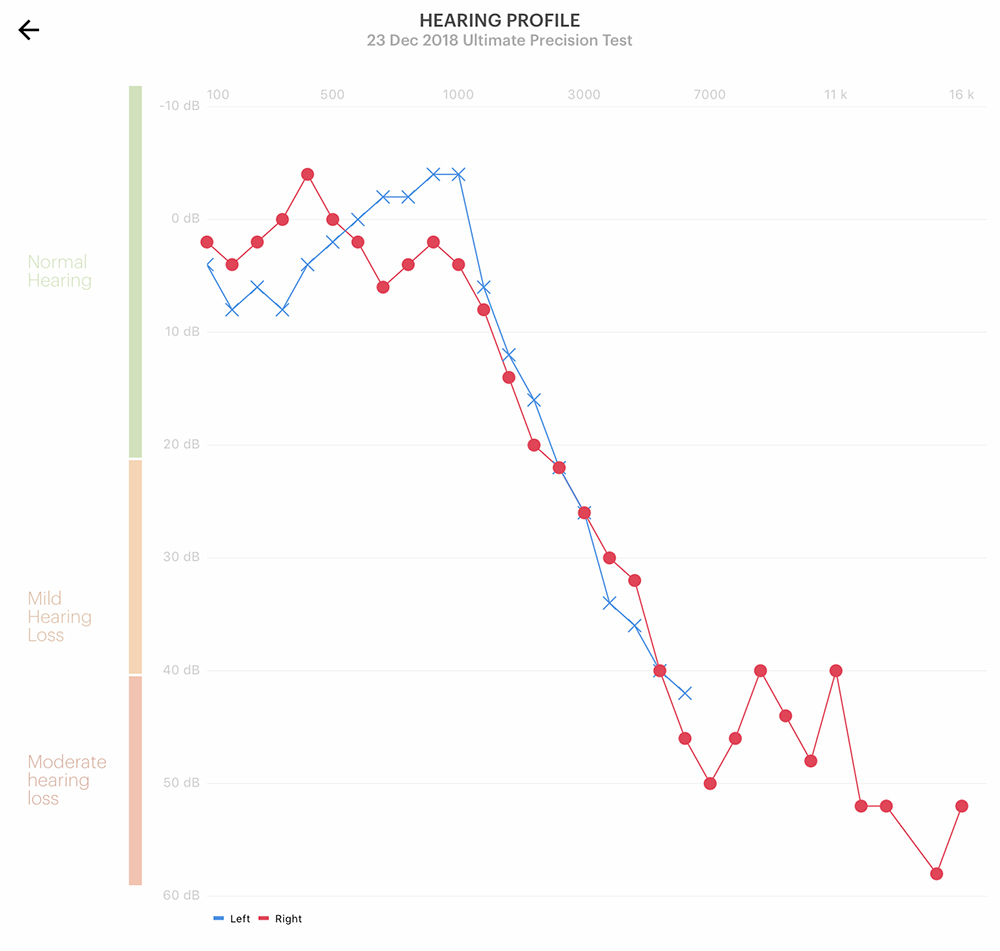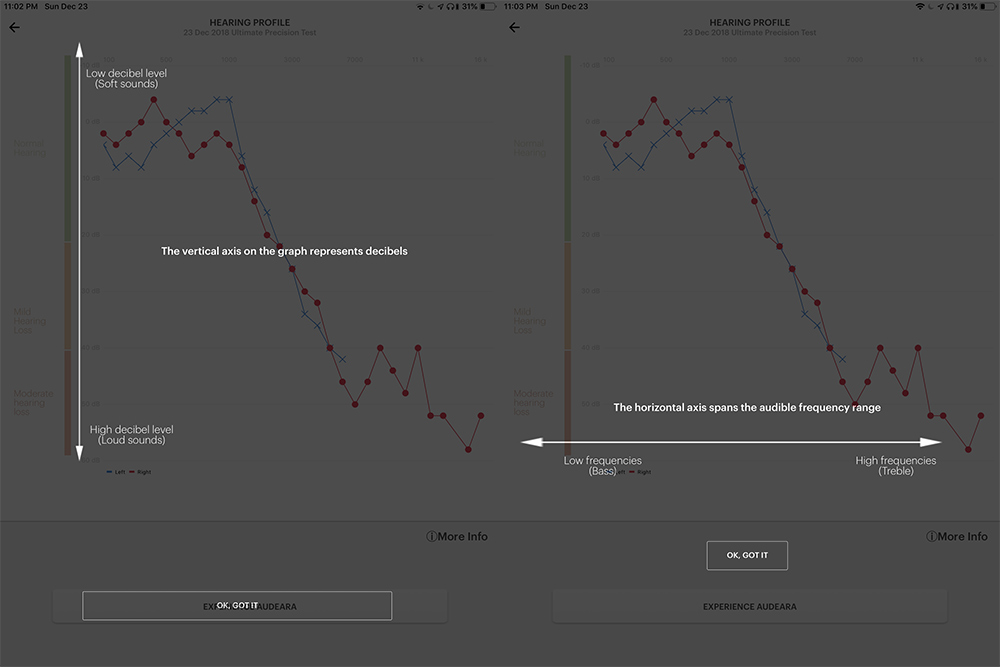 I have a list of songs that I like to use for checking out new headphones, but in this case I also wanted to have some visual cues for should I be hearing something. For this I used two different videos. One of them is one of my go-to songs Snarky Puppy – Lingus (We Like It Here) which has a great video. I also watched/listened to Dave Grohl's Play. The track itself starts around the 8:15 mark. It's a trippy video where Dave is playing all the different instruments for this epically long instrumental, but it's cut in a way where you can see a lot of what you want to hear. It ended up being a great piece to test the A-01s as there are some sparse moments with clear notes, great percussion and then some heavy sections as well.
On a pure listening side, I ran through a ton of Tom Misch (thanks for the recommendation Satch!), Mike Shinoda's new album ("Crossing a Line" is a great track) along with a bunch of my other favorites.
The App has personalization settings that let you set 0-100% personalization based on your hearing test which you can access through the saved user profiles. They suggest that you start your experience at 50% and work your way up to 100%. Each time you select a new percentage, you'll need to hit the "Apply" button to have them take effect.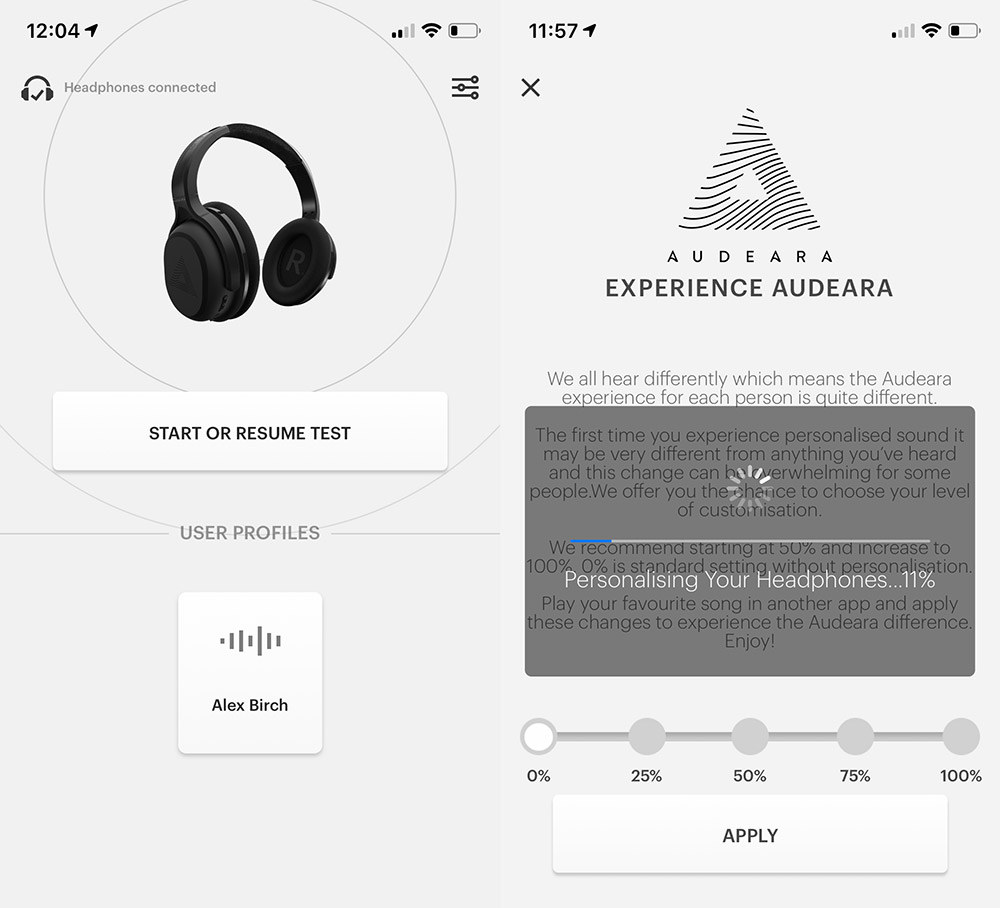 With a few different tracks, I started at 0% and then adjusted up. The difference was noticeable in a way I can't quite describe. At 25% – 75% it kept sounding better in a way that was different than just messing with the typical EQ. Bouncing back down to 0% suddenly started sounding thin, almost like I was missing something. 100% sounded too polished? I don't have the right word for it but would equate it to that 'motion smoothing' or 'judder' setting on your TV that makes things look too smooth.
I settled at 75% for my listening. My media all sounded great. Songs sounded clear and balanced. In tv shows, the quiet dialogue sections were much easier to hear without cranking up the volume only to have my ears blown out at the sudden explosion or whatever action happened next.
Here are a few things you'll want to be aware of…
I was able to wear the headphones for good long stretches of 4 hours and beyond without issue. The headband did not ever feel heavy on the top of my head and my ears didn't overheat the way they do with some much more common ANC headphones you might be familiar with.
The headphones must be powered on to use the personalization settings

The app requires cellular or wifi connectivity to function. (You should only need the app if you're setting up or changing personalization)

The audio test requires Bluetooth. It actually will connect to your phone with two separate BT connections. One for the test and one for general listening. It was a bit confusing to see in the settings panel of my phone, and more so, when I was obviously connected to audio, but the Audeara app was telling me I wasn't. It wasn't mentioned in the literature, or on the site, but their customer service team helped me understand what was going on. 

The hearing test can be a bit glitchy. I had no issues with the 8 tone test, but the 16 and 32 tone test got progressively harder to use. The tones started delaying and getting behind what I was doing. I had the best luck manually scrolling to the lowest tone to start the tests and then timing my responses after each beep. Took a bit more time, but ultimately you're likely to only go through this process once or every so often. It was pretty frustrating, but the end result personalization was worth the trouble. (I was able to confirm that my review set had an as of yet unreleased FW version, so hoping they continue to work out the bugs.)
At the pivot locations and edges of the sliders, the corners are a bit on the sharp side. It's not major, but you might feel one of them if hanging around your neck for any length of time.
The A-01s are super versatile. You can plug in the 3.5mm headphone cord and just start listening right away (and it looks like the audio cord takes priority over the Bluetooth connection). To get any of the custom profiles, you'll need them powered on.  When you flip on the ANC, there's a brief audio drop while the processing kicks in. No big deal, as you're likely not toggling it on and off frequently. ANC is also optional which is great if you were to reach the end of your battery, at which point you can listen with the audio cable again (unpersonalized).
Speaking of the battery. I made sure I had a full charge before leaving on my trip. I hit about 40+ hours of plane, train, and long taxis before getting ready for my flight home where I charged them just to make sure I did not run out mid-flight. Audeara's estimate of ≤65 hours looks to be pretty accurate.
The multifunction and volume buttons are super small. I was able to use my thumb instead of a thumbnail, but in the end, it was actually easier for me using my phone to make those adjustments as it was usually right in front of me.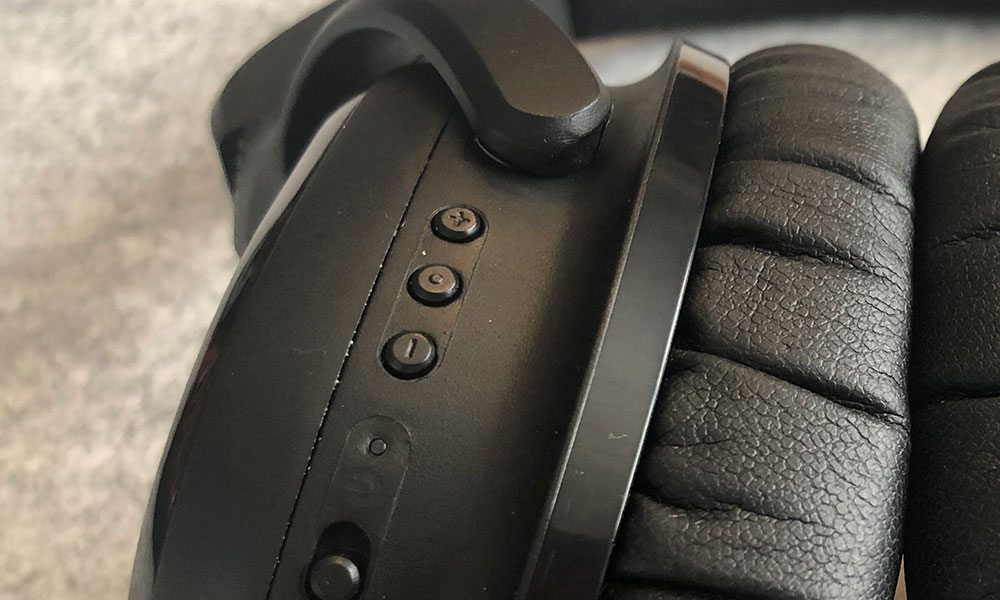 [Sidebar/open question here, and aimed more at Bluetooth headphones as a category – Why are power and Bluetooth LEDs on the outside of headphones? One generally flips the on button and looks at the LED before putting them on their head, and you're definitely not going to see that LED once you're wearing them. Couldn't all that flashing be inside the ear cup and not annoy your seatmate on the flight? Just a thought.]
What I like
• Build and aesthetic quality – solid, sturdy, clean
• Sound quality – clean and clear (w/ & w/o ANC)
• Custom sound profile based on your own hearing
• Rechargeable battery and its running time
What needs to be improved
• Hearing test app is glitchy
• Volume and multi-function buttons are really small
• Edges on each side of the sizing adjustment are a little sharp
Final thoughts
I'm really happy with these headphones. They're not cheap, but they're sitting in the same price zone as all the major players with some killer features that make them stand out. I have had multiple generations of Bose QCs over the years. I can confidently say that Audeara has nailed it with the A-01s. The headphones are built solidly, look great and then paired with sound profile customization that is fantastic. I'm looking forward to an official FW update that hopefully resolves some of  the test issues. Overall… very well done.
Price: $249.99
Where to buy: Audeara and Amazon
Source: The sample of this product was provided by Audeara.