We use affiliate links. If you buy something through the links on this page, we may earn a commission at no cost to you. Learn more.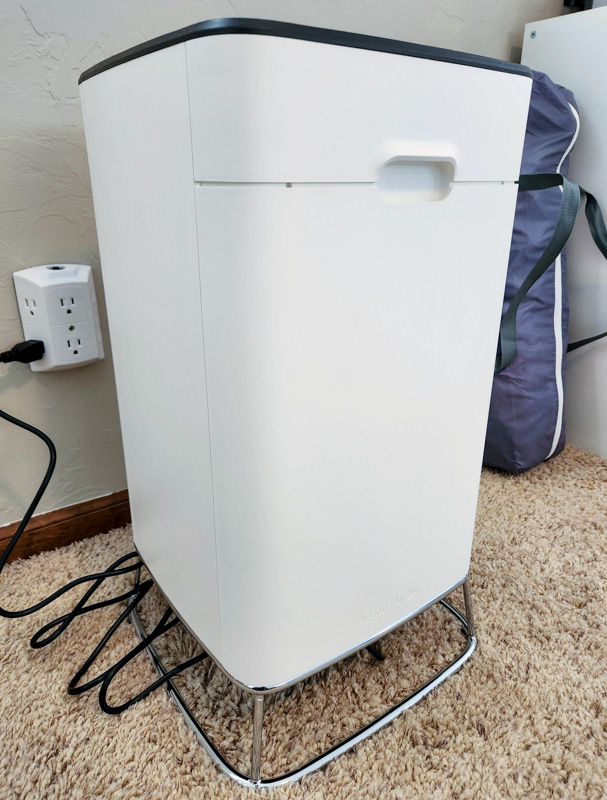 REVIEW – We have air purifiers running in nearly every room in our house, but it's not because we're paranoid. Rather, we have several genuine reasons to use caution:
We live in a state (Utah) that has some of the planet's highest small-particle pollution in the winter (due to inversions where smog is trapped in our mountain valleys, sometimes for months, building up to dangerous levels).
We have a gas stove that isn't vented to the outside and poor ventilation in general, and indoor air quality plummets every time we run the stove or oven.
We have a new baby human with extra sensitive lungs. Due to the above mentioned issues, our state has a higher than average childhood asthma rate, something we'd like to avoid if possible.
So, I'm always on the hunt for good air filters, and the Brio air purifier seems like an intriguing option.
What is it?
The Brio air purifier is an air purifier. It traps a wide variety of particles, including some that aren't filtered in HEPA or PCO filter systems. It claims to keep full airflow even as the filters approach replacement time (unlike HEPA and PCO filters). It has been lab tested in very large rooms (1000 sq ft) as well with a variety of particle types and seems to have performed well. Finally, it only requires annual replacement of the main APART filter and 24 months on the Refresh Plus filter, while the pre-filter and particle charger just need to be wiped down every few weeks depending on use.
What's in the box?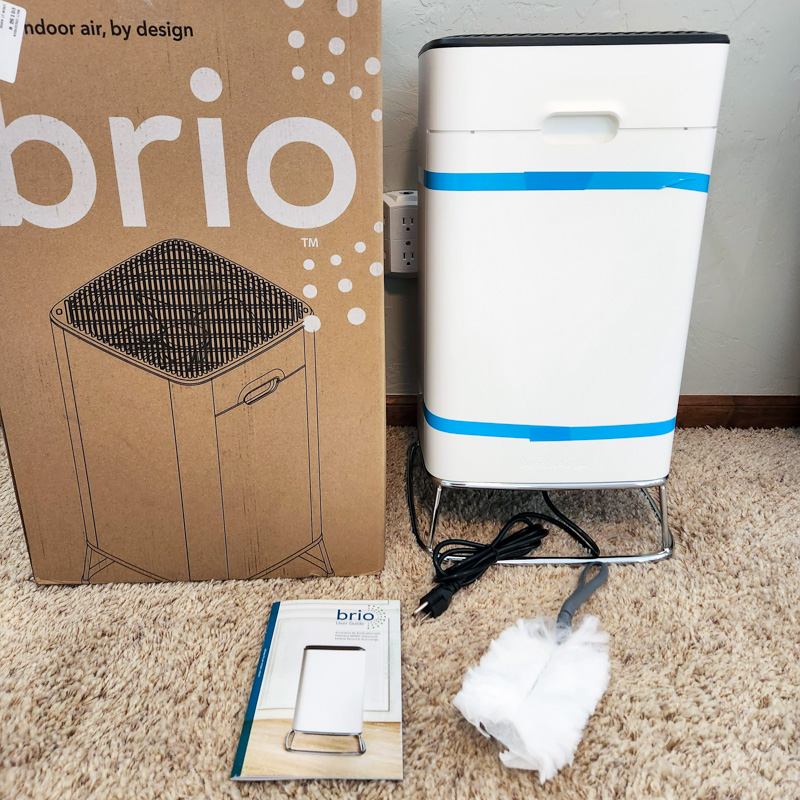 Brio air purifier
Duster
Manual
Hardware specs
Particle size filtered: as small as 0.011 microns
Pathogen filtration: captures and/or neutralizes viruses and bacteria (removed 99.9+% of COVID surrogate virus in independent lab tests from 1000 sq ft room in 15 minutes, bacteria in 20 mins)
Cleaning speed: 540 sq. ft. in 20 mins, 325 sq. ft. in 12 mins
Filter technologies: Physical pre-filter (traps hair and dust), particle charger (charges tiny particles to trap them in the next stage), APART filter (traps charged particles and germs), and "Refresh Plus" filter (ozone and odors)
Clean Air Delivery Rate (AHAM/ANSI AC-1 standard): 367-539 cubic meters per hour (depending on particle size)
Dimensions: 13.5″x13.5″x23.5″
Weight: 26 lbs
Power cord: 6 ft
Airflow rate: 105-267 CFM
Noise level: 45.4-63.7 dB(A)
Power Consumption: 45-71W
Design and features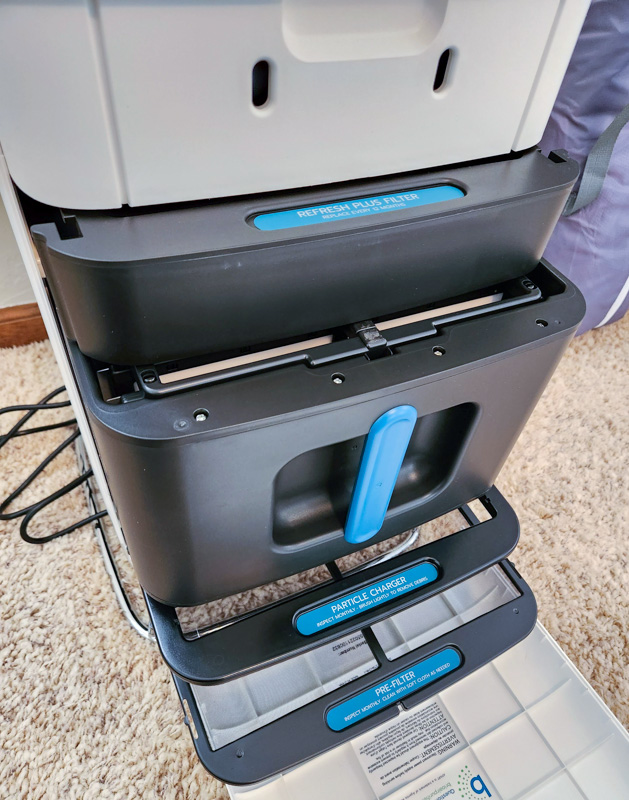 The different filtration technologies are stacked vertically as shown above. Starting from the bottom is the dust-and-hair catching pre-filter. Next up is the Particle Charger, which has a series of very thin wires that conduct an electrical charge and (surprise!) charge small particles in the air. Above that is the main show, the APART filter cartridge. This traps charged particles and a bunch of other stuff. Finally, the top Refresh Plus filter traps ozone and odors. This is all accessed by simply pulling the front panel off.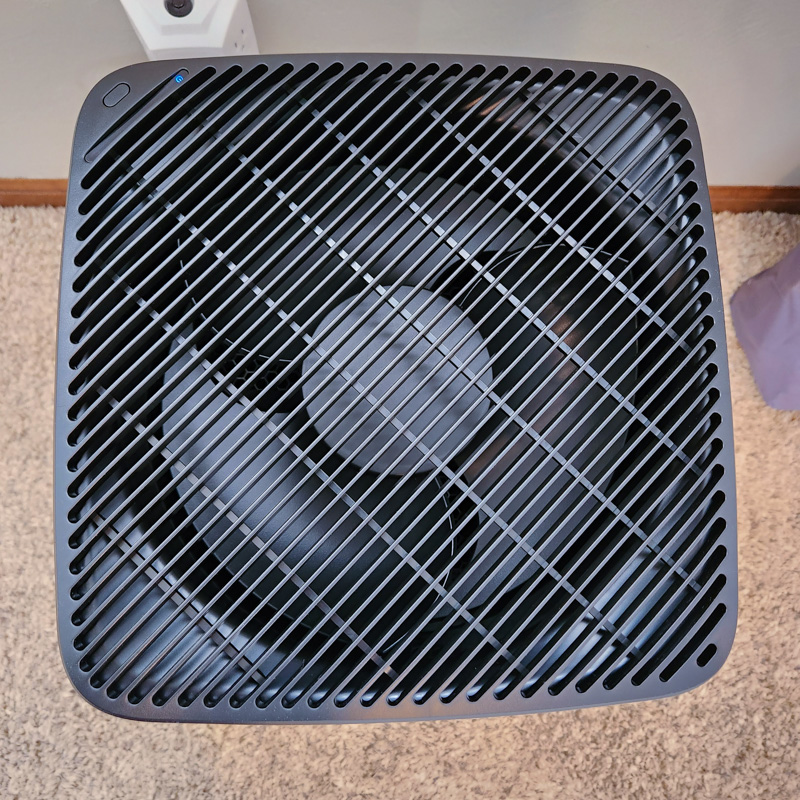 Up top is the very large fan, which is pretty quiet on Low, and fairly loud on High; it's similar to your standard house fan in noise profile.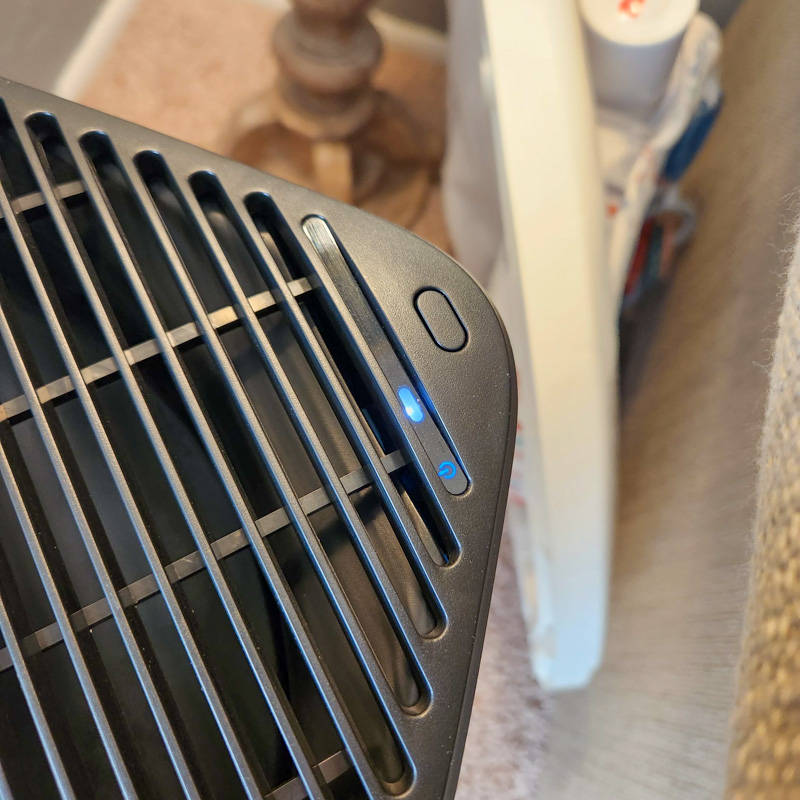 On one corner at the top is the Off/Low/Medium/High toggle button, and LEDs that show what setting you're on. No smart app or sensor options here, just good old-fashioned manual controls. We leave it on low most of the time, but if we notice our air sensor indicating a drop in air quality, we have to walk over to the filter and change modes.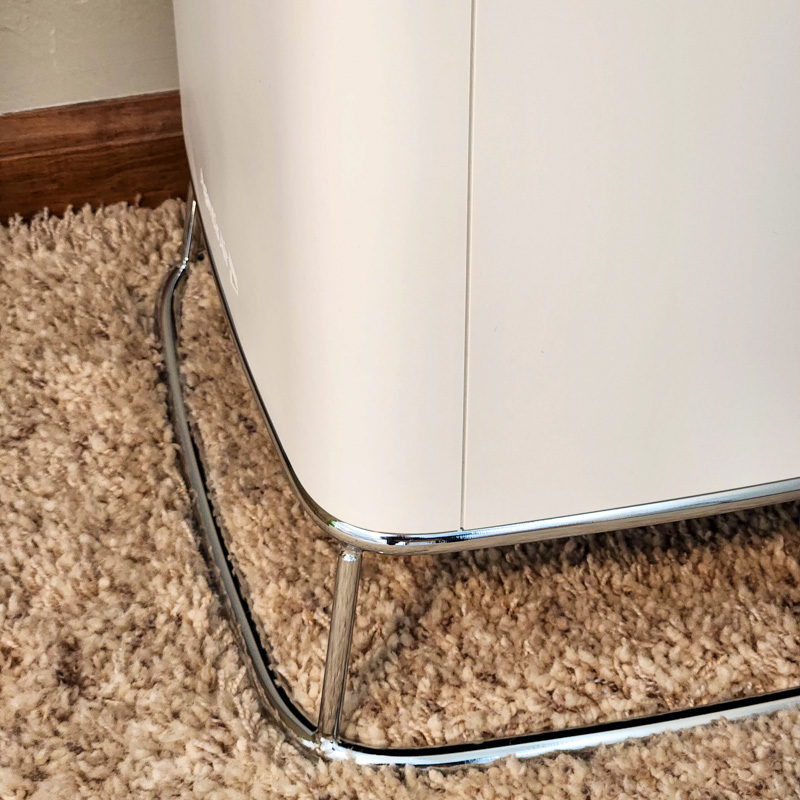 The Brio air purifier is raised off the ground on a stainless steel stand. This stand means you can put it on the shaggiest of carpets and it should still have good airflow, as the intake is on the bottom. I like this, as collected dust and dander that invariably coats around any filter's intake is out of sight on this one.
Performance
I purchased an indoor air quality sensor specifically for this review, and here's the before and after (these are representative of readings taken at multiple times of day before installing the Brio air purifier and after):
Needless to say, I'm impressed by the Brio air purifier's performance. We have it running on low almost all of the time, and the readings are usually green, unless we turn on the stove/oven. It eventually cleans everything up and drops back down, but it does it noticeably faster when we manually turn the Brio air purifier to the high setting while cooking.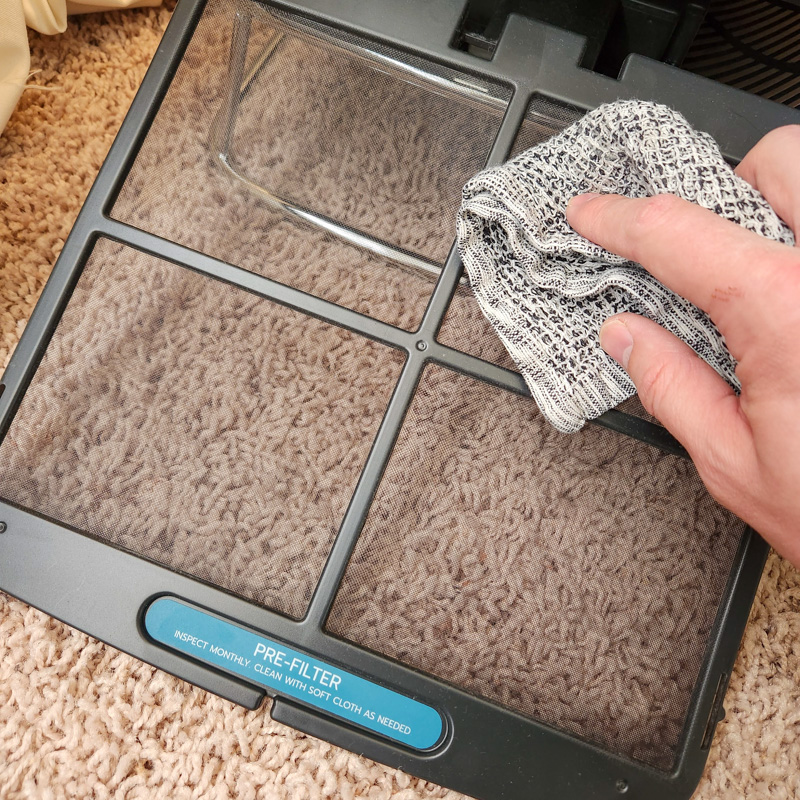 After a few weeks of this, the Brio air purifier started making more and more noise including what sounded like electrical pops which was a bit worrying. After reaching out to Brio, they advised a simple wipe of the pre-filter and particle charger, which completely fixed the issue. So, even though the manual advises doing this monthly, you can do it earlier if you start to hear signs of buildup like a noisy fan or popping sounds.
What I like
Effective cleaning of a variety of air pollutants
Large room cleaning
Fairly quiet on low setting
Reasonable replacement cartridge costs ($49 annual for the APART filter and $49 every 2 years for the "Refresh Plus" filter)
What I'd change
Either smarthome integration, or a built-in air sensor to adjust power, or both.
Expensive – but you get proven results for the cost.
Final thoughts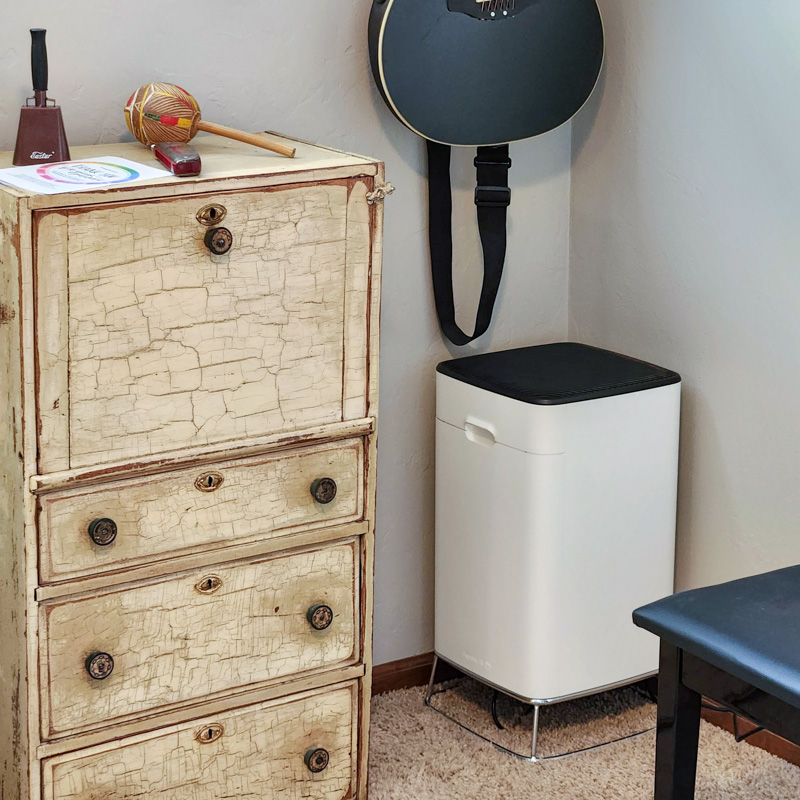 The Brio air purifier was the last filter we needed to really keep our house toddler-lung-friendly. I like that it can filter large rooms and move a lot of air if needed, and it sits unobtrusively in the corner now. The high price is a barrier to entry, but our other smaller filters don't move the air quality sensor at all except in small bedrooms, so to have cleaner air where we spend most of our time this is a no-brainer.
Price: $595
Where to buy: Brio (Save 15% with code: GADGETEER )
Source: The sample of this product was provided by Brio