We use affiliate links. If you buy something through the links on this page, we may earn a commission at no cost to you. Learn more.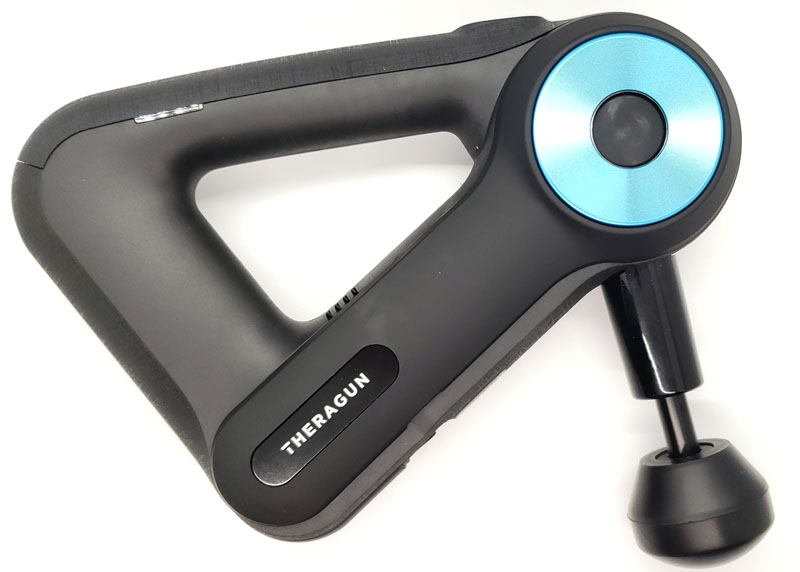 REVIEW – Ageing sucks. I mean, it beats the alternative, but wow – who knew so many things can all hurt at the same time?  As a nearly 60-year-old, I find that bowling, playing golf, pickleball, and water volleyball regularly makes various body parts and areas hurt.  Am I just supposed to make various moans and groans every time I sit down or stand up, or, is there something I can do to help get my muscles and joints feeling at least a little better?
Theragun makes a line of percussive therapy devices that are designed to allow you to massage specific areas of your body to provide pain relief and also warm up muscles before physical activity.  They sent me their latest, the G3Pro, so I could give it, or more correctly have it give me, a once-over.
What is it?
The G3Pro is a dual-speed percussive therapy massage gun.
What's in the box?
Of course, the G3Pro is in the box.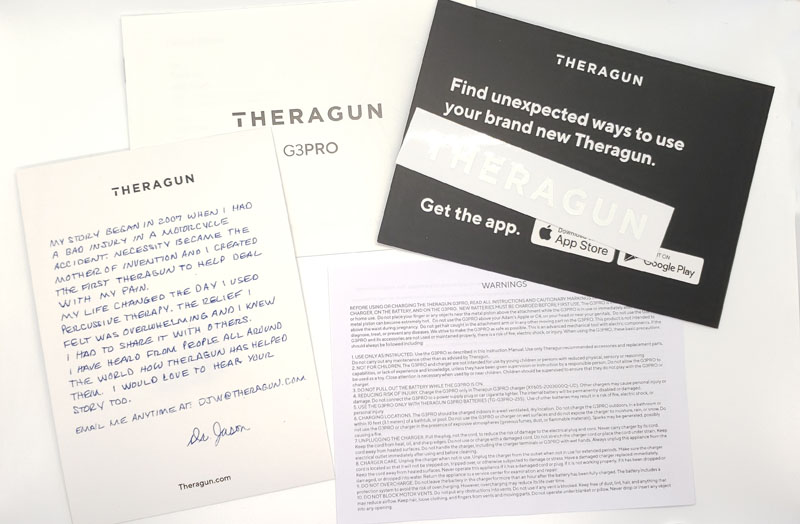 There is a bunch of paperwork in the box:
Very brief user guide (the app provides more comprehensive instructions)
Theragun sticker
Reminder card to download the app
Warnings/precautions page
A description of why Theragun was created and invitation to tell your Theragun story as well
Battery charger stand
Battery charger power brick with charger plug attached
Battery charger 110V power cord
2x batteries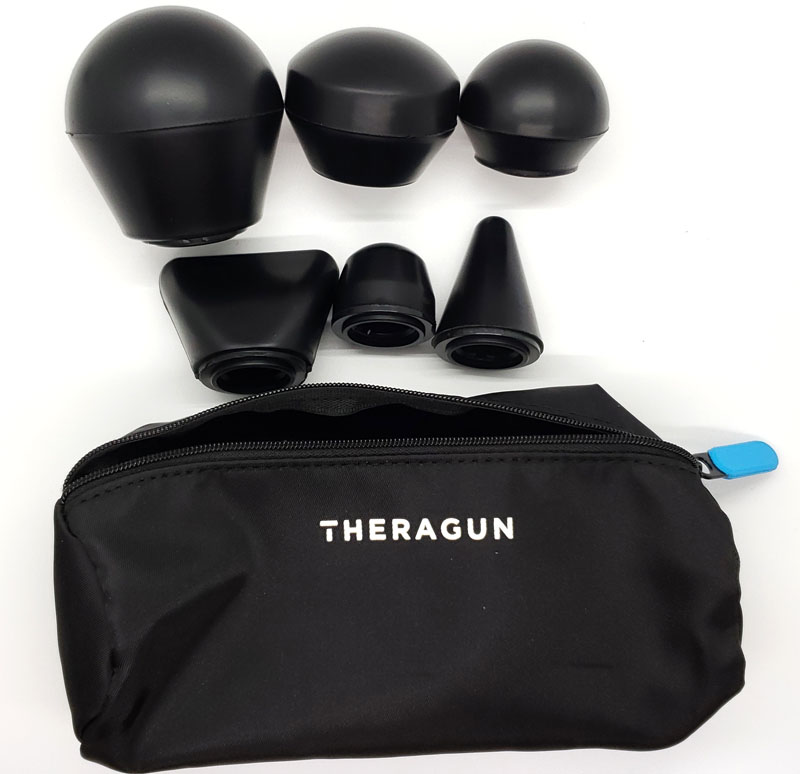 Six attachment heads left to right, top to bottom)

Large ball

large muscle groups like the quads and glutes

Dampner

general use and treatment of tender or bony areas

Standard ball

overall use, especially during your workout

Wedge

scraping, flushing, and treatment of the shoulder blades and IT bands

Thumb

trigger point therapy, and treatment of the lower back or anywhere you might have used an actual thumb

Cone

pinpoint muscle treatment, trigger points, and small muscle areas

Attachment zipper carry bag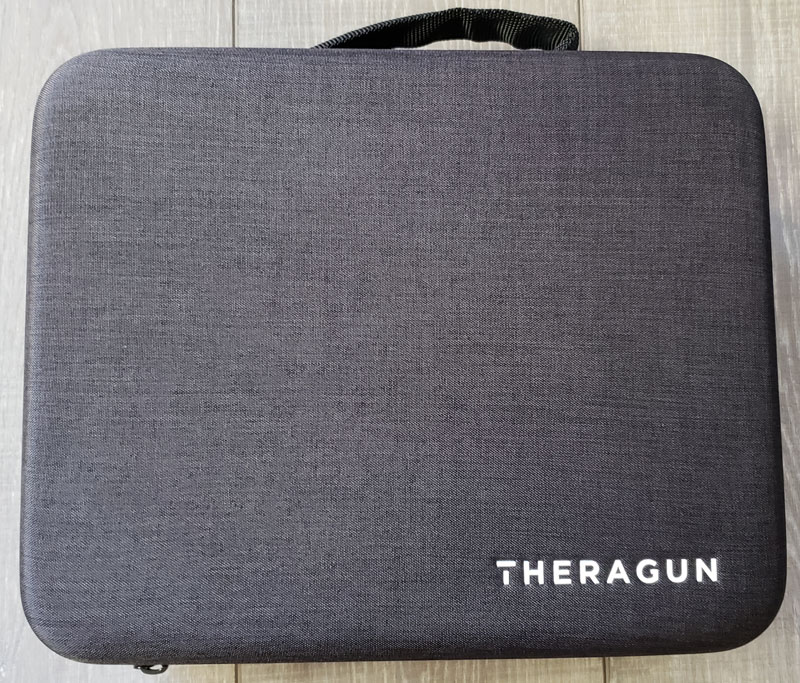 Also included is a very nice, albeit large, travel case.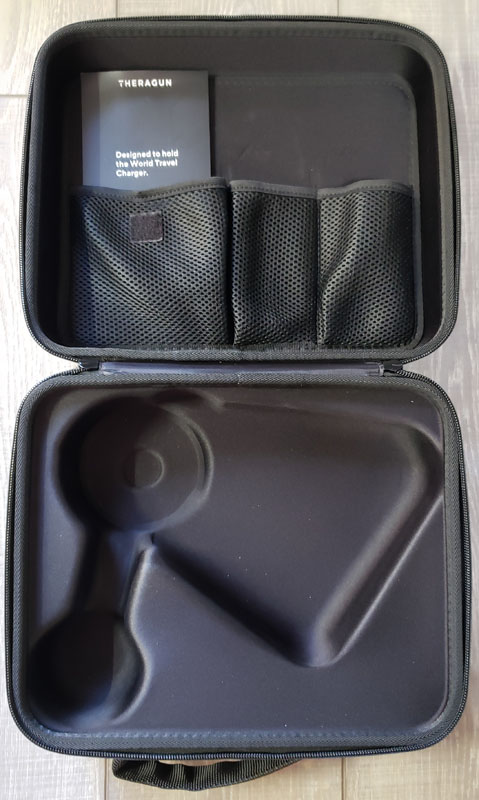 One side of the case is molded to fit the G3Pro. The other side has pockets for the two batteries and a pocket for the optional world power adapters. Those are not included. Interestingly, there isn't a place that fits the power adapter and charger stand nor the attachment bag. A thick piece of foam rubber is also included to hold everything in place when the case is zipped closed.
Hardware specs
Dimensions: 265 mm x 200 mm x 70 mm
Weight: 3.10 lbs
Percussion amplitude: 16 mm
Percussion force: Delivers up to 60 lbs
Percussion frequency: 2 speeds, 40 and 29 percussions per second
Frame: Professional-grade plastic composite
Internals: Industrial-grade Japanese motor
Battery life: 2 batteries, 75 minutes each (battery life may vary depending on the pressure used)
Battery type: 2x Samsung lithium-ion 4-cell, 2.5 amp
Design and features
The G3Pro just feels good in the hand.  It is nicely balanced and at just over three pounds, not too heavy to easily hold and use. The rubberized covering over most of the body gives you a good, non-slip grip on the gun.
Setup
Setup is easy – charge up and then insert a battery. The charger light flashes during charging and then turns on solid to indicate charging is complete.
The battery slides into the underside of the gun and snaps into place firmly.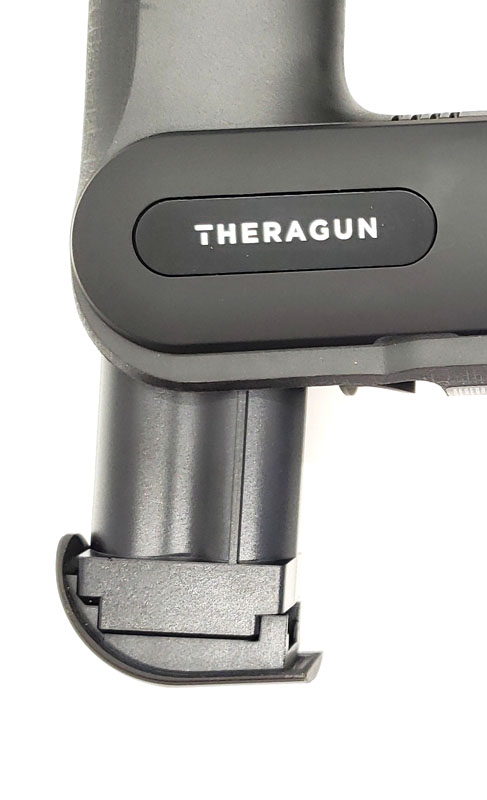 There is also a battery charging port on the gun itself and the charger can be plugged into the gun directly. This is mainly for the optional charging stand, as with two batteries, it makes more sense to charge the second battery on the charger base while using the other battery in the gun.
Massage attachments snap on to the piston.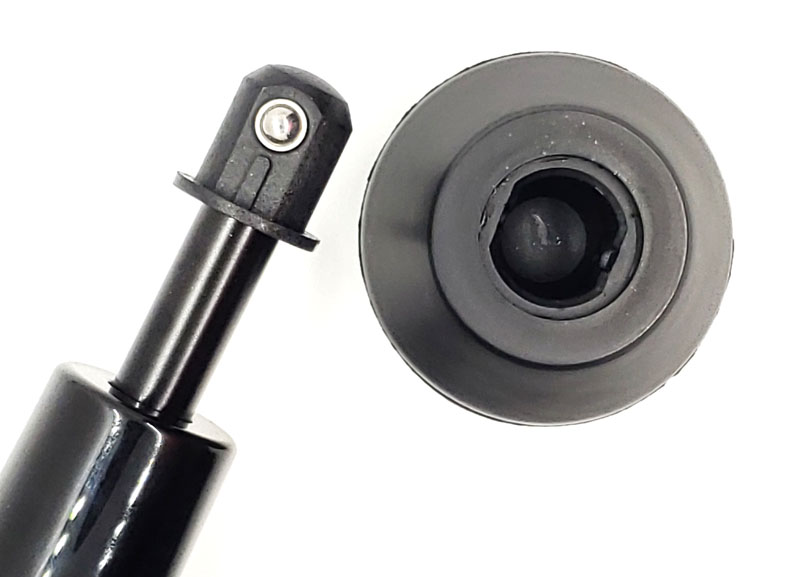 A spring-loaded ball bearing on each side of the piston snap positively into indentations inside the attachment heads. A firm pull on the attachment snaps it off the piston.
The black circle in the center of the decorative blue disc is the release button for the piston arm.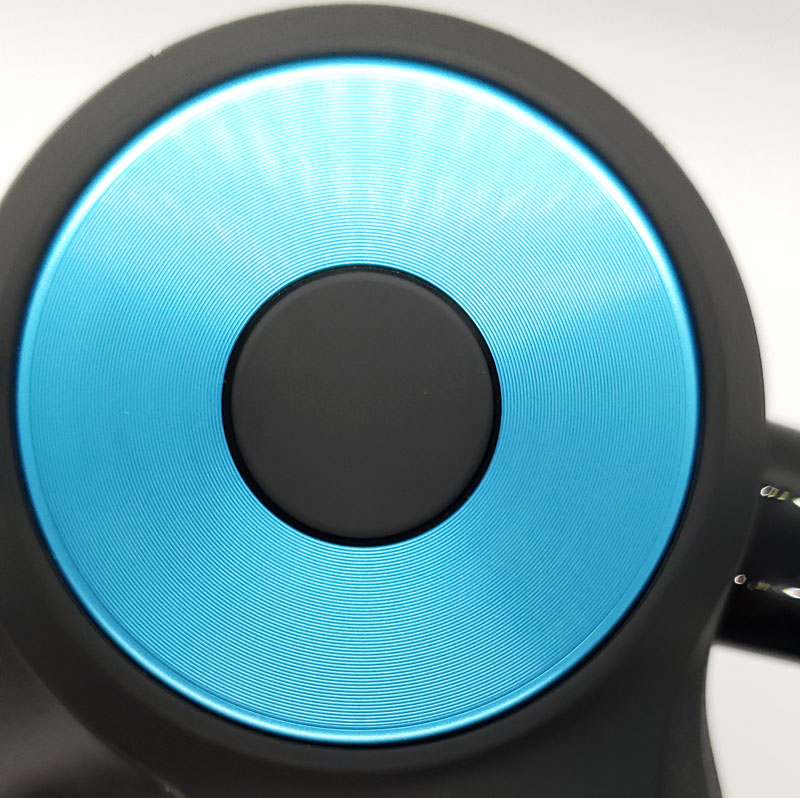 Pressing that button allows you to rotate the arm into one of four locked positions.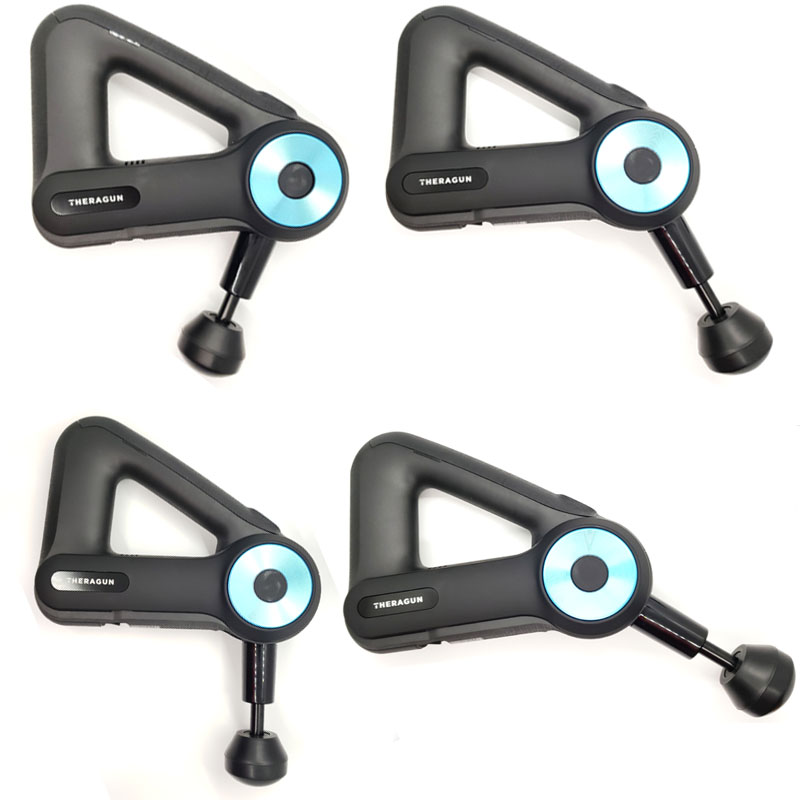 This allows you to more easily position the massager on specific muscle groups without having to be a contortionist.  If you are using the G3Pro on someone else, changing the piston position can reduce strain on you.
Performance
Along the top of the gun, we find the power and speed switch.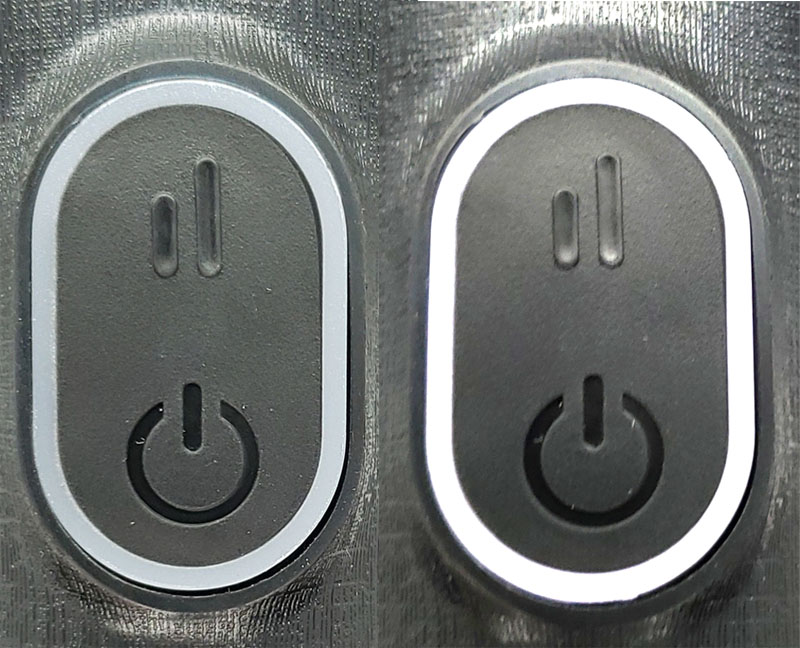 The left image shows the unit powered off.  When powered on, the ring around the switch glows soft white. The speed switch at the top of the dual switch toggles between 40 and 29 percussions per second (pps).
On the side of the handle, we find a thin, dark window.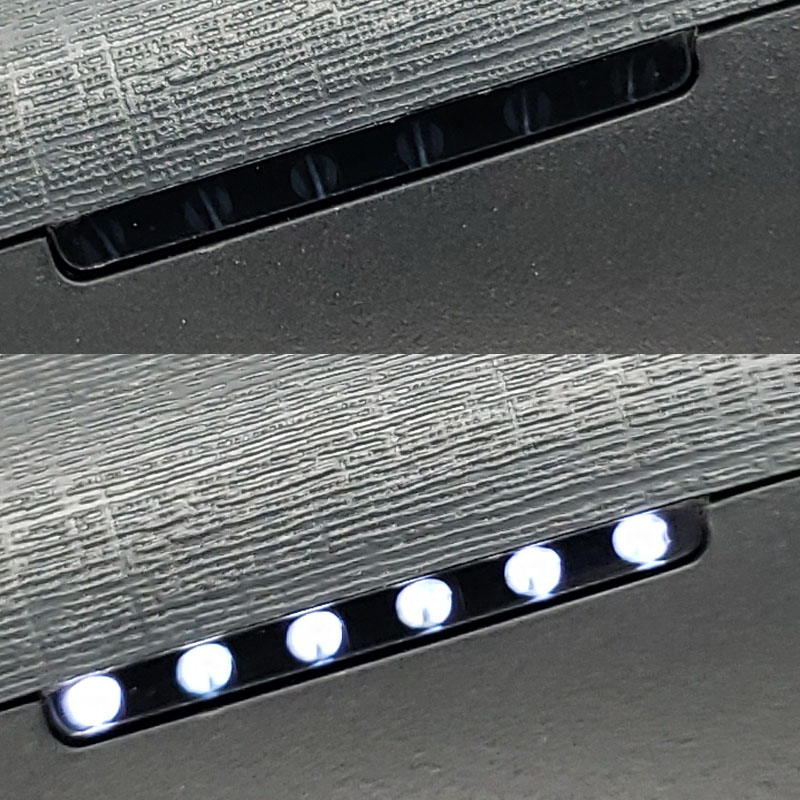 When powered on, a series of LEDs indicate the relative charge of the battery.
The Theragun app is available for IOS and Android.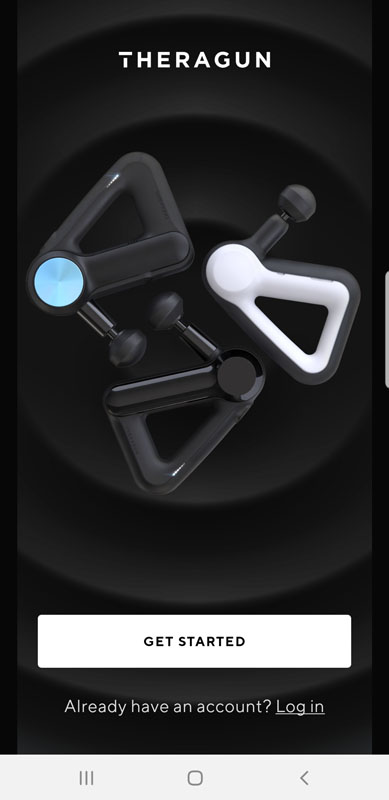 The app allows you to create an account and register your warranty with Theragun.
The app also provides more detailed instructions on use.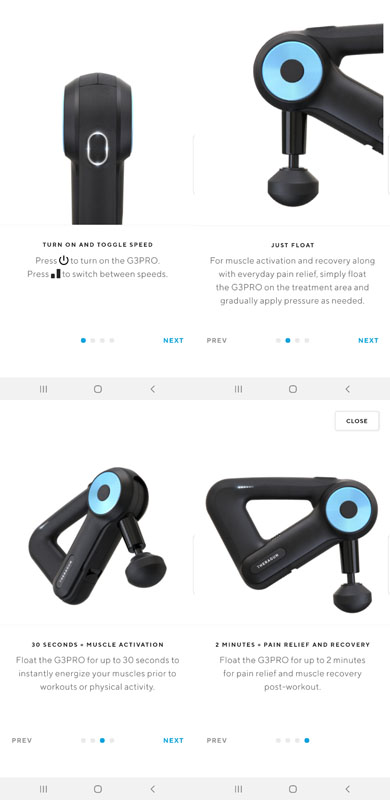 In addition, it provides fairly specific instructions on how to use the gun for a wide variety of muscle groups, joints, and specific body areas.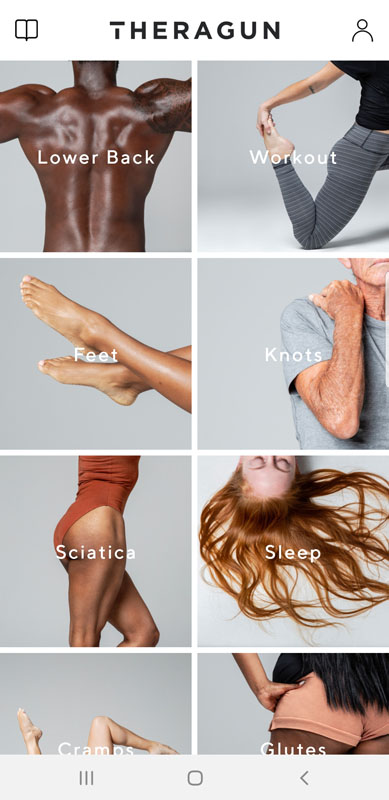 This is a brief video (no sound), showing the G3Pro on standard speed (40 pps), pounding my right calf.  I was applying almost zero pressure, which is recommended.  The instructions state to let the gun do the work and to just "float" over the area for most use cases.  The video slows in the middle so you can really see how much the gun penetrates.
There are two basic modes of use for the G3Pro, muscle activation, and pain relief/recovery.  To activate and stimulate a muscle group, using the G3Pro for just 30 seconds will get the blood flowing and get the muscle group ready for activity.  To release knots, wind down, or to provide pain relief, up to two minutes is recommended.
I struggled with plantar fasciitis for several months from playing pickleball.  I've kept it under control by using a rocker to stretch my hamstrings and plantar facia both before and after playing.  I also upgraded to better shoes and inserts.  Still, it is a daily battle, but I am winning at the moment.
I decided to give the G3Pro a try.  I started with the recommended sweep down the back of my calves to wake up the muscles in the leg.  Then I worked the back of the ankle in three lines up/down on the middle and sides.  I finished with sweeps from my heals to toes and circles around my heals.  I did this both before and after playing.  I noticed that my post-play stretching routine felt less tight than usual after just one treatment. The post-play percussion session also just felt good.
Continuing to follow the instructions, I started a pre-bed routine and an early morning wake-up routine. I basically run the dampner head over my biceps, forearms, shoulders, lower back, glutes, calves, and feet.  After just a couple of days, I seem to hurt less.  Perhaps it is just a placebo effect happening, but my muscles feel looser and less sore.
During mid-review, I had a cruise planned.  I thought about bringing the Theragun along, especially since it has that nice travel case, but opted not to.  After a week of not using it, I again noticed a difference. I felt a little tighter and my joints seemed a bit more painful.  As soon as I got home, I started using the gun again, in the morning, before and after physical activities and before bed.  Once again, I noticed a difference and I didn't seem to hurt as much.
Now, whether the perceived reduction in pain is due to the Theragun G3Pro, or simply a placebo effect is anyone's guess.  Bottom line is that I don't care.  I feel better when using the Theragun G3Pro. Just today, I was sitting after a hard 90-minute pickleball session when the top of my left foot started cramping.  It hurt a lot and flexing my ankle to stretch out the area was ineffective.  I brought my leg up and hit my ankle, heel and arch for about a minute with the gun.  The top of the foot is way too boney to use the gun.  I tried the cone attachment between my big toe bone and the second toe bone, but it didn't feel good.  I went back to the dampner attachment and again focused on the arch area and up the side of my foot.  I was pleased to find that the cramping was completely gone.  Wow!
Our neighbors were over last night and I mentioned the Theragun G3Pro to them.  Of course, they wanted a demo, so I ran it over their shoulders and neck.  There were all kinds of "ooohhh" and "aaahhh" moments.  Suffice it to say that they really liked it. They wanted to know more about it, that is until I told them the price.
I've used the Theragun G3Pro for a little more than two weeks now, not counting the break for our cruise.  I definitely feel a positive difference when I use the gun. I figured that I've used the gun for between five to ten minutes daily and the first battery just died.  This makes their 75-minute battery life claim pretty plausible.
What I like
Easy to use and control
Comprehensive attachments for specific body area use
Having two batteries means no downtime
For me, at least, it really seems to eliminate or severely reduce perceived muscle and joint pain
What I'd change
It is a bit noisy
It's pricey
A more comprehensive user guide for massaging specific muscle groups would be a nice addition
Final thoughts
I am approaching 60 years old and am very active.  Couple that with carrying some bonus weight and I am pounding my body pretty hard. The bottom line is that for me, this thing works. I run it over my legs, upper and lower back, shoulders, arms, hands, feet and so on most mornings and evenings to both wake up the muscles and joints and then relax them before sleep.  I also use it after exercising to warm-down my muscles. So far, it is making me feel better.
Is that worth nearly $600?  Well, that question depends on your use case.  There are other competing units, including two from Theragun, at significantly lower price points. The G3Pro offers two speeds and more position flexibility and impact power than the cheaper units.  It is a heavy-duty unit that could be used professionally. For home use, it might be overkill and a cheaper unit might work just fine for you.  But, if there are multiple folks in your household, or you run a therapy clinic, the added power, battery life and position flexibility of the G3Pro are probably well worth the outlay.
For me, the G3Pro is now part of my daily routine.
Price: $599.00
Where to buy: Amazon and direct from Theragun. Also available at Best Buy and other retailers.
Source: The sample of this product was provided by Theragun.