We use affiliate links. If you buy something through the links on this page, we may earn a commission at no cost to you. Learn more.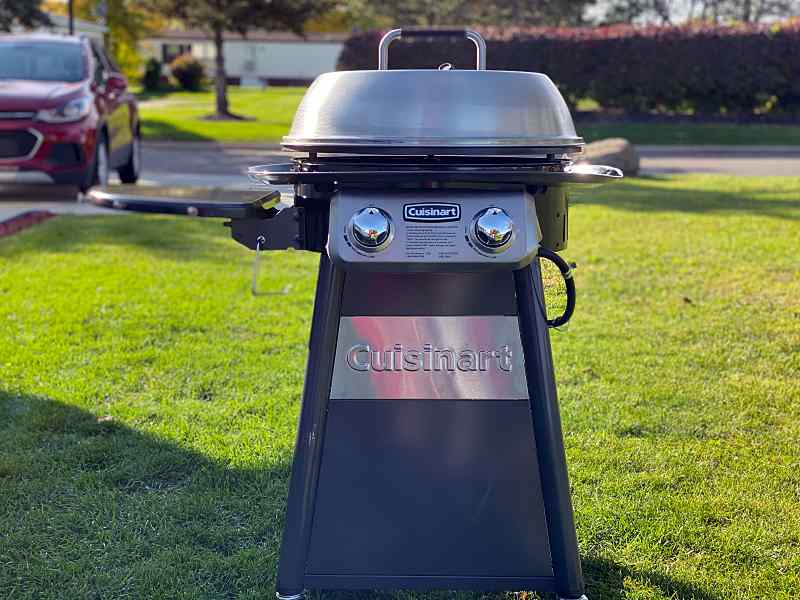 REVIEW – Up until this spring, I had no idea that outdoor griddles existed. But after discovering them, I became obsessed with finding out everything I could about them. How much do they cost? How do they work? Are they better than regular bbq grills? I needed a new bbq grill, and it came down to replacing the old one, or, getting an outdoor griddle. Of course, I chose to go with the grill. I figured better the devil you know than the one you don't. Well, the devil you don't come a-knockin' in the form of a chance to review the Cuisinart 360º Griddle Cooking Center. Now to answer all those questions I had.
What is it?
The Cuisinart 360º Griddle Cooking Center is an outdoor griddle featuring a 22-inch diameter cooking center and a stainless steel lid.
Design and features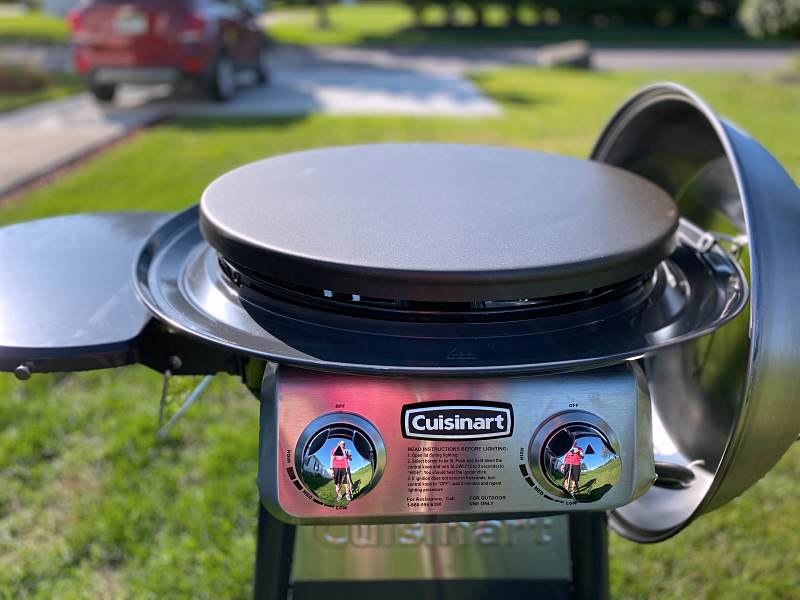 Unlike most outdoor griddles that are rectangular, the Cuisinart 360º Griddle Cooking Center has a circular design. An oversized grease trough surrounds a 22-inch diameter cold-rolled steel cooking surface. Underneath the removable cooking surface, there are two propane burners. The two heat zones provide 30,000 BTUs to deliver consistent and even cooking.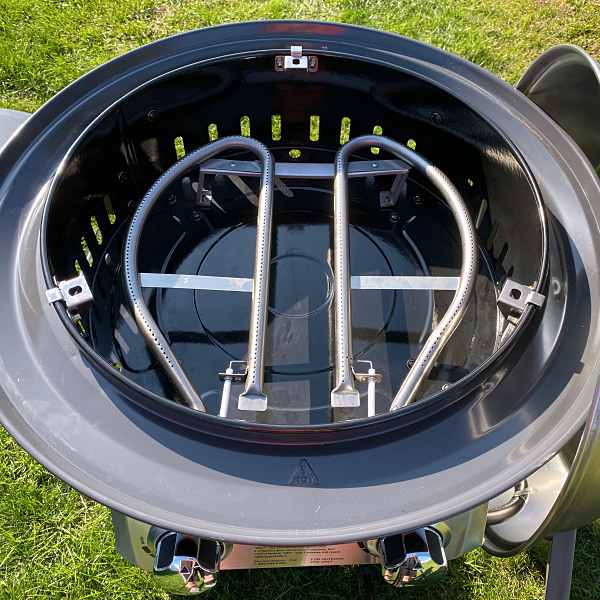 The griddle also features a foldable side prep table with removable accessory hooks and a paper towel holder.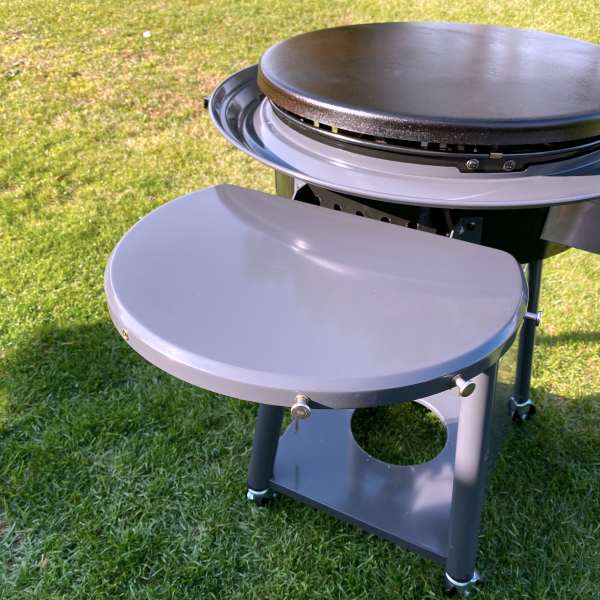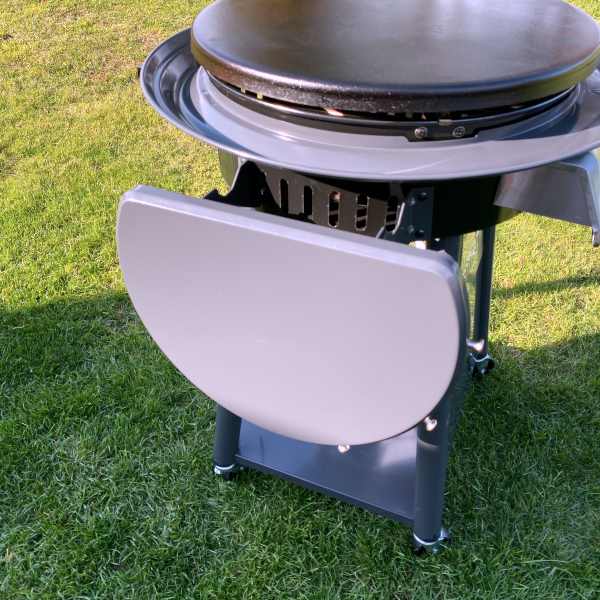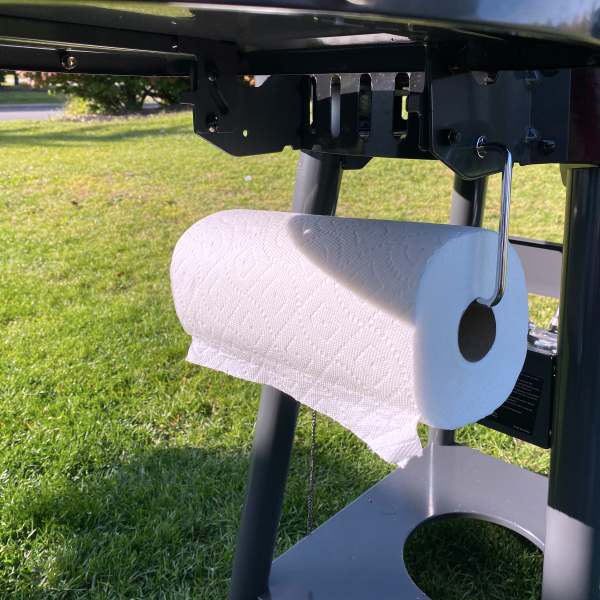 The griddle has four wheels so it can easily be moved around. The back wheels also lock.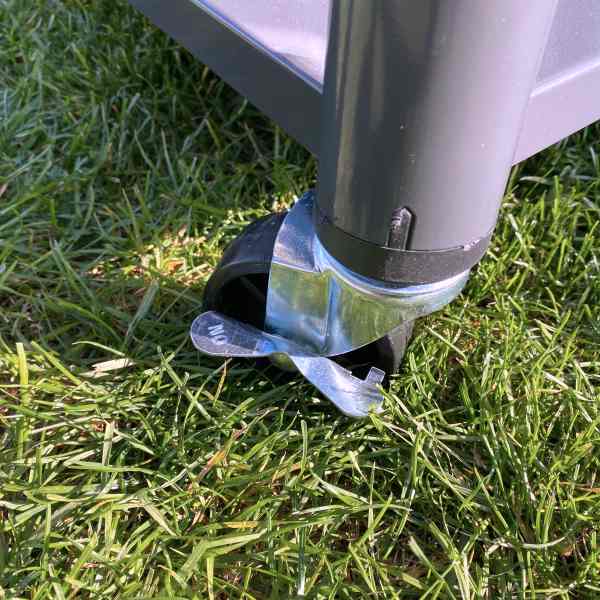 There are two-burner control knobs on the front of the griddle. They're used to ignite the griddle and control the temperature.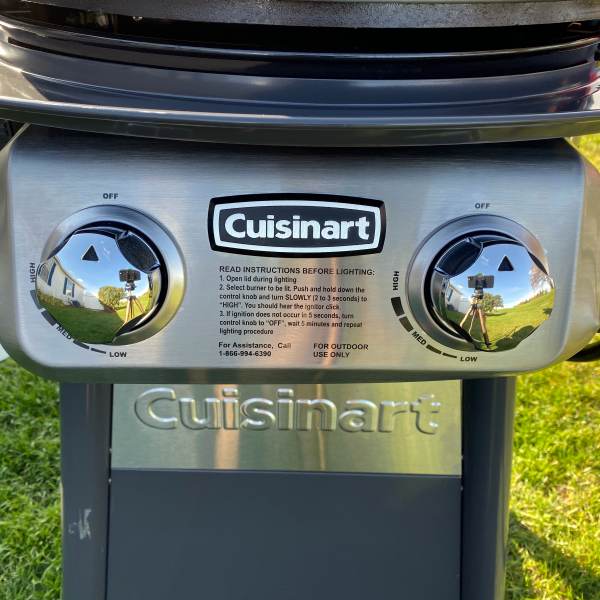 There is a grease cup located at the back of the grease trough for easy cleanup.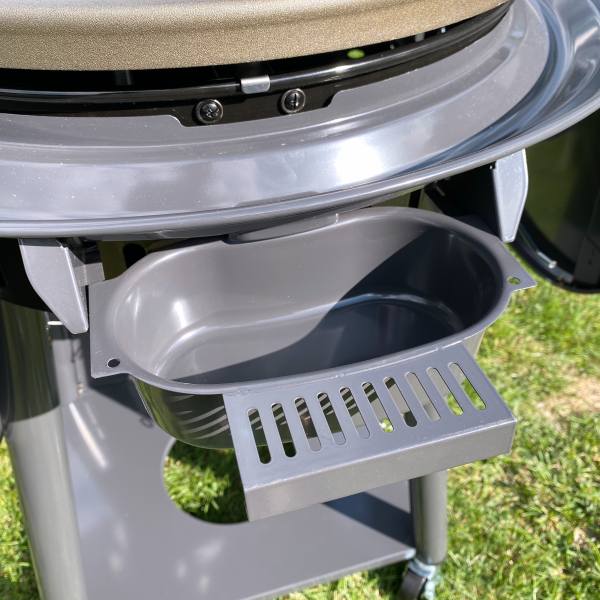 The vented stainless steel lid has a padded handle on top for easy removal. It also has a hook on the inside that lets you hang it on the grease trough while you're cooking.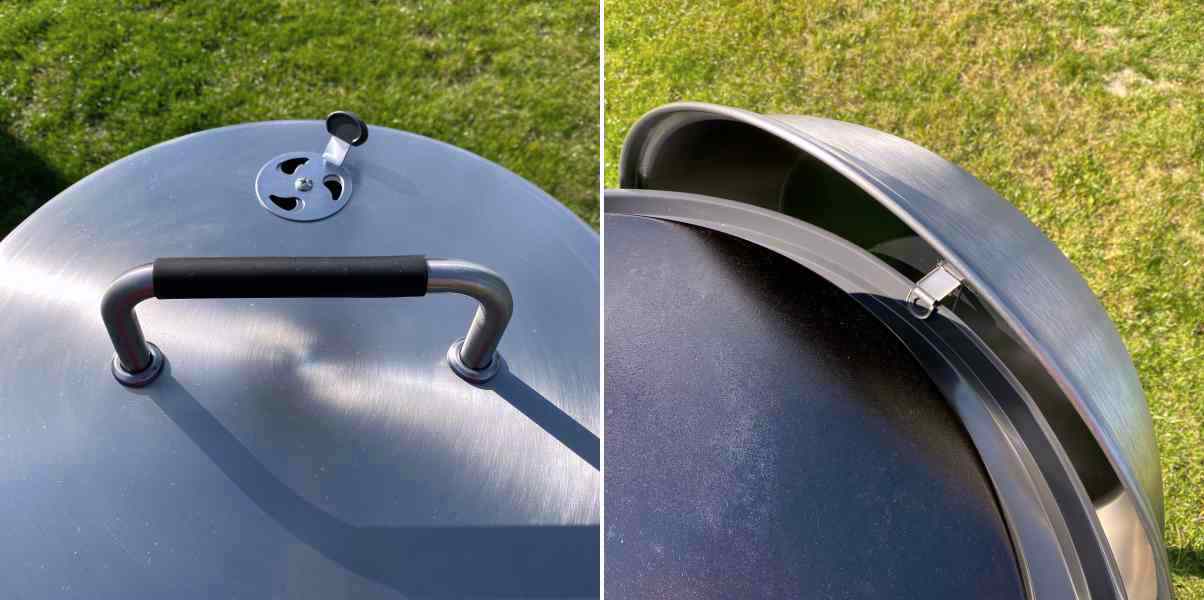 The lid not only protects the cooking surface, but it also makes the griddle more versatile. With it, you can roast, steam, warm, and even smoke.
Assembly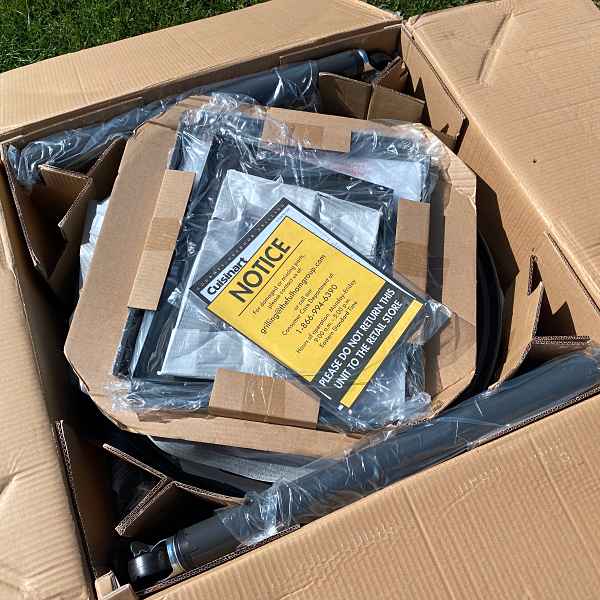 Assembling the griddle was easy. I was able to put it together myself in just under an hour without issue.
Seasoning the griddle
Before using the griddle, you have to season the 22-inch cooking surface. The process itself is easy, albeit a little time-consuming. The video below will show you what you need and how to season the griddle.
Tools of the trade
Before you start cooking with your griddle, you may want to invest in a set of griddle tools and accessories. I was able to purchase all of the necessary items from Amazon for under $40.

Time to get cooking
Using the griddle is very similar to using a gas grill. First, turn on the propane tank and then use the burner control knob to ignite the burners. Then let the griddle preheat for about 8-10 minutes.
Since this was my first time using a griddle, I was nervously excited to get started. I decided to make Philly Cheesesteaks from a recipe book that came with the griddle-tool kit I purchased. I gathered my ingredients and headed out to the griddle. I started cooking my peppers and onions then I added my shaved steak. See the video below.
The cheesesteaks were phenomenal! It had me excited to cook on the griddle again.
This time I decided to make smash-burgers topped with bacon. I liked being able to cook the bacon, burgers, and toast the buns right alongside the burgers. I covered the griddle with the lid to melt the cheese on the burgers. The burgers were delicious. The griddle gave the burgers that perfect charred crust on the outside. And even though the patties were thin, they were incredibly juicy.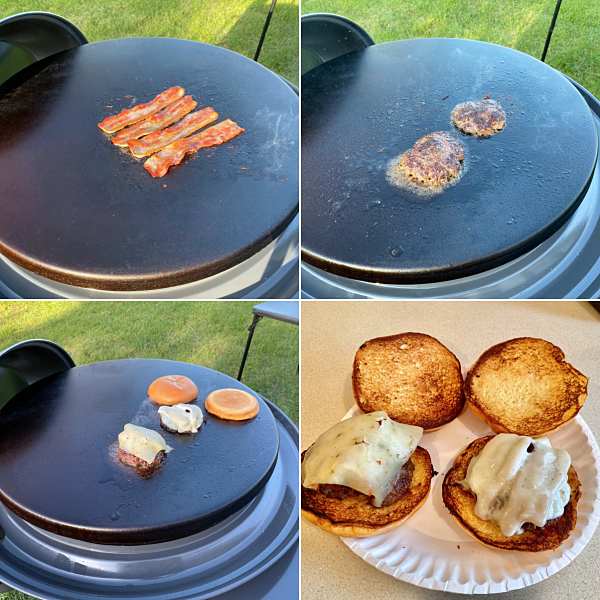 My overall experience cooking on the griddle was unique and fun. It was like having my very own restaurant griddle in my back yard. 
I liked being able to maneuver around the griddle while cooking. The griddle gets extremely hot, and it's nice not having to reach over the top of it while cooking. The 360-degree grease trough keeps everything from getting messy. And it can even save food that accidentally falls off the cooking surface. 
Cooking on the griddle, you don't have to worry about flare-ups, so food cooks evenly without charring.
The griddle is large enough to cook for up to 8-10 people, but the compact circular design is perfect for small yards, patios, and decks.
Perhaps the best thing about this griddle is what you can cook on it, bacon, pancakes, stir-fries, hamburgers, and even pizzas. The list of things you can make using it is virtually endless.
Cleaning and maintaining the griddle
It's important to clean and season the griddle after every use. The process is quite easy. To clean the griddle, you'll need a scraper, plenty of paper towels, water, and a cotton towel or rag. See the video below.
You may have noticed the gloves I was wearing in the video. They're heat resistant silicone grilling gloves. I purchased them from Amazon specifically for cleaning the griddle. They make it a lot easier and keep me from accidentally burning myself.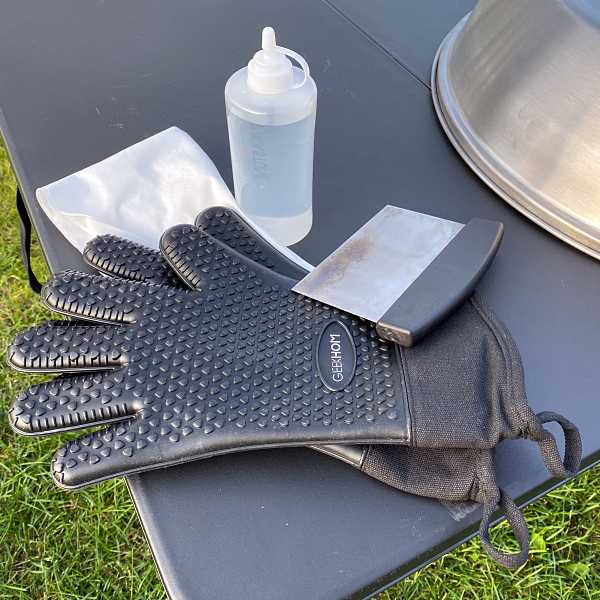 There are a few added benefits to owning a griddle:
You don't have to worry about grease dripping down onto the burners, causing you to have to buy replacement parts due to corrosion.

You can resurface the griddle top if it becomes rusted.

Reasons 1 & 2 mean your griddle will last longer.
What I like
Easy to assemble

360-degree design

Large enough to cook for up to 10 people

Perfect for small spaces

Easy to clean

Cooking versatility

The cooking surface can be resurfaced
What I'd change
Final thoughts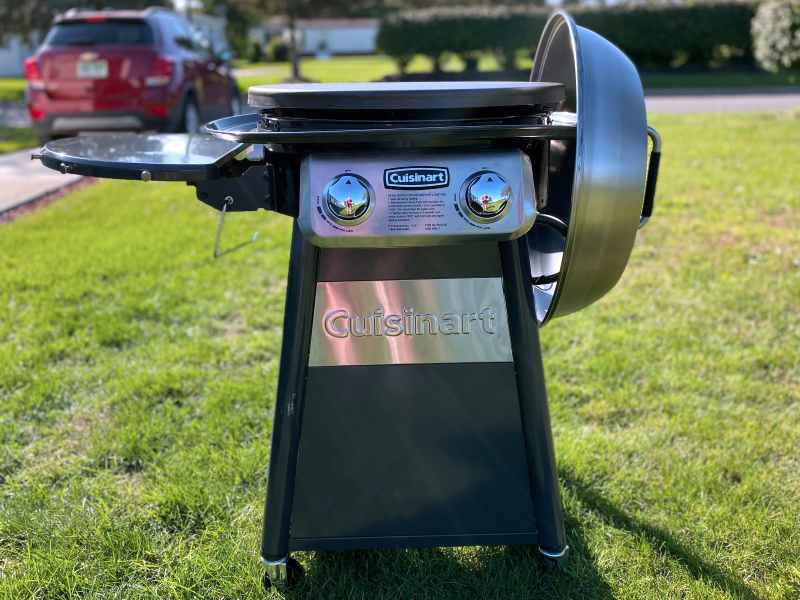 The Cuisinart 360º Griddle Cooking Center is a fantastic way to cook outdoors. It's compact, easy to use, and you can make a nearly endless list of fabulous meals on it. If you're like me and wanting to get into outdoor griddling than this small but mighty griddle is a great place to start. One word of warning griddling can be addictive.
Update 7/5/20
I reviewed the Cuisinart 360 griddle in November, and because it was so late in the year, I didn't get to use it much. However, in that short time, I fell in love with griddling. This spring/summer, I've made up for that by using it as often as I can cooking everything from pancakes to stir fry. I love it so much that I have yet to dust off my regular gas grill. It's just a joy to cook on, and the versatility of what you can cook on it is endless. Like I said in my review, griddling can be addictive.
Price: $167
Where to buy: Walmart and Amazon
Source: The sample for this review was provided by Cuisinart.