We use affiliate links. If you buy something through the links on this page, we may earn a commission at no cost to you. Learn more.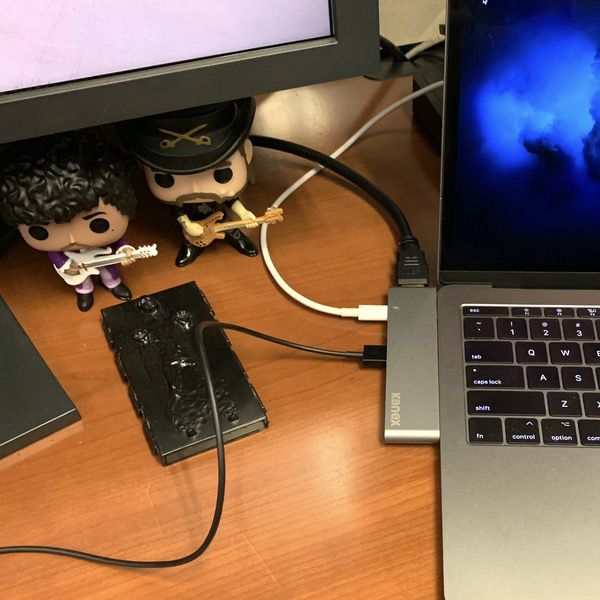 REVIEW – My desk is a cluttered mess (when I get to use it), so I was super happy to test out the Kanex 7-in-1 Macbook Hub! Lemmy and Prince approve. Han would too, but he's resting at the moment. To the review!
What is it?
It's a compact and portable MacBook hub for extending your connectivity.
Hardware specs
4-1/2″ by 1-3/8″ (including USB-C prongs) by 3/8″ tall
87W USB-C power port pass-through
Second USB-C port for peripherals
HDMI 4K port
2 USB 3.0 ports with 10 Gbps transfer speed
SD and MicroSD card slots
Compatible with MacBook Air 2018, 2016-2019 MacBook Pros (13″ and 15″),
Design and features
If you're looking for a small & portable MacBook hub then this is going to be your jam. It's about half the size of a Magic Mouse. Slim and streamlined, the small footprint makes it easy to slip into your bag (or pocket) if you are moving from workplace to workplace. It's also made to match the style of your MacBook with that space grey aluminum finish.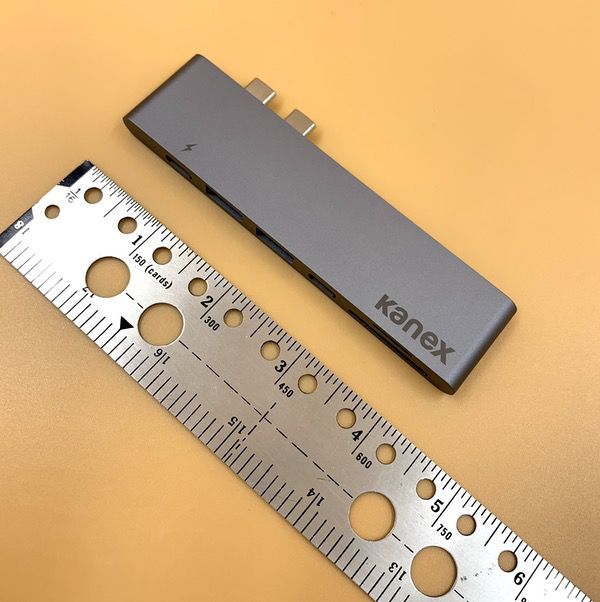 The unit is designed to plug into the left-hand side of your MacBook, taking up both of the USB-C ports on that side.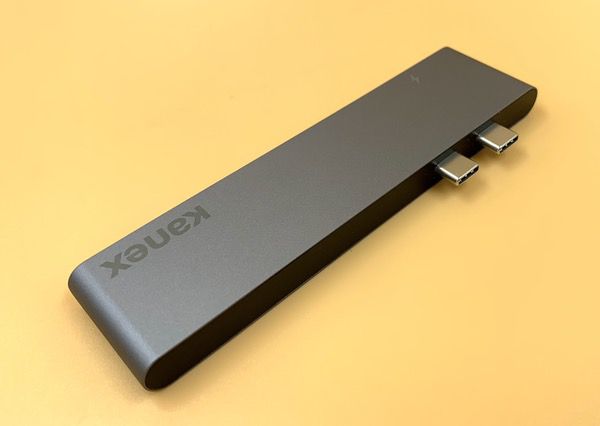 Here's what it looks like when connected. Check out how it sits flush with the MacBook surface!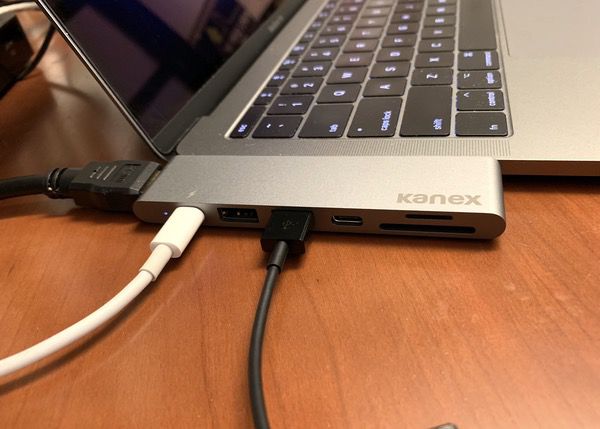 You have 6 slots on the connection side: a pass-through USB-C charging port, a second USB-C charging port, 2 USB ports, a Micro-SD slot, and an SD slot. Pretty much everything you'll need for connecting your peripherals.

When in play, all of the cables swing out to the left of your MacBook. I've got my MacBook charging cable and a USB cable plugged in here to charge my phone.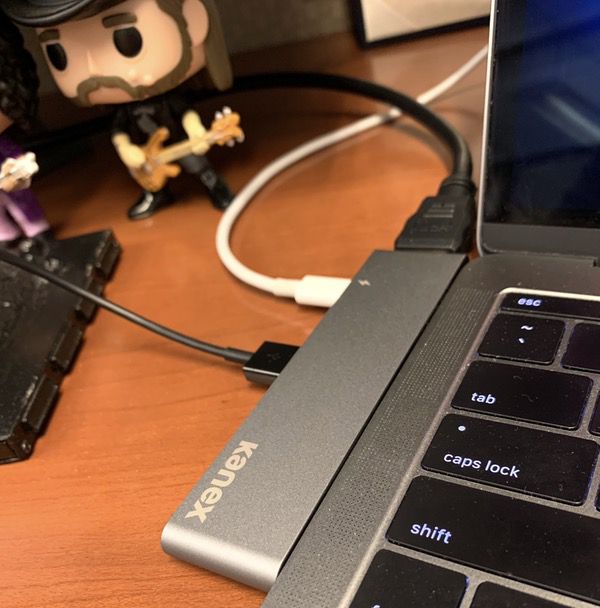 The HDMI port is on the back side of the hub, as shown here.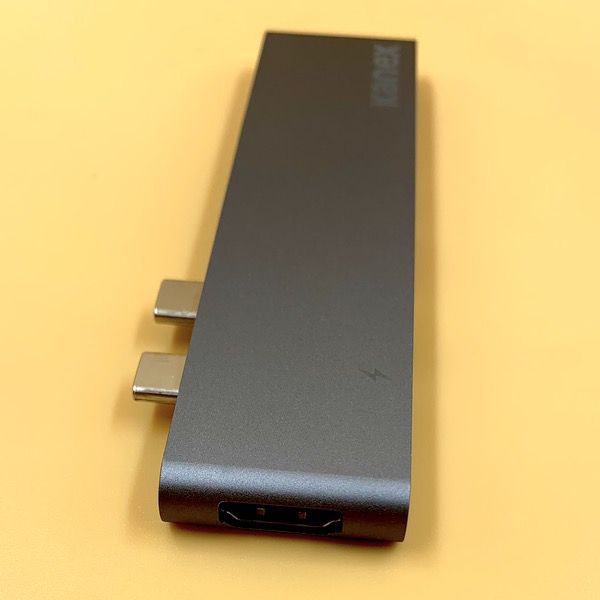 This is a really great design, because it keeps that big honking cable from interfering with the rest of your ports. When I get to work in the morning I plug that in and forget it's there.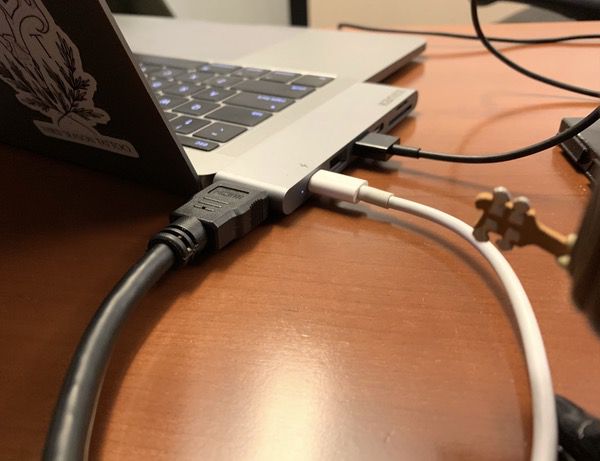 Performance
The Kanex 7-in-1 MacBook Hub is perfect if you're looking for a compact, portable hub solution. I've been using it daily for weeks, and it's become an essential part of my office EDC.
If you have a cluttered desktop like I do, this hub is perfect. It takes up virtually no additional desk space so there is plenty of extra room for your gear. Or toys. You do you.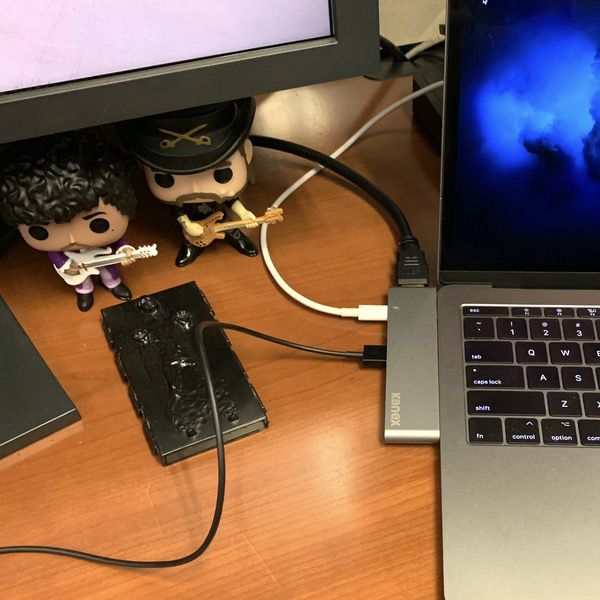 If you're traveling, you might like it even better. It will slip into any corner or pocket in your bag even if you have a thin briefcase, and that HDMI port has been a lifesaver for me when I am in conference rooms looking to give a presentation. And if you're working at on a small desktop (like a cafe table), the hub sits flush against your MacBook so you don't have to worry about it getting bumped or knocked about.
I've found that this particular hub is perfect for my needs, but it may not be your thing if you need more connectivity. I use a bluetooth mouse and keyboard, so I never find myself wanting for more ports. You may also want a more permanent dock on your desk. Consider your needs before you take the plunge!
What I like
Slim, portable design
Excellent usability
Great look fits seamlessly with the MacBook Pro
HDMI port design stays out of the way of the rest of the connectivity
What needs to be improved
May not have the right connectivity for all your peripherals. Check your needs!
Final thoughts
I love the usability & portability of the Kanex 7-in-1 MacBook Hub. If you're looking for a single solution for the office and travel, I don't think you can go wrong with this one. It's become a permanent member of my daily work EDC kit and I expect it to stay there for a long time.
Price: $79.95
Where to buy: Go to Amazon to purchase.
Source: The sample of this product was provided by Kanex.