We use affiliate links. If you buy something through the links on this page, we may earn a commission at no cost to you. Learn more.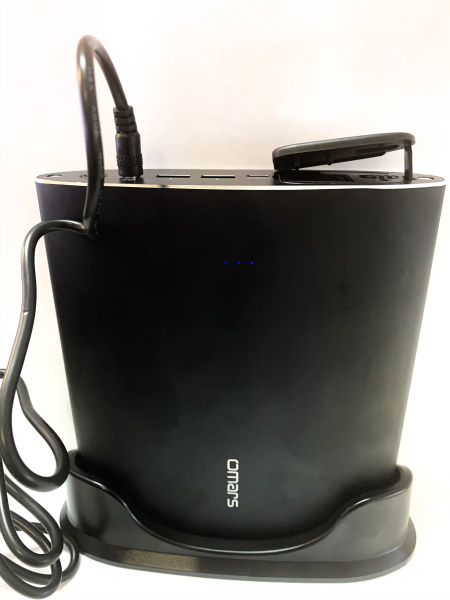 REVIEW – As I continue to look for power banks to review and to fit my many power-hungry needs, I am encountering several new entries in this already crowded field of similar devices, some with unique shapes and varying sizes, but all trying to offer as much capacity and versatility as possible. The Omars 26800mAh 90W Portable Charger is the next candidate that I will take a look at.
What is it?
The Omars 26800mAh 90W Portable Charger is a portable power bank that features a 29W USB-C Power delivery port, a 90W AC outlet and 2 USB-A ports to meet the charging/powering needs of today's users.
What's in the box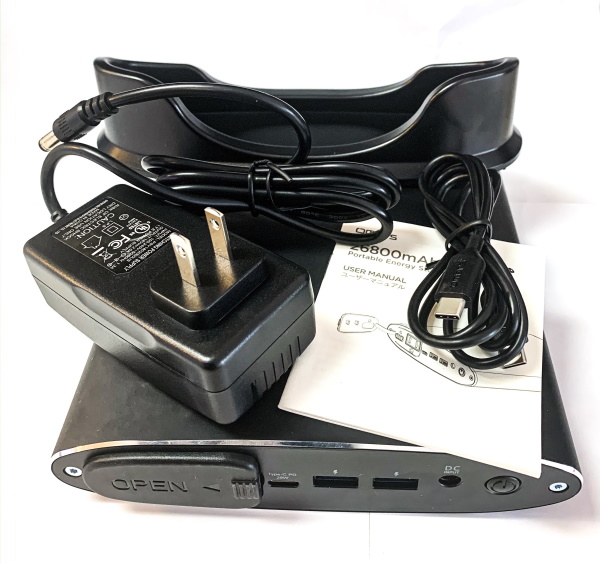 1 x Omars 96.48Wh AC Outlet Power Bank
1 x 18V/2A AC Adapter
1 x User Manual
1 x USB-C to USB-C Cable
Design and features
Specifications
Battery Capacity: 96.48Wh
DC Input: 18V/2A
Type-C PD input: DC 5V/3A;12V/2A;14.5V/2A;20V/1.45A
Type-C PD Output: DC 5V/3A;12V/2A;14.5V/2A;20V/1.45A
USB Output: DC 5V/3A;9V/2A;12V/1.5A (18W Max per port)
AC Output: 110V~ 60Hz,90W Rated
As shown below, this device has all of its ports on one side. From left to right they are the AC Port with its dedicated switch to left of it, the USB-C input/output Power Delivery port, two USB A ports, the DC input charging port and the power button. The AC port has a protective rubber cover.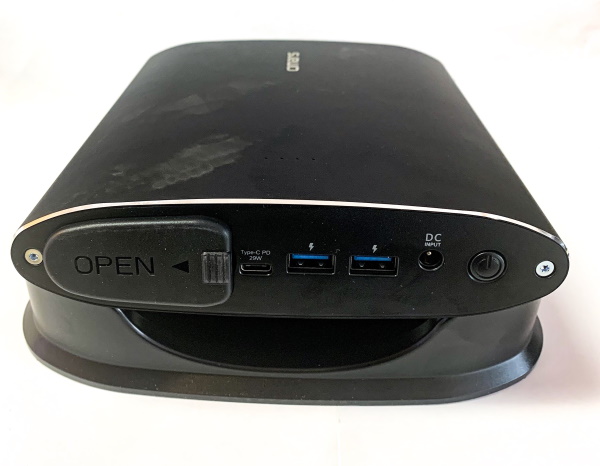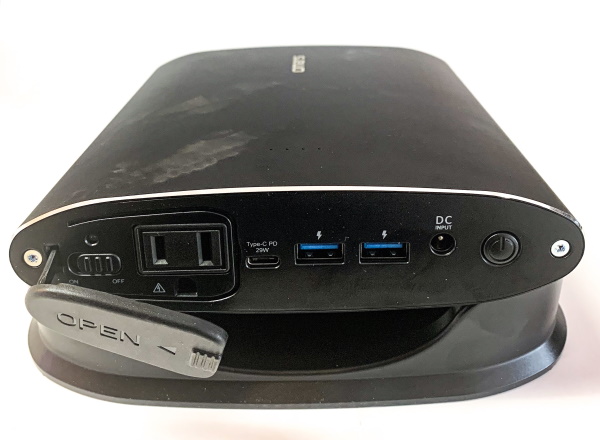 On the surface of one of the sides, there are 4 very small (hard to see) LEDs that represent the battery charge level. Each LED represents 25%.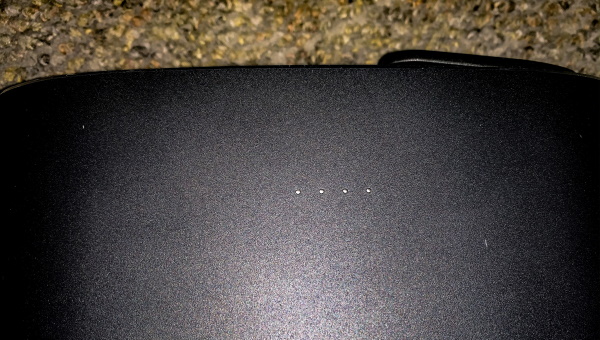 Omars provides a base so that the power bank can be used in a vertical position.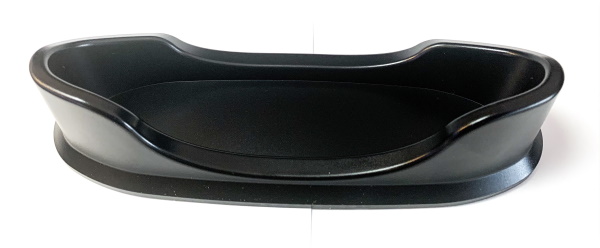 Performance
As soon as you take this power bank out of the box you realize that it is very solidly built, and mostly constructed from metal. It is also very evident that it is a behemoth of a device and may not be practical for every mobile and on the go need especially when space and weight are critical requirements. It arrived partially charged, and I was able to have it fully charged in about 3 hours using the included AC/DC adapter. According to the manufacturer, the power bank can be recharged in about 6 hours via the USB-C PD Port or in about 5 hours using the DC Input with the 18V/2A charger. There is also the option for charging it via solar power if you have the correct solar panel.
Once I completed charging the device, I tested it with my CPAP machine, my kids' Nebulizer machine, and for powering and recharging my iPhone, iPad, and laptop. These are the same devices that I use when testing other power banks. I was also able to recharge my Asus Zendesk laptop while using it for editing, so I do like the battery capacity very much. The main power button turns on power to the USB ports and to the AC outlet if no AC device is plugged in. If an AC device is plugged in, the power to the outlet can be controlled via the dedicated AC outlet switch and independent of the main power button. There is a separate green LED for the AC outlet and blue LEDs for the built-in battery charge level.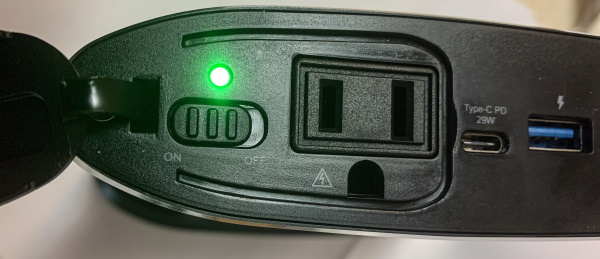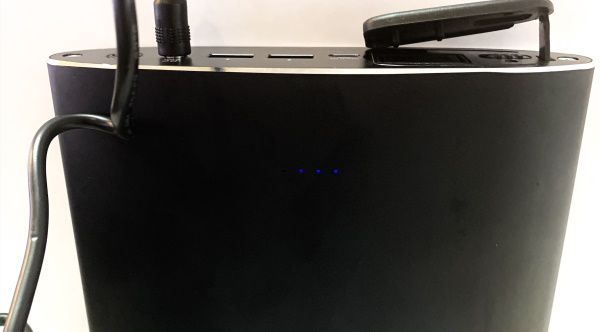 It is important to note that if you are one of those folks who like shiny gear, this device will not give you that satisfaction. The finish on the metal body is matte black, and it is a magnet for smudges. No matter how much I tried to clean it, as soon as I touched it, it smudged. As is evident in almost all of the pictures in this review, this is a factor that I found unavoidable. The picture below shows the power bank in its included stand. This makes it a good option as a desktop/workstation device, and that is where it will likely be a useful part of my workflow.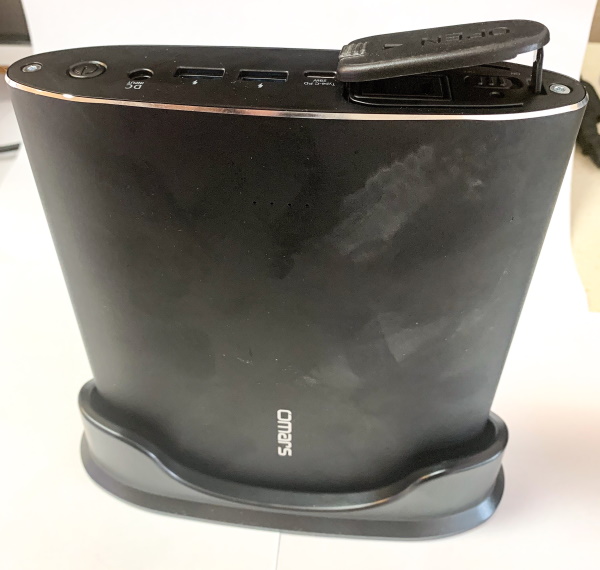 What I like
The tough build quality
The switched AC port
The built-in battery capacity
The USB-C to USB-C cable is included
The multiple recharging options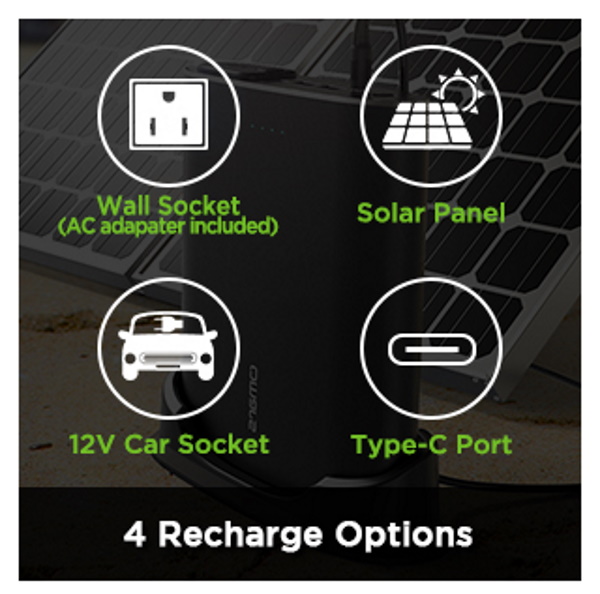 What I'd change
The size. It is too big to be conveniently portable
Add more ports
Final thoughts
The Omars 26800mAh 90W Portable Charger is a solidly built high capacity portable charger that I do believe will work for many as a part of their desktop work area or when traveling with sizeable luggage. Since it is quite a large device and evidently so when compared to others that I have tested with a similar capacity, it will not likely be the best choice for EDC especially if the goal is to travel as light and as compact as possible. Its all-metal construction means that when I am going to locations to shoot photos or video, I can take it with me knowing that not only does it have the battery capacity that I need, but it is also very unlikely to be damaged by any rough treatment that my gear is subjected to. However, its design and physical characteristics also mean that its usefulness is more specific, and in my opinion will limit its adaptability for many. In terms of price versus functionality versus durability versus capacity, it works.
Price: $99.99
Where to buy: Amazon Use code: D3QII8C8 to bring price down to $64.99 (code expires 9/30/19)
Source: The sample for this review was provided by Omars.