We use affiliate links. If you buy something through the links on this page, we may earn a commission at no cost to you. Learn more.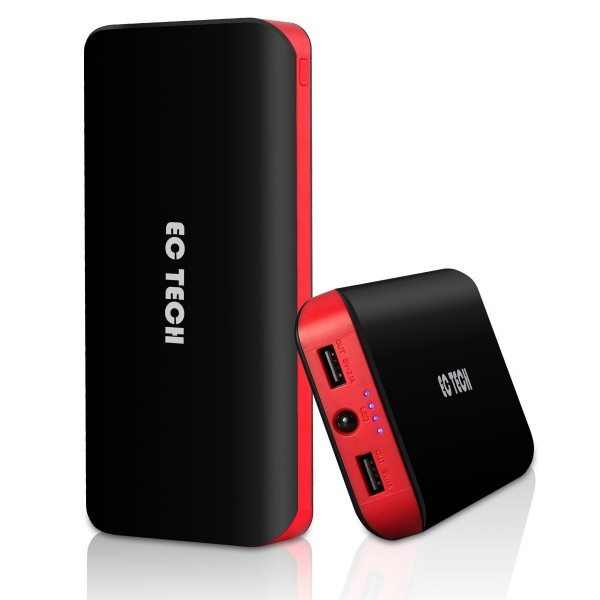 Have you ever traveled somewhere with your mobile phone, tablet or other gadget and you simple didn't have a place to plug them in when the power ran out?  I recently had the chance to review a massive 22400mAh battery pack from EC Technology.  I was super excited to try it out on my next trip into the city or other daily venture.  Can this big battery power turn out to be as good as we'd think for such a good price? Let's find out!
Note: Images can be clicked on to view a larger size.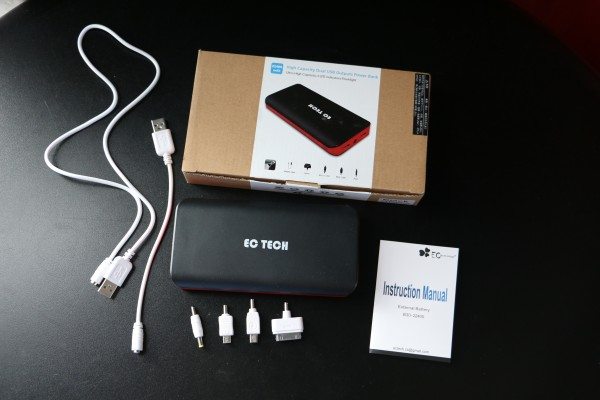 The EC Technology battery pack has a larger-than-your-average-battery-size at 22400mAh.  It comes with two USB cable sizes – 6 inches and a longer 27.5 inches, four types of mobile phone connectors – PSP, Micro USB, Mini USB and iPhone 30 pin and an instruction manual.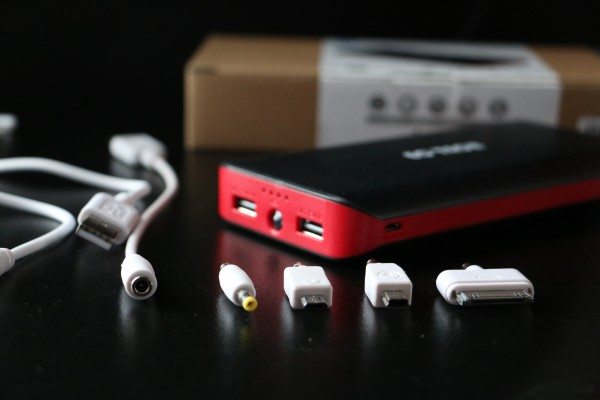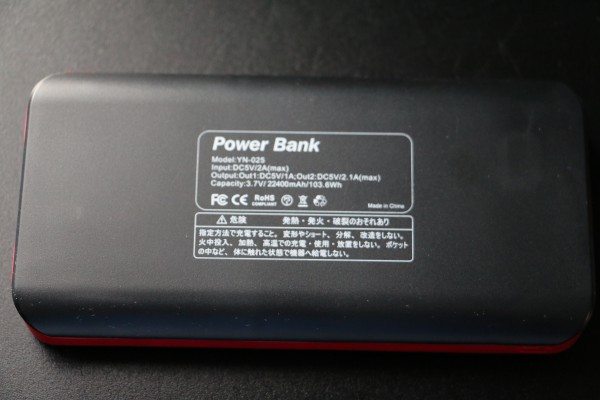 The back of the battery gives you all of the specs:  Input is DC5V/2A (maximum), Output #1 is DC5V/1A and Output #2 is DC5V/2.1A. It's a Lithium Ion battery, and the entire dimensions are 6.3 x 3.1 x 0.9 inches.  It weights one pound which you can definitely feel in your hand.  It's not a battery pack to slip into your jeans or coat pocket. (I kept mine in a backpack.)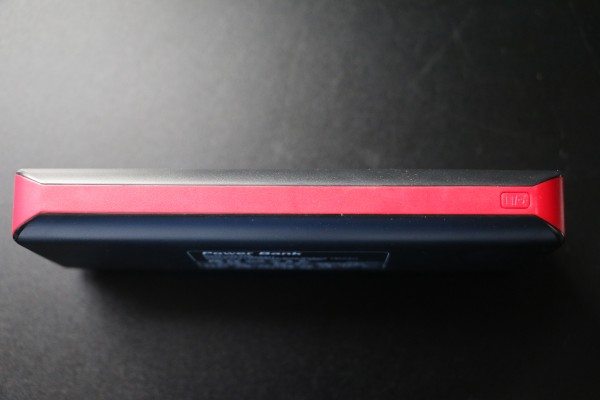 One side has an LED indicator/flashlight button.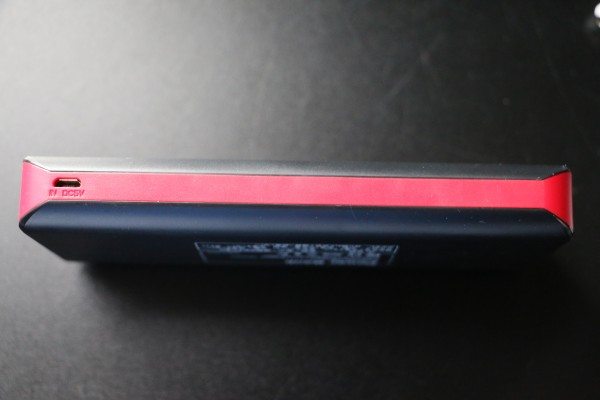 The other has a micro USB input that is used to charge the battery (DC5V).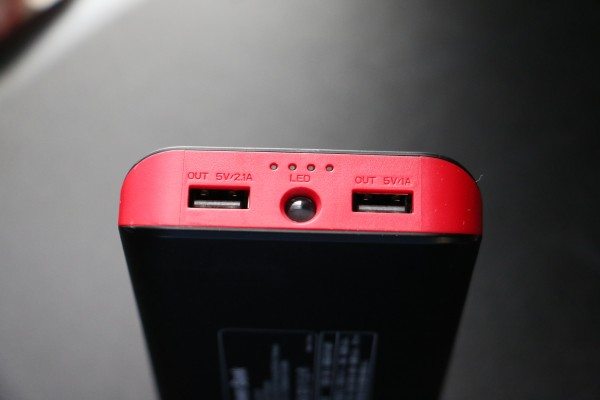 Here is one end where you see the LED indicator lights to see how much charge the battery has, both outputs (one 2.1A and the other 1A), as well as a flash light.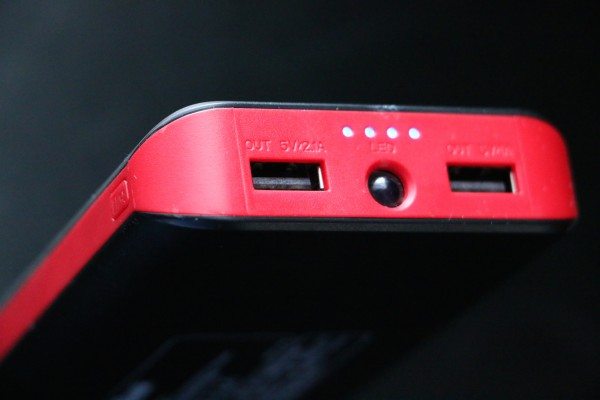 It's a little hard to see the LEDs, but the battery in the above photo is fully charged.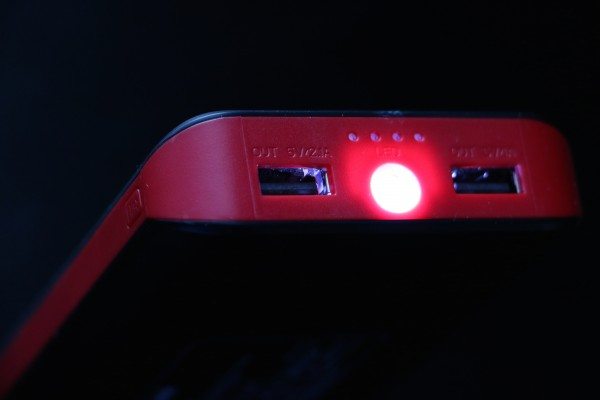 When you press the side button, the battery turns into a nifty flashlight.  I honestly never used this feature since I use my mobile phone with a flash light app. 🙂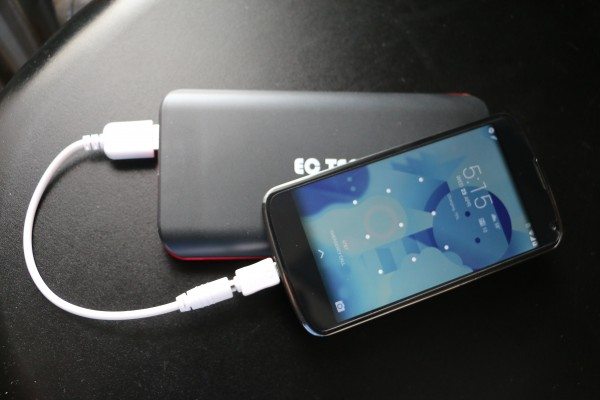 I have used the battery with my LG Nexus 4. For reference, the Nexus 4 has a 2,100 mAh battery.  In my use for a few weeks, I was getting a good full charge about 7 or 8 times before needing to recharge the EC Technology battery pack.  I did leave the battery pack in my bag for a couple of days when I didn't need to charge anything, so take that as what you will.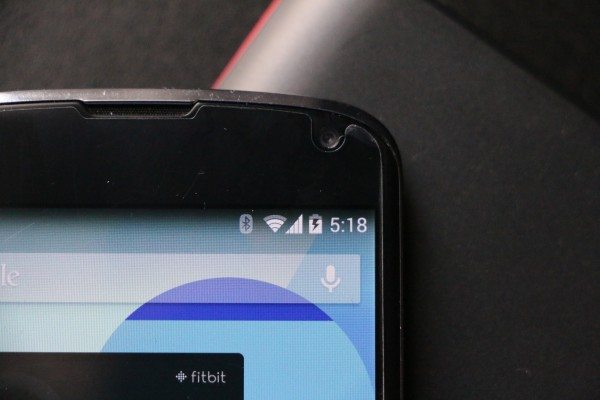 The advertised charge up time to fill the entire battery on a 5V/1A usb charger is about 27-29 hours, and a 5V/2V usb charger is 14-15 hours.  When I charged up the battery, it took only roughly 13 hours, and I used a 5V/2A charger.  It's a bummer that the battery pack didn't come with one by default.
I really like this battery and I feel it holds up to the big power that it states.  I didn't do exact calculations, but considering I can charge my phone more than eight times on a single charge sold me. It's super convenient to have something in your bag or in the car for long trips, and can charge so many devices.  The EC Technology battery pack is available on Amazon.com for only $49.99 and comes in four color combinations – black/red, blue/white, red/orange and white/gray.  It's a steal for the amount of power this thing can hold!
Update 02/13/15
This battery pack still kicks booty when I need it to charge my mobile phones.  I still get a multiple charges out of a single charge from this.
Source: The sample for this review was provided by EC Technology. Please visit their site for more info or Amazon to buy.

Product Information
Price:
$49.99
Manufacturer:
EC Technology
Retailer:
Amazon
Requirements:

Any re-chargeable USB device - mobile phone, tablet etc
5V/1A or 2A usb wall charger

Pros:

Excellent battery life
Dual USB ports that can charge two devices at once
Excellent price

Cons:

Heavyweight (1 lb)
USB wall charger not included
Needs at least 12 hours to fully charge battery