We use affiliate links. If you buy something through the links on this page, we may earn a commission at no cost to you. Learn more.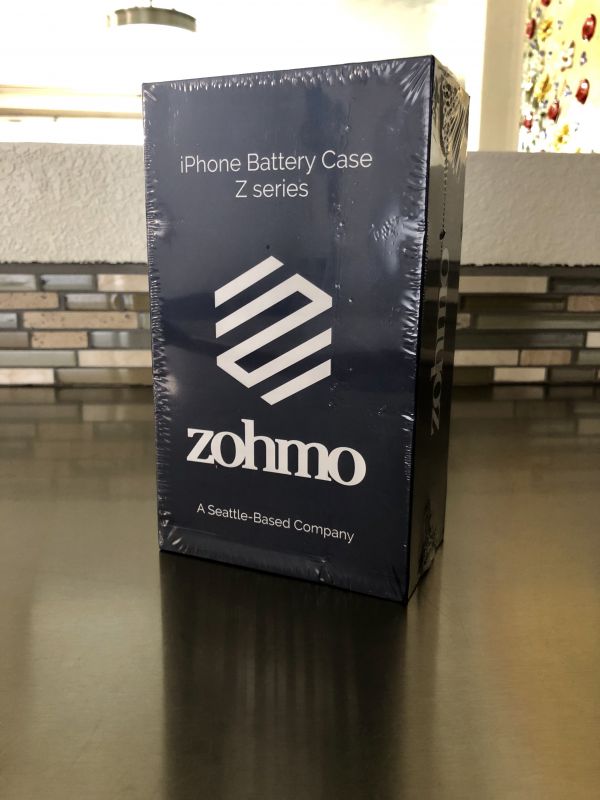 REVIEW – I am a high screen time phone user and regularly drain my battery – as well as spend a large portion of most days with it plugged in to a lightning cord to keep from it dying on me. I have a love-hate relationship with phone charging cases as they typically come with quite a bit of convenience, but at the cost of carrying around the equivalent of a hot brick in your pocket. I have a few standalone battery packs, but the problem there is that I never remember to put them in my pocket or backpack before I leave the house! I was intrigued to give the Zohmo Z Series Battery Case a try.
What is it?
The Z Series is a minimalist design battery back up charging case for your iPhone that will provide charging capabilities while also providing some protection from daily wear and tear.
What's in the box?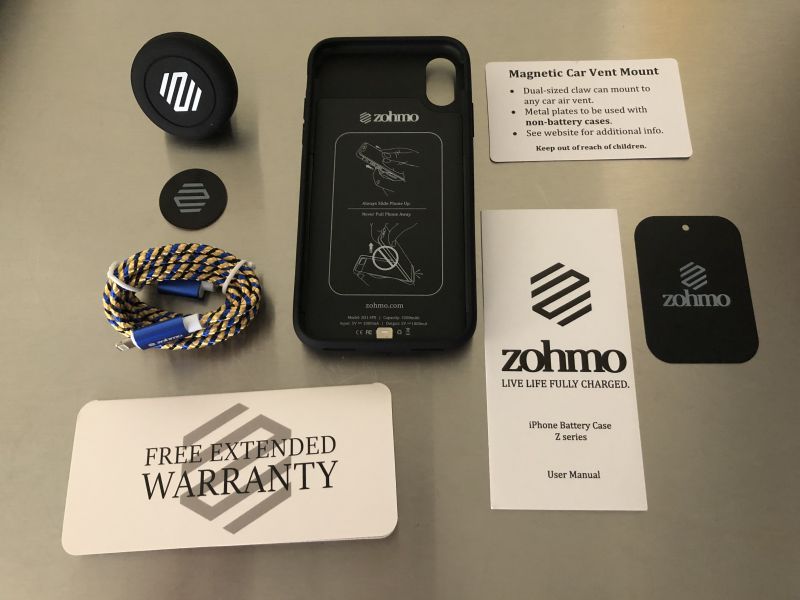 Air Vent Magnetic Mount
Magnet with adhesive sticker for non-battery case
Braided Charging Cord
Warranty Card
User Manual
Promo Tag
Battery Back-up Phone Case
Design and features
My phone slid easily into the batter case, it has a lightning adapter in the bottom that fits into the power/data port. Push the upper two corners over the edge of the phone and it is then snug within the case for use.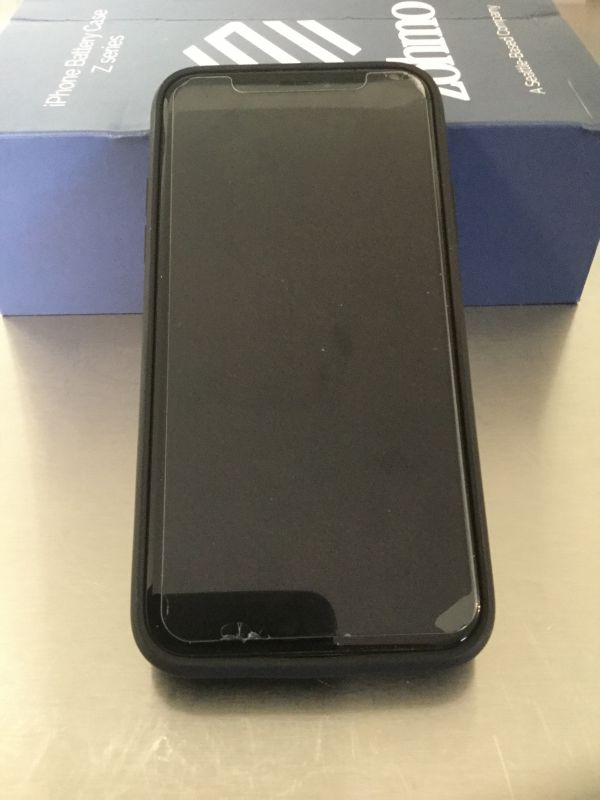 Excuse the cracks from my screen protector but you can see that the case doesn't change the profile of the phone any more (and maybe less) than most cases. This is great since the iPhone X screen does stretch so close to the edges of the screen.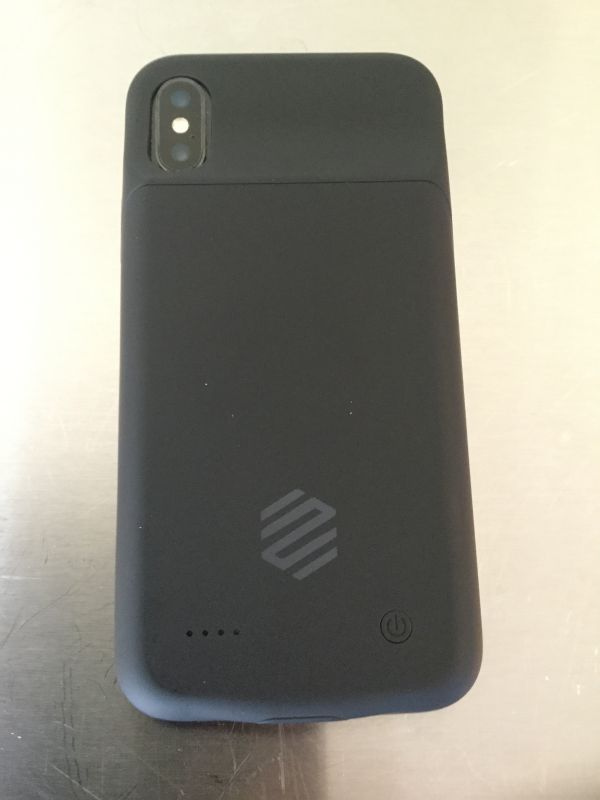 You can see here on the back, there is a power button, as well as 4 led indicator lights that show how much charge time is remaining. To turn the battery pack on, it takes a long press of the button. You can turn off with another long press, or it will turn itself off after fully discharged. It also has the cut out for the cameras, so you have no loss of functionality there. Along the side is a cut out for your mute/vibrate switch and then buttons for the screen power button and volume controls.
Performance
For about a month now, I used this case on a daily basis. And there hasn't been a day go by that I didn't utilize it to recharge my phone. Typically once I get my 20% battery remaining warning, I switch it on and let it go to work. Within an hour or so, depending on how much I continue to use it, I'm back over 80% at least and it lasts me through the rest of the day. The case only weighs 3.7 ounces, so with the phone it comes in at 10.0 ounces total weight. There is a bit of heat produced, even more so if I keep it in my pocket while but overall much less heat than previous batter cases I tested. Finally, the poly-carbonate material that this is made from is really great in that it not only looks nice, but it also provides a little bounce back when dropped and protects the phone.
The sample I was provided came with the optional car kit, which has a magnetic air-vent mount which installed very easily in my truck.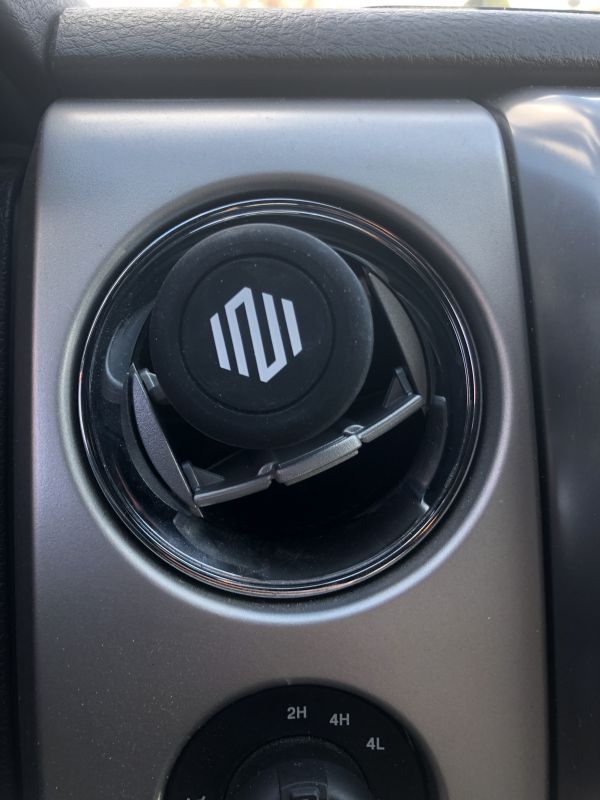 The only problem I experienced with this is that on rough or bouncy roads, the magnet in the mount wasn't quite able to hold the phone in place, either it would start to slide sideways or it would fall completely off and send my phone flying to the floorboard – not ideal while driving.
The only other thing I wanted to touch on is the charging port. It accepts any standard lightning cable and it located in the same place as all iPhone charging ports. The problem I experienced is that the charger cord (regardless of brand, make, model, etc.) simply slides into the port, it doesn't really clamp or click into place. So again while driving, or even moving the phone around while cord charging, the cord slips out easily – especially while vertical on the mount. This is frustrating and even more so when you don't notice it's moved out just a bit and stopped charging either the case or your phone.
What I like
Light weight at only 3.7 ounces
Poly-carbonate material is soft, sleek and has a little bounce to it
Doesn't overheat
Provides a reliable and consistent charge
Car mount kit with braided charging cord is useful
What needs to be improved
Plug in port for charging cord needs better hold on the lightning connector, falls out extremely easily
Magnet air-mount kit could afford to have a stronger hold
Final thoughts
Overall, I'm very satisfied with the Zohmo battery pack case. It does exactly what it's designed to do and does so without the extra weight or heat I've experienced with other battery cases. The only problems I found with the unit are rather ancillary – in as much as they don't impact the utility of the product, just become minor annoyances. I have yet to have to "abandon" my phone and leave it charging somewhere while I carried on with my day, although some could argue I probably should try and do that some time!
Price: $59.99
Where to buy: Can be purchased directly at Zohmo.com
Source: The sample of this product was provided by Zohmo.