We use affiliate links. If you buy something through the links on this page, we may earn a commission at no cost to you. Learn more.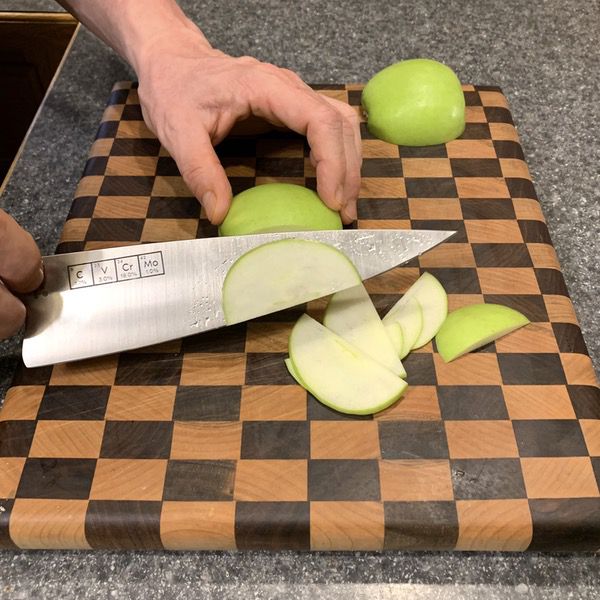 REVIEW – Sometimes I get to review products that just feel like magic right out of the box. The Artisan Revere Super Steel Chef's Knife which is currently seeking funding on Kickstarter is one of those cases. These guys set out to make the perfect chef's knife, and I think that they may have accomplished that. To the review!
What is it?
It's a chef's knife made in the USA.
What's in the box?
My sample came with the knife and a leather sheath. Additional package options are available with the Kickstarter campaign.
Hardware specs
8.6″ blade, 13.6″ overall length
15 degree cutting angle with a 50/50 bevel
160 grams total weight
Elmax "Super Steel" Construction
Richlite composite handle with G10 liners
Design and features
I've recently been working on educating myself on the finer points of what makes a good chef's knife. It's a complicated subject full of terms like "steel composition" and "blade geometry." Here's what you need to know: the Artisan Revere Super Steel Chef's Knife is an amazing piece of work.
My sample knife came with a custom leather sheath. It's just gorgeous. Seriously. Just look at it. You just want to show it off.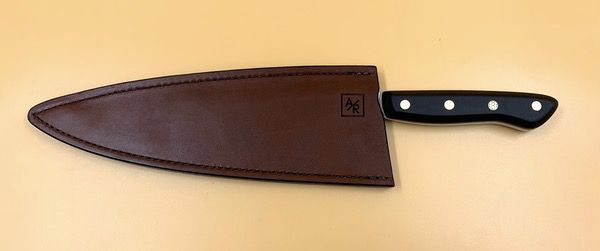 The knife is handcrafted in the USA, with industrial-strength Elmax steel from Sweden. The goal was to produce a knife that's thin and nimble like Asian chef's knives, yet has the durability for heavy commercial use. Check out how the steel composition is proudly imprinted on the opposite face of the blade.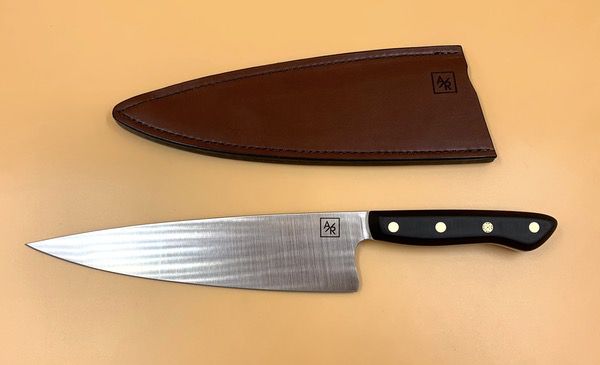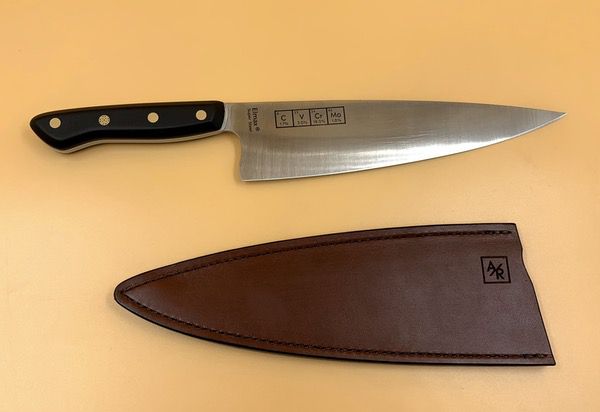 But there's more than just good steel going on in the finished product. The folks at Artisan Revere paid close attention to the blade ergonomics and finishing to make sure it would be comfortable & durable for all day use. Check out the contoured handle.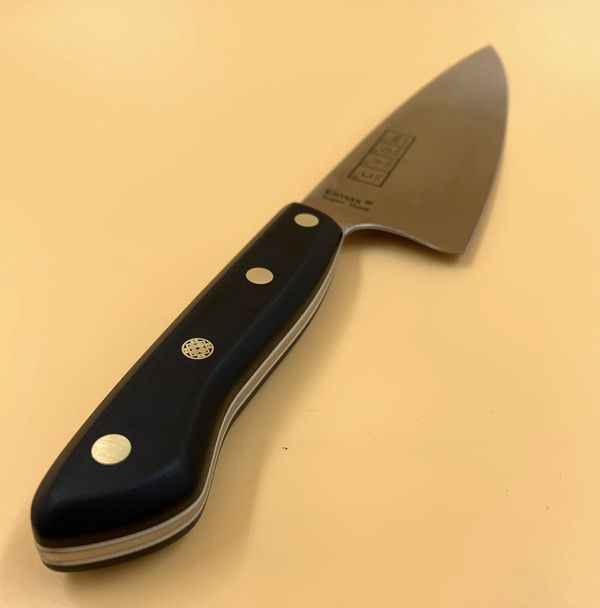 That handle is made from a recycled wood & resin composite that's made to take a beating. See that little design in the rivet? Details like that speak to craftsmanship in the final product.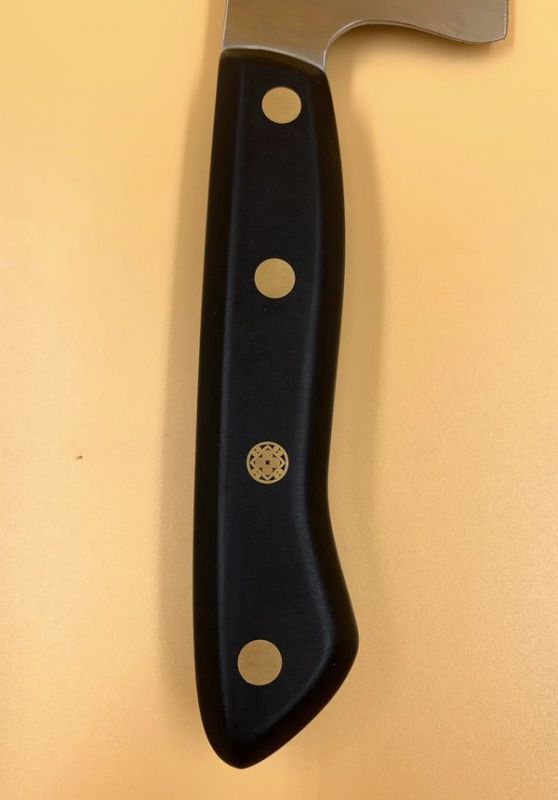 The handle is sealed with G10 liners sandwiched between the steel and the handle to prevent moisture from getting into the crevasses. That's a big deal if you're making an investment in a good knife.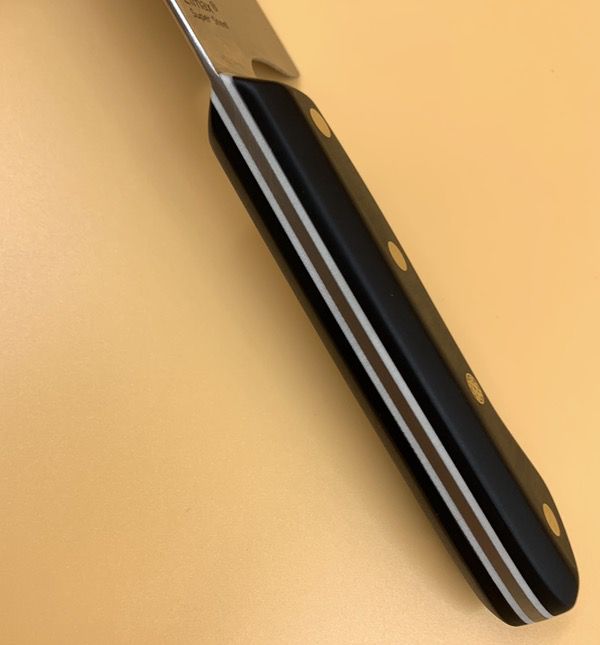 And check out the hand finishing in the bolster. There are no sharp edges and a bit of a scoop out for your finger. That means that it's comfortable to use in a pinch grip, or a "pistol" grip as I show in the pictures below.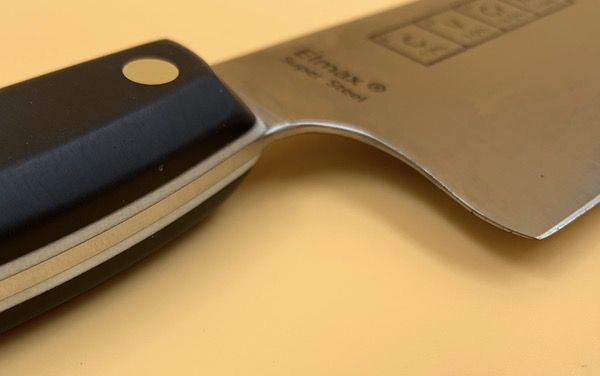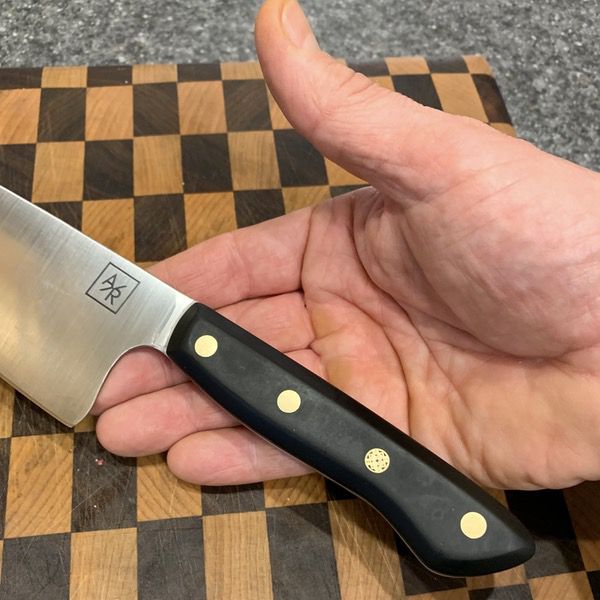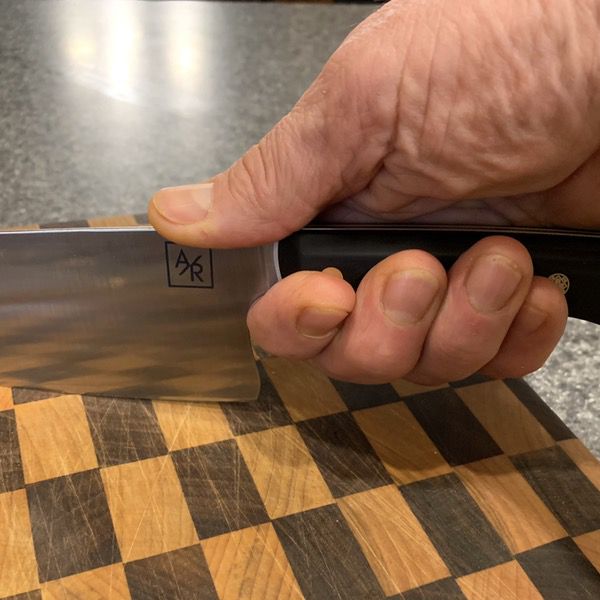 The spine has also been gently rounded with no harsh edges. While this may not seem like a big detail, it means a lot when you're murdering large quantities of proteins or produce for an extended period of time. Little things like this show that these guys are thinking about both the home cook and the professional chef in the design.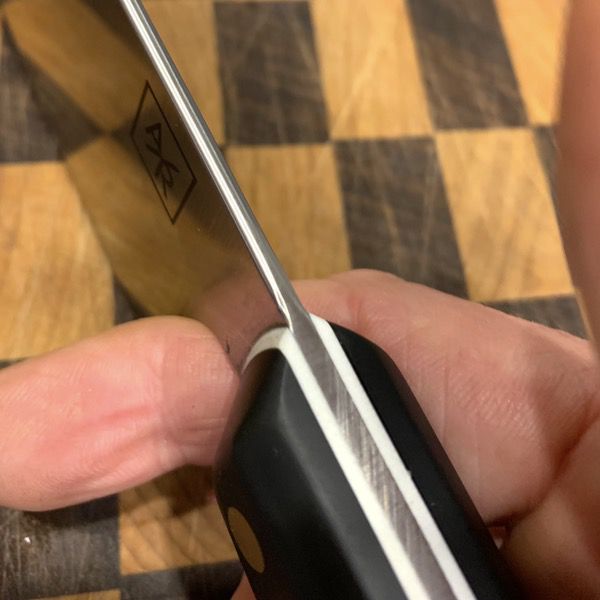 When you put it to work, you'll quickly appreciate how all of this comes together. It feels like a natural extension of your hand, with a super-thin blade that can tackle the most delicate tasks with incredible agility. Here I am breaking down apple slices that are nearly transparent. I could get them thinner with a bit of practice.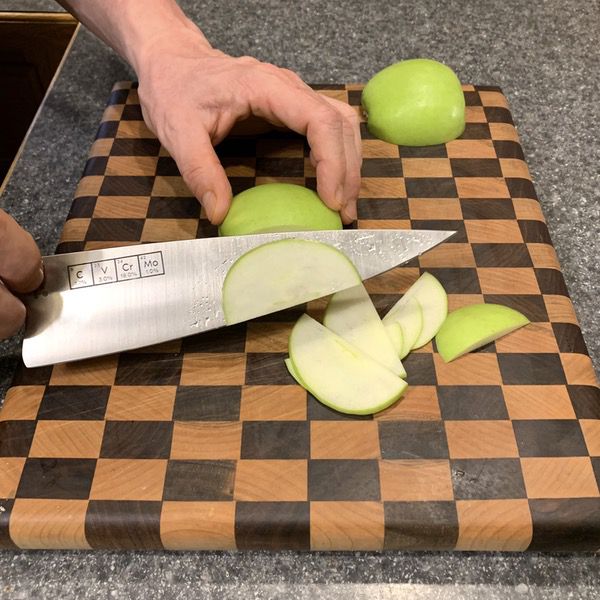 Turning to some denser root vegetables, I blasted through a carrot like it was wasn't even there. The knife just feels amazing, gliding through the vegetable like paper.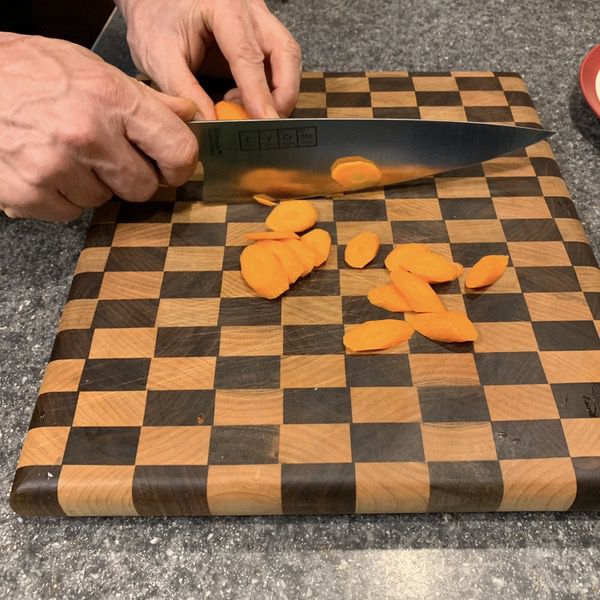 For some finer work I attacked a pepper I was dicing for dinner. The thin, nimble blade makes short work of carefully removing the cheeks from the core.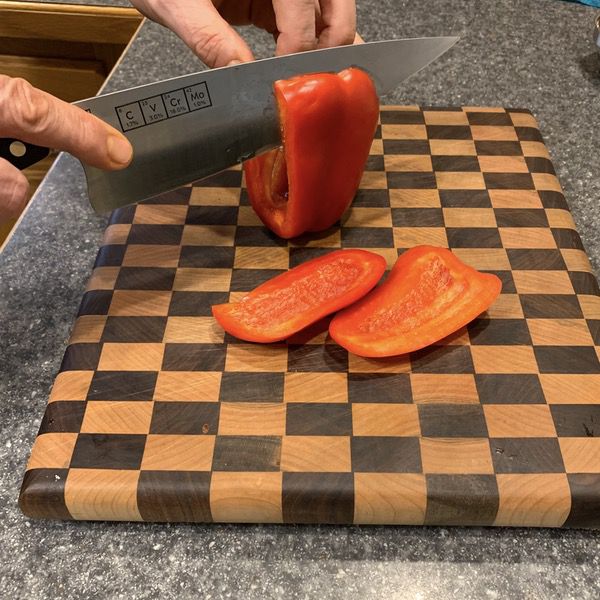 And dicing? Please. I had this pepper broken down from start to finish in about 90 seconds. The balance is perfect, giving you a ton of confidence in handling both finer tasks and bigger slicing/chopping work.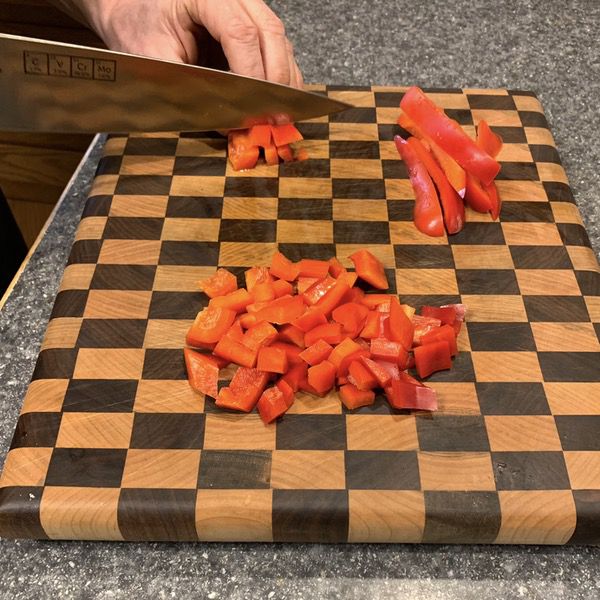 The overall blade length is 8.6″, which is slightly longer than your typical chef's knife. I prefer a longer knife personally for the leverage (my favorite is a 10″ model), but it can get clunky when it comes to little projects. I think the folks at Artisan Revere have hit the perfect combination here. In addition to vegetable prep, I used the knife to trim up about 10 pounds of chicken today for a large event. I never looked to grab another knife for any of the work from start to finish. And I did not want to. It just feels good to use, and had me looking for more stuff to cut up even after spending hours in the kitchen.
What I like
Excellent ergonomics.
Nimble, agile handling.
Excellent construction and attention to detail.
Durable enough that you don't need to baby it.
What needs to be improved
Final thoughts
The Artisan Revere Super Steel Chef's Knife is not cheap. You're looking at a minimum $259 investment if you act quickly on their Kickstarter campaign, which has met its initial goal and is filling up fast. But if you're looking to upgrade your kitchen arsenal, I have no qualms about recommending this knife. From steel composition to finished design, these guys are making a product well worth your consideration without cutting any corners.
Artisan Revere has posted a ton of information on their Kickstarter page about their process from sourcing the materials to final design & construction. Take a wander over to the page for more information by following the link below. But don't wait too long… the Kickstarter ends on April 18!
Price: Kickstarter packages start at $259.00. Lower buy-in options are available for a custom leather sheath and knife sharpener, while higher packages are available for multiple knives and accessories.
Where to buy: Artisan Revere
Source: The sample of this product was provided by Artisan Revere.