We use affiliate links. If you buy something through the links on this page, we may earn a commission at no cost to you. Learn more.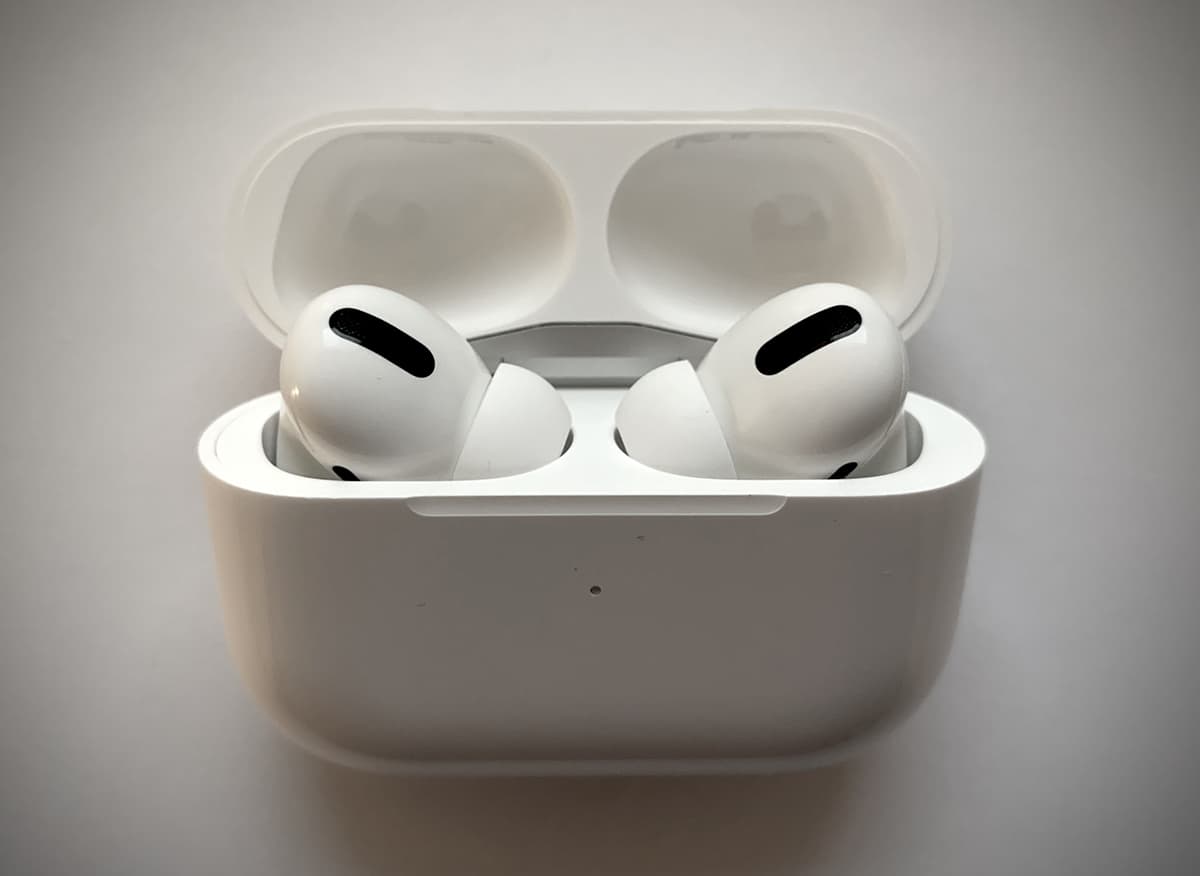 ARTICLE – When Apple revealed their AirPods Pro, featuring a more secure fitting in-ear style, I immediately put in my order. Lo and behold, a mere 30 hours later, they arrived at my office. I spent the last several hours putting them through their paces and here are some initial thoughts.
New wider case
The case is configured so the lid opens on the wide edge of the case, but isn't much bigger than the original AirPods case. I like the fact that it has a charging indicator on the outside of the case, probably a necessity of the Qi-enabled charging feature. It glows orange when placed on a charging pad or plugged in. I'm stoked with the wireless charging capability of the case.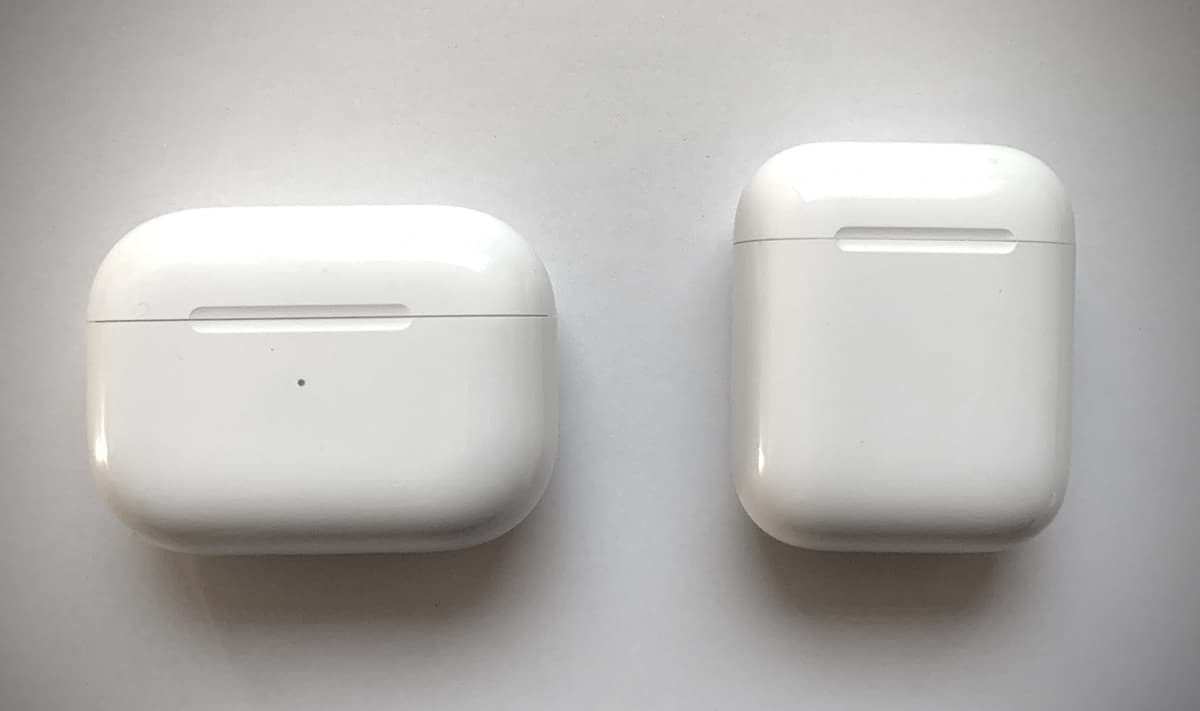 Speaking of charging, the AirPods Pro comes with a USB-C to Lightning cable, which I found interesting. The port on the case is Lightning, but perhaps Apple was thinking of laptop users. I don't actually have anything with a USB-C port to plug this thing into.
The in-ear fit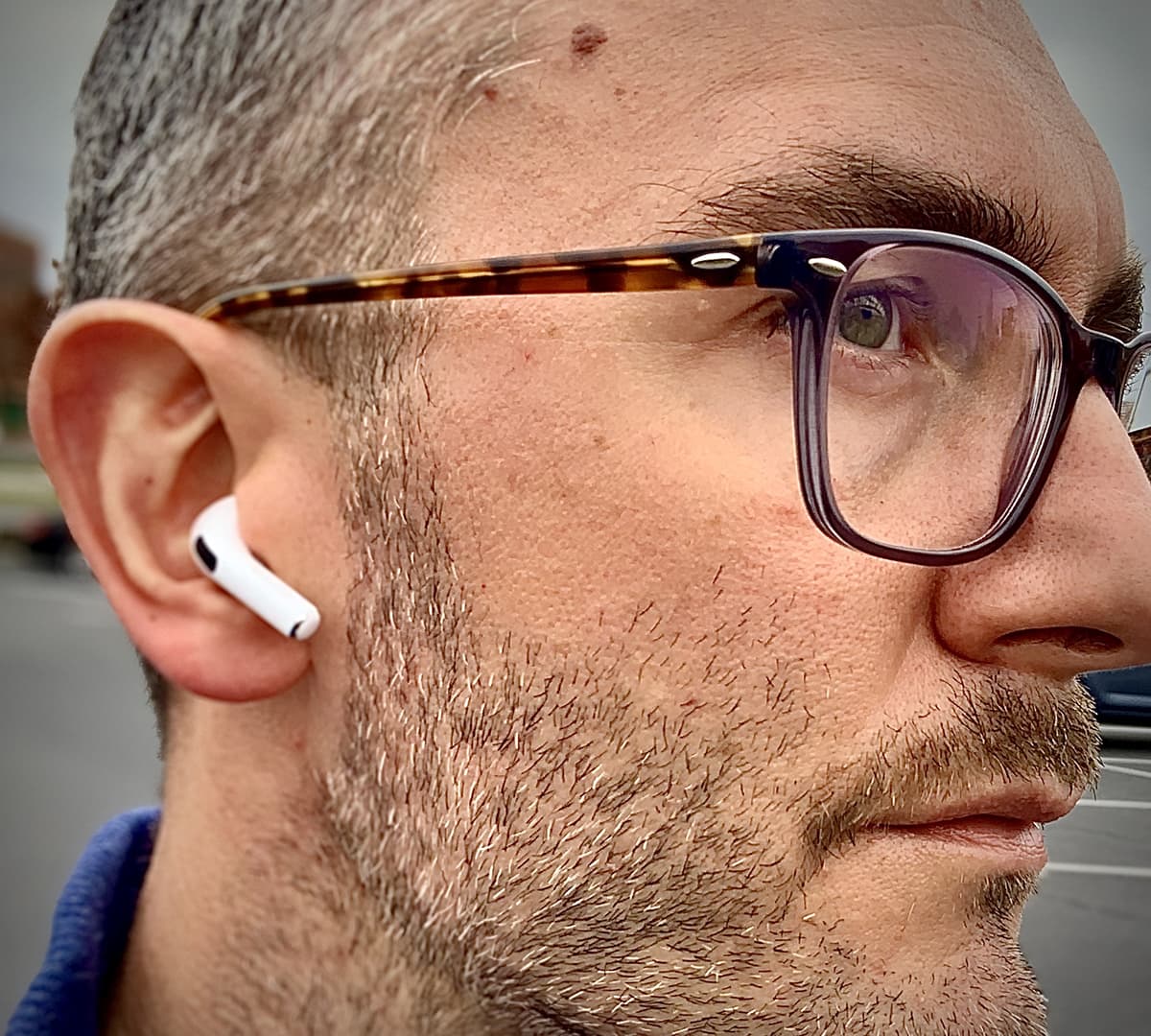 I've been rocking in-ear headphones since the original iPod, simply because over the ear headphones crush my ears against my head and are uncomfortable after an hour or so. I also don't like to smash my hair. So I'm very accustomed to silicone jammed in my ears, and I've been waiting for these in-ear Apple headphones for a long time. They feel great. The initially-installed medium size tips were perfect, although there is a small and large option.
They didn't move a single millimeter all day.
Initial pairing
One of the more hyped things I've seen is the Fit Test that you can run in the Bluetooth settings. When you start the test, you're asked to place the earbuds in your ears, and a short bit of music plays. The microphones sense to see if there is an optimal ear tip seal and gives a green text okay if it's a sufficient fit.
Squeeze those stems
Rather than rely on double taps to control the earbuds, Apple placed a squeezable area on both stems. Of course, they also shortened the stems themselves, giving you less area to grab, but I think the length is fine.
There's no physical feedback or haptic response on a successful squeeze, but there is an audible click that sounds, well, exactly like a little plastic button. It's very Apple, just like the force touchpad on their laptops or the haptic feedback on the iPhone button, it tricks your mind into thinking you've actually pressed a plastic button.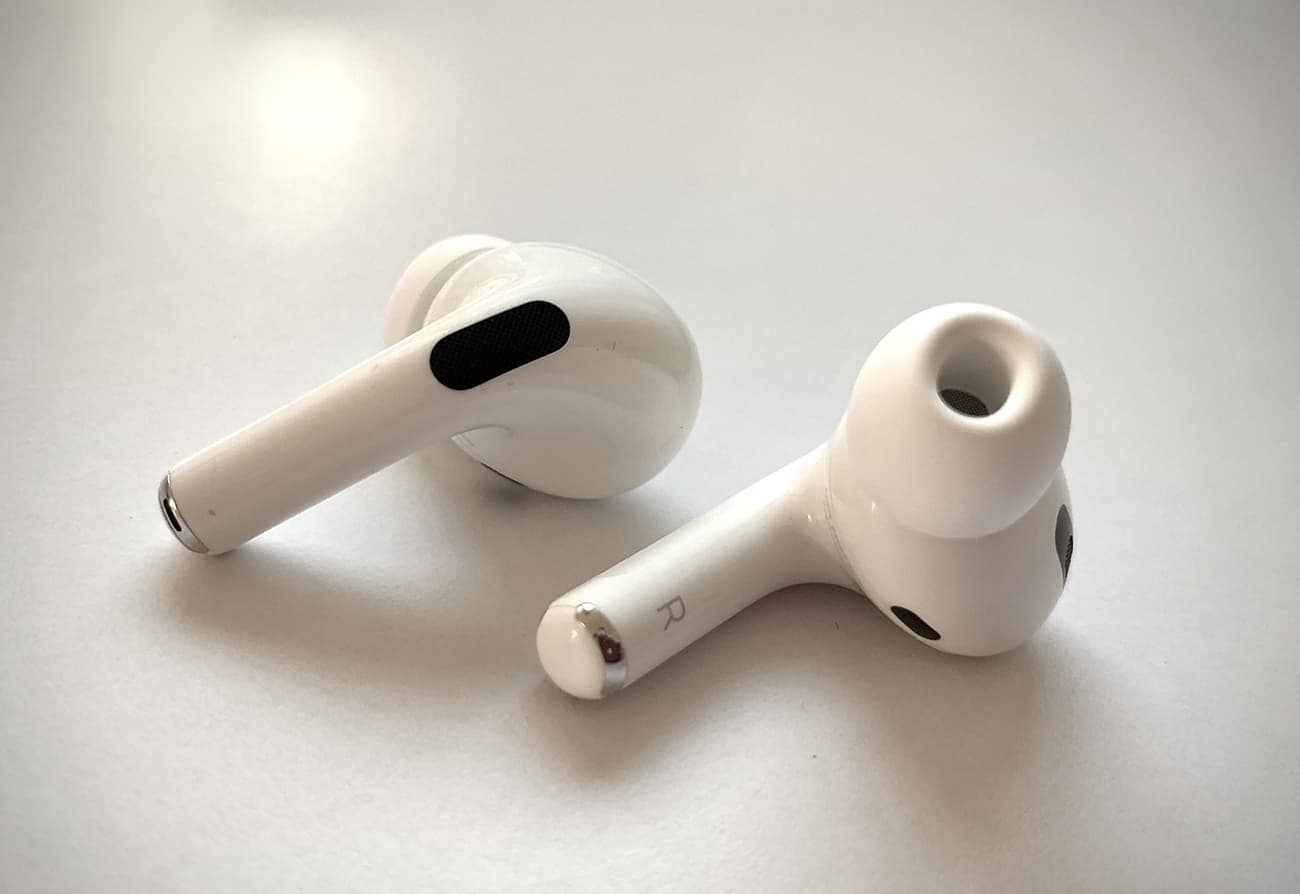 Both AirPods have a force squeeze area, and you can program a long press to swap between Transparency and Noise Cancellation modes OR to invoke Siri. I have one of the stems set to Siri, even though I can always just say "Hey Siri".
I always found the double-taps limiting, since you could only issue two commands. Now you can do one, two or three quick squeezes to play/pause, skip, or reverse, respectively.
Let it in or block it out
I gotta say, Transparency mode should come standard with all earbuds, forever. I work in an office that affords multiple interruptions per day from phone calls and drop-ins. I don't mind (really) but usually if I'm listening to something, I'll take out an earbud, stop the music, and forget to start it back up for like 20 minutes after the conversation is over.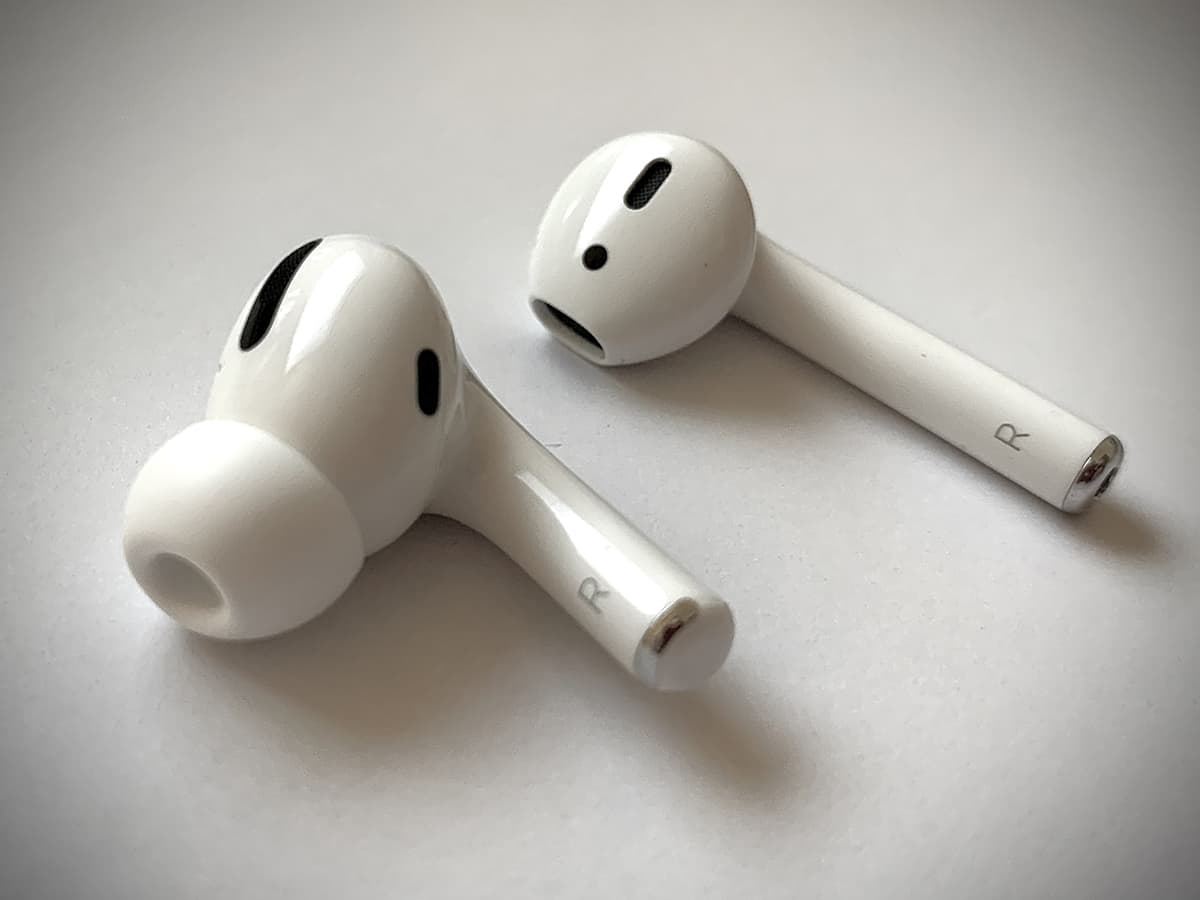 I kept Transparency mode on all day and whenever I had to chat with someone, I simply stopped the music with a quick stem press, finished the conversation, and started the music back up without having to take out my AirPods. It sounds natural and seamless. I like that I can hear my own voice coming through as well, so it doesn't sound like I'm shouting underwater when talking.
The Sound Cancellation mode is pretty great, too. I go for walks alongside a busy road and if I'm not listening to music or a podcast at a nearly-uncomfortable level, a passing car usually drowns out some of the words. You can still hear loud or quick sounds, they just sound further away, like a car driving at the end of a parking lot rather than right next to you.
Turning both modes off sounds similar to original AirPods, due to the air vents. You can definitely hear outside noise, but it's not clear, nor is it completely muffled. The tradeoff is slightly longer battery life. From what I've read, it could net you maybe an additional 30 minutes of listening time, so maybe 4 hours instead of the 4.5 that Apple promises. This seems right in line with the listening time and remaining percentage that I'm seeing.
Sounds good to me
But, how do they sound? Pretty damn good. I was always impressed with the range of sound and quality on the original AirPods, for being wireless earphones, and these Pros sound even better. Highs and mids are very crisp, and the bass, while nothing that will blow you away, are at least thoroughly present. I listened to everything from Rob Zombie to John Williams, and the AirPods Pro lovely.
That cost, though
Even though I jumped right on the bandwagon, I'd been following the rumors for so long that I was already sold before yesterday's announcement. I use earphones extensively, and they're absolutely invaluable for work and home use, where I don't really have a private office or area to get away from noise.
Yes, $250 is a lot
replacement earbud tips will cost $4/pair
replacement Pro earbuds are now $89 each and the case is $99
But to me, they're absolutely worth it, now that I can have AirPods that stay very firmly planted in my ears. Visit Apple.com for more info.