We use affiliate links. If you buy something through the links on this page, we may earn a commission at no cost to you. Learn more.

ARTICLE – I got hooked on Amazon's Subscribe & Save program when my boys were infants. As a busy, working mom, it was almost too good to be true, the idea that I'd never again run out of diapers, wipes or formula.
A decade later, and I'm still using this service every month. In fact, I'm using it even more now!
Even though Amazon's Subscribe & Save program has been around since 2007, I'm always surprised by how many of my friends have never heard of it, even if they're big Amazon users.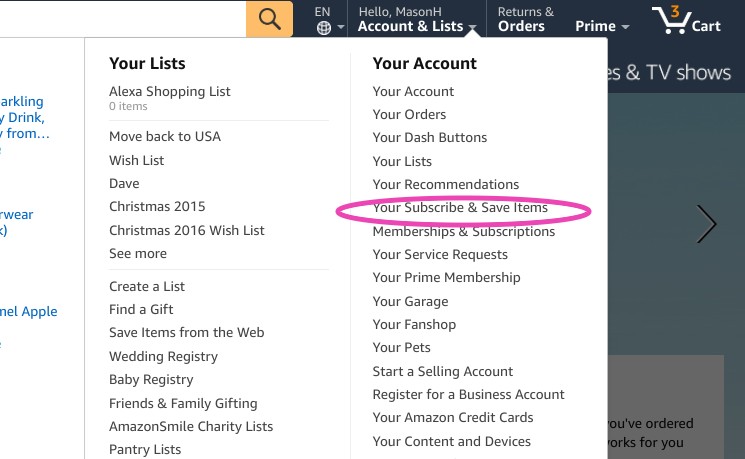 There are a couple of easy ways to connect with Subscribe & Save. One is to click on Accounts and Lists (under your user name, to the right of the search bar). 
Another is when you happen to be looking at an item that's available for Subscribe & Save.

You can also select it as one of the filters on the left when you search. 
Or you can simply shop in the Subscribe & Save store.
As the name implies, you save money when you set up an auto-delivery schedule for items you purchase regularly. For five or more items sent in the same month, you automatically save up to 15 percent. With select baby items, you could save up to 20 percent.
For each item, you can choose how often you want it, from once per month to once every six months. Plus, before your items ship each month, Amazon will email you to remind you to review your Subscribe & Save list. From there you can decide if you want to skip certain things for this month or move up anything that was scheduled for a later month; I tend to overestimate toilet paper and underestimate paper towels, so it's nice to adjust as needed. You can also cancel any items you no longer want or change your delivery date (which is handy if you plan to be on vacation during your normal delivery window).
I currently have 41 open subscriptions, with everything from dog food to batteries, toothpaste to laundry soap. I even have vitamins and pool supplies on the schedule. But that doesn't mean I get 41 goodies delivered to my door each month, it's usually around a dozen since a lot of my stuff only comes every few months.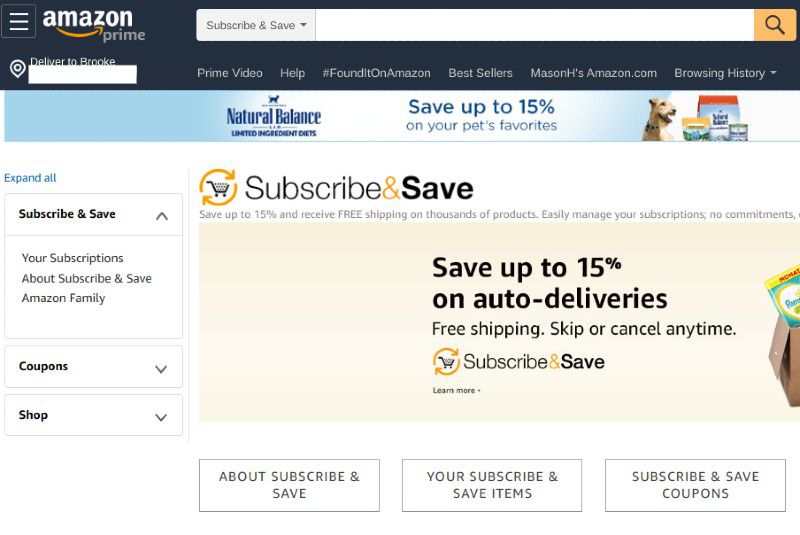 While the discount is nice, I personally do it for the convenience. In the last 10 years, Amazon Subscribe & Save has probably saved me hundreds of quick trips to the store for dish soap, dog treats, stain remover, garbage bags and dozens of other household necessities. Visit the Subscribe & Save store for more info.