We use affiliate links. If you buy something through the links on this page, we may earn a commission at no cost to you. Learn more.


REVIEW – A few months ago, I decided to downsize my work desktop workspace and the first thing that I did was to get rid of my massive 70-inch desk. I bought a smaller desk, placed it against a wall and mounted my monitors to the wall to save desktop space. I have been using a large Corsair wired USB keyboard for a few years, and I also decided that downsizing my keyboard would help with the still remaining clutter on my desk. The Logitech Slim Wireless Keyboard and Mouse Combo set looks like a good fit for me.
What is it?
This is the Logitech Slim Wireless Keyboard and Mouse Combo MK470. The set includes an ultra-slim, compact, and quiet wireless keyboard and mouse combo.
What's in the box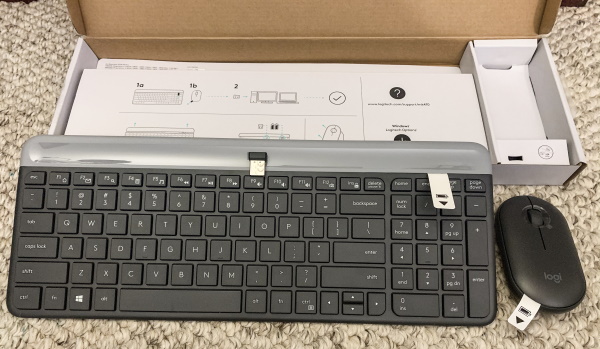 1 x Keyboard with 2 x AAA Batteries (pre-installed)
1 x Mouse with 1 AA Battery (pre-installed)
1 x USB Receiver
1 x User Documentation
Design and features
Specifications
Mouse:
Sensor technology: High Precision Optical Tracking
Sensor resolution: 1000 dpi
Number of buttons: 3
Scroll wheel: Yes- Mechanical
Scroll Buttons: Middle Button
Unifying ready mouse: No
Unifying ready receiver: No
Battery life Mouse: 18 months
Battery type mouse: 1 x AA
Keyboard:
Battery life Keyboard: 36 months
Battery type keyboard: 2 x AAA
Wireless operating distance: 10 meters
Wireless technology: Logitech Nano Receiver
The keyboard is light and slim, and it has a grey cover above the keys that covers the battery compartment and a tray that I guess you can keep some really small items in. However, the cover takes some effort to pry it off so I do not use it for that. The keyboard takes 2 AAA batteries.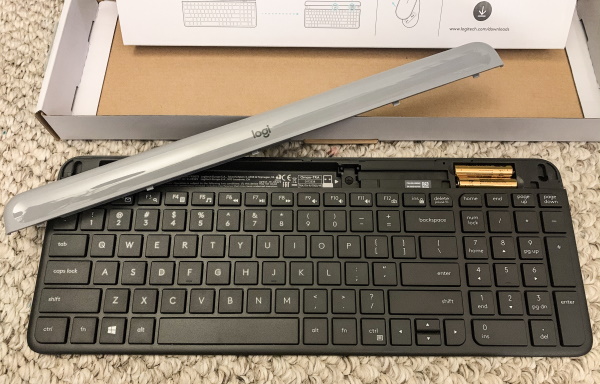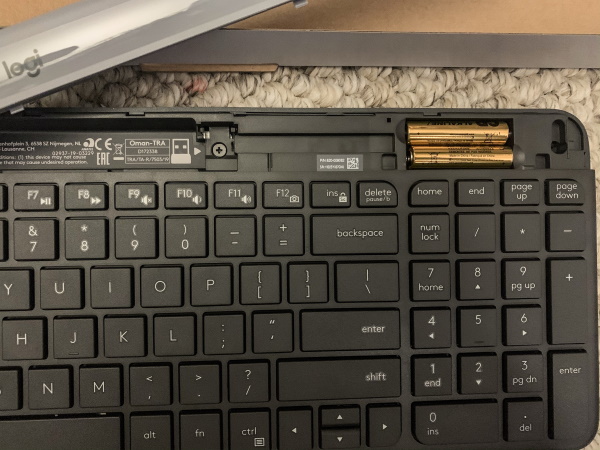 The top of the mouse opens up to reveal the battery compartment that holds one AA battery and a holder for the USB dongle. At the bottom of the mouse, there is an off/off switch and the infrared sensor.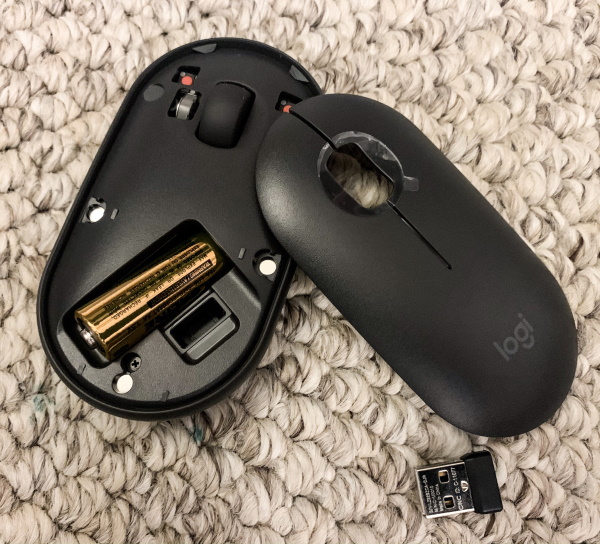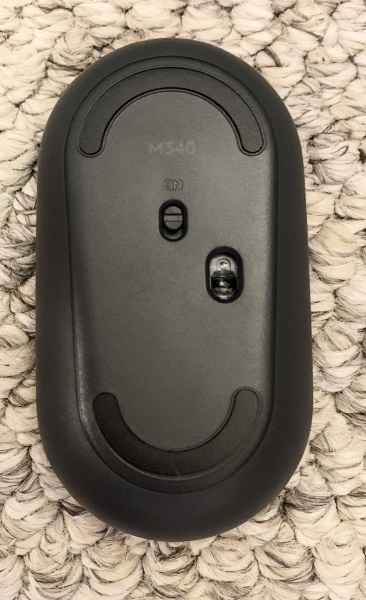 There is an insert from the box that provides additional user instructions.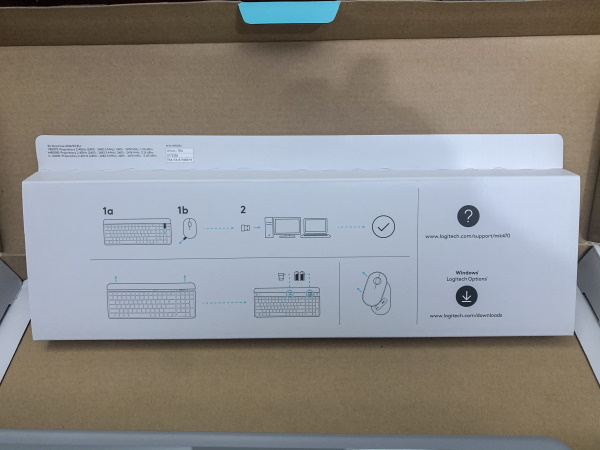 Performance
Both the keyboard and mouse connected very quickly once the wireless dongle is plugged into a USB port, and they both immediately responded and were ready for use. Together they take up about the same space that my previous keyboard occupied all by itself, and that is with room to spare between the keyboard and mouse.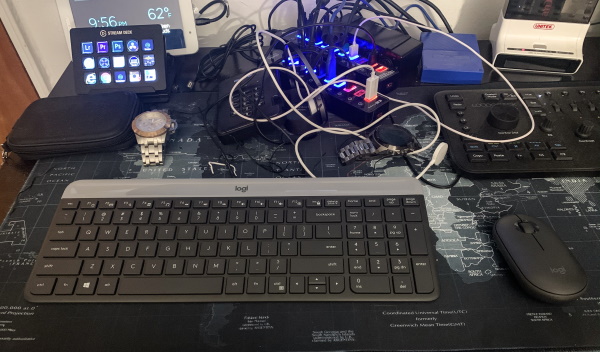 The picture below shows a size comparison between my previous Corsair keyboard and this Logitech.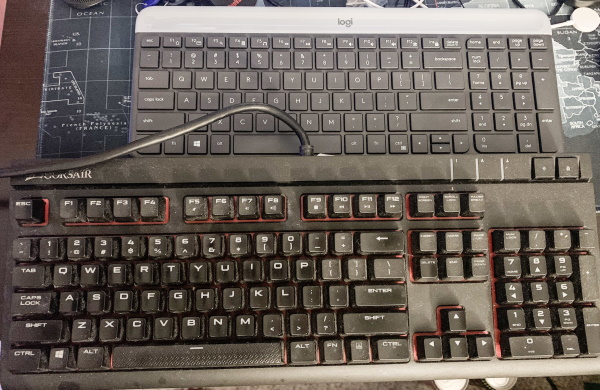 Both the keyboard and mouse are a pleasure to use and I very surprised that I like the soft touch that both provide. I also love the added bonus of having more space on my desk since I am a certified gadget nerd and I usually find a gadget for every bit of available desktop space.
Comparison:
My Corsair keyboard clicks
Never miss one of our posts again. Sent MON, WED, and FRI with the latest gadget reviews and news!
This Logitech keyboard clicks (I just realized that my 3D printer was on and it can be heard on the video.)
One thing that I have to get used to is that there is no feedback when I press the keys, and that still feels a bit weird coming from using a keyboard with Cherry switches. I also wish that the keyboard was backlit. The function keys are well laid out and are very useful, but I mostly use my keyboard for basic typing and my other editing boards for the rest of the work.
What I like
The slim and compact size
The soft-touch quiet keys
The low profile keys (I am surprised that I like this feature)
The wireless capability
The anticipated battery life
What I'd change
Add backlighting to the keyboard albeit that the long battery life may suffer a bit
Final thoughts
For many years I wanted a large keyboard with keys with Cherry switches so that I could feel and hear each click and enjoy the feedback from the keyboard. I got all of that in my Corsair keyboard and enjoyed it for a while. But, I soon got tired of the noise the keys would make late at night and that it was a wired keyboard with two relatively thick and permanently attached USB cables. In addition, I needed more space on my new but smaller desk. I decided that it was time for a soft-touch wireless keyboard, and this Logitech keyboard fits the bill in most ways. I also like the mouse, but I have become used to my upright mouse, so I use the Logitech mouse occasionally as a backup or if my hand happens to land on it. I would also like the keyboard to be backlit because when editing at night, I prefer to work in a dark room. Regardless, this is a good combination of a mouse and a keyboard and at a great price.
Price: $49.99
Where to buy: The Logitech website and Amazon
Source: The sample for this review was provided by Logitech.